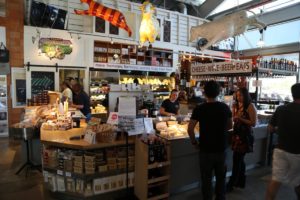 Oxbow Cheese & Wine Merchant is located just inside of the main Oxbow Market near the Copia Wine Center (now closed), about 1/2 mile east of downtown Napa. Along with the name of the market this wine merchant takes its name from the bend in the Napa River that lies right next to the main building. This is a popular place with locals, many of whom are involved in the area's wine industry.
This is one of the larger wine counters in Napa – much of the time during the weekdays its easy to get a seat here for a tasting or light food but on Friday nights and some weekends it can get a bit busy. Locals night is always Tuesday evenings from 5:00pm – 9:00pm (prices for locals are discounted). With a number of bar stools on each of the 4 sided tasting bar, conceivably you can have almost 30 people around the counter at any one time. They have nicely organized menus listing both the food items as well as the wine. Our favorite lunch special whenever we stop in are the Panini sandwiches. Look for their 6 simple colored graphics which are explained towards the front of the menu. These graphics represent specific types of wine, for instance, the wine's sweetness, aromas, structure etc – so each wine that is available for tasting has one of these logo's next to it to better help you choose a wine that matches your palate.
They have an excellent selection of both local wines as well as International wines. Their motto is "We spit, so you don't have to." Also browse their large selection of local and International cheeses including samples.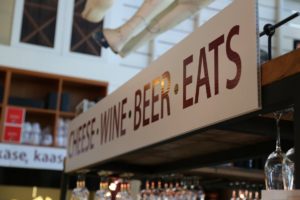 Looking to taste something other than just Napa wines? On a recent visit, the tasting included many options – most of which were international, ranging from South America to Europe to Australia with only a few Napa wines sprinkled in. A plethora of International wines are available for purchase by the bottle (shelves which surround the central wine bar), and if you purchase one of these, they will uncork it for you and you can drink it at the wine bar. Very cool! You can also order small plates to pair with the wine and ask for specific recommendations based on the specific wines ordered. A small deli is located on site with cheeses, meats, olives etc.
A stop here is typically not the only one you will want to make when you are at the Oxbow Market! Gotts Roadside (upscale burgers) is on the same block; this is a hip, popular upscale burger restaurant with some long history in the Napa Valley. You know your in Napa when the wine list differentiates you from a "typical" hamburger stand! The original Gotts is in St. Helena and is a tourist magnet. This Gotts serves more locals and as a result, is not quite as crowded during the busy lunch times as the original restaurant. If you walk outside from the Oxbow Wine Bar into the main part of the Oxbow market you can choose from a variety of specific vendors including vegetables & fruit, ice cream, tea, olive oil, rotisserie, spices and much more.
The owners of Oxbow Wine Merchant & Wine Bar also own and operate the Ferry Plaza Wine Merchant in San Francisco. Visit: www.oxbowine.com or the main Oxbow website