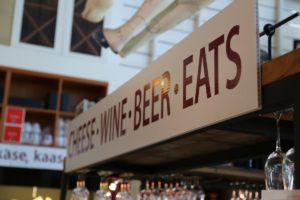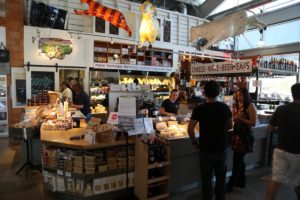 Oxbow Cheese & Wine Merchant is located just inside of the 30,000 square foot Oxbow Public Market near The CIA at Copia (originally founded as Copia: The American Center for Wine, Food & the Arts in 2001). Oxbow is a short walk from downtown Napa across the 1st street bridge over the Napa River. Along with the name of the market this wine merchant takes its name from the bend in the Napa River that lies directly next to the building. Opened in December 2007, this market has become a popular place with locals, many of whom are involved in the area's wine industry and with tourists – especially on the weekends. The market is open seven days a week. Seating is available inside at both ends of the market and also outdoors at both ends of the market including above the Napa River on the north side.
With the development of both Copia and the Oxbow Market, a number of tasting rooms soon opened in this part of downtown. At last count there are 7 tasting rooms directly next to or across from Oxbow. Both The CIA at Copia and the Oxbow Public Market share a large parking lot and one can easily walk between both buildings.
Oxbow Cheese Wine Merchant is one of the older merchants inside Oxbow; they maintain one of the larger wine bars in the city of Napa – much of the time during the weekdays it's easy to secure a seat for a tasting or light food but on Friday nights and some weekends it can become very busy. Locals' night is always the first Tuesday evenings of the month from 5pm to 9pm (prices for locals are discounted). With a number of bar stools on each of the 4-sided tasting bar, conceivably the maximum seating would be almost 30 people around the counter at any one time.
Nicely organized menus list both the food items as well as the wine selections. Our favorite lunch special whenever we stop in are the Panini sandwiches. Look for the 6 simple colored graphics which are explained towards the front of the menu. These graphics represent specific types of wine, for instance, the wine's sweetness, aromas, structure etc. Each wine available for tasting features one of these logo's next to it to better help one choose a wine that matches your palate.
An excellent selection of both local wines as well as international wines is available. Their motto is "we spit, so you don't have to." Also browse their large selection of local and international cheeses with samples available.
Looking to taste something other than just Napa Valley wines? Over the years their tastings have included numerous non-Napa options – most of which were international, ranging from South America to Europe to Australia. Numerous international wines are available for purchase by the bottle (shelves which surround the central wine bar), and if you purchase one of these, they will uncork it and you can drink it at the wine bar. Very cool. Visitors can also order small plates to pair with the wine; the server can provide specific pairing recommendations based on the specific wines ordered. A small deli is located on site with cheeses, meats, olives etc.
A stop here is typically not the only one you will want to make when you are at the Oxbow Market. Gotts Roadside (upscale burgers) is on the same block; this is a hip, popular upscale burger restaurant with some long history in the Napa Valley. You know you're in Napa when the wine list differentiates you from a "typical" hamburger stand. The original Gotts is in St. Helena and is a tourist magnet. This Gotts is not quite as crowded during the busy lunch times as the original restaurant.
The Oxbow Public market features numerous small vendors including vegetables & fruit, ice cream, tea, olive oil, rotisserie, spices and much more. Several sit-down restaurants in the city of Napa also maintain satellite restaurants here. One winery, Hudson Vineyards maintains a sizable selection of fresh fruits and vegetables from their ranch in Carneros.
Oxbow Cheese Wine Merchant, Napa

Oxbow Public Market, Napa

OTHER LOCATIONS
Ferry Plaza Wine Merchant, San Francisco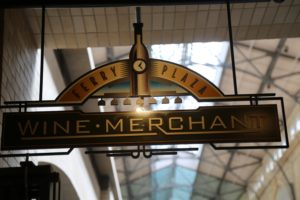 Under same ownership, is the Ferry Plaza Wine Merchant in San Francisco located in this historical and prominent Ferry Plaza Building along San Francisco's Embarcadero waterfront. The interior of the building was completely remodeled in 2003 and today contains numerous small food vendors within about 100,000 square feet of retail space. Much bigger than the Oxbow Public Market in the city of Napa but similar in types of products available. Several familiar 'faces' are also located in the Ferry Plaza including Gotts and Hog Island Oyster.
The Ferry Plaza Wine Merchant is a sizable space – much larger than some of the other small spaces occupied by various vendors. The wine selection is excellent with both domestic and international wines represented, including plenty from the Napa Valley. Taking advantage of their location next to one of the ferry terminals,they sell 'ferry juice' assorted cocktails in cans that passengers can bring with them and enjoy on a ferry ride in the nearby bay.
Part of the Ferry Plaza Wine Merchant is the wine bar with seating around the bar and at tables looking directly onto the flow of beautiful people walking by inside the Ferry Plaza. A variety of wines can be ordered, choosing from certain size pours or by the bottle. Numerous small bite pairing options are available including several charcuteries, lots of cheese and other small snacks. Also, several selections of caviar are available.
One of the real highlights of this shop is they are an event space; hosting wine tastings (the Wine Bar events) curated by the vintners including a number of vintners from Napa Valley. During a recent visit owner of the following Napa Valley wineries were scheduled for tastings, Marston Family, Mirror Wines, Robert Sinskey Vineyards, Arietta, Pride Mountain Vineyards, Brown Estate and Turley Wine Cellars. A pretty impressive collection over a span of just a few months.
The Ferry Plaza Wine Merchant also maintains a wine club – offering members discounts on wines in their retail store as well as other member perks.
Ferry Plaza Wine Merchant, San Francisco

Mission Bay Wine & Cheese, San Francisco
Located on the corner of Channel Street and 4th Street (address 114 Channel Street) this spacious wine shop, wine bar and culinary provision provider opened in 2019. Located in the hip and modern Mission Bay neighborhood in San Francisco, the shop is only about a 10-minute walk from the Chase Center (home of the Golden State Warriors basketball team).
The wine selection inside this spacious store is varied from both old world and new world – with a nice selection of Napa Valley wines. In addition to wine, the story also carries spirits and sake (a special walk-in room greets visitors to the right of the main entrance containing a variety of spirits.
And one not only comes here wine but also for culinary provisions – including a diversity of artisan cheeses and other to-go snacks.
Mission Bay Wine Bar at Thrive City, San Francisco
This wine bar, located along Terry Francois Blvd next to Chase Center opened in late January 2023. They are located in Thrive City, the plaza surrounding Chase Center, home of the Golden State Warriors basketball team. The bar is open daily from 5 to 10pm with extended hours during special events at Chase Center.
Wines can be ordered by the glass, carafe or bottle and weather permitting, enjoyed outdoors on the provided seating. Along with plenty of alcohol options for purchase to to or to consume on premises, guests can order several cheese and charcuterie boards, small plates and flatbreads.
We plan to visit this latest opening under the "wine merchant' family by the end of 2023 or at the latest, 2nd quarter 2024.
—
For more information, visit: www.oxbowine.com or the main Oxbow website