Ovid Vineyards was founded by the husband wife team of Mark Nelson and Dana Johnson. After selling their online medical company in 1998 they built a vacation home on Pritchard Hill (just east of Oakville). Both are serious about wine and soon discovered the potential of growing grapes in this location. The name "Ovid" is in reference to a Roman Poet who lived nearly 2000 years ago. This poet's most famous work was titled "Metamorphoses" – a title which is appropriately considering its relevance to the wine industry.
In regards to stunning views we have discovered at least three outstanding winery sites in the Napa Valley; this is one of them. Perched well above the valley floor just above the eastern edge of the Oakville Sub Appellation on a clear day you can see almost all of the valley south of St. Helena even into downtown San Francisco. This is probably the best known terroir that is not in a sub appellation of Napa.
The area is known as Pritchard Hill and it is producing some exemplary wines. Pritchard Hill is above the eastern side of Oakville and is one of the rockiest parts of Napa. Sonoma has an appellation called "Rockpile" – that name could easily be substituted for this area. We have visited a number of vineyards in this area and one nearby vintner toured us around thousands of pounds of stacked rocks next to his vineyards.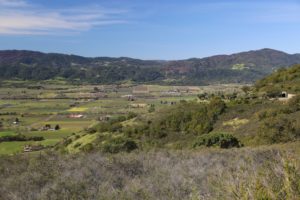 When Mark and Dana purchased the property it had not yet been planted, however the area in general had already proven itself. Chappellet has been on Pritchard Hill since the late 1960's – Colgin, one of Napa's "cult" wineries is one of their neighbors and Bryant Family and Dalla Valle are not far away.
From the beginning, Ovid assembled one of Napa's "dream teams"; David Abreu is the vineyard manager and Andy Erickson was the founding winemaker (Screaming Eagle, Harlan, Staglin etc). David Abreu planted and has managed the vineyards since day one. In addition the famed French blending master Michel Rolland is their consulting winemaker.
Ovid planted 15 acres to all red varietals in 2002 (the majority being Cabernet Sauvignon and Cabernet Franc) and in the process took out amazing quantities of rock. The vines certainly have to struggle in this region – there is an abundance of sunshine and the elevation also contributes to some superb wines. 2005 was their first release.
We originally sat down with then CEO and managing partner Janet Pagano and Winemaker Austin Peterson. Austin barrel sampled us on their 2008 Cabernet Franc, one aged in wood tanks and the other aged in concrete. From merely these few tastes it is evident that Cabernet Franc does extremely well here. The one aged in concrete shows a neat dustiness on the nose with hints of wet stone and lavender. The earthiness also continues to the palate. With the amount of rocks in the vineyards you can't help but notice some of this terroir in the wine itself. The concrete tends to soften the tannins slightly.
The wine fermented in wooden tanks shows excellent fruit – notes of blackberry on the nose, it is rich, layered and maybe slightly more showy than the wine fermented in the concrete. When you blend the two you have excellent layering and depth.
The actual winery facility is small yet extremely functional including several unusual innovations (at least in regards to Napa wineries). They ferment both in wood and concrete and have the only permanently designed in place concrete tanks that we have seen in Napa. Using concrete and wood for the fermentations gives the winemaking team some subtle yet interesting differences in the wine. In this rocky conditions it is always a challenge to drill a cave; Ovid's cave is small, extends about 20 feet back into the almost solid rock hillside and is very functional. Their tanks are all for small lots and were designed around the vineyard blocks. The winery is entirely gravity flow.
Their focus is on two wines each year a Cabernet Sauvignon and their "Experiment" – this is a novel name for a unique wine each year. No two years are the same and if they cannot create a blend that satisfies their exacting tastes, this wine will not be created. Sometimes two wines are released under Experiment. Only 500 cases of Ovid are typically produced.
The winery itself was designed by famed winery architect Howard Backen – some of his other projects in Napa include Futo Estate, Dana Estate and Harlan Estate. He has a certain trademark that stands out when you are in one of his wineries – his designs combine elegance with power and the use of darker wood tones.
Ovid maintains a mailing list (which at the time of this review is currently closed due to demand) but you may add your name to their wait list. For more information visit: www.ovidvineyards.com
NOTE: in mid 2017 Ovid was sold to the Duncan's, the owners of Silver Oak Cellars and Twomey wineries. We have been meaning to revisit for some time now to update this review, and this is now a good excuse to do so. We will update this review once we have had a chance to revisit the winery.