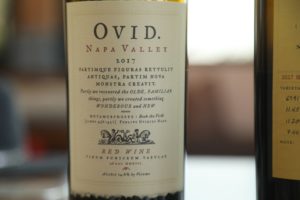 OVID Napa Valley was founded by husband and wife Mark Nelson and Dana Johnson with their inaugural vintage in 2005. The name Ovid was the name of the software company Mark founded in the late 1980s, Ovid Technologies – based in New York. His software business was highly successful and became an important platform for cataloging and searching medical records and literature for hospitals and universities.
The name "Ovid" is in reference to the Roman poet Publius Ovidius Naso (simply known as Ovid), who lived from 43 bc to 17 ad. This poet's most famous work was titled Metamorphoses – a title which is appropriate considering its relevance to the wine industry. This poem is epic, with nearly 12,000 lines, a volume of work that encompasses 15 books. A number of notable authors have been influenced by his works including William Shakespeare.
After selling the company in 1998 Nelson and Johnson purchased their property (from the long time Long family who have sold off parcels over the decades on Pritchard Hill to notables such as Colgin Cellars and Gandona Estate). They soon built a private home on site (just east of Oakville). When Mark and Dana purchased the property, it had not yet been planted to grape vines, however the area in general had already proven itself. Chappellet Winery has been on Pritchard Hill since the late 1960's, One of their immediate neighbors, David Arthur Vineyards has been growing vines here since the early 1980s and others had been growing grapes here prior to their arrival. Colgin, produces one of Napa's most highly sought after wines via their allocation list, is one of their neighbors and Bryant Family is also located within this premium part of the valley.
Ovid planted 15 acres to all red varieties in 2000 (the majority being Cabernet Sauvignon and Cabernet Franc) and in the process took out amazing quantities of rock (5,000 cubic yards of stone by their estimate). They also grow less then 3/4 of an acre of Syrah; Pritchard Hill has very few Syrah vines (Colgin and Melanson are two vineyards that come to mind). In 2020 and 2021 an additional 13 acres of land was developed and planted to vineyards – in the process a significant amount of rock was displaced and in places is stacked up to 60 feet deep.
Pritchard Hill is above the eastern side of Oakville and is one of the rockiest parts of Napa. Sonoma has an appellation called "Rockpile" – that name could easily be substituted for this area. We have visited a number of vineyards in this area and one nearby vintner toured us around thousands of pounds of rocks piled high, up to 60 feet deep next to his vineyards.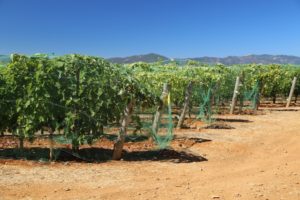 In the years following the vineyard development, the winery was built over a span of several years and finished in 2003. The winery itself was designed by one of wine country's premier architects, Howard Backen – (the Hamden McIntyre of his generation). His firm has designed a number of premium wineries in the valley including Harlan Estate, Continuum, also on Pritchard Hill, Futo Estate and Dana Estate. His work carries a certain feel – designs that combine elegance with power and often the use of darker wood tones. The winery is powered by solar, organically farmed, and certified Napa Green (a certification program by Napa County Department of Public Works and the California Green Business Program overseeing water conservation and reduced energy and waste within Napa based County wineries).
In regard to stunning views, we have discovered a handful of outstanding winery sites in Napa Valley; this is certainly one of them. Perched well above the valley floor (at about 1400 feet) just above the eastern edge of the Oakville Sub-appellation on a clear day one can see almost all of the valley south of St. Helena even into downtown San Francisco. At the same time the views are intimate, overlooking some of Oakville's most hallowed grounds directly to the west. Despite its excellent reputation, Pritchard Hill is not one of Napa Valley's 16 sub appellations due to the fact that the Chappellet family owns the trademark to the name "Pritchard Hill".
From the beginning, Ovid assembled one of Napa's "dream teams"; David Abreu is the vineyard manager and Andy Erickson was the founding winemaker (Screaming Eagle, Harlan Estate and his own label, Favia with his wife). Incidentally Ovid was one of Andy's first consulting clients. David Abreu planted and continues to oversee the management of the vineyards. In addition, the famed French blending master Michel Rolland is their consulting winemaker and is in the valley several times throughout the year to consult with key wine making decisions.
In mid 2017 a majority share of Ovid was sold to the Duncan family, the owners of Silver Oak Cellars and Twomey wineries. Mark and Dana retained a minority interest (and kept their nearby home until 2021 when it was sold to a family originally from Australia).
During our first visit to the property, we met with CEO and managing partner Janet Pagano and winemaker Austin Peterson. Austin joined the team as an assistant winemaker to Andy Erickson in 2006 and was promoted to head winemaker in 2011. Austin barrel sampled us on their 2008 Cabernet Franc, one aged in wood tanks and the other aged in concrete. From merely these few tastes it is evident that Cabernet Franc does extremely well here. The one aged in concrete shows a pleasing dustiness on the nose with hints of wet stone and lavender. The earthiness also continues on to the palate. With the number of rocks and iron and mineral rich soils in the vineyards, perhaps it's no surprise that some of this terroir reflect in the wines. The concrete tends to soften the tannins slightly. The wine fermented in wooden tanks shows excellent fruit – notes of blackberry on the nose, it is rich, layered and maybe slightly showier than the wine fermented in the concrete. Blending the two creates excellent layering and depth.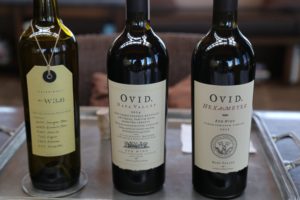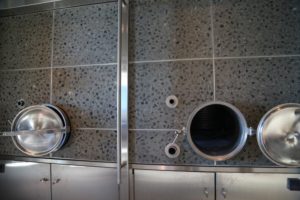 The production part of the winery is small yet extremely functional including several unusual innovations (at least in regards to Napa wineries). They ferment both in oak barrel and concrete (using custom-designed permanently mounted tanks). These tanks are all for small lot fermentations and were designed with specific vineyard blocks in mind. And they are only used for a short period each year, just for fermentation.
In rocky conditions such as this site, it is always a challenge to drill a cave – Ovid's cave is small, extending about 20 feet into the almost solid rock hillside. Their tiny cellar stores two vintages at a time. The winery is entirely gravity flow.
Select Wines
Their focus is on several wines each year including two estate red wines, Hexameter and the Napa Valley Red Wine. In addition, intriguing wines bottled under "Experiment" are created each year – always differing in the type of blends, varieties, vineyard sites and winemaking practices used, including sometimes the size of barrels. Highly unique to the Napa Valley, this is exciting for both the winemaking team and for their mailing list members (who always have something new to enjoy each year). Ovid's total annual production is typically 1000 to 1200 cases.
While Ovid is known for their estate reds, it would be a mistake to overlook the Ovid Experiment White Wine. No. W 3.6 2016 California White Wine is highly unique blend crafted from varieties mostly sourced outside of the Napa Valley including from the Sierra foothills. This vintage includes Sauvignon Blanc, Grenache Blanc, Albariño, Viognier, Roussanne, and Albariño – a France, meets Italy meets Spain blend if you will. This wine was fermented slow and cold in barrel – in part of showcase aromatics. The bouquet initially shows notes of lemon/lime zest, passion fruit and citrus blossom but as it opens, offers appealing tropical aromas that are mostly floral in nature including honeysuckle. Well balanced, the wine is seamless in its presentation. Carries weight but is not heavy, a nice texture that glides across the palate. Flavors of mandarin are complemented by a steely mineral note on the finish. Good acidity. Every year the identification numbers change – W stands for a white wine, the first number in the sequence is the release number and the last number is the number of the vintage.
The 2019 White Experiment W 6.9 is a blend of 36.43% Sauvignon Blanc, 22.73% Viognier, 12.54% Albariño, 10.60% Roussanne, 9.81% Vermentino, 4.76% Picpoul Blanc, 2.64% Grenache Blanc and 0.49% Marsanne. Offers aromas of lemon/lime and grapefruit pith on the bouquet. Very bright aromatics continue onto the lively palate which is well layered both in flavor and texture. Displays a a saline almost briny textural feel with flavors of citrus and lemon grass. Very intensely flavored with a long finish. This is certainly, a thoughtfully made white wine, especially considering the varietal diversity that goes into the blend.
The 2017 OVID Napa Valley is dark ruby in color; offers a brightness of fresh fruit on the bouquet along with hints of dried herbs and a note of old cedar. The oak is a complementary characteristic here – focusing on the expression of the fruit. Bright, lively and young – these characteristics continue onto the palate. This wine (at the time of our tasting, 4 years post vintage date) is like a precocious teenager whose energy is boundless and whose boundaries have not yet been defined by age. Offers plenty of red fruits across the palate including cherry and currant with a hint of dried tobacco leaf. Juicy and mouthwatering, the tannins are still tightly knit, bouncing into each other but not yet combining with each other. Age worthy? Absolutely.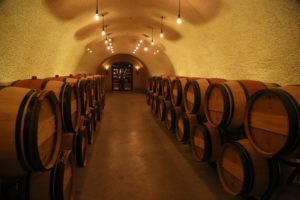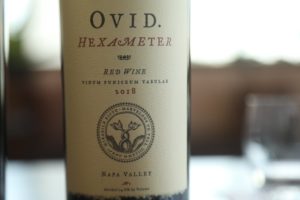 The 2015 OVID Hexameter Red Wine highlights their estate Cabernet Franc (this vintage is a blend of 65% Cabernet Franc, 21% Cabernet Sauvignon, 10% Merlot and 4% Petit Verdot). Shows an elegance yet a ripeness at the same time on the bouquet. Also notes of black olive, mocha, truffles and darker spices. Rounded on the entry, fairly plush across the palate – everything about this wine is harmonious. The texture of the tannins are appealing to – firm, yet fine grained they linger softly on the finish. Drinks very well young; this is definitely a wine worth seeking out. The first vintage of Hexameter was in 2009.
The 2014 OVID Red Wine is aromatically generous, showing blackberry, tobacco leaf, mocha, an elegant, aged cedar nuance and accents of darker baking spices. Well-layered on the palate featuring more dark fruit then red fruits (plum and dark cherry). A noticeable juicy characteristic on the palate – big but balanced the firm and slightly dusty tannins linger for some time on this well-structured finish.
Ovid typically bottles less then 100 cases of Syrah. The 2015 OVID Napa Valley Syrah is crimson on the edges of the glass, with a very dark core. A beautiful depth of of aromatics is centered around darker fruit, predominately blackberry with floral undertones including notes of violets. More subtle but yet noticeable are hints of sage, dry dust and cedar box. Mouth filling, savory and juicy on the palate – this full-bodied wine delivers layers of flavor. Framing the finish are firm, ripe and dense tannins. Carrying some grip, they are chewy and linger for quite some time.
—
Some of the wine labels include Latin phrases with English translations. Both Dana and Mark have amassed an impressive collection of classical literature – some of which is housed within the winery. Mark and Dana have certainly left their 'imprint' and philosophy on the winery operations; the transition in majority ownership has has not changed the overall production, wine making philosophy and vision for the property.
A hand-written prose by Dana caught our eye while touring the cellar, marking the entrance to their wine library:
"For delay gives strength,
delay ripens the tender grapes
And makes a robust harvest
from tender crops."
…clearly written about the virtues of waiting, timing if you will – letting nature take its course and having the grit to know when to be patient.
Ovid maintains a mailing list (which at the time of this review is currently closed due to demand) but you may add your name to their wait list. A limited number of magnums are produced each year offered to allocation list members. For more information and to join the waitlist, visit: www.ovidnapavalley.com