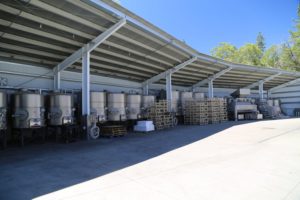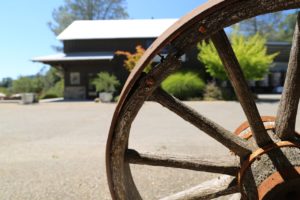 Outpost Winery is located on the top of Summit Lake Drive at an elevation of 2200 feet – about 10 minutes outside of the small town of Angwin. This road should almost be called Zinfandel drive – several other high end Zinfandel producers are located within minutes of Outpost off of this same road. This is in northern Napa's Howell Mountain appellation. As a result of the elevation they are above the Napa Valley fog and do see some snow in the winter. Punch in the winery office code and then enter through the main metal gate, park in the gravel lot and then walk to the winery.
Outpost was founded in 1998 by Terry and Juli Pringle – during their ownership they built a winery on site. Second owners – husband wife at the time, Kathy and Frank Dotzler purchased it in 2003. Frank is a native Chicagoan and Kathy spent some time living in Belgium and Texas. They spent their honeymoon in the Napa Valley in 1997 having both shared a passion for wine.
Most couples on their honeymoon go some place and then leave with fond memories; not so with with Dotzlers. They "put down roots" so to speak and purchased a twenty acre site on Howell Mountain which they ultimately planted to vines and named the True Vineyard. Kathy spoke of thinking "small" at the time – perhaps having a vineyard and land that they would use as a vacation home.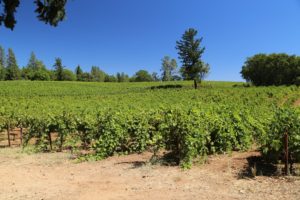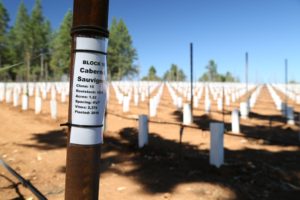 But they started meeting vintners and others in the wine industry and the "community" took them under their wing helping them decide what varieties to plant, finding a vineyard manager and a winemaker. Kathy and Frank started drawing up plans for a winery to be built on the True Vineyard but then realized at the time (in the early 2000's) it was cheaper to purchase an existing winery.
They reached out to Jean Phillips (founder of Screaming Eagle) and Ren and Marilyn Harris (founders of Paradigm Winery); all are Napa vintners who were involved in real estate. Ren was retired from real estate at the time and told the Dotzlers he would only come out of retirement if the transaction would be an easy one and would involve one phone call – that of connecting the Dotzlers with the sellers. Incidentally this was his 76th and final real estate transaction that he helped broker.
In July of 2018 the winery was sold to the third owners, France based AXA Millesimes – a company that owns wineries in Bordeaux, Burgundy, Portugal and Hungary. The sale included both the winery, the brand, all existing inventory and both planted and un-planted acreage on site.
The name Outpost was derived over a random conversation at Bouchon Restaurant in Yountville one night when Terry and Juli Pringle were dining there one night. As they were leaving, their server wished them well on their drive back to their 'outpost'.
From this ridge top location the views are memorable; you can just make out a tiny part of the Napa Valley floor far below.
Grapes were originally planted here in the 1860's – more recent plantings were in the 1970's by the Lamborn Family (another area vintner neighbor) who actually sold part of their vineyards to Outpost (See nearby Lamborn Vineyards), although much of the current plantings date from when this winery was founded in 1998.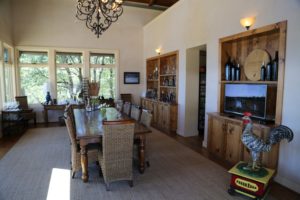 Today winemaker Thomas Brown not only makes the Outpost Wines but he also makes the wine for a number of other premium labels. Using the winery as a custom crush facility is an integral part of their business.
Outpost is primarily known for their Zinfandels which are organically farmed on the 42-acre estate. All their wines are 100% varietal. This is a noted Zinfandel growing region of Napa and many small wineries produce Zinfandel in this area. The soils are very rocky and red which helps produce very concentrated rich wine. Because of the elevation and exposure, harvest dates here are typically very late in the season. To give you some perspective on this, when we visited much of their Zinfandel was still completely green whereas the Zinfandel we saw on the valley floor had already well passed through veraison.
Because of their somewhat remote location, an "outpost" if you will they don't see many visitors for tastings. As a result your tasting will always be a very personal one and a visit here is for serious wine enthusiasts.
Tastings are conducted inside on a large wooden table in a wide windowed room overlooking the vineyards and hills below.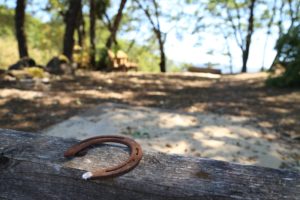 Outpost makes an exceptional Grenache; very few Napa wineries make a wine of this variety. Theirs is an excellent example of what you can do with this wine, a lot of the varietal fruit flavor is retained on the palate; it is well balanced and very smooth. The bad news is it is made in low quantities, so order it early!
The Zinfandel we tried has some nice floral notes on the bouquet with a palate full of berry fruit with undertones of exotic spices. Outpost also makes a Howell Mountain Cabernet and a Petite Sirah which is even a bigger bolder wine than their Cabernet.
True Vineyard is nine acres planted entirely to Bordeaux varieties; these wines were released for the first time in 2008. Outpost has very limited distribution – with wine selectively going to premium restaurants in the Napa Valley and San Francisco. Most of their business has been via word of mouth – people come to the valley, visit Outpost and then refer their friends both for the wines and the experience.
Note: this review has been identified as needing an update for tasting notes for current releases.
For more information, visit: www.outpostwines.com
Outpost Winery & Property

Château Pichon-Baron – in Bordeaux. One of several International wineries owned by AXA Millesimes.