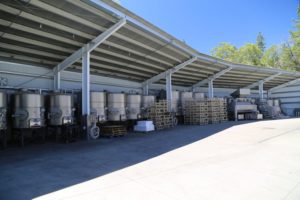 Outpost Winery is located on top of Summit Lake Drive at an elevation of 2200 feet – about 10 minutes outside of the small town of Angwin. This road should almost be called Zinfandel Drive as several other premium Zinfandel producers are located within minutes of Outpost off of this same road. This is in northern Napa Valley's Howell Mountain appellation. As a result of the elevation the property is above the Napa Valley fog and experiences light snowfall in the winter.
Outpost was founded in 1998 by Terry and Juli Pringle; their first wine was from that year, 400 cases of Zinfandel. This first vintage established what would become a long-term winemaker relationship with this site; Ehren Jordan (of Failla Wines) produced this first Outpost wine at Turley Wine Cellars where Thomas Rivers Brown was his assistant winemaker. Thomas has been associated with the Outpost wines since this first vintage.
During the Pringle ownership the winery was built. The second owners – husband wife at the time, Kathy and Frank Dotzler purchased it in 2003. Frank is a native Chicagoan who ran a successful computer company that produced computer cases and cables and Kathy spent some time living in Belgium and Texas. They honeymooned in Napa Valley in 1997 having both shared a passion for wine.
Most couples on their honeymoon go someplace and then leave with fond memories; the Dotzler's "put down roots" so to speak and purchased a twenty-acre site on Howell Mountain which they ultimately planted to vines and named True Vineyard. True Vineyard is nine acres planted entirely to Bordeaux varieties; these wines were released for the first time in 2008. Kathy told us about thinking "small" at the time – perhaps having a vineyard and land that they would use as a vacation home.
But they started meeting vintners and others in the wine industry and the "community" took them under their wing helping them decide what varieties to plant, finding a vineyard manager and a winemaker. Kathy and Frank started drawing up plans for a winery to be built on the True Vineyard but then realized at the time (in the early 2000s) it was cheaper to purchase an existing winery. As it turns out, the Outpost site was almost one of the True Vineyard's neighbors.
They reached out to Jean Phillips (founder of Screaming Eagle) and Ren and Marilyn Harris (founders of Paradigm Winery); all are Napa Valley vintners who were involved in real estate. Ren was retired from real estate at the time and told the Dotzler's he would only come out of retirement if the transaction would be an easy one and would involve one phone call, that of connecting the Dotzler's with the sellers. Incidentally this was his 76th and final real estate transaction.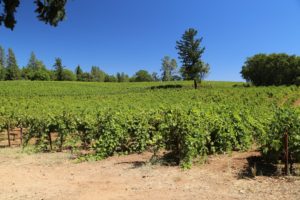 In July of 2018 the winery was sold to the third owners, France based AXA Millesimes – a company that owns wineries in Bordeaux, Burgundy, Portugal and Hungary. The sale included both the winery, the brand, all existing inventory and both planted and non-planted acreage on site as well as the nearby True Vineyard. AXA's vision for Outpost is a long term one which has included expanding their vineyard footprint and continuing to retain long time employees.
The name Outpost was derived over a random conversation over dinner Bouchon Restaurant in Yountville one night. As Terry and Juli Pringle began to walk out after dinner, their server wished them well on their drive back to their 'outpost'. It would certainly be nice to track down and identify that particular server.
From this ridge top location, the views are memorable; one can just make out a tiny part of Napa Valley floor far below. Outpost's vineyards range in elevation from approximately 1,800 feet to 2,200 feet. Grapes were originally planted here in the 1880s; more recent plantings were in the 1970s by the Lamborn Family (another area vintner neighbor) who sold part of their vineyards to Outpost (See nearby Lamborn Vineyards), although much of the current planting's date from when this winery was founded in 1998.
Winemaker Thomas Brown continues to oversee production of the Outpost Wines, but he also makes the wine for a number of other premium labels. And using the winery for select custom crush clients is another aspect of their operations.
Outpost is primarily known for their organically farmed Zinfandel and Cabernet Sauvignon on the 42-acre estate (28 acres are planted to grapevines). Nearly all their wines are 100% varietal. Howell Mountain is a noted Zinfandel growing region in Napa Valley and a number of small 'neighboring' wineries also produce wines from this variety. Contributing to concentrated and rich wines are the property's high elevation and its rocky and iron-rich soils. Because of the elevation and exposure, harvest dates are typically very late in the season – often into early November. To provide some perspective on this, during our first visit to the property, much of their Zinfandel was still completely green whereas the Zinfandel we saw on the valley floor had already well passed through veraison.
Several years after AXA Millésimes purchased Outpost, they acquired the Henry Brothers' Ranch (a short drive from the winery). This site is located high on the red soil slopes of Howell Mountain (with an uppermost elevation of just under 2,000 feet). This property is 36 acres of which 18 are planted to vines. It was previously owned by the Henry family; brothers Ric and Bryan Henry's parents purchased this land in 1975 for $150,000; at the time it was forested along with manzanita and as Ric recalls a small prune orchard. Over the years, Bryan and his two sons developed the vineyard site and grew nearly all red varieties including mostly Cabernet Sauvignon with a tiny block of Petite Sirah and a 1/4 acre of Sauvignon Blanc (the only white varietal that grew on site). The grapes were highly sought after with a number of mostly smaller producers purchasing fruit each year.
After the sale of the vineyard to AXA Millésimes grapes from the 2021 vintage were produced and then the vineyard was completely replanted by mid 2022, overseen by Matt Hardin and Josh Clark of Hardin Clark Vineyard Management. The site was replanted to primarily Cabernet Sauvignon but also with smaller blocks of Merlot and Cabernet Franc.
Select Wines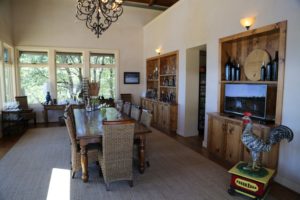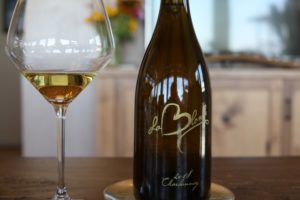 Outpost has sourced grapes for their Chardonnay from several vineyard sources over the years since no Chardonnay is planted on their Howell Mountain properties. The 2018 Outpost La Blonde Chardonnay was sourced from Riddle and Lucky Well vineyards near the town of Occidental in west Sonoma County. This wine was fermented and aged in barrel. It is medium to deep gold in color; the aromatics are expressive, warm and inviting and include popcorn butter, caramel, vanilla, melon, honeysuckle, honeycomb and a nuance of lightly toasted oak. As the aromatics evolve, the bouquet offers some riper fruit notes including of apricot and yellow peach. Its texture is immediately attractive with a creamy and supple feel across the palate. This wine shows plenty of depth and richness of flavor but also a simultaneous freshness. Flavors include pineapple, mandarin and melon and it finishes with some stone fruit nuances.
The 2018 Outpost Zinfandel is dark ruby and almost opaque in the glass: this bottling smells like the variety with a union of sweeter fruits, darker spices including pepper, clove and old cedar box. The spices on the bouquet continue onto the palate along with flavors of red plum, blackberry and blueberry. The tannins are nicely integrated, dusty and linger with a persistent brightness of acidity. Jammy, overripe? Not this bottling.
The Outpost Cabernet Sauvignon typically spends 3-5 days cold soaking before being allowed to begin fermentation and is often put into barrel with a slight residual sugar left to finish its fermentation. Aging is in French oak barrels, of which typically 70% to 80% are new.
The 2017 Outpost Cabernet Sauvignon. This was a warm year on Howell Mountain and the resulting grapes were harvested slightly earlier than normal. This wine is dark ruby in color; the aromatics show notes of dust, leather, old cedar box, dried fruits and ripe blackberry. The bouquet also shows a slight savory component. A liveliness is especially evident on this vintage with a vibrant finish anchored by gravelly, dusty and still pronounced tannins along with a hint of lingering tobacco and dark pepper spice. This wine has plenty of life ahead of it (we tasted 5 years post vintage).
The 2018 Outpost Cabernet Sauvignon is dark ruby in color and almost opaque; it shows slightly riper than the 2017 vintage both on the bouquet and the palate. The bouquet offers a pleasing union of both primary and secondary aromatics including blackberry and boysenberry along with saddle leather and a hint of tobacco spice. As the wine opens further additional aromas of mocha and dark chocolate are revealed. We love the density of everything about this wine including its depth of flavor and chalky textural profile.
The 2019 Outpost Cabernet Sauvignon is dark ruby in color with purplish tinges on the rim of the glass; this is a powerful yet restrained bottling that is highly energetic in its youth (we tasted 3 years post vintage). The bouquet is elegant, attractive and diverse showing scents of violets, dried herbs including sage, a fruit sweetness and old cedar box. Found deeper in the aromatics are notes of clove and some other darker dessert spices. This wine is lively across the palate, mouthwatering and juicy with flavors of blackberry and dark plums. The texture of the tannins is somewhat gravelly. This is a big but already balanced wine with lots of life ahead of it.
Outpost makes an exceptional and rare Napa Valley grown Grenache. The origins of this variety on the property are with Thomas Brown who initially encouraged its planting. The Outpost Grenache is produced in extremely small quantities and is coveted by a loyal following.
And what was unfortunately a common story in Napa Valley in 2020, Outpost like many other wineries in the region did not produce wines from this vintage due to the proximity and heavy smoke resulting from the Glass Fire.
Outpost also produces Gentry Wines; the inaugural vintage was in 2019, a bottling of 100% varietal Howell Mountain Cabernet Sauvignon.
—
Because of their somewhat remote location, an "outpost" if you will, and small hospitality team, a limited number of visitors are hosted daily for tastings. As a result, tastings are always very personal; a visit to Outpost is for serious wine enthusiasts. Several inside spaces are used for hosting visitors for tastings including one room containing a large wooden table in front of a sizable window overlooking some of their vineyards and hills below.
While Outpost retains some very select distribution including in New York, the majority of their wines are sold direct to consumer. Total production varies each year but is usually around 3,000 cases. In 2016 the decision was made to hold back a small number of wines each vintage creating a limited number of library wines. For more information about Outpost, to schedule a visit or to join their wine club, visit: www.outpostwines.com
Outpost Winery & Property

Note: this review is continuing to be updated as time and budget allows with visits to the remainder of the AXA Millesimes owned winery properties.
OTHER AXA MILLESIMES OWNED PROPERTIES
Platt Vineyard
In July 2022, AXA Millésimes purchased the 275-acre Platt Vineyard in Sonoma County near the small community of Freestone. The nearly 275 acre site is planted to nearly 40 acres of both Pinot Noir and Chardonnay; its fruit has been sold to a number of premium producers over the years including Amulet Estate, Fayard Wines and Ramey among others.
The winemaking team at Outpost will oversee all production from this vineyard. And eventually all the grapes from the property will be used in-house and its vineyard footprint will increase to around 50 acres. Plans call for developing a winery on site. We will keep a close eye on the progress here and will update our notes and photography once we have more details.
Château Pichon-Baron, Bordeaux
This is one of the most visually impressive chateaus in Pauillac with its stunning architecture often attracting tour buses and other visitors who enjoy walking around its picturesque profile among the surrounding gardens. And this was our experience during our first visit while on a river cruise. We have later returned several times. Château Pichon-Baron is located on the left bank of the Gironde River about an hour drive from the center of Bordeaux.
Located in a coveted vineyard neighborhood, one of its close neighbors to the east is the First Growth, Château Latour. The estate was founded in 1694, the year that Baron Jacques Pichon de Longueville married Thérèse, the daughter of prominent wine merchant Pierre Desmezures de Rauzan. The estate was handed down to subsequent generations, remaining in the family. The neighboring chateau almost across the street, Pichon Longueville Comtesse de Lalande also has the word, 'Pichon' in its name. In fact, both chateaus used to be part of the same property until in 1850 their owner, Baron Joseph de Pichon Longueville split the land evenly among his five children. His two boys received what is now Pichon-Baron and his daughters received what is now Pichon Longueville Comtesse de Lalande.
The chateau dates from 1851. It is an impressive structure built to impress from the outside, but its interior is really small. As part of the Bordeaux Wine Official Classification of 1855, Château Pichon-Baron became a Second Grand Cru Classé. Heirs of Pichon de Longueville owned the property until 1933 when they sold to the Bouteiller family. This was the first winery property that AXA Millesimes purchased in 1987. Château Pichon-Baron is the AXA headquarters for all of their international winery holdings.
Following their purchase, and led by led by AXA president at the time, Claude Bebear, renovations of the chateau and a modernization of the estate began in 1988. A new cellar was completed in time for the 1991 harvest. A second underground cellar was later built, opening in 2007.
Production is focused on merely three wines from 75 hectares, all located in Pauillac separated into three main vineyards based on soil types (limestone + clay, alluvial and a conglomerate of sand + iron). And their three wines reflect these differences in terroir. They are the flagship Pichon-Baron from the estates' most premium parcel (Butte de Pichon Baron) and two second bottlings: Les Tourelles de Longueville and Les Griffons de Pichon-Baron
The density of their vineyards is approximately 9,700 vines per hectare with and average age of 35 years per vine. The percentage of varieties planted is the following: 66% Cabernet-Sauvignon, 28% Merlot, 5% Cabernet Franc and 1% Petit Verdot. Soil health is a critical part of their vineyard operations; they utilize a cover crop among the vines and use grape pomace for fertilizer. And they have noticed a light correlation between cover crop causing a slightly lower pH in their wines. Several of the most significant pressures are from mildew and botrytis in varying degrees depending upon the vintage. Frost is generally rare. Wild boars can sometimes be a problem rooting around within the vineyards.
A team of more than 20 people oversee their vineyards full time. During harvest, the grapes are picked by hand by a team of approximately 80 people. And like in the vineyards, attention to detail is critical in the cellar. Once in the cellar the grapes are destemmed and also sorted using an optical sorter (since 2010). But that is not the only sorting taking place here; the same core of people every year also sort the grapes by hand. Prior to fermentation the grapes are generally left to cold soak for about 20 days. Production is setup so that the movement of wine is kept to a minimum. Stainless steel electric motor driven vats deliver the grapes via elevator and gravity to tanks below. Italian made amphora were introduced in 2017 for aging some of the wines (usually only for a few months) and in 2022 were used for the first time for a small amount of vinification.
Their own yeasts are selected, cultivated in a lab and then used for inoculation. The wines are generally racked every three to four months using candles to look for the cloudiness when reaching the bottom of the barrel. They are blended in wooden Taransaud vats after 8 months of barrel aging before returning to barrel for at least another 8 months of aging. Egg whites are used for fining. Two barrel rooms are within the winery, one for the most recent vintage and one for the previous year. A diversity of barrels from various coopers are used; spent barrels are sent to the AXA owned properties in Portugal. The second barrel room is located directly beneath the reflecting pool – a window allows one to look up from below its waters.
A library room contains some 14,000 bottles of older vintages; the oldest bottle in their collection is from 1881. This collection contains numerous magnums, some dating back to 1934. Every approximately 30 years, the oldest wines are re-corked and one of the bottles is sacrificed for topping purposes.
Tastings are by appointment and are hosted around a circular bar on the floor above the reception area. These typically include four wines including two vintages of Château Pichon-Baron and one bottling each of their second wines. The wines are well distributed and easily found through various online wine retailers.
Select wines

The 2017 Château Pichon-Baron is 79% Cabernet Sauvignon and 21% Merlot. This wine is deep ruby in color; the bouquet is elegant and sports aromas of cherry, blueberry, currant and dried herbs. Its focus is on its core fruit character rather than too much influence from secondary aromas. The nose becomes more sweetly fruited as it evolves in the glass. There is also a light note of coffee bean, dark chocolate and darker baking spices. Shining brightly, the palate offers a mouth watering freshness of red fruits plus lively acidity. It offers flavors of cherry, red berries and currant, lingering with a dried tobacco leaf nuance. This wine drinks very well in its youth and is already nicely balanced. The lightly grainy but overall rounded and resolved tannins showcase a chalky character which continues to persist on the finish. This wine was aged in 70% new French oak barrels.
The 2016 Château Pichon-Baron reflects completely different vintage characteristics than the 2017 bottling and are best observed in a side by side tasting. This wine is 85% Cabernet Sauvignon and 15% Merlot. It is deep ruby and nearly opaque in the glass; the bouquet is savory and fresh showcasing scents of dried herbs, tobacco, an earthy/fresh tilled soil quality and darker fruits including plum and cherry. The palate features both balance and complexity with flavors of plum and complexity. The tannins are pronounced, firm and grainy, ultimately outpacing the fruit on the persistent finish. We tasted this bottling 7 years post vintage and it still shows as remarkably youthful. This wine was aged in 80% new French oak barrels. It will age well over the next 20+ years with the proper cellaring.
The 2017 Les Tourelles de Longueville is 55% Merlot, 27% Cabernet Sauvignon, 13% Cabernet Franc and 5% Petit Verdot. This wine is deep ruby; the bouquet needs time to open still (we tasted this 6 years post vintage). It offers aromas of plum, a hint of leather, a light note of pepper, some minerality nuances, graphite and a sweet tobacco spice. The palate shows more dark than red fruits including plum and cherry. The feathery tannins are fine grained and sport a velvety texture. This wine is very approachable in its youth.
The 2017 Les Griffons de Pichon-Baron is 52% Cabernet Sauvignon and 48% Merlot. This bottling is deep ruby in color; the bouquet offers a sweetness including of red licorice, raspberry and current with a hint of baking spices deep in the aromas. It is primarily red fruited on the palate with flavor of red cherry, plums and a lingering light note of tobacco spice. The tannins feature a chalky feel and a light dryness towards the back of the palate. The red-fruited finish lingers with flavors of currant and cranberry and a light drying character.
Exterior

Wines/Winemaking

Château Pibran, Bordeaux
This property was purchased in 1941 by Paul Pibran Billa who named the site using his middle name. AXA Millesimes purchased Château Piblan from the Billa family in 1989. The chateau and surrounding vineyard is located a less than 10 minute drive from Château Pichon-Baron. Standing outside the chateau one can look across a sea of vineyards at Chateau Pontet-Cantet with other very nearby chateau neighbors including Mouton-Rothschild and Lynch-Bages. This 9.5 hectare site is planted on alluvial well-drained gravel soils.
The wines for Château Pibran are produced at Château Pichon-Baron but then are brought back to Château Pibran for their aging.
Select wines
The 2020 Château Pibran is a blend of 55% Merlot and 45% Cabernet Sauvignon. This wine is deep ruby in color; the bouquet is elegant with a union of what we noted as 'savory darkness' and a freshness of its fruit. Scents include berries, mushroom, gaminess, an earthiness and a tobacco spice. These spice layers continue to persist as the wine further evolves in the glass. Balanced and bright across the palate it offers flavors of cherry, red plum, white pepper and a light note of cardamom spice. The tannins are felt as a gentle touch with a rounded and creamy texture. The finish lingers savory and bright with a light note of dried tobacco leaf. Already charming in its youth this wine's sweet spot should be somewhere between 5 and 10 years but can go further. It wine was aged in 50% new French oak barrels. This wine over delivers for its price point.
Château Suduiraut, Sauternes
One of approximately 300 chateaus in Sauternes, Château Suduiraut owns 200 hectares of land of which 92 are planted to vines, some 90% Sémillon and 10% Sauvignon Blanc. The chateau is a Premier Cru Classé – dating back to the original Bordeaux Wine Classification of 1855. The property took its name in 1580 from its owner at the time, Léonard de Suduiraut and has changed hands several times over the years; AXA Millesimes purchased the estate in 1992.
The picturesque chateau is surrounded by gardens originally designed by André Le Nôtre, a landscape architect best known for designing the park at the Palace of Versailles. Today the chateau is selectively rented out for conferences (often not wine related) but is also used for AXA Millesimes events.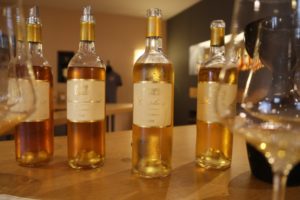 The vineyards are planted in rounded river washed sand and gravel that is 10-12 meters in depth before hitting a limestone layer. The oldest vines on the property date back to 1937. The property is around 50 meters above sea level – with their prominent next door neighbor Château d'Yquem only slighter higher in elevation.
Primary fermentation is conducted in barrel – a previous winemaking team helped develop their own proprietary temperature control system for the barrels using two stainless steel rods, one metal rod hooks up to a water pipe system that was built alongside all of their barrels – and cool water is pumped into the rods helping regulate each barrels' temperature during fermentation. No secondary fermentation is conducted on the sweet wines. Of approximately 1,000 barrels used each year (9 different coopers 19 different toast levels), approximately 25-30 percent are new French oak.
Today they produce three sweet wines and two dry wines. The flagship wine is named after the estate; the 2000 Château Suduiraut mirrors the estate planting percentages and is a blend of 90% Sémillon and 10% Sauvignon Blanc. Shows more of an amber color then the younger vintages we tried with a diversity of aromatic depth including notes of candied pears, apricot, peach, marmalade, hard candy caramel and the smell of an orange peel zest reminiscent of the fine mist that often appears when one peels a fresh orange. This wine is superbly balanced across the palate between fruit, secondary flavors that have developed due to its age, sugar, acid and mouth feel. Supple in texture, but not overly dense or viscous – shows flavors of toffee, coffee, orange peel and baking spices along with brown sugar on the finish. The finish is persistent and continues to linger for some time. A beautiful showing where sweetness is tempered by excellent acidity – a hallmark of excellent wines of this style.
These types of these wines age remarkably well; the oldest vintage at the time of our visit in their private collection dates from 1885 while vintages dating from the 1970s can sometimes be found in distribution. All tastings to the estate can be arranged by appointment.
Disznókő Tokaj
Purchased in 1992. Notes & photos coming at some point
Domaine de l'Arlot, Côte de Nuits
In 1891 wine merchant Jules Belin purchased the property and enlarged its holdings through a number of vineyard purchases (a stone wall around the property had been built by prior owners). The property was still family owned (his heirs) until 1987 when it was sold to AXA Millesimes. At that time the property was renamed Domaine de l'Arlot after a small creek which flows out of the rock below their vineyard and then continues underground below the road. AXA has since acquired additional premium vineyard holdings including in Vosne-Romanée for a total of 15 hectares (37 acres). All wines produced are from their own properties and the entirety of their production is bottled in their cellar.
The domaine is located merely a few minutes' drive south of the center of Nuits-Saint-Georges; driving from Nuits-Saint-Georges look for the large sign on the right-hand side of the road a few minutes before reaching Domaine de l'Arlot. The impressive stone house on the property dates from the 1600s and was built from locally quarried rock.
In 2003 Domaine de l'Arlot began farming their vineyards biodynamically; today all their vines are farmed this way.
An old marble quarry is located directly behind the domaine; wandering through all the moss-covered stone statues in a maze-like setting, sculpted by numerous artists is almost like walking into a scene from Lord of the Rings. We will always fondly remember our visit here including exploring the exterior of the domaine on our own during remarkably nice November weather; this was our first ever Burgundy based wine tasting.
All red wines during a tasting at the winery were barrel samples of selected bottlings from the 2021 vintage. 2021 was a smaller than normal vintage due to severe frost early in the season which damaged buds. And this cold snap not only severely affected Burgundy, but other parts of France as well; we saw severe damage during our trip in April and May 2021 in parts of Provence and Bordeaux. As a result, Domaine de l'Arlot estimates they lost approximately 80% of their Chardonnay. And 2021 was not a 'ripe' vintage as the region experienced a fairly cold and rainy summer. The resulting direction in the cellar, led by Burgandy native winemaker Geraldine Godot (who we briefly met) was a softer approach to retain the elegant qualities of the vintage.
Most of the red wine samples we tried at their point of their maturation showed plenty of aromatic 'funk spice'. Brooding would be a good descriptor to describe some of their aromatics. Due to circumstances, at the time of our visit we weren't able to try any finished wines, but we hope to do so in the future and will add additional tasting notes here at that time.
Domaine de l'Arlot used to produce spirits; 2008 was their last vintage and was bottled in 2023.
Select Wines
The 2021 Domaine de l'Arlot Nuits-Saint-George 1er Cru Blanc was aged for 12 months in 20% new French oak and then spends several months in stainless steel before being bottled. This is a beautiful bottling; the first description we wrote in our notes was "purity of fruit" showing on the bouquet. This wine is medium gold in color; it offers aromas of honeysuckle and mineralities. The palate shows a pleasing rounded texture with flavors of red apple. It is bright and remarkably well-balanced and seamless in its youth from start to finish. This is a rare white wine produced by Domaine de l'Arlot as white grapes (Chardonnay and Pinot Gris) make up only several percent of their total vineyard holdings but are 50% of the total plantings surrounding the domaine. These grapes are planted directly behind the domaine.
The 2021 Domaine de l'Arlot Côte de Nuits-Villages sees a different percentage of whole cluster fermentation depending on the vintage; this year the grapes were entirely destemmed before fermentation. This wine spent 12 months aging in 30% new French oak barrels and then another 3 months in tank before being bottled. Its color is pale ruby; it offers aromatics of barnyard, sweaty baseball mitt lather, mushroom, white pepper and other darker spices. These aromatics are echoed on the palate along with fruit flavors of pomegranate and red cherry. It is juicy and fresh across the palate anchored by soft tannins and a lingering note of dried tobacco leaf on the finish.
The 2021 Domaine de l'Arlot Mont des Oiseaux is medium ruby in color; the aromatics offer nots of spicy raspberry (perhaps a little reductive at this stage) and white pepper. Unlike some of the other bottlings we tried, the bouquet is fairly expressive of the fruit rather than spice characteristics. The palate offers flavors of cherry and red plums; it is juicy with soft tannins anchoring the slightly spicy finish. This wine was aged in 35% new French oak barrels.
The 2021 Domaine de l'Arlot Nuits-Saint-Georges is pale to medium ruby in color; the bouquet offers aromas of white pepper, old leather, barnyard and a general brooding very noticeable dark character. The freshness of this particular vintage is clearly evident on the palate offering an intensity of flavor with complementary supple tannins and an invigorating lift of acidity. All components are nicely integrated for being so young.
The 2021 Domaine de l'Arlot Les Suchots Vosne-Romanée 1er Cru is medium ruby in color; the bouquet is dark including notes of white pepper and a tobacco spice with an herbal note that is reveals as the wine continues to evolve in the glass (hints of green pepper). Offers plenty of flavor and complexity on the palate including primarily red fruits. The refreshing and lively finish features well-rounded tannins.
The 2021 Domaine de l'Arlot Nuits-Saint-Georges Clos des Forêts 1er Cru has plenty of color; the aromatics are dark, including sweaty leather, mushroom, forest floor – damp and brooding. This wine is more texturally driven then some of the previous bottlings we sampled. present, noticeable but still rounded in their youth, they accompany a dark spice-filled finish with a lingering note of dried tobacco leaf.
The 2021 Domaine de l'Arlot Romanée-Saint-Vivant. As far as Pinot Noir vineyard neighborhoods go, one doesn't get more 'heavy hitting' than this site. Nearby neighbors include Romanée Conti, La Tache and Les Richebourgs. The bouquet is spice and earth driven including aromatics of forest floor, damp leaves and barnyard/animal. The fruit aromatics are there, but are closed up, wound tightly and only time/oxygen in the glass helps reveal their core. The palate is layered, vibrant and offers plenty of mouth-watering freshness. The tannins are dark and light gravelly in their texture, lingering with a tartness of bright red fruits. We would love to come back to this wine in 5 and 10 years.
Quinta do Noval, Portugal
Purchased in 1993. Notes & photos coming at some point
FORMERLY OWNED
Château Petit-Village NOTE: this winery was sold in 2020 to the owners of Château Beauregard, not long after we visited the property. We keep our notes here for historical reference. We have heard a number of updates have since been made to the cellar since our visit.
Located in Pomerol, almost straddling the border with Saint-Émilion this is some of France's most exclusive vineyard neighborhoods. Nearby neighbors include Château Petrus and the tiny Château Le Pin. One can see the prominent Monolithic Church of St. Emilion in the distance through the vineyards. The winery sits at the highest part of the Pomerol plateau (35 to 38 meters above sea level) in approximately the center of the 10.5-hectare triangular shaped property. The vineyard is planted to 75% Merlot, 17% Cabernet Franc and 8% Cabernet Sauvignon. The size and shape of the property remarkably has not changed since 1705. Visually the soils are covered in tiny river washed gravel – but in their vineyard this typically only extends about a meter below the surface giving way to all clay.
The oldest vines on the property date from 1948 and 1950. Because of their spacing, horses are still used to manage these particular plots including plowing the soil and helping during harvest. The vineyard is High Environmental Value certified (HVE) certified, a system of certification overseen by the French Ministry of Agriculture – promoting organic farming. Château Petit-Village does not use any herbicides, insecticides or pesticides in their farming. Farming is done by hand – no tractors are used on site.
The winemaking is as meticulously handled as their farming – specific sized tanks were designed to correspond to each plot within the vineyard – grapes are picked section by section and fermented separately until final blending occurs. Pump overs are only conducted at the beginning and end of fermentation while the cap is punched down (pigeage) for most of the fermentation.
The focus of their winemaking is on two wines each year, the Grand vin Château Petit-Village, and a second wine, Le Jardin de Petit-Village. The Grand vin in particular are very impressive wines and typically are 75% Merlot with 25% Cabernet Sauvignon, although the percentages can vary year to year. During a visit we tasted through both current releases and older vintages – each vintage with its own defining character but all with a thread of intriguing fruit, balance and acidity that connects the vintages.
AXA Millesimes purchased the estate in 1989 and sold it in 2020. Incidentally the oldest bottle in their private collection from the property is from 1928. All tastings can be arranged by appointment.