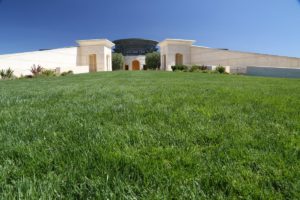 Opus One sells "ultra premium" wines and focuses on a single wine each year as well as Overture which is their second label. Their first vintage was released in 1979. The physical winery and grounds are located in Oakville on the other side of Highway 29 from its "sister" winery, Robert Mondavi.
This winery was founded by Baron Philippe de Rothschild of France (who at the time was owner of the famed French first growth Château Mouton Rothschild winery) and Robert Mondavi. Their original goal was to combine the great winemaking traditions and innovations of both families into producing a world class wine. The building is an attraction in and of itself. It sits on top of an artificially created hill – it is round which is a theme you find throughout the winery in terms of the architecture and design. The grounds outside and inside are perfectly manicured as of course are the vineyards!
You can park on either the left or right side of the building – in our experience the right side typically fills up faster than the left side and both parking lots seem to be the same distance from the entrance. Sometimes when it is busy there will be an attendant at the end of the driveway directing people to park. The massive cream colored limestone used in the building is reminiscent of public buildings in Washington DC or the Getty Center in Los Angeles.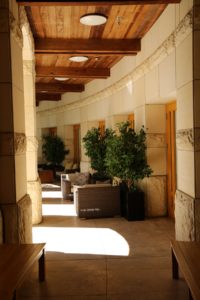 This Neo Classical winery is about combining refined European elegance with a modern California styled building. Robert Mondavi used to describe the building as a "space ship" but when you get close you will see it is actually very elegantly designed. Most likely classical music will be playing through speakers located in the courtyard to greet you and you can either walk to the left of the main entrance to their "Partner's Room" for a tasting of their current release or if you have a prior appointment check in at the main reception through the large wooden doors.
Their signature wine, Opus One is the only wine available for tasting in the Partner's Room. For the price a good amount of wine is given – not your typical 1 oz pour that most wineries give! Tours are by appointment and usually last about 1 hour 15 minutes. These are extremely informative and are always conducted with small groups only.
You start your tour with a sit down introduction with your guide – note the "old world" style furnishings in here. A few items date back to the 18th century and some of the antiques are even much older. The items in this "salon room" were picked out by Robert Mondavi's wife Margrit and the Baron's daughter Baroness Philippine Rothschild (a current owner).
Opus One has one of the largest cleanest looking labs of any Napa winery we've been to! You will make a short stop here and then proceed to a large production styled room of which the top of about 40 tanks can be seen poking through the floor. This is one of the nicer production facilities you will see in the valley. The de-stemmer, sorting tables and other equipment can easily be wheeled from tank to tank depending on need. Everything is sorted by hand and all gravity fed into the tanks. Two large rolling doors open with great views of the vineyards in the back of the winery.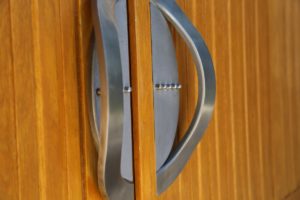 An overview of their vineyards will be discussed – and even from here you can clearly see how healthy and meticulously groomed these vineyards are. Questions are encouraged and help keep the group tour lively. A short walk downstairs leads to the actual tanks for a quick description of how they are used during production and then leads out of the tank room past an elegant staircase (which leads back up to the rotunda). Lastly you will enter a room which many might consider the highlight of the tour both because this is where your tasting will occur and also because of the view of their elegant barrel room. This is a semi-circular room called "The Grand Chai" contains approximately 1000 French Oak barrels all full of wine.
We tried the 2004 vintage; all of Opus One's wines are extremely high quality, but yes some vintages are of higher quality than others and your guide can help clarify which ones these are. However, the 2004 is shaping up to be a winner. It is very smooth, with silky tannins and is well balanced and not one aspect of the wine dominates. At this age the wine is all about vibrant richly layered fruit on the palate – a few years of aging can only improve an already superb wine!
Worried about cork taint? Not with Opus One as their levels of taint are extremely low, way below the average because they employ a serious testing program on any batch of corks they consider for purchase. They randomly sample corks from these 10,000 lot batches and when they find an unacceptable level of cork taint based on their tests, they will not order that particular batch.
Regardless of whether you are on a tour, be sure to walk up to the upper balcony for a very nice 360 degree view of the valley. Their well designed logo is a profile image of both Rothschild and Mondavi's faces. Lastly a bit of wine trivia: Opus One was the only Napa winery verbally or visually referenced in the California Central Coast wine country based movie Sideways. Visit: www.opusonewinery.com