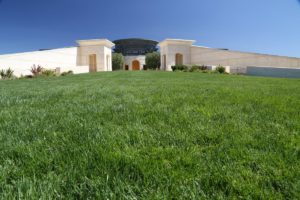 Opus One. With the combined efforts of two enterprising and well-respected individuals in the world of wine, Baron Philippe de Rothschild and Robert Mondavi, (at the time, owners of Château Mouton Rothschild in Bordeaux and Robert Mondavi Winery in Napa Valley), the creation of this winery played a significant role in elevating the stature and reputation of Napa Valley while simultaneous attracting additional visitors to the valley who have become familiar with the provenance of the Opus One wines or have heard about its coveted reputation.
The Rothschild family traces their wine heritage back to 1853 when they purchased an existing chateau and renamed it to what is now the iconic Château Mouton Rothschild. Part of the Rothschild family also owns the equally iconic Château Lafite Rothschild. Today the Rothschild family owns numerous wine estates in Europe as well as in North and South America, South Africa and Australia. And this is only their global wine business – they are involved in a diversity of other businesses including financial, mining, real estate and agricultural ventures.
Robert Mondavi's family has been in Napa Valley since the 1940s; they purchased Charles Krug Winery in 1943. Robert worked at Charles Krug Winery until branching out on his own to begin Robert Mondavi Winery in 1966. His philosophy about promoting Napa Valley was that 'the rising tide carries all ships' – both promoting his own winery as well as his neighbors – essentially promoting Napa Valley as an entire region.
The focus of Opus One's production is on a single world-class wine each year. However, since 1993 they have created a second much lesser known and promoted label called Overture. This wine is labeled as a Napa Valley Red wine and interestingly is one of a select few annual release wines from any winery in the Napa Valley that is not labeled with a vintage date. Overture is always a blend of multiple vintages from lots that were not selected for the Opus One wine. And this wine generally sees less French oak then its older sister. And some years production is extremely small like in 2001 in which only 2 barrels were produced.
The first vintage of Opus One was from 1979 and along with the 1980 vintage were both released in 1984. As part of promoting these early wines both Robert and his wife Margrit and the Rothschilds attended select events including the San Francisco Symphony's appropriately named Opus One Ball, held in April of that year.
Vintages until 1990 were produced at Robert Mondavi Winery which is physically located almost on the other side of Highway 29 in Oakville. For several years the wine was blandly referred to as napanamedoc until Opus One was ultimately decided as an appropriate name reflecting the significant efforts and details that go into creating the wine each year – and referring to a composers' first composition.
In 2004, as part of the sale of Robert Mondavi Winery, half of Opus One was sold. Today Opus One is under an interesting ownership with 50% owned by the public company, Constellation Brands and the other 50% still family owned by the Rothschilds.
One of the most easily recognized winery buildings in all of Napa Valley, glances invariably turn in its direction – especially from first time visitors to the valley driving by on Highway 29. The winery sits on top of an artificially created hill – round in shape, this circular theme is found throughout the winery in terms of its design.
Hospitality
Visitors can park on either the left or right side of the building – in our experience the right side typically fills up faster than the left side yet both parking lots are located approximately the same distance from the entrance. Sometimes when it is busy there will be an attendant at the end of the driveway directing people to park. The sizable cream-colored limestone used in the building is reminiscent of public buildings in Washington DC or the Getty Center in Los Angeles.
The Neo-Classical architecture combines refined European elegance with a modern California feel. Robert Mondavi used to describe the building as a "spaceship" but when you get close you will see it is very elegantly designed. Most likely classical music will be playing through speakers located in the courtyard, greeting visitors and one can either walk to the left of the main entrance to their "Partner's Room" for a tasting of their current release or if one has a prior appointment, check in at the main reception through the large wooden doors.
Their signature wine, Opus One is the only wine available for tasting in the Partner's Room. For the price a generous amount of wine is poured – not a typical 1 oz pour that most wineries offer. Tours are by appointment and depending on the tour, usually last either 90 minutes (Estate Tour & Tasting, taste of one vintage) or 120 minutes (Library Tour & Tasting, taste of 2 vintages & a more in depth look at the winery). The tours are extremely informative with group sizes kept small.
Tours begin in the 'salon room' with a sit-down introduction provided by your host – note the "old world" style furnishings in here. A few items date back to the 18th century and some of the antiques are even much older. These items were hand selected by Robert Mondavi's wife Margrit and the Baron's daughter Baroness Philippine Rothschild (both deceased).
Opus One has one of the largest and cleanest looking labs of any Napa winery we have visited to date. Guests will make a short stop here and then proceed to a large production styled room of which the top of about 40 tanks can be seen poking through the floor. This is one of the nicer production facilities you will see in the valley. The de-stemmer, sorting tables and other equipment can easily be wheeled from tank to tank depending on need. Grapes are sorted using an optical sorter (one of the first wineries in the Napa Valley to embrace this technology) and then the grapes are gravity fed into the tanks. Two large rolling doors open with great views of the vineyards in the back of the winery.
During the tour, your host will discuss select details of how they manage their vineyards – from the winery (or from the upper balcony with its 360-degree view of the valley) one can clearly see how healthy and meticulously groomed these vineyards are. Questions are encouraged throughout the tour. A short walk downstairs leads to the actual tanks for a quick description of how they are used during production and then leads out of the tank room past an elegant staircase (which leads back up to the rotunda). Lastly you will enter a room which many might consider the highlight of the tour both because this is where your tasting will occur and also because of the views of the elegant barrel room. This semi-circular room is called "The Grand Chai" and contains approximately 1000 French oak barrels full of wine.
Winemaking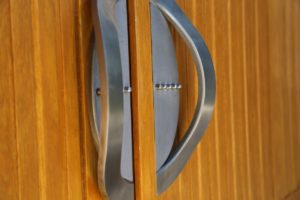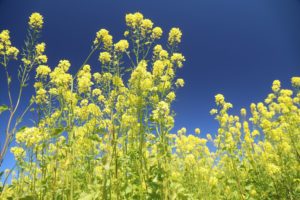 Over the years the fruit sources for the Opus One wine have evolved including from parts of the To Kalon Vineyard. Grapes were also purchased in the past from select growers although today the focus is on their estate fruit. The vineyards surrounding the winery visually look different than other vineyards in the Napa Valley – they are trained to grow low to the ground with very tight spacing (all Guyot trellising). All their vineyards are farmed organically. Winemaker Michael Silacci refers to their care of the land and their vineyards as being a steward – one who leaves something for the next generations, in better shape than before.
The coveted soils from the To Kalon 'fan' (an alluvial fan) feature material washed down from the Mayacamas mountains and run almost all the way to the Napa River just to the east of the winery building. It can be difficult to see from the winery – but looking to the west one can see a slight rise in slope as the soils draw nearer to the base of the Mayacamas mountains.
Grapes are harvested from four vineyard sites (two on the estate property divided by the driveway which leads from Highway 29 to the winery and two across Highway 29 in the To Kalon Vineyard) for a total of approximately 170 planted acres.
Winemaking has become more nuanced over the years including more detailed looks at harvest decisions. Early on under his leadership in agreement with their viticulture team, rather than daytime harvesting, picking was moved to early mornings. Silacci who has been winemaker since 2001, oversaw the isolation of native yeasts from each of their vineyard sites – identifying numerous strains but only working with several for their fermentations. And in additional attention to details, he and the winemaking team worked with UC Davis for several years to measure, monitor and ultimately better understand oxidation reduction potential (ORP) during fermentation (yeast metabolism).
Keeping employees involved in other parts of the operations is an important part of the internal operations at Opus One. Part of the winemaking team's effort to provide perspective on viticulture to non-production employees is to get them involved in the vineyards. Employees are mentored by those working in viticulture to oversee a small number of vines from pruning to management during the growing season through to harvest.
Winemaker Michael Silacci recalls a winemaker event held in Japan for a number of sommeliers. Equipment technician at the time, Randy Zavala joined the small team from Opus One at the event in Japan – not talking about the wines but about his efforts to keep the tractors operating and details about the specialized equipment he used in the vineyard. Randy died in 2019 but his name lives on at Opus One; the equipment shop on the property is named in his honor – the Randy Zavala Vineyard Equipment Shop.
During several visits to the estate over the years, we have noticed a finesse and a freshness that shows throughout all the vintages. And this transcends age in the bottle – a stability if you will, preserving the brightness of fruit, the liveliness of acidity and a tannin profile that we have noticed can still be somewhat youthful, even on older vintages.
While always a Cabernet Sauvignon based wine, each vintage of Opus One varies in the amount and types of varieties used in the blend. The wines are all aged in new French oak – generally from between 18 and 24 months.
Select Vintages
The 2017 Opus One is 80% Cabernet Sauvignon, 9% Petit Verdot, 5% Cabernet Franc, 5% Merlot and 1% Malbec. Shows medium to darker ruby in the glass with intriguing aromatics including hints of dust, old cedar box (this particular aroma trigged an instant recall of our grandmother's old cedar box lined with velvet which she used to house her jewelry in), red licorice and a clove spice. A little bit floral but not as noticeable as the 2016 vintage. Lingers with a juicy and salivating finish featuring red fruits including cranberry and currant and a hint of tobacco smoke. The tannins are slightly chalky, rounded but with plenty of grip. During a challenging harvest which involved a warm growing season and fires (they harvested the majority of their fruit before the fires began on October 9th of this year), this wine shows plenty of liveliness and elegance.
The 2016 Opus One is 77% Cabernet Sauvignon, 8% Petit Verdot, 8% Merlot, 5% Cabernet Franc and 2% Malbec. The wine is darker ruby in color; initially offers aromas of leather, darker earth, forest floor along with notes of rose petal, an aromatic character that Silacci refers to as rose stems, and berries. One can also smell notes of dust. Somewhat savory in its aromatic presentation. An appealing tension runs the length of the palate – this wine is well layered with an intriguing character. Mouthwatering, juicy and fresh on the finish – with flavors of cranberry and currant. Anchored by rounded tannins which show no sharp edges but retain a moderate grip for quite some time. A truly beautiful wine.
The 2015 Opus One is 81% Cabernet Sauvignon, 7% Cabernet Franc, 6% Merlo, 4% Petit Verdot and 2% Malbec; immediately offers a brightness of fruit aromatics tending to be more red fruit driven with red cherry and berries and some floral notes, including violets. Also, a subtle 5-star spice nuance, anis and clove. Nicely balanced across the palate with a creaminess noticeable more on the entry. Plum and cherry. Offers darker rounded wood and grape tannins. A mouthwatering brightness lingers. Retains the elegance, despite the warm vintage.
Michael recalls his winemaking team needed some additional inspiration throughout this particular harvest; he had them read author Robert Fulghum's, All I Really Need to Know I Learned in Kindergarten, then later watch Jiro Dreams of Sushi (offering parallels between producing high quality cuisine and winemaking) and also watch, Man on the Wire, the story of walking between the Twin Towers in New York City on a high wire. Regardless of any internal challenges presented during harvest, this vintage came out exceptional.
The 2007 Opus One is 79% Cabernet Sauvignon, 8% Merlot, 6% Cabernet Franc, 6% Petit Verdot and 1% Malbec; one can small the vintage in the bouquet – offers riper and sweeter fruit aromatics including plum along with cassis, complemented nicely by baking spices including clove and cardamom. Well layered across the palate with still surprisingly tighter wound tannins. Hints of white pepper pepper towards the back of the palate. Dense and long lasting. Juicy, mouthwatering finish. Has held up very nicely over the past 14 years.
The 2006 Opus One is 77% Cabernet Sauvignon, 12% Merlot, 5% Cabernet Franc, 3% Petit Verdot and 3% Malbec; offers notes of dark fruit including plum, leather and old cedar box. Slightly savory. As it breathes further, reveals some hints of mocha and chocolate. Shows younger than anticipated on the palate (we tasted 15 year post vintage date) with tannins of medium grip, dusty with earth and darker spice notes lingering on the finish. But the hallmark brightness of Opus One still shows through.
The 2004 Opus One is 86% Cabernet Sauvignon, 7% Merlot, 4% Petit Verdot, 2% Cabernet Franc 1% Malbec: noticeably smooth on the palate, with silky tannins. A good word to describe this wine is balance – not one aspect of the wine dominates. At this age (originally tasted several years post vintage date) the wine is all about vibrant richly layered fruit on the palate – a few years of aging will only improve its character.
—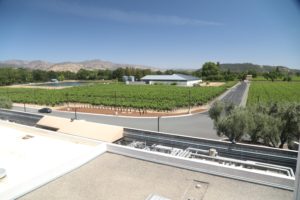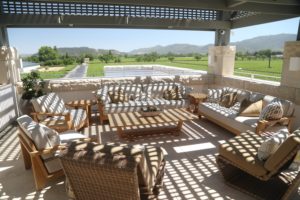 Worried about cork taint? Not with Opus One as their levels of taint are extremely low – well below the average because they employ a detailed testing program on any potential corks being considered for purchase. Corks are randomly sampled from 10,000 lot batches and when an unacceptable level of cork taint has been discovered based on testing, that particular batch will not be ordered.
The smartly designed logo is a profile image of both Rothschild and Mondavi's faces. And a bit of wine trivia: Opus One was the only Napa winery verbally or visually referenced in the California Central Coast wine country-based movie Sideways.
In late 2016 Opus One broke ground on a major expansion to both production and guest service space (40,000 square feet of additional space); this was the first change to the winery footprint since its completion in 1991. The extended space houses additional tanks, fermentation rooms, barrel storage and increased visitor tasting areas. Construction was completed in August 2020.
The addition was added to the east side, so the views that everyone has come to know and love looking east from Highway 29 remains the same.
Current production is around 25,000 cases a year. No other winery in the Napa Valley produces this volume of wine at this price point. Very international in their scope of distribution, Opus One is currently sold in over 90 countries with a very strong presence in Asia. As of our latest update to this review approximately 60% of their wine is sold overseas and 40% domestically. For more information and or to arrange a visit, please see: www.opusonewinery.com
Exterior

Hospitality

Winery/Wine Cellar

Château Lafite Rothschild

Château Mouton Rothschild