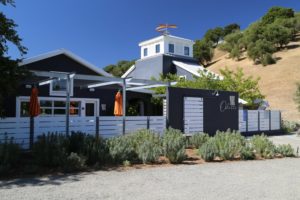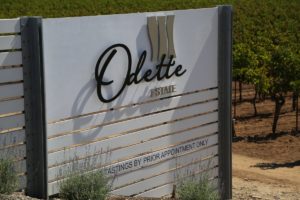 Odette Estate is the newest of the Napa PlumpJack Family (PlumpJack and Cade being the other two in the valley). Owners and partners in this winery are Gordon Getty, Gavin Newsom and John Conover. Steltzner Winery operated here for many years (their first vineyards were planted in 1965); the PlumpJack group purchased the winery and 45 acres of surrounding vineyards in early 2012.
They quickly began renovation of the existing winery building turning part of it into a chic tasting room and salon. The property totals 45 acres – several acres have been replanted since the purchase – all farmed organically.
Like Plumpjack's names for their other wineries and businesses, Odette was sourced from historical literary works – in this case from a character written about by Shakespeare which also made an appearance in Tchaikovsky's ballet, Swan Lake. The name was chosen because of the wines that come from this part of Napa (Stag's Leap) and is a name that represents femininity, strength and power. In addition, coincidentally one of the judges in the famed Paris Tasting of 1976 was named Odette; one of the winning wines in this tasting was from the Stags Leap District from a winery located just south of Odette Estate.
18,000 square feet of caves were tunneled through the hillside exiting on the other side. A state of the art small winery was built – it is one of just several in the Napa Valley that feature a living roof – with grasses and plants growing on top. Along with this vegetation, the roof also contains 2,500 square feet of solar cells. The winery is Gold LEED certified.
The lab contained within the winery is housed in one of the most unique environments of any lab in the valley! It is located inside old shipping containers that were rescued and remodeled from China. As a homage to their wine making team – the names of the primary team members each year are listed on the outside of one of these containers.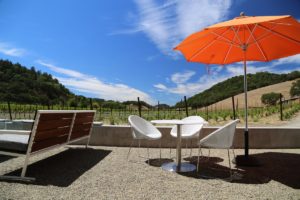 Until their estate wines were released, Odette created Adaptation wines, a second label. These wines are all sourced from a variety of non estate vineyards and are poured in the tasting room. 2013 was the last vintage of their Chardonnay but several reds continue to be produced each year including a Petite Sirah and a Cabernet Sauvignon.
The 2014 Adaptation Sauvignon Blanc is blended with smaller amounts of Sémillon, Viognier and a Sauvignon Musqué clone. An interesting variety of fermentation vessels were used on this wine including Acacia Oak, French Oak, Stainless steel and then an additional blending within a concrete "egg". This wine shows notes of citrus blossom, lemon-lime characteristics on the bouquet. It is lively and zesty on the palate with more citrus characteristics with good acidity.
The 2012 Adaption Cabernet Sauvignon smells wonderful in the glass – like a sweet desert with hints of cedar and blueberries. It is rounded on the entry, smooth on the palate showing both red and black fruit flavors (cherry, currant). The wine lingers nicely with notes of mocha and espresso.
The first estate wine was the 2012 Cabernet Sauvignon. Aromatically this vintage shows ripe fruit on the bouquet with both voluptuous fruit and dessert spices present. There is a faint underlying dustiness that shows along with hints of cedar. The richness of fruit on the bouquet continues on the palate – the tannins are fairly soft and delicate and are well integrated within the wine – slightly chalky in nature lingering on the sides and on the back of the palate. While this wine is over 15% alcohol there is surprisingly good acidity (that we don't often experience in higher alcohol wines from Napa) that is fairly evident towards the finish.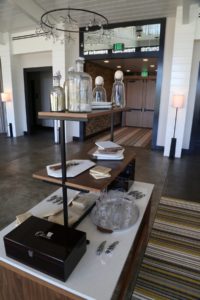 The winery offers several different options for visitors including a private tour and tasting in the modern and elegantly decorated Estate Lounge (located in a separate building behind the main tasting room). This lounge offers great views of their nearby vineyards helped in part by large windows and rotating giant door that swivels open. Odette also offers a three-course meal in the Estate Lounge paired with some of their wines.
And for those looking for the ultimate Plumpjack, Cade & Odette wine tasting the Anthology Tasting offers select wines from all three of their properties. As one of the partners in Odette, John Conover says about the wines offered in this tasting "if you are not a believer in terroir you will certainly be so after trying the wines from these three distinctive properties".
And for those interested in holding private social or corporate events – one can rent the property – often for private dinners. Odette often holds a number of events and parties for their own wine members.
For more information visit: www.odetteestate.com
NOTE: this review has been identified as needing a *major* update.