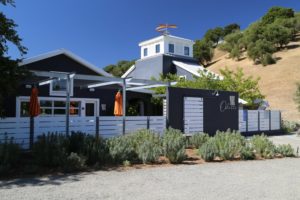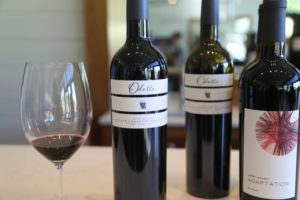 Odette Estate is part of the PlumpJack Group which includes three other wineries in Napa Valley, PlumpJack, Cade Estate and CADE 13th Vineyard. The two founders of The PlumpJack Group are San Francisco's former mayor Gavin Newsom and philanthropist, composer and entrepreneur Gordon Getty. John Conover who joined PlumpJack in 1999 is also a principal and is the General Manager. PlumpJack's beginnings were in San Francisco; in 1992 former San Francisco mayor Gavin Newsom along with Gordon Getty opened a wine shop called PlumpJack Wines in the Fillmore District, featuring an excellent selection of both European wines, California wines, spirits and craft beer. This original store is still open to the public. Today they also operate a second smaller wine shop in Noe Valley.
Gordon Getty, Gavin Newsom and John Conover are owners of and business partners in Odette Estate.
Dick Steltzner and his family operated Steltzner Winery on this site (the Stags Leap District) until 2011; their original vineyards on the property were planted in 1965. Our first visit to this property was when it was still under the Steltzner ownership, around 2008. We remember tasting a Steltzner grown and produced Napa Valley Pinotage – still the only Napa Valley Pinotage we have ever tasted. The property was the site of an old prune packing shed dating from 1915. Old timers in the valley may remember the Steltzner fruit stand located at the Steltzner Farm at 6000 Silverado Trail – selling seasonal produce and fruit (on an honor cash-based system) including blackberry's, kiwis and Satsuma Mandarins among other produce, all grown on site. An article in the July 2, 1977 edition of the Napa Valley Register references Steltzner had 8 acres of blackberries and another 8 acres of Mandarin orange trees. The blackberries were seasonally available including as U-pick. The Steltzner's eventually stopped operating this stand in the late 1980s.
Dick was also instrumental in helping develop the Stags Leap Appellation.
The PlumpJack group purchased 45 total acres including the winery in early 2012; the property is planted to approximately 38 acres of vines. Odette Estate quickly began renovating the existing winery building which was overseen by architect Juan Carlos Fernandez (who was also the architect for Cade Winery). Since the construction of CADE, Juan Carlos has left his imprint on Napa Valley with his own firm Signum Architecture. Signum has been responsible for designing BRAND, Melka, Sinegal, Nine Suns, Brasswood Winery and Covert among others.
In addition to the winery facility, Juan Carlo's team designed a chic tasting room and salon and the prominent white fiberglass sculptures located on the south side of the winery next to the Silverado Trail. This sculpture mimics the Odette Estate logo and is referred to as the Three Ladies. It is quite prominent and certainly attracts the attention of passing motorists in either direction.
A number of vineyard acres were replanted following the purchase of the property; all the vines on the estate are farmed organically.
Like PlumpJack's nomenclature for their other wineries and businesses, the name Odette was sourced from historical literary works, in this case from a character written about by Shakespeare which also made an appearance in Tchaikovsky's ballet, Swan Lake. The name was chosen because of the wines that come from this part of Napa Valley (Stags Leap District); it is a name that represents femininity, strength and power. In addition, coincidentally one of the judges in the famed Paris Tasting of 1976 was named Odette and one of the winning wines from this now historic tasting was from the Stags Leap District produced from Stag's Leap Wine Cellars – located slightly to the south of Odette Estate.
The Steltzner's tunneled 18,000 square feet of caves into the nearby hillside which included an exit on the other side of the hill. The caves are still here but are not used to host visitors; one of the tunnels is subject to flooding during heavy rains. Slightly to the north of the hospitality center is a state-of-the-art small winery tucked against the lower hillsides of the Vaca mountain range. This winery is one of only several in Napa Valley that feature a living roof with grasses and plants growing on top. Along with this vegetation, the roof also contains 2,500 square feet of solar cells. The winery is Gold LEED certified.
The lab contained within the winery is housed in one of the most unique spaces of any lab in the valley. It is located inside old shipping containers which were purchased and remodeled from China. As a homage to their wine making team, the names of the primary team members each year are listed on the outside of one of these containers.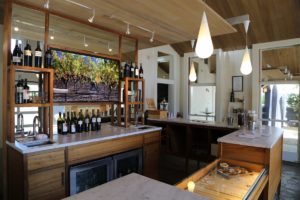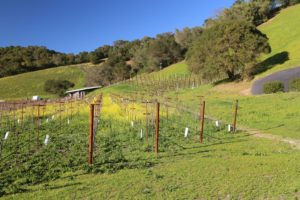 The focus of Odette Estate, as with wines from the other PlumpJack Group winery properties, is to produce balanced bottlings respective of their particular terroir. Their wines are crafted with appealing texture and are ready to enjoy young but also have the characteristics to age.
And Odette Estate continuously strives to improve the quality of their wines. John Conover, Odette Estate's General Manager told us he sits down with their head winemaker every year and asks a simple but at the same time, difficult question, "What can we do to improve the wine." This is not an easy answer considering the bar is already set very high, their wines have earned top accolades and scores from prominent wine writers over the years and they have a loyal following from their customers. But it is a question that needs to be asked and encourages the wine making team to continue to improve their efforts each year.
Until their estate wines were released, Odette created Adaptation wines, a second label. These wines were originally sourced from a variety of non-estate vineyards and are available in the tasting room. 2013 was the last vintage of their Chardonnay but several reds continue to be produced each year including a Petite Sirah and a Cabernet Sauvignon.
Select Wines
Odette Estate
The 2014 Odette Estate Adaptation Sauvignon Blanc is blended with smaller amounts of Sémillon, Viognier and a Sauvignon Musqué clone. A diversity of fermentation vessels were used on this wine including acacia oak, French oak, stainless steel and an additional blending within a concrete "egg". This wine shows notes of citrus blossom and lemon-lime characteristics on the bouquet. It is lively and zesty on the palate, leading with citrus characteristics along with excellent acidity.
The 2019 Odette Estate Cabernet Sauvignon is deep ruby in color; the bouquet offers an initial chocolate, mint, black licorice and blackberry with additional aromas of old cedar box, dust and some darker baking spices. The palate is well-layered both with darker fruit flavors and texture. The tannins show an earthy and dry but not a heavy grip; they linger with notes of dried tobacco leaf, dark spices and crushed black pepper. This is an approachable bottling in its youth. Tasting this on an extremely cold early spring day made us immediately think of warm summer evenings in Napa Valley, outdoors with the BBQ in use.
The 2017 Odette Estate Cabernet Sauvignon, Stags Leap District. This wine is dark red in the glass and almost maroon with purplish tinges around the rim. It offers aromas of ripe blackberry with a kiss of mocha – which is more subtle and in the background as the wine opens. The texture is a highly appealing characteristic of this wine and is seamless with a softness including a slight creaminess across the palate accompanied by chalky finely dispersed tannins. Flavors include ripe blackberry. The finish is very supple. Dusty. Long lasting flavor. This wine is highly enjoyable by itself.
The 2012 Odette Estate Cabernet Sauvignon offers a ripeness on the bouquet perhaps respective of this particular vintage – with a union of both voluptuous fruit and dessert spices. A faint underlying dustiness shows along with hints of cedar. The richness of fruit on the bouquet continues on the palate. The tannins are fairly soft and delicate and are well integrated within the wine and are slightly chalky in nature lingering on the sides and on the back of the palate. While this wine is over 15% alcohol there is surprisingly good acidity especially noticeable on the finish; we don't often experience this in higher alcohol red wines from Napa Valley. This bottling was among the first wines produced from Odette Estate (their inaugural vintage). It is 75% Cabernet Sauvignon, 14% Merlot and 11% Cabernet Franc.
The 2012 Odette Estate Reserve Cabernet Sauvignon earned 100 points from Robert Parker's Wine Advocate.
Adaptation
The 2018 Adaptation Petite Sirah is deep ruby in color with some purplish notes on the rim of the glass; the bouquet offers aromas of blackberry, boysenberry, notes of violets and a subtle hint of oak, but more in the background. These scents smell fresh and and ripe, with part of its aromatic profile reminding us of picking blackberries from dry hillsides during late summer afternoons. This wine is clearly about the fruit, both on the bouquet and the palate. It offers flavors of boysenberry and blackberry, lightly supported by fine-grained and well integrated tannins. If we were to summarize this wine with one word, it would simply be, "yummy". One of their wine educators spoke very highly about pairing this particular wine with a spicy pepperoni pizza drizzled with spicy honey.
PlumpJack sourced grapes from the Oso Vineyard on the lower eastern slopes of Howell Mountain overlooking Pope Valley for approximately 10 years before purchasing the vineyard from Michael Mondavi in 2022. The 2018 Adaptation Cabernet Sauvignon was partly sourced from the Oso Vineyard along with four other vineyards including from the Odette Estate property. This wine is deep ruby; it offers scents of blackberry, dark cherry, chocolate and darker baking spices. It shows as somewhat brambly. The palate offers darker fruit flavors anchored by a savory finish including some notes of dark pepper, old cedar wood and gravelly textured tannins persisting with a light dryness. This wine is 80% Cabernet Sauvignon, 18% Merlot and 2% Petite Sirah.
The 2012 Odette Estate Adaption Cabernet Sauvignon smells wonderful in the glass – like a sweet desert with hints of cedar and blueberries. It is rounded on the entry, smooth on the palate showing both red and black fruit flavors (cherry, currant). The wine lingers with notes of mocha and espresso. This wine is 78% Cabernet Sauvignon and 22% Merlot.
Hospitality
The winery offers several different options for visitors including tasting in the modern and elegantly decorated Estate Lounge which is located in a separate building to the rear of the primary tasting room. This lounge offers excellent views of their nearby vineyards facilitated in part by large windows and a rotating giant door that swivels open. Odette Estate can also arrange a three-course meal in the Estate Lounge paired with some of their wines.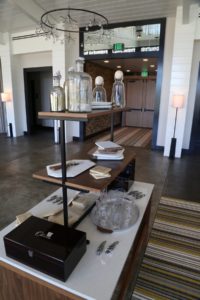 The Current Release Tasting offers tastings of select wines from Cade, PlumpJack and Odette Estate. And for those looking for the ultimate PlumpJack, Cade & Odette wine tasting the The Cabernet Experience offers select bottlings of Cabernet Sauvignon from their properties. John Conover offered the following insight into this particular tasting, "if you are not a believer in terroir you will certainly be so after trying the wines from these distinctive properties".
And for those interested in holding private social or corporate events, one can rent the property including for private dinners. Odette Estate has a commercial kitchen on site, used but one of the restaurants they work with to cater special events. And Odette Estate often holds a number of events and parties for their own wine members.
For more information, to schedule a visit or to join one of several tiers in their wine club, visit: www.odetteestate.com
Hospitality

Winery