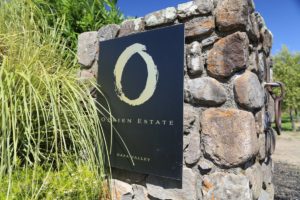 O'Brien Estate Winery is located right next to the northern suburbs of the town of Napa in the Oak Knoll district. The owners, a husband and wife team (Bart & Barbara O'Brien), fell in love with the Napa area during one of their dates.
The Napa allure is hard to resist and a number of winery owners we have visited with have moved here after tourist type trips. Subsequently many years later they located and purchased this winery. It is a small winery that provides a very personal tasting experience and O'Brien should not be overlooked if you are visiting the Napa town area of the valley.
The actual winery dates from 1978 and is completely self contained with even a mobile bottling line which is unusual for a winery with a production of about 5000 cases each year. Weather permitting, the tasting is held either outdoors on the lawn in the back of the winery overlooking the vineyards (often other visitors will be tasting here simultaneously) or on tables located within the vineyards themselves. A main room within the winery has been converted into a tasting area. The tasting is all about the wine but there is a lot to be learned in the actual vineyards and you can take a short walk through the vines.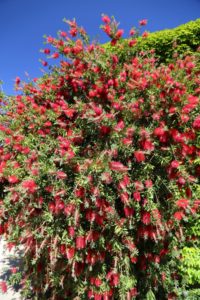 Also of note is the staff – they are down to earth, friendly and here to make sure you have a good time. On a warm Spring or Summer day – tasting their wines in the backyard overlooking the vineyard is truly a relaxing place to hang out.
O'Brien concentrates on three wines (however they make a number of other small production wines), all very reasonably priced. Their Chardonnay is fruity and crisp and not overly buttery or oaky. The Merlot we tasted was an intensely concentrated wine with lots of fruit and great structure.
The wine they are most known for is a three varietal blend called Seduction; it is packaged as a sexy wine with a see through red lace cover. Regardless of the packaging, this is an elegant smooth wine, great for those romantic situations that invariably arise in one's life.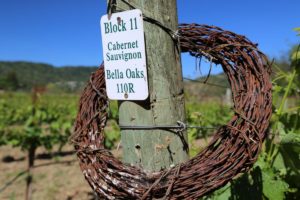 Based on some of their other wines as well as labeling they can be called Napa's Romantic Winery! Some of their other wines are produced in quantities of merely several barrels, one of which is a Rose expressively called "Flirtation".
A family friend, local landscape artist Tim Howe displays some of his paintings for sale near the reception. Originally from New Zealand – Tim's work strikes a balance between Abstraction and Impressionism.
Thinking of making an appointment here on Valentine's Day? Reserve *well* in advance! Visit: www.obrienestate.com
NOTE: this review has been identified as needing a MAJOR update.
Owner, Bart talks about his wine: