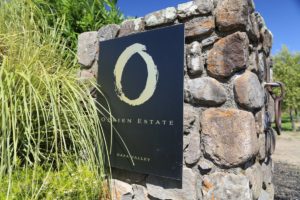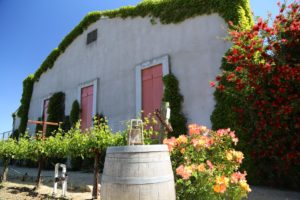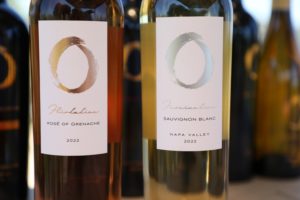 O'Brien Estate Winery is located among vineyards in the Oak Knoll District at the edge of northern Napa's urban residential creep. This district is known for its moderate temperatures and diversity of grape varieties. Oak Knoll District is far enough away from the San Pablo Bay but not too far north; therefore, it is not as cold as the Carneros region to the south, nor is it as warm as regions slightly to the north.
The Napa Valley allure is hard to resist and a number of winery owners we have visited with have moved here after taking trips to the valley first as tourists. Such was the case with Bart and Barb O'Brien who have cleverly and from a genuine place, built a theme of romance into their wine portfolio. They first came to Napa Valley on their 3rd date. All of their dates involved romantic locations; the first was at Sam's Anchor Cafe in Tiburon, a lovely boat-in (which we have done numerous times) or walk-in restaurant with gorgeous views of Angel Island, followed by a second date strolling the hills of the Marin Headlands in the evening with stellar views looking down on the Golden Gate Bridge. Both Bart and Barb fell in love with the landscape and the lifestyle of Napa Valley and talked about someday owning land here.
Bart is originally from Florida; he is a successful serial tech entrepreneur who graduated from Carnegie Mellon University in Pittsburgh. He was on the founding team of several tech companies in the San Francisco Bay Area including RSA Data Security, Calico Commerce and also New Jersey based BioIncept.
He is also an avid flight enthusiast; his father was a private pilot. Bart's first flight was in Florida when he was 28 years old. His landing that day almost ended tragically as his plane went into oscillations as it was coming in for a landing on the water (with pontoons). He eventually brought his plane to California where it was destroyed in a windstorm. He made a mental note to himself that the next time he would fly would be when he had both money and time to properly dedicate himself. This time came after he turned 60 years of age; he initially flew a one-seat gyrocopter but then he located and purchased a specific make and model 2-seater made in Germany of which there were only four in the U.S at the time of his purchase. He's been on trips all over the state from flying over the Golden Gate Bridge to cruising above Mammoth Lakes at 14,500 feet.
After helping take Calico Commerce public, Bart purchased 112 acres on Hennessy Ridge above Lake Hennessy. He brought Barb to the property for the first time proudly introducing her to their new Napa Valley owned land. Her first words were, "Where are the grapes". Followed by, "What is the point of owning land without having grapes". This property is located on hillsides and had never been planted to vineyards. Bart compared it to owning a park. Barb really wanted a house and a vineyard, so they eventually sold this property.
Bart contacted real estate agent John Bergman and told him he wanted property with a house and approximately 5 acres of vines. One day John called; his first words to Bart were, "Boy do I have a deal for you". Apparently, a winery had fallen out of escrow and was again for sale. Bart then told him something like, "Sorry, I am not shopping for a winery," and that he wasn't interested in the proposed property. By like any determined sales agent, Bergman continued his case. He told Bart it was already planted to vines, there was also a home on site and the winery was in great condition.
Bart finally relented and he and Barb visited the property. Bart recalls seeing the empty cellar and commenting that it would make a nice venue for partying. The price was more than 2x what he wanted to spend. Bergman informed him that if he purchased the property, Bart could sell grapes every year to help with the monthly payments.
Their 'someday vision' became a reality in 2000, Bart & Barb purchased the property that Bergman introduced them to. This was formerly Costello Vineyard & Winery; at one point it was a prune and walnut farm. The original winery dates from 1978 (bond number 49). By the early 1980s, the Costello's were producing up to 10,000 cases a year of white wines including Chardonnay, Sauvignon Blanc and Gewürztraminer. The wines were primarily sold through distribution on the east coast of the U.S. Prior to Bart and Barb's ownership the property was planted to 33 acres of Chardonnay but was replanted in the mid 1990s due to phylloxera to 22 acres of Chardonnay and 11 acres of Merlot. Other wine brands associated with this address in the 1980s included Chanter Winery, Heron Lake Winery and Clos de Vigne.
Any existing winery in Napa Valley from the 1970s is considered fairly old. The property is 40 acres of which approximately 33 are still planted to vineyards. Their vineyard was certified Napa Green in 2016. O'Brien Estate almost exclusively produces wines from their own vineyards with exceptions being when they need to replant sections of the vineyard or other limited production bottlings.
The winery is small (only 6,000 square feet) but their operations are almost entirely self-contained. They even own their own bottling line which is rare for a winery with a production of their size – about 3,500 to 4,500 cases annually following the rough formula that one bottle per square foot of winery space is a manageable size. They also use this bottling line to accommodate several small brands who make their wine here. And solar cells help power much of the winery operations.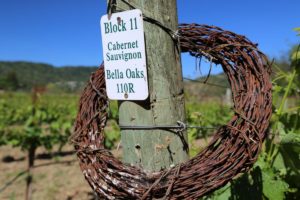 After Bart & Barb acquired the property two neighbors approached them with an interest in helping them manage the vineyard and make wine. One was Bill Hanna, John Muir's great great grandson who used to operate their own family brand, Muir-Hanna and whose nearby Muir-Hanna Vineyards produced some of the Chardonnay for Chateau Montelena's award winning 1973 vintage in the Paris Tasting of 1976.
Another neighbor, winemaker Dave Cofran told Bart he would love to produce his own wines in Bart and Barb's newly acquired winery. Dave's first job in Napa Valley was with Christian Brothers Winery in 1967 eventually assuming the role of their winemaker. He worked for them for 20 years until taking a job at Silver Oak Cellars in 1987 and becoming their National Sales Manager. He was also involved in several of his own wine projects including Highlands and Strata. He passed in late 2022.
Dave asked Bart what he would charge him to make wine in his winery. Bart told him if he helped make wine, he could use the cellar for free. The first vintage of wines bottled under O'Brien Estate was in 2000 made by Cofran. In 2000 they produced 300 cases of barrel fermented Chardonnay entirely in new American oak. Bart recalls not being impressed with that wine. But they also produced 50 cases of Merlot that year, a wine Bart nostalgically recalls as perhaps their best ever Merlot.
Cofran also made the 2001 and 2002 vintages. In the early years of their production, grapes were being sold to Grgich Hills and Merryvale. Bart wanted to increase the production significantly in 2021 with a production goal of around 1,000 cases; with the much larger production, Cofran was hired as an employee. He needed additional help and in 2004 a young David Yorgensen was hired to assist in the cellar. Yorgensen is only Obrien's second winemaker.
Early in their production, Bart & Barb focused on selling their wines through distribution; Bart was spending significant time traveling to help sell the wines including a focus on the Houston market. At one point the wines were on the by the glass program at all the Perry's Steakhouse & Grille restaurants in Houston.
Bart also discovered what was certainly one of the most unique sales channels in all of Napa Valley; he would follow the flight of hot air balloons to their landing sites, walk up and introduce himself and pass out his business cards and invite guests to come for a tasting at O'Brien. He soon became friends with the owner of one of the balloon companies.
This outreach in the early years was especially important to build the brand. However, winemaker Grant Long noticed how much time Bart was spending on the road and suggested it might make more sense to focus on attracting visitors coming to Napa Valley to the winery, citing some 4 million visitors to the valley every year.
The focus of how visitors purchase wines from O'Brian Estate has evolved dramatically over the years. What is a fairly unusual business model for a Napa Valley based winery is all the O'Brien Estate wines are now only sold through visits to the property or via their website to members of their allocation list. They have no distribution, and one will not find their wines in restaurants or wine shops.
As Bart told us, "We don't sell wine to strangers". When he writes this phrase, he always adds several heart emojis for emphasis. They build lasting and meaningful relationships with their customers which often turns into friendships and other shared experiences outside of Napa Valley. We have always had the utmost respect for their operations; their sense of business and how to treat people comes from the heart and is genuine.
Hospitality
O'Brien Estate is a short 10-minute drive from downtown Napa. Visitors to the property drive down a long olive lined driveway with parking on the sides of the road directly next to the grapevines. Weather permitting, tastings are held either outdoors on the lawn in the back of the winery overlooking the vineyards (often other visitors will be tasting here simultaneously) or at tables located directly next to the vineyards. Allow about 90 minutes for the experience during which a host will typically sit down with guests and provide more information about the O'Brien's, the property and general wine education. Visits are unscripted, relaxed and a vibe we best describe as 'wine country casual'.
Also, of note are the hosts; during our visits over the years, we have noticed they are mostly male, are down to earth, friendly and here to make sure you have a good time. On a warm spring or summer day tasting their wines in the backyard overlooking the vineyard is a very relaxing place to hang out. And you might even make some new friends; a number of cats call the property home along with a winery dog, or two, or three. During one visit we even spotted a small cow grazing among the vines near the winery.
Long time wine club members are often assigned their own grapevine next to the winery. These are identified by small metal tags attached to each vine listing the members' name.
Member benefits include invites to select hosted wine cruises and land excursions both domestically and internationally with Bart and Barb ranging from Europe to Caribbean destinations and sometimes even more exotic locations.
Thinking of making an appointment here on Valentine's Day? Reserve *well* in advance!
Select Wines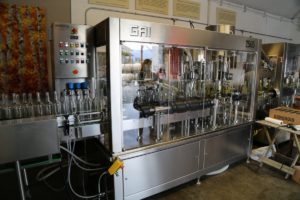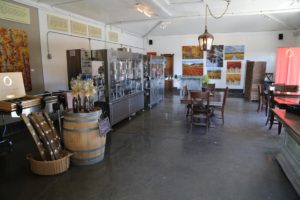 The 2021 O'Brien Estate Chardonnay is medium gold in the glass; its initial aromatics are like slipping into a cozy blanket with someone special while snuggling up to a warm fire. Preferred location: west shore Lake Tahoe. The bouquet offers scents of warm butter, vanilla, caramel, other baking spices and pineapple. Gives this wine time to breathe; it is well layered and with some air it opens to aromas of citrus, lemon and pomelo. This is a rich expression of this variety both in terms of texture and flavor. It offers a rounded and creamy mouth feel accompanied by flavors of nectarine, white peach, citrus and honeydew melon. The finish is long-lasting and extremely flavorful. This wine spent 9 months aging in 100% new French oak barrels.
Bart remembers being inspired by wine writer Leslie Sbracco's book, Wine for Women: A Guide to Buying, Pairing, and Sharing Wine published in 2003. Around this time, he started noticing more women were drinking red wine. And in identifying this small but growing part of the population he became creative with both nomenclature for their wines and the relating packaging, while building a brand that would simultaneously also appeal to men. The first wine bottled under the theme of romance was Seduction.
A French winemaker stayed with them as part of an exchange program one year and suggested that Barb produce a rosé. She decided to call this wine Flirtation. Bart lined up both bottles of Seduction and Flirtation next to each other and realized parts of the evolution of a romantic story were missing and that these bottles together might suggest something more like that of a one-night stand rather than the full evolution of romance. So additional bottles were created to fully incorporate the typical phases of a romantic relationship.
They are: Fascination (the first glancing moments one makes when noticing someone else), Attraction (the evolution of fascination), Flirtation, Romance of the Heart (the falling in love stage that Bart compares to completely losing control, like falling off of a bicycle), Seduction (the 'test drive' stage), Passion of the Soul (one's commitment to each other), Devotion (living one's life together) and Reflection (the loss invariably one partner will feel when the other dies).
The 2020 O'Brien Estate Seduction Red Wine is always Cabernet Sauvignon dominated; this vintage is a blend of 93% Cabernet Sauvignon and 7% Cabernet Franc. It spent 18 months aging on all new French oak barrels including from Tarnasaud and Darnajou (coopers). It is deep ruby in the glass and almost opaque. The bouquet is sweetly fruited including of boysenberry, black cherry, blackberry and Santa Rosa plum. There are additional layers including of violets, a light rusting iron note and a hint of toasted oak. The aromatics on this fruit-dominated bouquet are highly appealing. The palate offers both red and darker fruits including plum and red cherry accompanying by bright acidity. The tannins are lightly textured, well-integrated on the finish and linger with a light dryness and a note of tobacco spice.
The 2015 O'Brien Estate Seduction reveals opulent fruit on the bouquet including blackberry; one can also pick out more subtle aromas of rosemary and sage. Soft on the entry, its opulence continues onto the palate. This wine is a mouthful of dense fruit with ripe blackberry flavors and somewhat dry but well-integrated tannins. Seduction is packaged as a sexy wine with a see-through red lace cover. Regardless of the packaging, this is an elegant bottling with a smooth texture consistent across vintages. It is an appealing wine for those romantic situations which invariably arise in one's life.
The 2020 O'Brien Estate Cabernet Sauvignon is 80% varietal with 10% Cabernet Franc and 10% Merlot in the blend. This wine is deep ruby in color; the bouquet is focused on fruit rather than secondary influences from its barrel aging. It offers scents of ripe but not overripe fruit including cherry, plum, blackberry and boysenberry along with notes of rose petal, pipe tobacco and a hint of toasted oak. This wine is bright across the palate with a finish of mostly red fruits. It tastes fresh, youthful and features mouthwatering acidity. It shows both oak and grainy textured grape tannins along with dark pepper, dried herbs and a lasting dryness.
The 2015 O'Brien Estate Romance the Heart is very dark in the glass. The voluptuous bouquet shows mostly black fruit including blackberry and black licorice. Also hints of cigar smoke and sage. A sweetness of fruit is revealed on the palate; fairly lively in its flavor and acid presentation, this wine offers a diversity of flavor. Dry and youthful tannins linger with a moderate grip.
The 2018 O'Brien Estate Cabernet Sauvignon Reserve is 90% Cabernet Sauvignon, 5% Merlot and 5% Cabernet Franc. This wine is drinking very nicely 5 years post vintage at the time of our tasting. It is made from both a block selection from their vineyard and a barrel selection. It is nearly opaque in the glass and deep ruby in color; the bouquet is darkly fruited offering aromas of blackberry, boysenberry and plum. Its aromatics are highly appealing. Like the bouquet the palate is also well layered and offers flavors of plum and cherry. This is a robust bottling with some tannin muscle accompanied by a persistent note of dryness and cracked pepper. We also noted its savory character.
—
Based on the style of their wines and the romantic labeling, O'Brien Estate is one of Napa Valley's most romantic wineries. The winery has been featured in publications that focus on romantic wineries in the Napa Valley including Romantic Napa Valley by Autumn Millhouse. Some of their other wines are produced in quantities of merely several barrels, one of which is a rosé expressively called "Flirtation".
A family friend, local landscape artist Tim Howe used to display some of his paintings for sale near the reception. Originally from New Zealand, Tim's work strikes a balance between Abstraction and Impressionism.
Love Poems
Bart & Barbara wrote all the poems which are printed on the back of their wine bottles. Each of the 8 poems is written for a particular wine which corresponds to a particular stage in a relationship.
Fascination
Sauvignon Blanc
Suddenly
I am touched by your presence
Swiftly
I awaken to you
Attraction
Chardonnay
When our eyes met
My heart said hello
Are you the one for whom I long?
Are you?
Flirtation
Rosé of Merlot
Our dry rose reveals alluring aromas
of strawberries and cream with
bright, teasing acidity,
a long, silky finish
and just enough grape skin contact
to make it blush.
Romance of the Heart
Bordeaux Blend
Extend to me
The hand of conversation
Twirl me with laughter
Embrace me with kindness
Will you be mine for a moment?
Or for a lifetime?
Seduction
Bordeaux Blend
Romance of the heart
Passion of the soul
A voluptuous wine with sensual flavors
And a velvet kiss.
Enjoy in good company
Passion of the Soul
Cabernet Sauvignon
You are the one
I want to become one with
To intermingle our footsteps
On the sands of time
Will you join
With me?
Devotion
Cabernet Franc
Day upon day
Year upon year
A beautiful life is built
Together
Reflection
Late Harvest Cuvee
Memories of you
Swirl in my glass
Wine on my lips
You in my heart
One should read these out loud when enjoying with that special someone. Just be sure to stop reading out loud before you reach the ubiquitous government warning below each of the poems.
—
For more information, to schedule a tasting at the winery or to join the wait list for the semi-annual allocation list (reds only or mixed), visit: www.obrienestate.com
Winery & Grounds

Sam's Anchor Cafe, Tiburon (site of Bart & Barb's first date)