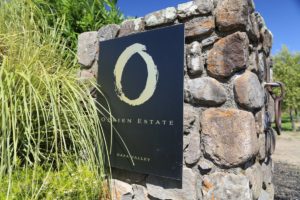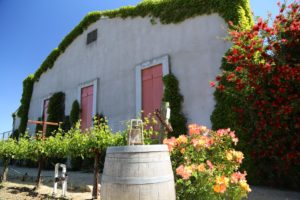 O'Brien Estate Winery is located among vineyards in the Oak Knoll District at the edge of northern Napa's urban residential creep. This is a district known for its moderate temperatures and diversity of grape varieties. Oak Knoll District is far enough away from the San Pablo Bay but not too far north; it is not as cold as the Carneros region to the south, nor is it as warm as regions slightly to the north.
The Napa allure is hard to resist and a number of winery owners we have visited with have moved here after taking trips to the valley first as tourists. Such was the case with Bart and Barb O'Brien who have cleverly built the theme of romance into their wine portfolio. They first came to Napa Valley on their 3rd date. All of their dates involved romantic locations; the first was at Sam's Anchor Cafe – a lovely boat or walk-in restaurant with gorgeous views of Angel Island in Tiburon followed by a second date strolling the hills of the Marin Headlands in the evening with stellar views looking down on the Golden Gate Bridge. Both Bart and Barb fell in love with the landscape and the lifestyle of Napa Valley and talked about someday owning land here.
That someday became a reality in 2000 when Bart & Barb purchased what was the old Costello Vineyards property which at one point was a prune and walnut farm. The original winery dates from 1978 (bond number 49). Any existing winery in Napa Valley from the 1970s is considered fairly old. The property is 40 acres of which approximately 33 are planted to vineyards. O'Brien Estate only produces wines from their own vineyards – and in a fairly unusual business model, the wines are only sold through visits to the property or via their website through their allocation list. They have no distribution – you won't find their wines in restaurants or wine shops.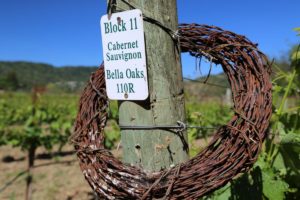 Bart is a successful serial tech entrepreneur who graduated from Carnegie Mellon University in Pittsburgh. He has been on the founding team of several tech companies in the San Francisco Bay Area including RSA Data Security, Calico Commerce and also New Jersey based BioIncept. He is also an avid flight enthusiast focusing on gyrocopters.
The winery is small (only 6,000 square feet) but their operations are almost entirely self-contained. They even own their own bottling line (rare for a winery with a production of their size – about 6,000 cases annually following the rough formula that one bottle per square foot of winery space = a manageable size!). And solar cells help power much of the winery operations.
Visitors to the property drive down a long olive lined driveway with parking on the sides of the road directly next to the grapevines. Weather permitting, tastings are held either outdoors on the lawn in the back of the winery overlooking the vineyards (often other visitors will be tasting here simultaneously) or on tables located within the vineyards themselves. Allow about 90 minutes for the experience during which a host will sit down with you and provide more information about the O'briens, the property and general wine education. A room within the winery has also been converted into a tasting area.
Also, of note are the hosts – during our visits over the years, we have noticed they are mostly male – they are down to earth, friendly and here to make sure you have a good time. On a warm spring or summer day – tasting their wines in the backyard overlooking the vineyard is a very relaxing place to hang out. And you might even make some new friends (the O'briens have a number of cats on site and a winery dog).
Select Wines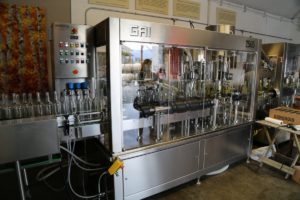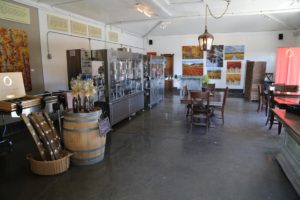 O'Brien produces a Chardonnay and a Merlot but are most known for their romance themed wines representing three typical phases of a relationship – including Passion of the Soul, Romance the Heart and Seduction. The wine they are most known for is a three-variety blend called Seduction; it is packaged as a sexy wine with a see through red lace cover. Regardless of the packaging, this is an elegant smooth wine, great for those romantic situations that invariably arise in one's life. Each of these wines comes with a romantic poem on the back label, the lines penned by either Bart or Barb. And they also produce several other very limited production wines – often only for their wine club members.
The 2015 O'Brien Estate Seduction reveals opulent fruit on the bouquet including blackberry – one can also pick out more subtle aromas of rosemary and sage. Soft on the entry – the opulence continues onto the palate; this wine is a mouthful of dense fruit with ripe blackberry flavors and somewhat dry but well-integrated tannins.
And a special poem for lovebirds on the back of this bottle is:
"Romance of the heart
Passion of the soul
A voluptuous wine with sensual flavors
And a velvet kiss.
Enjoy in good company"
One should read these out loud when enjoying with that special someone. Just be sure to stop reading out loud before you reach the ubiquitous government warning below each of the poems!
The 2015 O'Brien Estate Romance the Heart is very dark in the glass. The voluptuous bouquet shows mostly black fruit including blackberry and black licorice. Also hints of cigar smoke and sage. A sweetness of fruit shows on the palate – fairly lively in its flavor and acid presentation, shows a complex density of fruit. Dry and youthful tannins linger with a medium sized grip.
Based on the style of their wines and the romantic labeling, O'Brien Estate has earned the title as Napa's romantic winery. The winery has been featured in publications that focus on romantic wineries in the Napa Valley including Romantic Napa Valley by Autumn Millhouse. Some of their other wines are produced in quantities of merely several barrels, one of which is a rosé expressively called "Flirtation".
A family friend, local landscape artist Tim Howe displays some of his paintings for sale near the reception. Originally from New Zealand – Tim's work strikes a balance between Abstraction and Impressionism.
Thinking of making an appointment here on Valentine's Day? Reserve *well* in advance! Member benefits include invites to select hosted wine cruises with Bart and Barb ranging from European to Caribbean destinations and sometimes even more exotic destinations. For more information or to join the wait list for the allocation list, visit: www.obrienestate.com
Winery & Grounds

Sam's Anchor Cafe, Tiburon (site of Bart & Barb's first date)