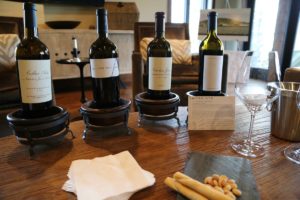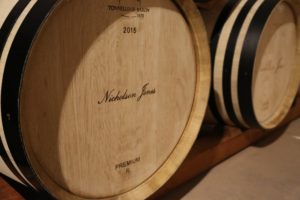 Nicholson Jones is a premium producer of limited production wines founded by Cal Nicholson and his wife Pam. The name combines both his last name as well as Pam's maiden name. Both Cal and his wife are accomplished individuals – Cal has enjoyed a long career in a variety of marketing positions for companies as diverse as TIME, Kraft and Duracell – while Pam started working at Enterprise out of college as a trainee for a manager position and in 2013 was named CEO of the company.
Cal met his winemaker Julien Fayard a number of years ago when he hired him and his wine making expertise to try and save a vintage of wine (2005) that wasn't doing so well in barrel. Julien successfully saved this particular wine and continues to make wine for Nicholson Jones each year.
Julien was born in Saint Etienne in France and has a well rounded diverse background in wine making. His father grew grapes and their family was involved in the wine business in France for several generations. Julien made his first wine at age 16 – and continued his education by working in Provence, the Loire Valley and Bordeaux (Lafite Rothschild). He met his wife Élan in the Loire Valley; she was living and studying wine and the French language at the time.
After they married, they both moved to the Napa Valley in 2006 – Élan to be closer to her family and for Julien it was an opportunity to make wine outside of France. Julien worked with noted winemaker Philippe Melka for seven years before branching out on his own where he currently makes wine for a number of clients.
In 2012 Julien his wife Elan, husband wife Cal Nicholson and his wife Pam, and husband wife Dave & Laura Nestor purchased a 12 acre site in Coombsville of which five acres are planted to vine. Julien has been attracted to the wines coming out of Coombsville for some time – he and his partners spent three years looking for property before they located this particular piece.
Part of the property is a knoll that which boasts excellent views overlooking much of Coombsville and to the south including the San Pablo Bay in the distance. This knoll has proved useful in that geographically it created allowed them to drill a cave underneath it. All prior vintages have been made at other wineries. The 11,500 square foot cave is expected to be completed in time for harvest 2015 and Julien will move his brand here as well as Nicholson Jones among others.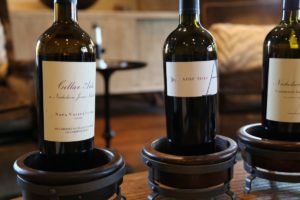 The 2009 Cellars Arts or Nicholson Jones Cuvee is a blend of Cabernet Sauvignon, Syrah and Cabernet Franc. The bouquet immediately fills the glass with appealing fruit aromas – deeper notes of black plum as well as a blue fruit component. This is a very aromatic wine. The tannins are somewhat dusty from the mid palate through to the finish showing more on the sides and back of the palate than the front – thee are lingering notes of dark chocolate.
The 2010 Cabernet Sauvignon is 100% varietal from a north facing vineyard high in the Mt. Veeder sub-appellation. The bouquet is big and has depth showing plenty of mountain fruit – both black (darker plum) and red fruit notes. As the wine opens there is slight sage quality (garrigue) and notes of mocha. This bouquet continues to evolve wonderfully as the wine breathes. The palate is packed with flavor and immediately appealing.
All their wines are produced in small quantities – usually several hundred cases per wine or less. The wines are selectively distributed with much of the distribution occurring in St. Louis Missouri (where Cal & Pam live) and where conveniently Cal runs a wine distributor business.
Serious wine enthusiasts can make a reservation to taste at the estate. The tastings at the estate are private for your party and are held inside the beautifully decorated hospitality room within the cave. Each sit down tasting includes the Nicholson Jones wines and a Azur Rose. The Covert estate wines can be tasted upon request.
For more information on the wines and to join their visit: www.nicholsonjones.com