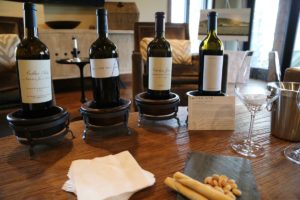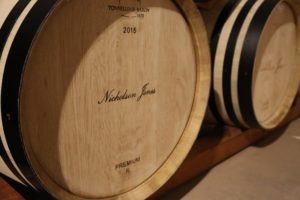 Nicholson Jones (not to be confused with Nicholson Vineyards in Santa Cruz or Nicholson Ranch in Sonoma County) is a premium producer of limited production wines founded by Cal Nicholson and his wife Pam. The name combines both his last name as well as Pam's maiden name. Both Cal and his wife are accomplished individuals; Cal has enjoyed a long career in a variety of marketing positions for companies as diverse as TIME, Kraft and Duracell. Slightly before Cal started Nicholson Jones, he was already involved in wine; he began Trademark Wines, a Missouri based wine and spirits distributor. In 2020, Trademark was sold to Grey Eagle Distributors and is now their wine and spirits division. Grey Eagle is Missouri's largest beer distributor.
Pam started working at St. Louis based Enterprise out of college as a trainee for a manager position and in 2013 was named CEO of the company (Enterprise Holdings), a role she served through the end of 2019. In the company's 60+ year history, she was the first ever nonfamily member to assume that role. Enterprise is still a privately owned company with approximately 80,000 employees and nearly 2 million vehicles (Alamo and National are also brands owned by the company). The company was founded in 1957 as Executive Leasing and in 1969, founder Jack Taylor renamed the business to Enterprise in honor of the USS Enterprise, the aircraft carrier he served on in World War II.
Cal met his winemaker Julien Fayard a number of years ago when he hired him, and his wine making expertise to try and save a vintage of wine (2005) that wasn't doing so well in barrel. Julien successfully saved this particular wine and continues to make wine for Nicholson Jones each year. The first vintage of Nicholson Jones was a 2003 Napa Valley Cuvee.
Julien was born in Saint Etienne in France and has a well-rounded diverse background in wine making. His father grew grapes, and their family was involved in the wine business in France for several generations. Julien made his first wine at age 16 – and continued his education by working in Provence, the Loire Valley and Bordeaux (Lafite Rothschild). He met his then wife Élan in the Loire Valley; she was living and studying wine and the French language at the time. Today she runs Élan Fayard Consulting, a Direct-to-Consumer Sales & Marketing business.
Julien first visited California in 2000, returned to France and then in 2003 came back to the Napa Valley working for a short while at Quintessa. After he and Élan married, they both moved to Napa Valley permanently in 2006 – Élan to be closer to her family and for Julien it was an opportunity to make wine outside of France. Julien worked with noted winemaker Philippe Melka for seven years before branching out on his own where he currently makes wine for a number of clients.
In 2012 Julien and Élan, Cal Nicholson and his wife Pam, and husband wife Dave & Laura Nestor purchased a 12-acre site in Coombsville of which five acres are planted to vine. Julien has been attracted to the wines coming out of Coombsville for some time – he and his partners spent three years looking for property before they located this particular piece – now home of Covert Estate.
The region is located to the east of the city of Napa (while very rural, this part of the valley is only about a 10-minute drive from downtown Napa). Coombsville is characterized as a moderate to cooler growing climate compared to up valley due to its proximity to the flat region and entry to the nearby San Pablo Bay with its cooling morning and afternoon breezes and often fog influence. The region is generally composed of short rolling hills with a diversity of microclimates even within this small region. It tends to be slightly warmer in vineyards that are located towards the edge of the southern part of the Vaca Mountain Range.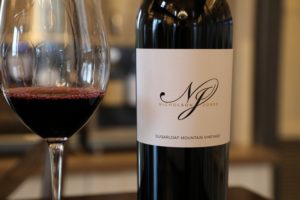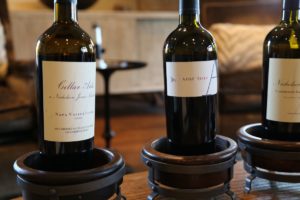 Producers in this AVA tend to be small, and family owned – none of the wineries located here are open to the public by walk-in. Coombsville originally was thought to be too cold to grow Cabernet Sauvignon. Vineyards have proved this thinking wrong and this variety is certainly sought after by a number of premium producers who are looking to make an elegant wine with good varietal characteristics. Most of the Cabernet Sauvignon in this AVA is grown close to the edges of the hills where the microclimates are slightly warmer than other parts of the region.
Part of the Covert Estate property is a knoll that which boasts excellent views overlooking much of Coombsville and to the south including the San Pablo Bay in the distance. This knoll has proved useful in that geographically it created allowed them to drill a cave underneath it. All prior vintages were made at other wineries. The 11,500 square foot cave was completed in time for harvest 2015 and Julien moved his own brand (Fayard Wines) here as well as Nicholson Jones among select others.
Nicholson Jones sources grapes from a wide diversity of vineyards across multiple exposures and micro-climates ranging from south of the city of Napa to just north of St. Helena. As of our last update they source from 10+ unique vineyard sites.
Select Wines
The 2016 Nicholson Jones Sugarloaf Mountain Vineyard (a large and prominent site located in the hills southeast of the city of Napa) is deep ruby and almost opaque in the glass; the bouquet offers ripe and dark fruit aromatics including of blackberry, and boysenberry jam along with some secondary aromatics of mocha, espresso, cocoa and freshly baked chocolate brownie. This is a hedonistic wine with mouth-filling fruit. One would not be incorrect in referring to its bouquet as opulent. Because the fruit is ripe and intense we noticed a perceived sweetness on the entry followed by flavors of prune, blackberry and boysenberry. The densely packed tannins are dusty, earthy, slightly dry but rounded and are a complementing character on the finish rather than a dominating one. Lingers mouth watering with ripe dark berries and a savory note including spicy oak, dark pepper, pink peppercorn and some dried herbs. From the expressive fruit dominated bouquet, one doesn't realize how savory the finish will be. This wine is drinking in a sweet spot right now at the time of our tasting, 7 years post vintage. It is 100% varietal; only 119 cases were produced.
The 2009 Cellars Arts or Nicholson Jones Cuvee is a blend of Cabernet Sauvignon, Syrah and Cabernet Franc. The bouquet immediately fills the glass with appealing fruit aromas including deeper notes of black plum as well as a blue fruit component. This is a very aromatic wine. The tannins are somewhat dusty from the mid palate through to the finish showing more on the sides and back of the palate than the front – there are lingering notes of dark chocolate.
The 2010 Nicholson Jones Cabernet Sauvignon is 100% varietal from a north facing vineyard high in the Mt. Veeder sub-appellation. The bouquet is big and has depth showing plenty of mountain fruit including both black (darker plum) and red fruit notes. As the wine opens there is slight sage quality (garrigue) and notes of mocha. This bouquet continues to evolve wonderfully as the wine breathes. The palate is packed with flavor and is immediately appealing.
—
All their wines are produced in small quantities – usually several hundred cases per wine or less. The wines are selectively distributed with much of the distribution occurring in St. Louis Missouri (where Cal & Pam live) and where conveniently Cal runs a wine distributor business.
Serious wine enthusiasts can make a reservation to taste at the estate. The tastings at the estate are private for your party and are held inside the beautifully decorated hospitality room within the cave. Each sit down tasting typically includes the Nicholson Jones wines and an accompanying rosé. The Covert estate wines can be tasted upon request.
Total production each year is around 1,200 cases. The wines are selectivity distributed in certain states including Florida. For more information on the wines, to schedule a tasting and to join their mailing list or wine club, visit: www.nicholsonjones.com
Nicholson Jones review starts at 5:50