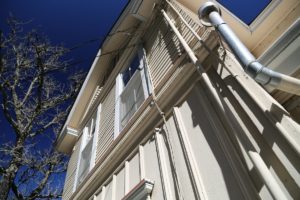 Nichelini Winery is one of Napa's most historical wineries having been founded in 1890. It is about a 15 minute drive from the valley floor up Highway 128 (Sage Canyon Road) towards Lake Berryessa (up the grade and a bit past the entrance to Kuleto Estate). This is Napa County's oldest family owned continuously operated winery. They actually remained open during Prohibition by providing Sacramental wines to the Catholic Church. Anton Nichelini was the original owner and today the winery is owned and operated by four of his grandchildren (Anton had 12 children!).
One of the family members is always on site for the tastings as they run every aspect of the business themselves including the tastings. The winery is located as close as you can get to the main road without actually being on the road itself! Parking is tight as there are only a few spaces next to the road. If parking in front of the winery is taken, there is a much larger pull out section further down the road where you can park and then walk back to the winery. During the winter months wine tasting is inside the home – during the summer months walk down the steps to the actual winery and tasting bar (behind the house).
Weather permitting the tasting is held outside under an old Roman Press. The person serving our tasting told us that it can take some very severe weather to move the tasting inside as sometimes there are skunks roaming the inside of the old winery…perhaps or perhaps not! The inside walls contain some printed historical information about the old winery; also check out their cozy tasting area built inside a huge wine barrel. The Roman Press looks sort of like a child's teeter-totter and it is how Nichelini used to crush their grapes until the 1950's. One end was weighted which dropped down onto the freshly picked grapes. To the best of our knowledge there is only one other Napa winery who still has a standing Roman Press and that is Yates Family (although to be fair, they don't actually make their wine at their ghost winery).
Nichelini encourages people to bring their own lunches and snacks and make use of the picnic tables on site. There is also a bocce ball court. There are several wines served here that you will have a hard time finding at most other Napa Valley Wineries. For example, their Sauvignon Vert (under 60 acres grown in all of California – 10 at Nichelini) is a very light refreshing crisp Bordeaux style white wine that is decidedly tropical both on the nose and palate. The grapes for this wine come from their original planting in 1946. Now there is a variety we have not seen at any of the nearly 800 Napa wineries/producers we have visited! Another wine not often found in Napa is Primitivo; this is a red Italian varietal somewhat similar to Zinfandel. They also make a very nice Zinfandel and Cabernet Sauvignon. Not many wineries make a Port from Cabernet Sauvignon grapes – Nichelini makes one interestingly titled Cabaret. Visit: www.nicheliniwinery.com