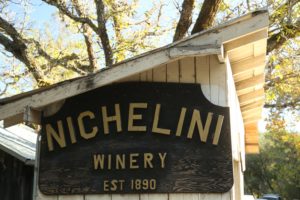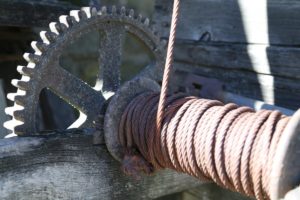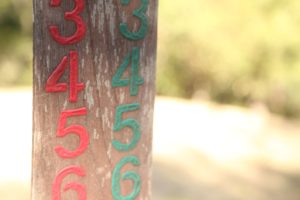 Nichelini Winery is one of Napa's most historical wineries having been founded in 1890. It is about a 15-minute drive from the valley floor up Highway 128 (Sage Canyon Road) towards Lake Berryessa (up the grade and just a few minutes past the entrance to Kuleto Estate Winery). Nichelini is located in southern tip of the Chiles Valley appellation – one of Napa's lesser-known regions for growing grapes and certainly off the beaten path despite being a relatively short drive from the valley floor.
This is Napa County's oldest family owned continuously operated winery; Patchett's Grove Winery was the first ever winery in the Napa Valley (1858), although the founder John Patchett stopped producing by 1870. Charles Krug is the oldest Napa Winery (1861) built just prior to David Fulton Winery in St. Helena and Beringer is the oldest continuously operated winery (1876). Nichelini actually remained 'opened' during Prohibition, sometimes under the radar and at times not so much so by bootlegging as well as selling grapes to be shipped back east for families to make home wine. At one point during Prohibition Anton was arrested and jailed in St. Helena for making wine illegally.
Anton Nichelini (died 1937) and his wife Caterina (died 1952) were both from Switzerland (the Italian part of the country); Anton actually first moved to Glen Ellen in neighboring Sonoma County in 1882 (their marriage certificate is actually from Sonoma County – a copy of this hangs upstairs in the Nichelini house). They both came to Napa Valley for the first time in 1884 as homesteaders. An article in the August 30, 1889, issue of the St. Helena Star indicated Anton Nichelini would make his final proof of his homesteading claim to the land on September 11, 1889, in San Francisco.
Caterina was randomly touched by a murder/suicide which occurred on March 16, 1898. Articles in the Napa Journal on March 17th and 18th, 1898 outline the terrible tragedy. A spurned lover, Julius Bhend assassinated a 17-year-old girl about a mile from Horseshoe Bend in Sage Canyon. The girl, Victorine Sasselli was riding in a carriage with her father Joseph when Bhend convinced her to join him in his own carriage. After Victorine moved to his carriage, he spurred on his horse so that his carriage was far ahead of her father's carriage. And when out of site, he shot her and then killed himself; he even left a note to Victorine's mother asking for her pardon. Joseph spotted Bhend's lifeless body lying in the dirt – the horse pulling Victorine's carriage continued up the road; Victorine died in the arms of Caterina Nichelini at the Nichelini family home.
It was later discovered that Victorine's mother had given her husband Joseph a note to give to Bhend but Joseph did not know the contents and never delivered the note (even though he was carrying it at the time he and Victorine met Bhend while riding in their carriage). Apparently, the note spoke highly of Bhend and it was speculated that perhaps the murder would never have occurred if the letter had been delivered.
In the early years, in addition to their winery business, Anton mined chromium and magnesite on the property and was also involved in ranching. Their original cabin (now located up the hill behind the winery next to a continuously running spring was built in 1886 and was where their first 4 children were born). Olive trees that Anton planted still grow here. A replica of this small wooden cabin is located just below the winery near the bocce ball court. The winery was built with the help of Italian miners who helped haul locally quarried rock to the Nichelini property.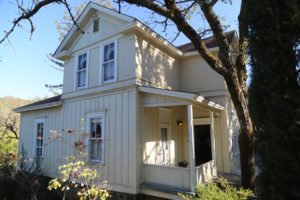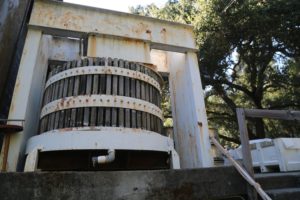 Their next 8 children were born in the main home that still stands – located above their stone cellar. Remarkably all 12 children survived into adulthood. For reference, the names of all 12 children are the following: William, Fred, Catherine, Joseph, Josephine, Virginia, Inez, Edith, Mary, Allen, Antoinette and Rose (4 sons and 8 daughters).
One of Anton and Caterina's sons, William Anton Nichelini later operated the winery; William was an accomplished engineer who operated mines in Napa County for Tulare Mining Company and was responsible for the construction of a number of stone bridges throughout Napa County. Napa was often referred to as 'the county of stone bridges' with more than 100 built, many of which were constructed between 1894 and 1918. William was also responsible for having the state of California take over what was then called the Rutherford-Winters Road (now State Highway 128) and served as president of the East Bay Engineers Club.
William's son Jim took over the winery and vineyard operations from his father. Another of Anton and Catherine's sons, Allen (Al) James Nichelini briefly played football in the NFL in the mid 1930s and would later coach high school football teams.
Today the winery is owned and operated as Nichelini Family Winery, a corporation whose stock is owned by some of the heirs of Anton and Caterina Nichelini. They run the wine business, make the wine, and grow the grapes. The winery and trademark are leased from the "Anton Nichelini Family, Inc." a corporation whose shares are owned by all of the heirs of Anton and Caterina Nichelini.
During one of our visits to the winery, we were told there are some nearly 300 relatives of Anton and Caterina; one of their heirs, Anton & Caterina's grandson, Greg Boeger founded Boeger Winery in Placerville in 1972 (El Dorado County). While a child, Greg actually used to work the vineyards at Nichelini Winery and later was their winemaker. In an interesting twist of fate, Boeger Winery is El Dorado County's oldest winery.
One of the family members is usually on site for the tastings as they run most aspects of the business themselves (although as of our last visit they employee two non-family members). The winery is located as close as you can get to the main road without actually being on the road itself. Parking is tight as there are only a few spaces next to the winery. If parking in front of the winery is taken, there is a much larger pull-out section slightly down the road where guests can park and then walk back to the winery.
And note the tiny stone building across from the winery – this is the old root cellar, also built against the hill. This is where the family used to store perishable items as the temperature here would remain fairly constant even during the heat of the summer.
The existing winery was completed in 1895 along with the 7-bedroom house (their first winery was built nearby up the hill in 1890). The house is no longer lived in with the lower floor functioning as their tasting room and the second store serving as storage. The cellar was smartly built into the side of the hill where the temperature remains a constant year-round and is ideal for aging the wines. Anton built his family home directly above the cellar – at one point he cut a space in the floor of the home to drop down wine bottles into the cellar to keep them chilled as needed. One can still see this when standing in the cellar and looking up at the ceiling.
Weather permitting tastings are held outside under their old Roman Press. During the winter months the wine tasting is held inside the home – during the summer months walk down the steps to the actual cellar and tasting bar (behind and below the house). This press looks somewhat like a child's teeter-totter, and it is how Nichelini used to crush their grapes until it was last used in 1955. One end was weighted which dropped down onto the freshly picked grapes. To the best of our knowledge there is only one other Napa Valley winery who still has a standing Roman Press and that is Yates Family, located on Mt. Veeder on the other side of the valley.
125 acres of vines are owned and managed by the Nichelini's at an elevation ranging from 900 to 1000 feet. While there are no vineyards directly next to the winery, their primary vineyards are a located a short way up the road (off of Lower Chiles Road). A number of varieties are planted on site including their oldest block of Zinfandel – the original vines date from 1928 and were planted by Anton in his later years. And in a family tribute, each of the 12 of the 13 blocks are named after Anton and Caterina's 12 children.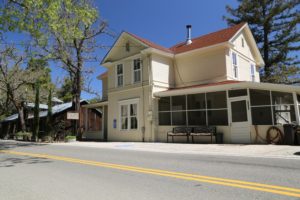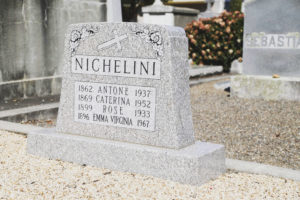 Remarkably the Nichelini's have never had to hire an outside winemaker. Today 5th generation family member, Aimée Sunseri is their winemaker and is the 7th overall winemaker since their beginning.
Nichelini encourages people to bring their own lunches and snacks and make use of some of the 20 or so picnic tables on site. The 'back yard' is sizable – it can be a very relaxing place to enjoy lunch before or after your wine tasting (or purchase a bottle from the winery, take the glasses down to the tables and enjoy wine with lunch). Usually it is very quiet here – although during most winters and into Spring the sound of the nearby creek offers calming sounds. A full-size bocce ball court (covered in oyster shells) is also available for guests.
Select Wines
All wines are exclusively made from estate grown grapes. Several uncommon (for Napa) wines are served here including Sauvignon Vert – also called Muscadelle. Under 60 acres are grown in all of California with under 10 planted in Nichelini's vineyard. This variety typically produces a very light refreshing crisp Bordeaux style white wine often showing tropical nuances both on the nose and palate. The grapes for this wine come from their original planting in 1946 and are still dry farmed. This is a variety we have rarely seen of the 1,100+ Napa wineries/producers visited with to date.
The 2015 Nichelini Old Vine Muscadelle (Sauvignon Vert) is straw color in the glass. It sees no oak. On the bouquet, reveals fresh aromas of citrus blossom, orange marmalade, tarragon and flint. Very balanced on the palate from start to finish, it shows flavors of red apple (with a slight green apple flavor nuance but not a crispness which lingers on the finish). No harsh edges, it feels soft and round across the palate but not creamy. Finishes clean without any tartness.
The 2016 Nichelini Moscato Dolce Dessert Wine is 18.3% alcohol and is made from Muscat Canelli grapes. Amber golden in the glass it reveals aromas of peach, apricot and a citrus peel zest. Rounded on the palate from start to finish – almost creamy in its textural presentation. Shows flavors of apricot. Balanced, without being too sweet this wine doesn't show a lot of acidity. Very clean with a quick finish. Drinks quite well by itself.
Another wine not often found in Napa is Primitivo; this is a red Italian variety somewhat similar to Zinfandel. They also produce a nice Zinfandel and Cabernet Sauvignon. Not many wineries make a Port-styled wine from Cabernet Sauvignon grapes; Nichelini makes one creatively called Cabaret. And a more recent addition is their Brut styled sparkling wine. Their wines are offered at a very good price to quality ratio.
—
Nichelini also sells grapes to select vintners. One of their most notable clients was initially New Clairvaux Vineyard in the tiny town of Vina, California (Tehama County), a skip and a hop from our grandparents former almond and walnut orchard. New Clairvaux Vineyard is owned and operated by Trappist-Cistercian monks with a viticultural history dating back in Europe nearly 1000 years. Nichelini's own winemaker Aimée Sunseri also makes the wines for New Clairvaux Vineyard.
The property has certainly been affected by wildfires over the years. More recently in 2017 a fire burned to the edge of their property. After this, General Manager Phil Sunseri was Spurred into action and oversaw creating defensible space on the property just in time before the Glass Fire of 2020 significantly burned all around their property but did not not burn key buildings including the old barn/winery nor the historic house.
Current production usually is between 2500 and 3000 cases a year. For more information and or to join their mailing list or wine club (membership includes discounts on wine and invites to member only events), visit: www.nicheliniwinery.com
Upstairs Wine Tasting

Home + Cellar + Grounds

Vineyards