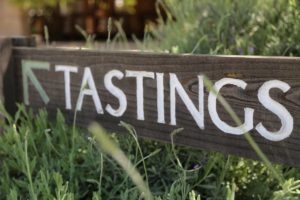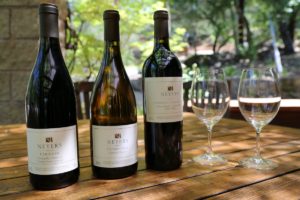 Neyers Vineyards, founded in 2000, is located on a short gravel road just off of Sage Canyon Road about 10-15 minutes from the Napa Valley floor. The owners Barbara and Bruce Nyers have been affiliated with the wine industry in various degrees for many years. Bruce is a wine distributor and he and Barbara worked several harvests in the early 1970's at Mayacamas Winery (high up in Napa's Mt Veeder sub-appellation).
Barbara remembers one of these first harvests as being one of the most rainy seasons on record in Napa. That is not a good thing when trying to harvest grapes and having mold issues as a result of the weather, but it certainly made for a memorable harvest. In general, vintages in Napa are fairly consistent; however a challenging year when the weather was a factor was definitely one way to be introduced to making wine in Napa (subsequent harvests would be less challenging)!
A group of French Vintners associated with Bruce's wine import company influence much of Neyer's farming and wine making practices including organically farming, and for the most part not using cultured yeasts for fermentation or filtration prior to bottling.
Our first visit was during harvest and the winery was a buzz of activity with the grapes bubbling in their open top fermenters, barrels being moved around, and grapes arriving by the truckload. As with many "hands on" Napa wineries, harvest is a great time to visit as you can see the winery in "action". Several barrel aging facilities are located on the property – one for their Chardonnays and one for their Reds. They have near future plans to build a cave next to the winery and this should be complete within a few years.
A visit is here is very personable and often includes a chat with Barbara. Tasting is either inside their tiny tasting room out if the weather permits outside under a trellis. This is a quiet part of Napa County – seemingly far removed from the traffic that often tangles Highway 29 and at times the Silverado Trail.
They Neyers own vineyard property in Conn Valley (to the north of their winery location) which is planted with Merlot and Cabernet Sauvignon. In addition they source fruit from premium vineyards, mostly within the Napa area. They have made a name for themselves with their several Chardonnays and after tasting these we can see why. They produce 3 different Chardonnays from the Carneros district and Napa Valley. All are excellent but if we had to pick our favorite it would be the 'El Novillero Vineyard' Chardonnay – this is the most golden of the three wines in color, has a very rich concentrated fruit forward palate with a beautiful long soft finish.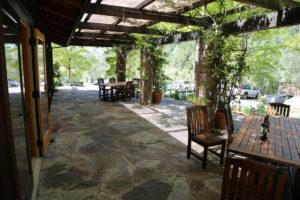 Three types of Syrahs and Zinfandels are produced including a Zinfandel from the historic farmed-by-hand Tofanelli Vineyard in Calistoga.
Looking for a Zinfandel with "elevation", try their High Valley Vineyard Zinfandel. This wine is composed of Zinfandel grapes grown in eastern Napa County at an elevation of about 2000 feet. One nice feature of their Zinfandels are they are not typically high alcohol wines showcasing at times over ripe fruit; they are typically more moderate in alcohol and as a result show the varietal characteristics very well.
Neyer's Merlot and Cabernet Sauvignon both come from their own vineyard; the Merlot is a very dark elegant wine with flavors of red cherries on the palate. The 2005 Cabernet Sauvignon is one of their better vintages – they certainly have a long track record to compare this to!
Also worth mentioning is their 2005 AME, which in French means "soul" and also stands for the first initials of each of their three children's names. This Cabernet Sauvignon is sourced from their "best" vineyard block and results in a wine that is very dark and extremely intense in flavor. This vineyard block happens to be the highest and most rocky on the property. Magnums are are usually available for any of their wines. Visit: www.neyersvineyards.com