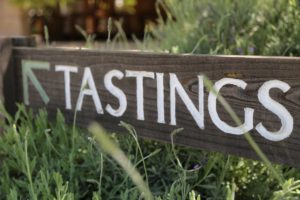 Neyers Vineyards, founded in 1992, is located on a short gravel road just off of Sage Canyon Road about a 10 minute drive from the valley floor and Silverado Trail. This 30-acre property is surrounded by steep and rugged hillsides covered in forest and other scrub; there are no vineyards planted on site. Founders of Neyers Vineyard, Bruce and Barbara Neyers purchased the property in 1999; the buildings on site were constructed soon after their acquisition – long time Napa winemaker Ehren Jordan (founder and co-owner of Failla Vineyards) oversaw the construction and became their first winemaker. Ehren met Bruce when both were working at Joseph Phelps Winery (Ehren as a tour guide). Prior owners secured several coveted permits (including the winery permit) and a permit to drill a cave into the hillside next to the actual winery. There are no current plans to drill a cave, but this certainly could be done in the future.
Bruce and Barbara also own 50 acres off of Conn Valley Road (to the north of the winery property, same side of the valley) called Conn Valley Ranch. The acquired this 'home vineyard' in 1984; it is located in the hills not far from Seavey Vineyards and is planted to nearly 30 acres of vines and ranges in elevation from 400 to about 1000 feet and supplies the Merlot and Cabernet Sauvignon for their wines.
Bruce and Barbara have known each other since they first met in the 5th grade in Delaware (both are from Wilmington – same as the owners of Bouchaine Vineyards). Bruce joined the ROTC in the late 1960s and was ultimately assigned to a post in South Korea (rather than Vietnam) – a remote area close to the DMZ. It was in Korea that Bruce was introduced to French wine by one of the officers. Family was not supposed to join the military men but after talking to her father, an Air Force General, Barbara decided to go to South Korea anyways. She and Bruce lived in South Korea for about a year before Bruce was transferred to San Francisco (the Presidio). He soon left the army and has since spent a career in the wine industry – working at Joseph Phelps Winery for 17 years where he became their general manager and later the first national sales manager for Berkeley importer Kermit Lynch (while this company is still in business in Berkeley, Bruce is now retired from Kermit Lynch).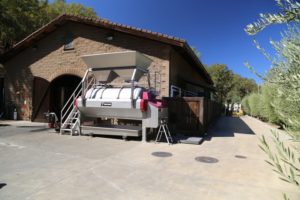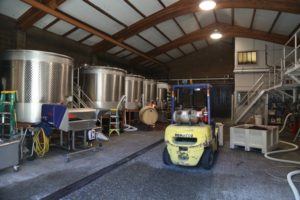 Both Bruce and Barbara worked several harvests in the early 1970s at Mayacamas Winery (located high up in Napa's Mt. Veeder sub-appellation). The Neyers had initially met Bob Travers (owner of Mayacamas Winery at the time) through a wine importing company Bruce was working for in San Francisco. Barbara (who we met with) remembers one of those first harvests as being one of the rainiest seasons on record in Napa. Certainly not ideal conditions when trying to harvest grapes with mold issues, but it certainly made for a memorable vintage. In general, vintages in Napa are fairly consistent; however, a challenging year with the weather being a detrimental factor in some sense was a good way to begin one's wine making career – subsequent harvests would be less challenging. And in 2022 Neyers celebrated their 30th harvest and the 50th harvest for both Bruce and Barbara.
Barbara later became a chef and was manager at the acclaimed Chez Panisse Restaurant in Berkeley where she worked for 20 years.
And refreshing in Napa's contemporary wine making environment, Neyer's wine philosophy is about showcasing food friendly and affordable wines, highlighting the fruit and varietal characteristics rather than secondary oak influences. Their oak aging is gentle and judicious.
The Neyers farm their estate vineyard using organic practices (the management of their vines is done by hand). They ferment using indigenous yeasts (non-cultured) and bottle all their red wines with no filtration. Neyers also tends to release some of their wines extremely young (including both the whites and select reds).
Select Wines
In addition, they source fruit from premium vineyards, some within the Napa Valley but from select other vineyards in parts of Northern California. They have become known for their Chardonnay production (this variety comprises the bulk of their 16,000 to 20,000 case production each year). They produce several different Chardonnays from Carneros (southern part of the Napa Valley). All are excellent but if we had to pick our favorite it would be the 'El Novillero Vineyard' Chardonnay – this is the most golden in color of their Chardonnays; it has a very rich concentrated fruit forward palate with a beautiful long soft finish.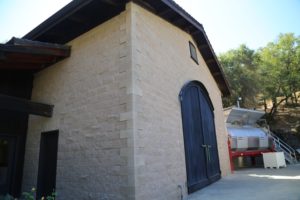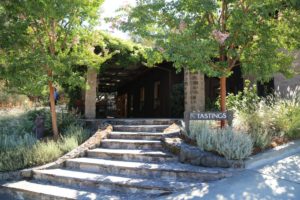 The 2017 Chardonnay 304 was fermented and aged in stainless steel (85%) and in concrete tanks (15%). While pondering a name for this wine, Bruce was inspired by his cellar workers to use the name '304', referring to the SAE 304 stainless steel grade used in their tanks (the most common type of stainless steel). This wine sees no secondary fermentation. Shows notes of honeysuckle and hints of citrus blossom on the bouquet – with a rounded and soft texture throughout the wine yet retaining nice acidity across the palate. Notes of orange marmalade, mandarin, red apple and a thread of minerality. Drinks easily and clean.
The 2015 Neyers Chardonnay Carneros, unlike the '304' was aged in oak and was sourced from three vineyards in the Carneros district – all planted to a Wente clone of this variety. This wine went through secondary fermentation. Appealing floral characteristics show including citrus blossom. Lovely texture, the wine is rounded, slightly oily in feel but with good acidity – especially noticeably on the finish. Lingers with bright and lively flavors of citrus and a slight nutty nuance (hazelnut).
The 2016 Neyers Left Bank Red is approximately a 50/50 blend of Cabernet Sauvignon and Merlot from grapes grown on their Conn Valley Ranch. Reveals an interesting bouquet with mostly red fruit complemented nicely by nuances of dried sage and tobacco leaf. Juicy with mouthwatering acidity, this wine offers plenty of flavor. The finish is long and anchored by earthy, somewhat dusty firm tannins and a lingering red fruit tartness.
The 2015 Neyers Ranch Cabernet Sauvignon is crimson red in the glass; it offers an elegant bouquet with blackberry and boysenberry along with a hint of darker spices and a very slight oak spice influence. Shows more red fruit then dark fruit on the palate including raspberry and red currant. Medium bodied, the tannins are firm and still a bit tight in their youth. Excellent acidity.
Nyers produces a Zinfandel – they used to work with the historic farmed-by-hand Tofanelli Vineyard in Calistoga. One of their Zinfandels produced in past years, was grown at elevation – the High Valley Vineyard Zinfandel was made from Zinfandel grapes growing in eastern Napa County at an elevation of about 2000 feet. One nice feature of their Zinfandel wines in general, is these are not typically high alcohol wines showcasing over-ripe fruit; as a result, they show the varietal characteristics very well and do not feel 'hot' on the palate.
Also worth mentioning is their ÂME Cabernet Sauvignon, which is one of the best names in the valley based on its back story. Well-respected vineyard manager, David Abreu was helping the Neyers develop their vineyard in the early years, and he identified an upper section of vines that he called the soul of the vineyard. A French secretary worked for the Neyers at the time, and she informed them that soul in French is the word ÂME. Coincidentally the letters in ÂME are the first initials of each of their three children's names, Alexandra, Michael and Elizabeth.
This wine is sourced from their "best" vineyard block which is the highest and most rocky on the property. The 2016 Neyers ÂME Cabernet Sauvignon is 100% varietal, dark ruby in color it shows a sweetness of fruit on the bouquet including blueberry and a hint of mocha and cedar as the wine continues to breathe. Both red and darker fruits show on the palate including plum and a red cherry note towards the finish. Robust young tannins linger for a long time – they are chewy and persistent across the palate. This is a very full-bodied Cabernet Sauvignon. Magnums are usually available for some of their wines including this one – and are often still available after the 750ml bottles have sold out.
—
Neyers also produces their own organic olive oil – from five varieties growing on the property including Manzanilla, Arbequina, Picholine, and Lucques. This production is very limited and only available in 375 bottles.
Our first visit was during harvest and the winery was a buzz of activity with grapes actively fermenting in open-top fermenters, barrels being moved around, and freshly harvested grapes arriving by the truckload. As with many "hands on" Napa wineries, harvest is a great time to visit as you can see the winery in "action". Several barrel aging facilities are located on the property – one for their Chardonnay production and one for the red wines.
A visit is here is very personable and sometimes includes a chat with Barbara if she is on site. Tastings are held either inside their tiny tasting room or outside if the weather permits under a trellis and large wisteria vine. This is a very quiet part of Napa County – seemingly far removed from the traffic that at times often tangles Highway 29 and the Silverado Trail.
In 2017 the Neyers entered into a partnership with Trinchero Family Estates – both parties now jointly manage the winery. Bruce is a prolific writer and reading his blog on the Neyers website is a trip down memory lane filled with rich stories of his decades in the business. For more information, to schedule a visit or to join their wine club, visit: www.neyersvineyards.com