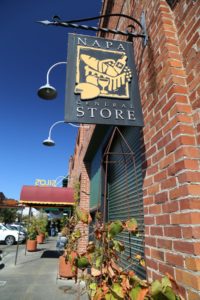 Napa General Store is located in the historic brick Napa Mill all the way at the south end of Main Street in downtown Napa. Its location was a former feed store. For reference, the Napa River Inn is almost next door within the same building. A river running through a town always adds a nice touch and the Napa Mill is built right above the Napa River. A river walk wraps around the actual mill building. It is called the River Promenade & Plaza at Napa Mill and connects with several nearby outdoor restaurant patios. This is a very relaxing stroll.
Parking is a bit tight at the Napa Mill especially on weekends, but a nearby parking garage helps alleviate the congestion. We've always found parking around lunchtime if you arrive before 12pm. If you arrive after 12pm then parking can be a bit of a challenge. Several parking spots in the center part of the parking lot are now reserved for electric vehicles and several chargers are available in front of the actual parking spots. Napa General Store is open 7 days a week and they offer a variety of wine related items as well as boutique type gifts and souvenirs.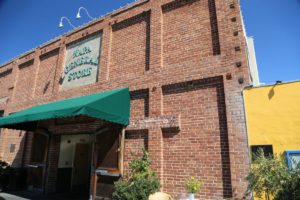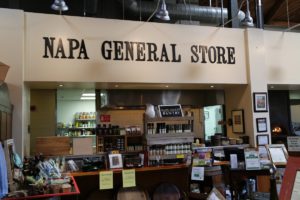 The focus of their merchandise is typically artisan based so one will find numerous intriguing souvenirs, knick knacks and other wine related items not often found elsewhere. Walk through the long hallway past the restrooms to enter the store. The inside is very modern with a high ceiling and a nice atmosphere. The sit down wine bar is to the right past the merchandise as one enters the store. If the wine bar is crowded, nearby tables are also available. In addition when the weather permits there is outdoor patio dining overlooking the Napa River.
A little secret: should you happen to be in Napa during the 4th of July weekend this is one of the best places in Napa to watch the fireworks over the river as you can sit down outside on the patio for the best viewing. The Napa General Store also typically has some live music on the 4th as well as during select times throughout the year.
Their wine list features an excellent selection of mostly all Napa Valley produced wines. Prices are reasonable with a wide range of price. Check the laminated printed tasting menus on the counter top for that days selection. The wines represented on their wine list are nearly all from small vintners and labels that you will most likely never heard of. That is not a bad thing. They try to represent "artisan" wineries featuring hand-crafted wines from vintners who have small production and generally do not have a tasting room of their own.
This artisan tasting is one of the better represented tastings in the valley of some totally under the radar very limited production wines.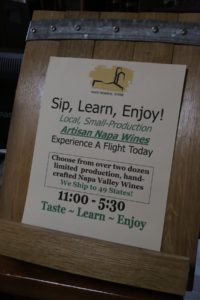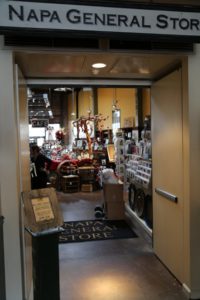 Want some food to go with your wine tasting? A cafe style menu is available for breakfast and lunch (they are not open for dinner as the evenings are often reserved for special events, weddings etc).
Need a nice lunch to take with you for between wine tastings? Choose from their basic or luxury box lunches which are available for takeout. Nearby shops, other wine tasting venues and a plethora of dining options are available within walking distance. With several hotels and apartments in this part of town, the Napa General Store is very centrally located and within easy walking distance of many of these establishments.
Interested in hot air ballooning over Napa Valley? Balloons Above the Valley meets here before their trips and one of their outings incorporates a post trip champagne brunch at the store. For more information or to make a reservation, visit: www.napageneralstore.com
NOTE: this review has been identified as needing a *major* update. We will revisit and update this review by the end of 2019.