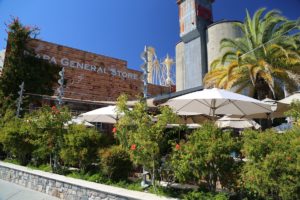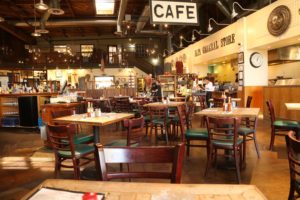 Napa General Store is located in the the historical Napa Mill District, located at the south end of Main Street in downtown Napa. The 4,500 square foot store was founded by Jim and Jill Brandt (still the current owners). A river running through a town always adds a nice touch and the buildings are located directly above the Napa River on its western bank. A river walk wraps around the actual mill building – called the River Promenade & Plaza at Napa Mill and connects with several nearby outdoor restaurant patios. This is a very relaxing stroll for those who have some extra time on their hands.
Parking is a bit tight at the Napa Mill especially on weekends, but a nearby parking garage helps alleviate the congestion. We've always found parking around lunchtime if you arrive before 12pm. Sometimes if one arrives after 12pm then parking can be a bit of a challenge, especially on the weekends. Several parking spots in the center of the primary parking lot are reserved for electric vehicles with accompanying chargers. Napa General Store is open 7 days a week offering a variety of wines, related items and boutique gifts and wine-country artisan crafted souvenirs.
Part wine tasting and wine shop, part boutiques and partly a restaurant. The sit-down wine bar is located just past the merchandise on the right-hand side as one enters the store. If the wine bar is crowded, nearby tables are also available for tastings.
On the forefront of the downtown Napa renaissance
The Brandt's moved to Napa in 1999; Jim used to own Gold Coast, a restaurant he operated for nearly 10 years in San Francisco's Financial District. They opened The Napa General Store in mid 2002, early in the modern-day renaissance of downtown Napa. Downtown Napa during the turn of the 21st century was a completely different downtown then it is today. At the time there were only a handful of tasting rooms. Today there are nearly 40 tasting rooms in downtown Napa alone, most walk-in but some require appointments.
Part of this renaissance can be directly attributed to a major flood control project which was completed in 2015. The Napa River has seen some 20+ serious floods since 1865, the most recent being in the winter season of 2005/2006 in which a decent sized portion of downtown was flooded including north of downtown in businesses located near the river. At one point people were using boats to rescue people in the Walmart parking lot off of Trancas Avenue.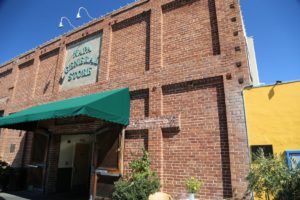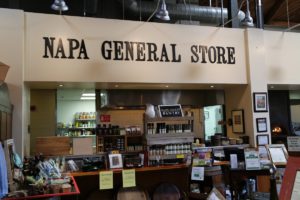 And when the economic downturn happened starting in 2008, downtown Napa at times felt like a ghost town with stores closed and few tourists. Then the 6.1 earthquake in August 2014 hit in the wee hours of the morning – the epicenter just south of town. Numerous businesses downtown were damaged and had to close for some time while repairs were made. Some damage was fairly major – a few buildings never were repaired, IE the primary United States Post Office building on Second Street.
Once the flood control project was completed (and it has so far worked during subsequent very rainy seasons), businesses now had confidence in locating in downtown Napa. New hotels opened including the Andaz and the Archer. More beds downtown spurred growth on the culinary scene. Today the city of Napa (and Yountville) are arguably the culinary capitals of the valley. Numerous excellent restaurants are all located within walking distance of each other.
Downtown Napa has never been located on a major highway – visitors to the valley must exit Highway 29 and meander through residential or businesses sections of town to reach downtown. And without infrastructure tourists long bypassed the city for the vineyards and wineries up valley. Once all of this fairly recent infrastructure was in place, the Downtown Napa Association has since done an excellent job of marketing itself – and once visitors discovered all there is to do downtown, word has quickly spread. Today downtown Napa is a happening and exciting place to visit or stay.
The Napa Mill

This part of downtown Napa was the center of industrial activity in the late 1800s and early 1900s. Development occurred initially because of being able to use the river for transportation (a number of wharves were built along the river) as well as later, due to the train tracks that were built nearby by the Napa Valley Railroad Company in the mid 1860s.
Referred to as the Hay Barn, the building that houses the Napa General Store was constructed in 1959, replacing a prior hay barn that was on site but burned down in 1958. The building is home to not only the store, but also several offices upstairs. And Silo's, the next-door building dates from 1932, most recently used to house a club featuring live music including jazz until closing its doors in 2018. And the building next to Silo's, the Hatt Building dates from 1886 and houses the Napa River Inn.
Two historical wineries (no longer standing) were built in the general vicinity of the Napa Mill; Uncle Sam's Wine Cellar (1872) and Giacomo Migliavacca Winery (1874). Interestingly, the great-great-grand daughter of Giacomo Migliavacca is now making wine under the Migliavacca brand.
Select Wines
Napa General Store's wine tasting menu features an excellent selection of wines primarily from the Napa Valley – although several producers are represented who make their wines outside of the Napa Valley and some wines are from vineyard sources in neighboring counties. Napa General Store represents "artisan" wineries featuring hand-crafted wines from vintners who have small productions and generally do not have a tasting room of their own. These are wines that are well under the radar of most visitors to the valley. This is not a bad thing.
Prices are reasonable – with a wide range of price points and wines including several sparkling and dessert wines. The selection of wines rotates several times a year; view the laminated printed tasting menus on the countertop for that days' offering. Also available is their Artisan Wine Club, a 3, 6, or 12 bottle selection shipped four times a year. Members can choose reds only, whites only or a combination of red and white wines. Several membership perks include complimentary tastings on site and discounts on all wine purchases and shipping.
This artisan tasting is one of the few spaces within Napa Valley where one can walk in without needing an appointment and sample limited production wines from multiple premium artisan producers.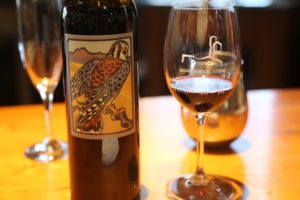 Through relationships established with local wineries and vintners, Jim sometimes has wine crafted under the Napa General Store label and these are often available at the tasting bar or can be ordered with meals by the bottle or glass. These wines are made by the respective wineries that Jim partners with.
The Napa General Store, non-vintage Tres Sabores Vineyard Petite Sirah; it is always unique to discover a non-vintage wine in the Napa Valley. Offers savory, meaty aromatics with notes of old cedar box, darker chocolate, hints of tobacco leaf and darker spices on the bouquet. Not an overly powerful wine that often is produced from this variety but rather is fairly balanced across the palate. A noticeable grip of tannins shows on the finish but are finer grained then course in nature. Hints of cigar, toasted oak and mocha also show on the finish. The label is an image of an American Kestral – part of the sales of this wine supports the Napa Wildlife Rescue Organization.
The Napa General Store 2015 St. Helena Cabernet Sauvignon is garnet red in the glass – offers a lively perfume driven bouquet with aromas of dried rose petal, rhubarb, hints of sage, wintergreen, cranberry and red currant. Very balanced, medium bodied with more red toned fruits showing on the palate then darker fruits. Shows a tight trip of tannins which linger for some time – needs time to breathe. Flavors of red cherry, red current and excellent acidity with a noticeable tartness on the finish. Very food friendly and also age worthy.
Dining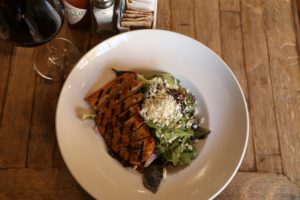 The Napa General Store offers plenty of inside seating and weather permitting, the coveted outdoor seating on their patio adjoining the restaurant – next to the Napa River. A great place to see and be seen. Open for breakfast and lunch but not for dinner – as the evenings are often reserved for special events such as birthday, bachelor or wedding parties and sometimes small corporate events.
To go lunches can also be ordered ahead of time – these are often nice to have on a long day of wine tasting. Options include a basic or luxury box lunch. Nearby shops, other wine tasting venues and a plethora of dining options are available within a short walking distance. With several hotels and apartments in this part of town, the Napa General Store is very centrally located and within easy walking distance of many of these establishments.
A little secret: should you happen to be in Napa during the 4th of July weekend this is one of the best places in Napa to watch the fireworks over the river as you can sit down outside on the patio for the best viewing. The Napa General Store also typically has some live music on the 4th as well as during select times throughout the year.
Interested in hot air ballooning over Napa Valley? Balloons Above the Valley meets here before their trips and one of their outings incorporates a post trip champagne brunch at the store. For more information or to join their wine club, visit: www.napageneralstore.com