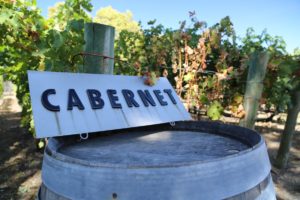 Napa Cellars is located close to Cosentino Winery on the west side of St. Helena Highway just north of Yountville. It is one of the first few wineries you will see as you drive up Highway 29 from the town of Napa and a result of their location often makes a good stop for first time visitors to the valley. A visit here allows one to try three wine brands associated with this winery including their main Napa Cellars wines (all Napa grapes), Folie à Deux Wines (focuses on wines grown in neighboring Sonoma County) and their ever subtlety sexually nuanced – the popular Ménage à Trois wines (California wines).
Napa Cellars dates from 1968 and was founded by vintner Charlie R. Woods. The winery has changed hands a number of time and more recently was owned by two well known winery names in the valley – Rich Frank and Koerner Rombauer both of whom own and run other wineries. Napa Cellars was purchased by the Trinchero Family in 2006 (also owners of Sutter Home).
The tasting counter is located in a nondescript geodesic dome like building (which dates from the 1970s) right next to St. Helena Highway (Highway 29) and the wine tasting is casual & relaxed. Their tasting room in fact used to be the original barrel room on site and the original brick floor is still in place. In mid 2008 the winery renovated and updated part of the facilities. Only Napa area grapes are used in their Napa Cellars label – they offer a number of wines from their Classic Collection as well as just a small number of small production wines found under the Platinum Reserve. A small patio with several tables and chairs is available immediately outside the entrance to the tasting room.
During one of our visits we tried the 2006 Sauvignon Blanc; this is a crisp steely wine with lots of citrus notes on the nose. The palate is very clean and you will probably pick up some pineapple flavors. Their 2006 Chardonnay is from vineyards south of Napa which are located in cooler growing climates than up valley. A small percentage of the fruit for this wine is from the well-known Hudson vineyard in the Carneros region. There are hints of pineapple on the bouquet and the mouth feel is round and creamy with notes of vanilla. Napa Cellars makes a variety of reds which is what they are most known for. All their wines are quite reasonably priced for Napa standards ranging from approximately $20 to $55. We enjoyed their 2005 Zinfandel; this wine has a very aromatic nose and nice layers of spice coat the palate including anise and cloves. Good firm tannins anchor the finish, but they are not out of balance.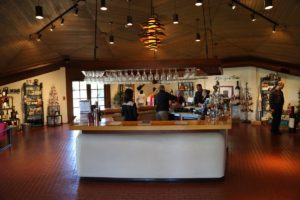 Several Cabernet's are offered including their much in demand Oakville Cabernet (which is very reasonably priced for Oakville fruit!). The winemaker here is also the winemaker for Napa Cellars. Separate tastings are offered for each of their labels – but you can certainly try all of them if you like. Several complimentary tastes are also given.
The lighter styled fun Menage a Trois wines are available for tasting here. Menage a Trois literally means "blending of three" and their three wines, a white, Rose & red, are a blend of three varietals. The winemaker here is also the winemaker for Napa Cellars. A tasting is either of the Folie à Deux wines or Napa Cellars but you can certainly do both. Usually several complimentary tastes are given.
Want to relax outside? One can certainly do so, weather permitting. Several picnic tables (available for customers), a few games and a cutout of the Folie à Deux logo for photos are scattered around their lawn. Music is piped outdoors. And you can see their tiny 3/4 of an acre estate Cabernet Sauvignon vineyard growing next to the lawn.
NOTE: This review has been identified as needing a major update.
Visit: www.napacellars.com