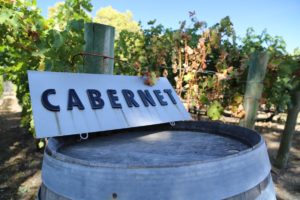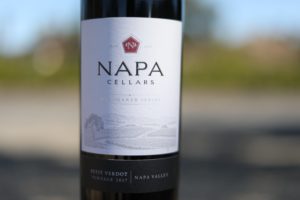 Napa Cellars is located about a 5 minute drive north of Yountville on the west side of St. Helena Highway directly across the driveway from Piazza del Dotto Winery. It is one of the first few wineries seen as one drives north on Highway 29 from the town of Napa and a result of their location often makes a good stop for first time visitors to the valley. As of 2018 the focus of the tasting is exclusively on Napa Cellars produced wines. Prior, one could try three wine brands associated with the winery including their main Napa Cellars wines (all Napa grapes), Folie à Deux wines and their ever subtlety sexually nuanced – the popular Ménage à Trois wines (California wines).
Napa Cellars dates from 1968 or 1976 – no one, not even the winery, can give us the exact date it was founded and the current parent company, Trinchero Family actually lists both dates on various parts of their website as the founding year for Napa Cellars. The iconic geodesic building that now serves as the tasting room was built and bonded in 1975 by vintner Charlie R. Woods on an existing 5 acres. According to an article dated October 20, 1977, in the St. Helena Star, Woods first opened his tasting room in 1977. Noted local wine writer George Starke was a partner and president of the winery for a short while along with 5 other initial partners.
The winery has changed hands a number of times including at one point was under ownership by the DeSchepper-DeMoor family of Gent, Belgium (this family purchased the winery in 1983 and named it DeMoor Winery). Their background was as wine merchants in Europe for decades. Several now winemaker veterans made wine here during their ownership including Don Baker (Sciandri Family) and Michael Cox (Schug Winery). DeMoor Winery was sold in 1990 to a Japanese Corporation who sold the majority of the wines in Japan.
Napa Cellars also also used to be associated with Folie à Deux (meaning craziness for two in French) wines – a winery begun in 1981 by psychiatrist and winemaker Larry Dizmang and psychologist Gary Mills. The original site of Folie à Deux was the old yellow farmhouse on site of what is now Trinchero Vineyards (used to serve as the tasting room for Trinchero family until it was eventually torn down). Today Folie à Deux wines are no longer available to taste at Napa Cellars and the Folie à Deux brand has morphed into wines produced only from Sonoma County appellations. A small group of investors purchased Folie à Deux in the mid 1990s from Larry – including winemaker Dr. Richard Peterson and also Calistoga winery owners, David and Betsy Lauer. Winemaker Scott Harvey was the president and oversaw the winemaking for the company for several years.
In 1996 Napa Cellars was purchased by two well-known vintner names in the valley: Rich Frank and Koerner Rombauer (Koerner passed away in 2018 and will be sorely missed by many in the valley) both of whom founded other wineries. Napa Cellars was purchased by the Trinchero Family in 2006 (also owners of Sutter Home Winery and numerous other brands).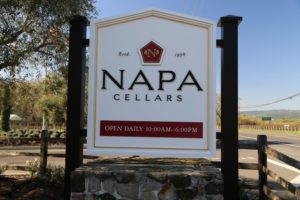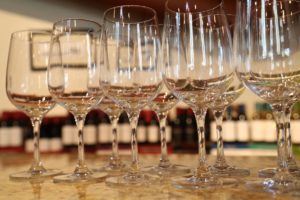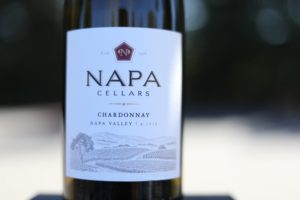 Napa Cellars produces a wide diversity of wines categorized under the Classic Collection, V Collection and the Winemaker Series. The Classic Collection includes their higher volume produced wines which are from Napa Valley and have good national distribution, the V Collection are wines sourced from specific sub appellations within Napa Valley and are named in tribute of the original five acres on the site of the winery and the Winemaker Series includes very limited production wines from specific sub appellations within Napa Valley.
The tasting counter is located in a nondescript geodesic dome like building right next to St. Helena Highway (Highway 29); the wine tasting is casual & relaxed. Their tasting room in fact used to be the old barrel room and the original brick floor is still in place. If you look carefully, you will notice the floor slopes downwards towards the center of the tasting room which is where the drain was originally located. And if if you know where to look, towards the southeast wall – you will spot an outline in the brick floor of what used to be a bathroom.
Only Napa Valley grown grapes are used in Napa Cellars' wines. As of our latest update to this review, Napa Cellars owns three vineyards; Vista Montone Vineyard planted to Chardonnay and Pinot Noir is located in the cooler southern part of the valley, Main Street Vineyard is planted to Cabernet Sauvignon and is located in St. Helena and the Salvador Vineyard is also planted to Cabernet Sauvignon and is located in the Oak Knoll District.
Select Wines
The 2018 Napa Cellars Napa Valley Chardonnay is medium to deep gold in color; the bouquet offers aromas of Golden Delicious apple, ripe pear, caramel, warm butter, vanilla and coconut. Its texture is supple and creamy across the palate. This bottling shows flavors of lemon meringue, lemongrass, melon and apple. It lingers with a richness of both fruit and a darker spicy nuance including notes of hazelnut and an oak toastiness. This wine was fermented entirely in barrels of which 27% were new French oak; the grapes came from a variety of southern Napa Valley vineyard sites including in Carneros and in the Oak Knoll District.
The 2018 Napa Cellars Napa Valley Pinot Noir is pale ruby in color; the first word we wrote after smelling the bouquet was spicy. The aromas include white pepper, raspberry, cherry cola, red licorice, some herbal notes and old cedar box. Balanced across the the palate, this bottling offers flavors of raspberry, red cherry, cranberry and mint. It finishes soft with finely woven lightly structured tannins, toasted oak, a pepper spice, medium acidity and a lingering hint of boiled rhubarb. The finish is savory. This wine was produced from grapes growing in the southern part of Napa Valley (cooler climate) and was aged for 10 months in French of barrels of which 28% was in new oak. This is one of the better quality to price point Pinot Noirs from Napa Valley.
The 2018 Napa Cellars Winemaker Series Malbec is dark ruby with purplish tinges on the rim in the glass; the bouquet is opulent, open and expressive and features a dessert like quality based on both ripe fruit with a union of numerous secondary spices. It offers aromas of sweetly fruited mid summer ripe and juicy blackberry, dark cherry, boysenberry and mulberry along with milk chocolate, espresso, mocha and Graham Cracker. This bottling shows plenty of flavor including both red and darker fruits; it is somewhat brambly with flavors of cherry, currant and red plum. Finish with primarily red fruits, a darker spice note, juicy acidity and lightly textured rounded tannins with a lingering dried tobacco leaf quality. We had to really hunt for the alcohol listing on the label; its printed in white on the front label and is 13.9%.
The 2017 Napa Cellars Winemaker Series Petit Verdot is dark ruby in color and almost opaque in the glass; the bouquet is primarily focused on the fruit rather than aromatics as a result of barrel aging. The bouquet offers scents of dark plum and blackberry complemented by lighter nuances of dried herbs, dark pepper and deeper in the aromas, hints of mocha. The palate is mouthwatering, featuring a freshness and youthfulness carried by its bright acidity (we tasted 5 years post vintage). Offers flavors of blackberry, cherry and black currant. The finish is savory and tart, showing dark pepper, a juiciness and still tightly woven firm, dusty and dry tannins (but not texturally harsh) which continue to persist for some time. The grapes for this wine were primarily sourced from one site in Coombsville; after fermentation, the wine was aged in 100% French oak of which 44% was new for 23 months.
The 2016 Napa Cellars Dyer Vineyard Syrah Rosé is pinkish orange in the glass and shows a pronounced sweetness of fruit aromatics including watermelon and strawberry. Easy drinking and fairly light on the palate, this wine goes down quickly. It features decent acidity with flavors of currant and raspberry. It is crisp but not tart on the finish.
The 2015 Napa Cellars Zinfandel shows notes of tobacco smoke, cracked black pepper and spicy plum and dark cherry aromas on the bouquet. As it breathes becomes a little floral. Shows a sweetness of fruit on the palate; this is a lighter style Zinfandel with good acidity. Shows flavors of tart plum and other red fruits with light well-integrated tannins along with a lingering note of wood spice on the finish.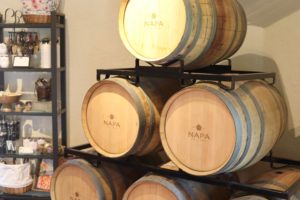 During one of our earliest visits we tried the 2006 Napa Cellars Sauvignon Blanc; this is a crisp wine with citrus and mineral notes on the bouquet. The palate is clean and crisp with flavors of pineapple.
The 2006 Napa Cellars Chardonnay is from vineyards south of the city of Napa; this part of the valley tends to be cooler than 'up valley' due to its proximity to the cooling waters of the San Pablo. A small percentage of the fruit for this wine is from the well-known Hudson vineyard in the Carneros region. There are hints of pineapple on the bouquet and the mouth feel is rounded and creamy with notes of vanilla.
Napa Cellars makes a variety of reds; these are the wines they are most known for. Several Cabernet Sauvignons are produced, including their much in demand Oakville bottling (which is very reasonably priced for Oakville fruit). In fact, all their wines are quite reasonably priced for Napa Valley standards.
—
Want to relax outside? One can certainly do so, weather permitting. Napa Cellars is one of a limited number of Napa wineries that allow guests to bring and eat food on site. In 2022 the backyard was redesigned slightly to incorporate more picnic tables. Sometimes a few lawn games are scattered around and are especially popular on summer and fall weekends. Music is piped outdoors. And you can see their tiny 3/4 of an acre estate Cabernet Sauvignon vineyard growing next to the lawn.
While their permit does not allow them to serve wine outside, one can certainly bring a glass of wine and enjoy it outside. Wine club members can also order bottles and bring them outside.
Napa Cellars offers several wine club options. For more information, to purchase wine or to make an appointment to visit the tasting room, visit: www.napacellars.com