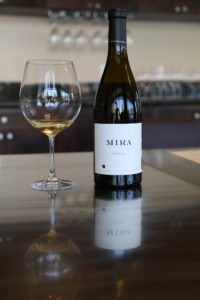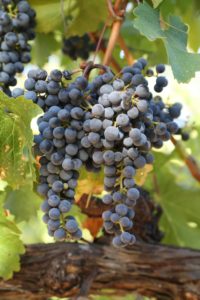 Mira Winery was co-founded by long time Napa winemaker Gustavo Gonzalez and Jim "bear" Dyke. Their story covers multiple parts of the country, but is centered on the Napa Valley. Both men met by chance in the upscale Off The Record Bar at the Hay Adams Hotel in Washington, D.C. A brilliant name for a bar located basically across from The White House (on the north side). Their conversation was ultimately not off the record – as it led to a engaging story about how they combined financial and wine making efforts to create a Napa based winery.
Gustavo has been making wine professionally for more then 20 years and spent 17 years making wine at Robert Mondavi, beginning his career there as a lab intern. He is both talented working in the lab but also has a keen sense of when to allow for the creative side of wine making to come into play. He grew up in Sacramento and went to UC Davis. Well traveled, he has made wine in 5 different countries.
Jim Dyke has built a successful 20+ year political career working on presidential campaigns and other political related projects. He was a Communications Adviser to President George W. Bush and has worked on a number of campaigns where he developed strategies to deliver messages to various audiences.
The name Mira is a root word in Latin meaning miracle. This has many meanings as it relates to the wine world and their particular story. Most wineries in Napa at least, have not been formed through random meetings in bars, a miracle of sorts while also referring to the 'miracles' that are a result of hand-crafting a bottle of wine every vintage. The tiny symbol on the front of every bottle refers to good harvests.
Probably one of the few Napa wineries to have ever graced the pages of the National Geographic, Mira's initial experimental aging program of submerging bottles of 2009 Cabernet Sauvignon in the Charleston Harbor was mentioned in the April 2017 issue. The wine was housed in steel cages, one case per cage and was aged underwater for 6 months. They called this wine Aquaoir. Ultimately the TTB sent them a warning notification and unfortunately all underwater wine aging has currently been put on hold.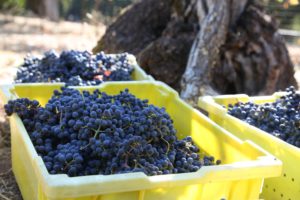 Their first vintage dates from 2009. The backbone of their production (varies from between 5,000 to 7,000 cases each year); to date has been from several prominent vineyards – most notably the Hyde Vineyard on the Napa side of Carneros and the Schweizer Vineyard in the Stag's Leap District (one of the older continuously planted vineyards in the Napa Valley having been planted to grapevines for more then 100 years and owned by the Schweizers since 1956).
Mira currently makes a variety of both red and white wines – focusing on 100% varietal wines (if a wine is not 100% varietal, the blend percentages will be listed on the back label). Wines are distributed among their Napa Valley Series (these are wines with a greater production, not necessarily single vineyard wines) and the Collector Series, which focuses on more limited production single vineyard wines.
The 2013 Hyde Chardonnay is golden in the glass; it shows slight notes of caramel with more prominent citrus and red apple aromas. On the palate there is a noticeable minerality component. Balanced between flavor, structure and acidity. Very lively finish – fairly crisp finish. Drinks very well by itself.
The 2013 Hyde Vineyard Pinot Noir is one of the bigger Carneros Pinot Noir's we have tried. Fairly dark in the glass. Harvested from an older block with small berries that have a high skin to juice ratio. On the bouquet it shows dessert spices including cardamom and chocolate with a subtle minty note – the palate is somewhat earthy with both red and darker fruits including flavors of cherry. Earthy drying very noticeable tannins anchor a long finish (on the structure alone, we almost thought we were tasting a medium bodied Cabernet Sauvignon).
The 2013 Hyde Vineyard Cabernet Franc shows an appealing distinctive bouquet with aromas of black licorice and a subtle underlying herbal note. Has good depth on the palate featuring mostly darker fruit flavors – somewhat dusty coarse tannins persist for quite some time. Fairly powerful on the palate, has good depth of flavor and structure.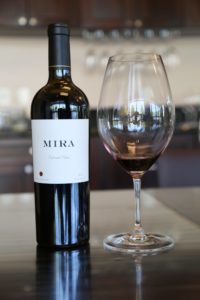 The 2012 Napa Valley Cabernet Sauvignon is their workhorse wine – this vintage was nearly 4,000 cases. Very pretty aromatics – sweet at times with notes of red licorice, blackberry and some dessert spice aromatics. Shows mostly higher toned fruits on the palate – with very good acidity. A lingering tartness (red cherry, cranberry) is framed by meaty somewhat chewy tannins. Pair this wine with a well-marbled steak.
The 2014 Syrah, arguably our favorite of the wines we tried shows a 'syrah varietal sweetness' on the nose – slightly savory, this well-layered bouquet continues to deliver plenty of aroma as it opens. Balanced but big, the palate is juicy, mouth watering with an intensity of flavor. Noticeable tannins but not unbalanced. Lively in the glass and youthful – will be interesting to see how this wine develops over the next few years.
In early 2017, Mira Winery purchased 10.5 acres just south of Yountville on Washington Street with very easy access from Highway 29. Plans call for a winery and tasting room to be built on site – with construction starting in 2018 to be fully completed in time to process the harvest here in 2019. We will continue to keep an eye on this site as development continues.
Their Napa Valley Education Center & Tasting Room in Charleston, South Carolina offers guests a unique chance to taste wines from the Napa Valley in the heart of historic downtown Charleston. Visits are not only about the wines but also about education – learning more about what makes the Napa Valley unique, its diversity of terroir and various micro-climates
For more information and to schedule a visit to either their Napa winery or the Charleston tasting room, visit: www.miranapa.com
This is a new review, but due to various circumstances, has already been identified as needing a *major* update.
Napa Winery Photos
– waiting for construction (we initially met at Bin to Bottle, a custom crush facility in South Napa where they currently make the wine until their new winery is completed). Photos here are of the initial construction on the future winery site off of Washington Street just south of Yountville. Note: construction is underway as of late 2017.
Napa Valley Education Center & Tasting Room – Charleston, South Carolina
– this is very high priority for us to visit and we will post photos once we have done so.