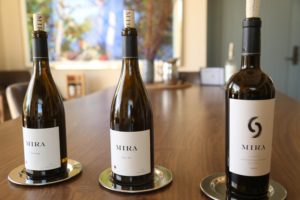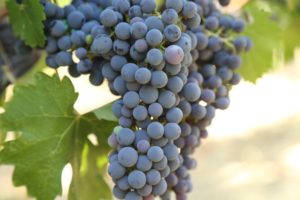 Mira Winery was co-founded by long time Napa winemaker Gustavo "Goose" Gonzalez and Jim "Bear" Dyke. Their story covers multiple parts of the country but is centered on the Napa Valley. Gustavo was in Washington DC in 2005 for some wine related events when he stopped by the upscale Off The Record Bar at the Hay Adams Hotel – a brilliant name for a bar located basically across from The White House (on the north side). Incidentally this hotel was also the site of Chef Julia Child's 80th birthday celebration. Enter from the main hotel entrance – cross the lobby and descend stairs into the inner sanctum of Washington politics. During a recent visit we spotted a number of well-dressed politicos hanging out in the caresses of the corner lounge booths.
The bar is the prominent feature here but there are plenty of tables and intimate lounges catering more towards hushed conversations. Caricatures of presidents hang on the walls. Some drinks are named in honor of presidents – during the Trump presidency, one could order the Trumpy Sour, a delicious sweet and sour orange colored drink. While known for their cocktails and crafted drinks, Off the Record Bar serves remarkably tasty food – our recommendation is the lobster salad.
Traveling solo, Gustavo chose to sit at the bar and began making small talk with the bartender when Jim sat next to him, and they struck up a conversation about a shared love of wine and mathematics including the Golden Ratio and how this ties into nature. The Golden Ratio (also known by other names including Golden mean, the Golden section, divine proportion) is a number calculated by dividing a line into two parts so (a+b)/a = 1.61. This number is also produced from some of the great historical architecture of the world including the Pyramids at Giza and the Parthenon.
Their conversation eventually turned into an ongoing friendship and a business relationship but ultimately was not off the record – as it led to an engaging story about how they combined financial and wine making efforts to create a Napa Valley based brand and ultimately a winery with their own vineyards.
Off the Record Bar, Washington DC

Gustavo has been making wine professionally for more than 20 years and spent 17 years making wine at Robert Mondavi, beginning his career there as a lab intern. He is both talented working in the lab but also has a keen sense of when to allow for the creative side of wine making to come into play. He grew up in Sacramento, went to University of California, Berkeley to study chemistry and graduated from the University of California, Davis with a degree in viticulture and enology. Well-traveled, he has made wine in 5 different countries.
Jim Dyke built a successful 20+ year political career working on presidential campaigns and other political related projects. He was a Communications Adviser to President George W. Bush and has worked on a number of campaigns where he developed strategies to deliver messages to various audiences.
The name Mira is a root word in Latin meaning miracle. This has many meanings as it relates to the wine world and their particular story. Most wineries in Napa at least, have not been formed through random meetings in bars, a miracle of sorts while also referring to the 'miracles' that are a result of hand-crafting a bottle of wine every vintage. The tiny symbol on the front of every bottle refers to having a productive harvest.
Charleston, SC Harbor Aging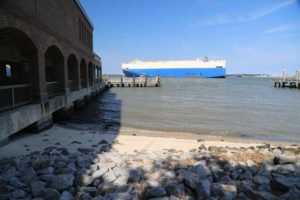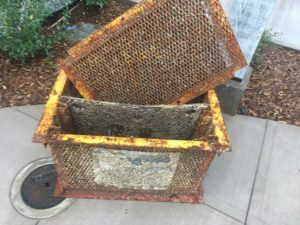 Certainly one of only a few Napa wineries to have ever graced the pages of the National Geographic, Mira's initial experimental aging program of submerging bottles of 2009 Cabernet Sauvignon in the Charleston Harbor was mentioned in the April 2017 issue.
The wine was housed in modified lobster traps – steel cages, one case per cage and was aged underwater for 6 months. A section of the harbor was identified as having fairly constant temperature – in a natural depression at about 60 feet deep.
This wine was called Aquaoir. Ultimately the Alcohol and Tobacco Tax and Trade Bureau sent them a warning notification and unfortunately all underwater wine aging has currently been put on hold. One of the barnacle covered steel cages is on display at the winery.
Select Wines
Their first vintage of Mira dates from 2009. The backbone of their production (varies from between 3,500 to 5,000 cases each year, eventually perhaps reaching up to 8,000 cases annually); to date has been from several prominent Napa Valley vineyards – most notably the Hyde Vineyard on the Napa side of Carneros and the Schweizer Vineyard in the Stags Leap District (one of the older continuously planted vineyards in Napa Valley having been planted to grapevines for more than 100 years and owned by the Schweizers since 1956).
The decision to produce their first vintage of Syrah in 2009 was a fortuitous one. While working at Robert Mondavi Gustavo received a call from a friend at Hyde Vineyards offering Syrah. Coincidentally, Syrah is one of Jim's favorite varieties. This first wine has led to an ongoing relationship with Hyde Vineyards, and they now source additional varieties from Hyde.
Mira produces a variety of both red and white wines focusing on 100% varietal wines (if a wine is not 100% varietal, the blend percentages will be listed on the back label). Wines are produced under several labels including the Napa Valley Series (these are wines with a greater production, not necessarily single vineyard wines) the Collector Series, which focuses on more limited production single vineyard wines (which are usually 100% varietal) and the Estate wines (from the property) featuring a crest on the label with an image of a bear and a goose (representing both men's nicknames). They produce wines that are balanced but have the ability to age; their current releases (including their white wines are often 4 to 5 years old).
Starting in 2021 and for a short while, the focus was less on sourced fruit and more on their own estate fruit.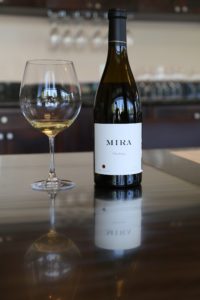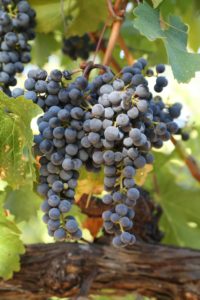 The 2013 Mira Hyde Chardonnay is golden in the glass; with pretty aromatics including honeysuckle, orange blossom and as it opens further a lemon/lime aroma with an orange peel zest. Also, an aromatic tropical influence. There is depth in this bouquet, and it keeps showing additional nuances as it opens – with notes of red apple and a hint of baking spice. Rounded and creamy in feel. This wine is superbly balanced between flavor, structure and acidity. It offers a very lively finish even after 5 years of age at the time of our second tasting of this wine; it continues to show bright acidity and has aged gracefully. This wine drinks very well by itself. While the wine goes through full malolactic fermentation, there is a fairly low level of malic acid prior to this secondary fermentation and the wine retains a nice crispness. This bottling spent 24 months in French oak (a small percentage new).
The 2013 Mira Hyde Vineyard Pinot Noir is one of the more robust Carneros Pinot Noir wines we have tried. Harvested from an older block on a hillside above a planting of Chardonnay – near a water pond about half in on Hyde Vineyard between Highway 12 and Old Sonoma Road. This Pinot Noir is the Calera clone – a fairly challenging clone to work with according to Gustavo but a clone he loves based on the wine it produces. Its berries vary in size and maturity rate. Harvest decision is key with this particular clone – the clone produces small berries with a high skin to juice ratio. This wine is fairly dark in the glass. On the bouquet it shows dessert spices including cardamom and chocolate with a subtle minty note and a pretty sweetness of fruit – the palate is somewhat earthy with both red and darker fruits including flavors of cherry. Earthy drying very noticeable tannins anchor a long finish (on the structure alone, we almost thought we were tasting a medium bodied Cabernet Sauvignon).
Gustavo told us that while making Pinot Noir at Robert Mondavi Winery, their winemaking team would experiment with different coopers, levels of toast and new and used barrels. He remembers that the Pinot Noir in the new oak would accentuate the fruit; he ages the Mira Pinot Noir in all new French oak – usually up to 24 months.
The 2018 Mira Cabernet Sauvignon Oakville 360 Vineyard Napa Valley is 100% varietal and was aged in 100% new French oak barrels. This wine is deep ruby in color; the bouquet is seductive and begs you to try the palate based on aromatics alone. It is dark including scents of plum, dark cherry and blackberry accompanied by a generous helping of a woodsy spice, dark pepper, tar and lighter in presence but still there, mocha and espresso. The palate is rich with a full-bodied texture, somewhat mirroring the bouquet in terms of darker fruits and barrel spices. It offers flavors of spicy dark plum, dark cherry, blackberry and dark chocolate. Along with the fruit flavors, the finish features granular tannins, dark pepper and toasted oak. We envision enjoying a bottle of this with a cigar, a darkly lit room with deep leather sofas. This wine would fit right in at the cigar room at Wing & Barrel Club in Sonoma or the cigar room in the Bohemian Club's headquarters in San Francisco. 15.5% alcohol.
The 2013 Mira Hyde Vineyard Cabernet Franc shows an appealing distinctive bouquet with aromas of black licorice and an underlying herbal smokiness characteristic. Has good depth on the palate featuring mostly darker fruit flavors – somewhat dusty coarse both oak and fruit tannins persist for quite some time along with mouthwatering acidity. Fairly powerful on the palate, has good depth of flavor and structure.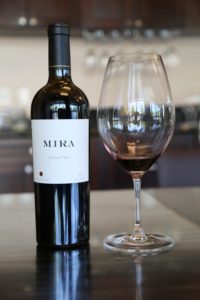 The 2012 Napa Valley Cabernet Sauvignon is their workhorse wine; this vintage was nearly 4,000 cases. It offers very pretty aromatics which are sweet at times with notes of red licorice, blackberry and some dessert spice aromatics along with darker cedar box nuances. Shows mostly higher-toned fruits on the palate along with very good acidity. A lingering tartness (red cherry, cranberry) is framed by meaty somewhat chewy tannins. Pair this wine with a well-marbled steak. Six years after vintage – tasting this wine a second time, the tannins still show as somewhat tightly wound.
The 2014 Syrah, arguably our favorite of the wines we tried shows a 'Syrah varietal sweetness' on the nose. Slightly savory, this well-layered bouquet continues to deliver plenty of aroma as it opens. Balanced but big, the palate is juicy, mouthwatering with an intensity of flavor. Noticeable tannins but not unbalanced. Lively in the glass and youthful – will be interesting to see how this wine develops over the next few years.
Former Winery & Property
In 2016, Mira Winery purchased 10.5 acres in the Yountville sub-appellation, a few minutes' drive south of the town of Yountville on Washington Street with very easy access from Highway 29. Soon after they purchased several more adjacent acres for a total of 16 acres. At the time of purchase the property was planted to Chardonnay and Merlot and the vineyard was not in the greatest shape – these vines were soon removed and replaced with 6 varieties including head-trained Cabernet Sauvignon and Cabernet Franc, Petit Verdot, Merlot, Sauvignon Blanc and Sauvignon Gris (12 acres are planted to vines).
In mid 2023, Mira Winery sold this property and moved out by August of that same year. We will update our notes here and also on our review of whoever purchased this property once we have more details.
This property was originally planted to grapevines in 1885 by Levi George (originally from Wales, he never married and died in 1917 at age 85); his obituary refers to him as a prominent Napa Valley pioneer. Along with wine grapes he also grew fruit trees, apples and walnuts on what was 150 acres under his ownership.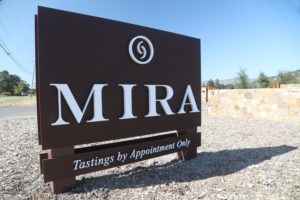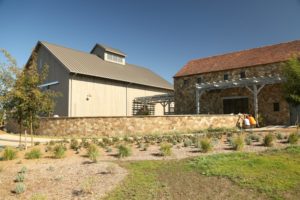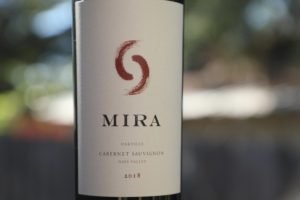 The first vintage off of the property from the replanting was in 2019: a Mira Estate Red and the first white wines from the property were from the 2021 vintage including the Mira Ovum Aureum Sauvignon Gris, the Mira Franc Blanc (100% varietal Cabernet Franc made as a white wine) and the Mira White Blend. The time to harvest from these young vines was accelerated due to the fact they planted grafted vines that were already more than a year old. This gained a year by being grown in a nursery, rather than planting root stock and then grafting over to the variety in the vineyard.
After years of producing their wines at Bin to Bottle, a custom crush facility in South Napa, their own winery opened on Friday September 13, 2019. The architectural firm, Petaluma based vonRaesfeld Associates (Steve vonRaesfeld) oversaw the design of both the Hospitality House and the winery – Gustavo designed the interior of the winery and chose their tanks to match the sizes of their vineyard blocks. He setup the winemaking operations to be as gravity fed as possible – once the grapes are de-stemmed, they fall into customized stainless-steel carts with wheels which can then be forklifted directly into tank. Reclaimed materials were used in the exterior of both buildings including old tile on the hospitality center from a French villa and wood for the exterior of winery building from an old barn in Montana.
Mira also owns two coveted 200-liter French oak 'egg' tanks that Gustavo discovered during a trip to France. Produced by Taransaud, the company only makes 2 of these 'Ovums' each year; as a result, Mira owns one of only several in existence.
And Gustavo and Jim incorporated the Golden Mean into both the winery and the property; the outline of a Golden Ratio is embedded into the concrete outside the winery extending further into their landscaping and several of their wine barrels are designed based in the Golden Ratio. Vegetable gardens were initially planted next to their hospitality space, but it became too difficult to keep various critters from eating these (after all the Napa River is not far from their property) so these have since been converted into six spaces containing 4 demonstration vines of 6 different varieties.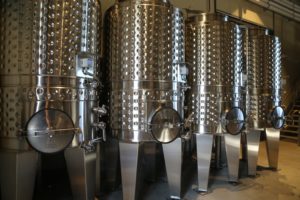 The Hospitality House lives up to its name; it is warm and welcoming, especially on a nice day when one of the large doors on one side of the building can be completely opened. A number of political related books line the upper shelves on the walls, a tribute to Jim's career, and an old vine from To Kalon Vineyard is also on display.
In 2016 on the 40th anniversary of the Judgement of Paris, Mira Winery conducted the Judgement of Charleston (site of their former tasting room) – bringing in wine experts from six states including several well-educated sommeliers. Eight recent vintage wines were judged blind by the judges including 4 from the Napa Valley (Mira, Screaming Eagle, Schrader and Schafer Vineyards) and four from Bordeaux (Petrus, Château Haut-Brion, Château Latour and Château Angelus). The resulting 'judgement' had Petrus number one, Chateau Haut-Brion number two and Mira's Cabernet Sauvignon Schweizer Vineyard number three. The empty bottles from these coveted producers line a shelf inside the Hospitality House.
Napa Valley Education Center & Tasting Room, Charleston, South Carolina
NOTE: We made a special visit to Charleston to visit this tasting room, but unfortunately it closed down within 2 months of our visit. We keep this information here for historical reference purposes.
This tasting room was located in Charleston's historic French Quarter District and was one of only a select number of Napa focused winery tasting rooms which are located outside of Napa Valley. Opened in 2015 and closed at the end of July 2018, the space was soon after featured in an article in Architectural Digest Magazine (it was located in a historic carriage house).
The connection with Mira to Charleston is due to Jim; he moved here after his career in Washington. In fact, his office used to be upstairs above the tasting room where he operated his communications company, JDA Frontline.
The space featured one of the more creative uses of barrels staves we have ever seen. Some 40 French oak barrels were dismantled and used to create the 'rippled' stave effect on the ceiling in the tasting room and staves from some 120 barrels were used to create the barrel fence lining their outdoor patio.
The tasting room offered a welcoming and educational environment. Guests often stumbled upon Mira's tasting room simply by walking by or by hearing live music in the afternoons. A variety of tasting experiences were offered including a tasting flight (you choose the wines you want to taste), the Napa series (their larger produced wines, all reasonably priced and the Collector Series which are primarily single varietal, vineyard designate wines. Wines can also be ordered by the glass or bottle.
The tasting room felt like a mini-Napa Valley – where visitors learned more about what makes the region unique including its diversity of terroir and various micro-climates. Small samples were on display from each of Mira's source vineyards and highlighted the often times dramatic differences in terroir even within short distances of one another.
The wines are available at a number of premium restaurants in Charleston including at Halls Chophouse.
—
Private tastings are offered daily between the hours of 11am and 3pm and are sometimes hosted by either Gustavo or Jim. For more information, to join their wine club (Society 610), allocation list or to schedule a tasting at the winery, visit: www.miranapa.com
Hospitality

Cellar

Napa Valley Education Center & Tasting Room – Charleston, South Carolina (Closed)