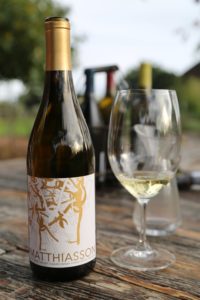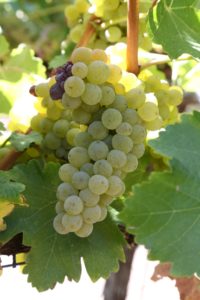 Matthiasson Winery currently produces their wine at Bin to Bottle, located just south of the city of Napa. Those familiar with their wine for a number of years may remember their old warehouse type location (Tannery Winery) in the town of Napa.
Matthiasson produces a number of wines from both Napa and Sonoma. They are known for their white wines but also produce several excellent reds. This is one of those small Napa producers totally under the radar and visits are usually with the the owners, husband and wife Steve Matthiasson and Jill Klein Matthiasson (Steve is the winemaker and viticulturist).
The Matthiasson's are farmers; both Steve and Jill have backgrounds in agriculture. Steve became interested in gardening while in college and Jill studied botany and worked for a family farming non-profit.
Their home vineyard (Matthiasson) is located on the western part of the Oak Knoll District just north of the city of Napa and it's encroaching suburbs. They grow some very unique varietals here (compared to Napa's general focus on Bordeaux and Burgundian varietals) including Refosco, Ribolla gialla, Tocai friulano and Schioppettino (along with Merlot and Petit verdot). In addition to grapes, they have a diversity of other crops including various fruit trees, olives and a giant avocado tree (quite rare to find one of these on the valley floor). They manage and source from a number of other vineyards, mostly in Napa but also in neighboring Sonoma County.
Steve operates his own vineyard management consulting company and is actively involved in all vineyard decisions (including the vineyards they source grapes from). They specialize in several wines, a Napa Red, a Napa White, a Chardonnay (their most produced wine) and a 100% Merlot. Total production is around 3,000 cases.
Their red wine is a Cabernet Sauvignon/Merlot/Cabernet Franc blend. The 2005 blend is sourced from two hillside vineyards in Napa's Oak Knoll district. It is an elegant wine with great aromatics. It is dark purple in color with juicy fruit and nuances of chocolate on the palate all anchored by smooth tannins.
Their Napa Valley White is a wine you will not find at any other winery in Napa. It is a unique blend of Sauvignon Blanc and Sémillon along with two Italian varietals – Ribolla gialla and Tocai Friulano. The dominant varietal in the 2013 vintage is Sauvignon Blanc (55%). This wine shows pale yellow in the glass with sweet aromatics including pineapple, peach/nectarine and citrus aromas and as it continues to open notes of honey show. Clean and crisp with mineralities. Similar flavors to the aromas of the bouquet continue onto the palate. Easy drinking white wine. No malolactic fermentation. Texturally this wine feels nice on the palate – with some weight.
There are merely two acres of Ribolla gialla planted in all of California; more is planted in the Northwestern part of Italy where Steve has visited and gained additional insights into how this varietal is used.
Ribolla has been made into wine since the 13th century. The reason this esoteric fact is known is that it was mentioned on a wedding menu that dates back all these hundreds of years. White wine does have a tannic structure, even though tannins are usually not mentioned in the same breath as with whites because they are not as overpowering as you may find in some of the big reds. The tannins in this blend are light, well structured and in the several vintages we have tried – certainly noticeable on the finish.
The 2013 Ribolla gialla (their earthquake wine) was part of a significant amount of their wine effected by the August 2014 earthquake centered just south of the city of Napa. This wine was in barrel and came crashing to the floor after the earthquake – not being lost completely but exposing it to more oxygen until they were able to "rescue" it. As a result this vintage is fairly dark amber in the glass – with sweet aromas on the bouquet leading one to possibly think it might be sweet on the palate. But not so. Notes of apricot and a slightly nutty nuance show aromatically. Slightly astringent tannins, a minerality component and a noticeable tartness lingers for some time.
The 2012 Red Hen Vineard Merlot (Oak Knoll District) shows bright aromatics in the glass (cherry being the prominent fruit) framed by notes of dessert spices and chocolate aromas. This is a dense and well layered Merlot that simultaneously features excellent acidity.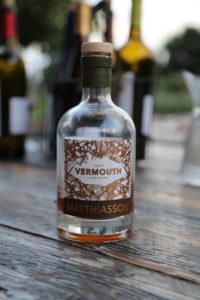 An extremely uncommon product for a Napa winery is Vermouth. An even more uncommon varietal in Napa is Flora, a varietal created in the 1950's from a cross between Semillon and Gewurztraminer. Remarkably this varietal still grows in Napa in the Yount Mill Vineyard (Oakville). The Matthiasson's discovered this varietal and decided they wanted to produce wine from it.
They pick the fruit late and then further increase the sweetness during fermentation by adding cane sugar. The resulting non vintage drink is dark amber and orange in color. Aromatically and on the palate there are notes of orange marmalade with orange rind and mandarin notes. The front of the the palate is sweet yet the finish is dry and slightly bitter. Nice flavor and nice balance. A great dessert wine by itself.
In addition to their wine business, they operate the Napa Valley Fruit Company which provides local grown fruits at the Napa Farmer's Market.
Note their wine label – it is creatively designed as an homage to both the vineyards and those who work in the vineyards. Images of vintage pruning sheers line the label on every one of their wines.
They have decent domestic distribution in select states as well as some International distribution. You can find their wines locally in the Napa Valley at ACME Wine Shop in St. Helena and also at several local restaurants in the valley including Mustards Grill, Cole's Chop House in the city of Napa and Press in St. Helena.
For more information, visit: www.matthiasson.com and their blog: http://matthiassonvineyard.blogspot.com
NOTE: These photos are of their old winery in the town of Napa. We keep these photos here for nostalgia purposes!