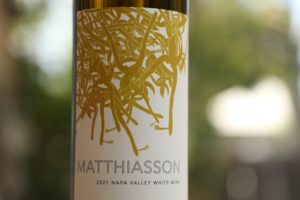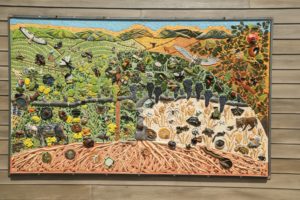 Matthiasson are run by two farmers, husband and wife Steve and Jill Matthiasson. Steve is the viticulturist and winemaker, and Jill runs the business side of the operations while also farming a number of fruit trees which she used to sell at select farmers' markets in Napa. Both Steve and Jill have long been interested in farming; Steve was drawn to gardening while in college and Jill studied botany and later worked for a family farming non-profit. Both met while in Davis while Steve was studying agriculture at UC Davis.
They are known for their white wines but also produce several excellent reds. This small Napa producer used to be well under the radar and visits were often with Steve and Jill. While both are often at the winery, they now employ a number of people including several wine educators.
Their small home vineyard (Matthiasson) is located on the western side of the Oak Knoll District just north of the city of Napa and its encroaching suburbs. Previously planted entirely to Merlot, they now grow some very obscure for Napa Valley varieties here focusing on grapes found in northeast Italy/Slovenia border including Refosco, Ribolla Gialla, Tocai Friulano and two rows of Schioppettino. And several traditional Bordeaux varietals including still a small percentage of Merlot along with Petit Verdot. In addition to grapes, a diversity of other crops are grown here including various fruit trees, olives and a giant avocado tree which is the largest avocado tree we have seen anywhere on the floor of the valley. They manage and source grapes from a number of other vineyards, mostly in Napa but also in neighboring Sonoma County.
Steve operates his own vineyard management consulting company (Premiere Viticulture) and has or is currently consulting for a diversity of premium clients including Chappellet, Stag's Leap Wine Cellars, Spottswoode Winery, Dalla Valle Vineyards and Robert Sinskey. He is actively involved in all vineyard decisions, including the vineyards they source grapes from for the Matthiasson wines.
Matthiasson specialize in several wines, a Napa Red, a Napa White, Chardonnay (their most produced wine) and several red Bordeaux styled wines. Total annual production is currently around 3,000 cases; their first vintage was a 2003 blend of Cabernet Sauvignon and Merlot that was labeled as Napa Valley Red Wine.
Matthiasson's varietal choices and wine making philosophy is uniquely refreshing in Napa's current more linear and 'riper' dominated wine making environment. Steve and Jill grow and produce wines from a number of unique for Napa Valley varieties. Steve's wines are balanced and food friendly wines which are well layered and complex but not to the point of losing these more subtle nuances in favor of ripeness and higher alcohol.

In addition, their judicious use of new oak ensure that the complexities found in the wines are from their vineyards not from the secondary influences of the barrels. One may call their wines lean, but that is too loose and generic of a term. Its only appropriate in describing their style when compared to robust, fruit forward, high alcohol, opulent contemporary Napa Valley bottlings (both red and white) from other producers.
Select Wines
The Matthiasson Napa Valley White is a unique blend of Sauvignon Blanc and Sémillon along with two Italian varieties including Ribolla Gialla and Tocai Friulano. This wine was first produced in 2005 and is arguably their flagship white wine. Grapes for this wine were harvested from two vineyards in the often cooler southern part of Napa Valley including the Sauvignon Blanc and Sémillon from Ryan's Vineyard in the Oak Knoll District and from Bengier Vineyard next to the entrance to Dry Creek Canyon on Redwood Road. Bengier Vineyard used to be called the Vare Vineyard in honor of its previous owner, George Vare. We remember meeting with Vare years ago like it was yesterday and his stories about stuck fermentations that particular year. Matthiasson has worked with this vineyard for many years.
Grapes from each variety were whole cluster pressed and kept separate during fermentation until they were blended when the wine's reached dryness. This wine was aged for 10 months in French oak barrels of which 15% were new (Boutes). The wine was not stirred and it did not go through secondary fermentation
The 2021 Matthiasson Napa Valley White Wine is a blend of 46% Sauvignon Blanc, 29% Sémillon, 23% Ribolla Gialla and 2% Tocai Friulano. This wine is medium straw in color; the bouquet offers aromas of citrus blossom, honeysuckle, lime, under ripe pineapple, lemongrass, straw and pineapple guava. This latter aromatic reminds us of the several decades of harvesting fresh guavas in the fall growing next to gravesites in the odd fellows cemetery in Santa Rosa, CA. As the wine warms up in the glass a light note of vanilla is revealed. Balanced across the palate, its supple, creamy and almost saline/briny texture is accompanied by energetic but not bracing acidity. This wine sports flavors of green apple, lemon juice, beeswax and grapefruit. The richness of flavor continues to persist for quite some time on the finish. We immediately thought of pairing this with Thai giant freshwater prawns accompanied by spicy nam prik. This bottling is 12% alcohol.
The 2013 Matthiasson White Wine is a blend of 55% Sauvignon blanc, 25% Ribolla Gialla, 15% Sémillon, and 5% Tocai friulano. This wine is pale yellow in the glass with sweet aromatics including pineapple, peach/nectarine and citrus aromas and as it continues to open, it reveals notes of honeycomb. Clean and crisp with mineralities. Similar flavors to the aromas of the bouquet continue onto the palate. Easy drinking white wine. No malolactic fermentation. Texturally this wine feels nice on the palate – with some weight.
The 2021 Matthiasson Napa Valley Chardonnay Linda Vista Vineyard is deep straw in color. If one has no idea of Matthiasson's winemaking philosophy, one has several immediate clues before even trying the wine that this bottling isn't going to be an ripe, oaky or buttery Chardonnay (a reputation that California wines of this variety often have). Its lighter in color and there are none of these aromatics present, rather it offers scents of freshness and vitality including red apple, freshly harvested honeycomb, lime, lemongrass and pear. This wine offers flavors of lemon, green apple and lime accompanied by a fleshy viscosity which is felt primarily on the front of the palate. The finish lingers with a noticeable long-lasting richness of fruit and energetic acidity. One would not be wrong in describing these characteristics as savory. We immediately thought of pairing this wine with a variety of foods including goat cheese and a roasted halibut (each served separate from one another).
There are merely several acres of Ribolla Gialla planted in all of California; more is planted in the northwestern part of Italy where Steve has visited and gained additional insights into how this variety is used. Ribolla has been made into wine since the 13th century. The reason this esoteric fact is known is that it was mentioned on a wedding menu that dates back all these hundreds of years. White wine does have a tannic structure, even though tannins are usually not mentioned in the same breath as with whites because whites are primarily fermented without skins and in addition, white wine grapes iheritently feature less tannins than do red wine grapes.
The 2015 Matthiasson Ribolla Gialla is medium amber in color; the bouquet offers aromas of tangerine, dried honeycomb, baked apples, dried Mediterranean herbs and hazelnut. The palate is creamy and supple from start through to the finish and flirts with some saline characteristics. Some of the hazelnut nuances on the bouquet are also echoed on the palate, especially on the finish. This wine also offers flavors of quince and a light orange peel zest. It was fermented in an open-top tank as whole clusters. After fermentation completed in about two weeks the wine was pressed off and then aged for 20 months sur lees in neutral oak barrels. There was no racking during its aging. The only SO₂ used was just prior to bottling. It clocks in at 12.1% alcohol. For reference we tasted this wine 8 years post vintage.
The 2013 Matthiasson Ribolla Gialla is grown on their home estate (forever known as the earthquake wine) was part of a significant amount of their wine effected by the August 2014 earthquake centered just south of the city of Napa. This wine was in barrel and came crashing to the floor after the earthquake – not being lost completely but exposing it to more oxygen until they were able to "rescue" it. As a result, this vintage is fairly dark amber in the glass with sweet aromas on the bouquet leading one to possibly think it might be sweet on the palate. But not so. Notes of apricot and a slightly nutty nuance show aromatically. Slightly astringent tannins, a minerality component and a noticeable tartness lingers for some time. Highly unusual for a Napa Valley producer, this wine was fermented whole cluster (with total fermentation lasting three weeks on the skins). The wine was then aged in neutral barrels for 20 months.
The 2015 Matthiasson Spring Hill Pinot Noir (Petaluma Gap) shows very bright higher-toned fruits on the bouquet including cranberry along with nuances of dried dust or first rain on dusty rock (petrichor). Lively on the palate with singing acidity, the fruit along with tannins feel dusty and earthy and linger for quite some time. This is a highly food friendly wine which is rich in flavor while maintaining an elegant feel on the palate.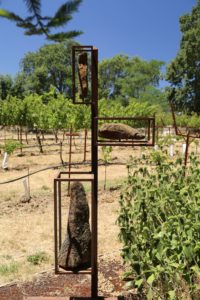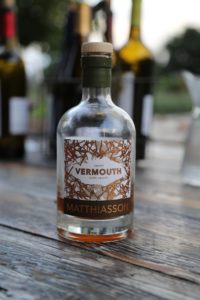 The 2012 Matthiasson Red Hen Vineyard Merlot (Oak Knoll District) shows bright aromatics in the glass with cherry being the prominent fruit framed by notes of dessert spices and chocolate aromas. Flavors of red cherry show along with a lively and engaging finish. This wine is well layered on the palate featuring attention-catching acidity.
The Matthiasson Red Wine is a Cabernet Sauvignon/Merlot/Cabernet Franc blend. The 2005 vintage is sourced from two hillside vineyards in Napa's Oak Knoll district. It is an elegant wine with engaging aromatics. It is dark purple in color with juicy fruit and nuances of chocolate on the palate, supported by smooth tannins. This was only their 3rd vintage of this particular bottling.
The 2014 Matthiasson Napa Valley Cabernet Sauvignon shows floral aromas with baking spices and notes of spicy red plums. This wine is savory on both the bouquet and the palate. It is lighter bodied wine of this varietal featuring excellent balance. We wrote the word harmonious to describe its overall character. The palate offers bright and refreshing flavors of red cherry and noticeably textured but fine-grained tannins anchoring a supple finish. Mouthwatering throughout the palate. 13.4% alcohol. For reference, the first vintage of Matthiasson Cabernet Sauvignon was in 2010.
An extremely uncommon product for a Napa winery is Vermouth. An even more uncommon varietal in Napa is Flora, a variety created in the 1950s from a cross between Sémillon and Gewürztraminer. Remarkably this varietal still grows in Napa Valley in the Yount Mill Vineyard (Oakville). The Matthiasson's discovered this variety and decided they wanted to produce wine from it.
They pick the fruit late and then further increase the sweetness during fermentation by adding cane sugar. The resulting non-vintage drink is dark amber and orange in color. Aromatically and on the palate, there are notes of orange marmalade with orange rind and mandarin notes. The front of the palate is sweet yet the finish is dry and slightly bitter. Nice flavor and nice balance. This is a great dessert wine by itself.
—
Note their wine label; it is one of the more intriguing Napa winery labels we have come across on our epic project which includes 1,150 Napa Valley wineries or brands personally visited, tasted the wines and extensively written about. It is an homage to both the vineyards and those who work with the vines. Images of vintage pruning shears line the label on every one of their wines; the wines with only one pruning shear on the label indicate more limited production wines. Noted graphic artist, Michael McDermott is the genius behind this design.
Matthiasson maintains decent domestic distribution in select states as well as some distribution internationally. One can find their wines locally in Napa Valley at ACME Wine Shop in St. Helena and also at several local restaurants in the valley including Mustards Grill, Cole's Chop House in the city of Napa and Press in St. Helena.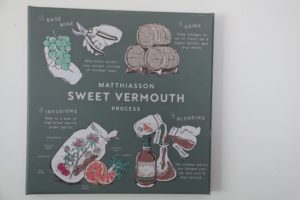 Those familiar with their wine for a number of years may remember their old warehouse type location (Tannery Winery) in the town of Napa. Interestingly enough, the Tannery Complex now houses a number of tasting rooms for small Napa based brands. After Matthiasson moved out of the tannery building, they produced their wine at Bin to Bottle, located just south of the city of Napa. And in 2017 they purchased a small existing winery (originally called Phoenix Winery) slightly to the west of their home vineyard located just above the valley floor; one can actually see the winery location from their home vineyard. Tastings by appointment are conducted here.
This winery houses some but not all of their production with barrels housed at another winery in the Oak Knoll District and as of our latest update to this review, also at Bin 2 Bottle located south of the city of Napa. In mid 2023 a beautiful ceramic-mosaic mural titled, The Secret Life Of Vineyards, was installed on the outside south facing wall of their winery. It depicts the changing of the seasons from the perspective of both farming and insects. The idea for this mural was originally from Entomology 001, "Art, Science and the World of Insects," taught by Professor Diane Ullman and assistant professor Emily Meineke.
For more information, visit: www.matthiasson.com and no longer updated but some interesting blog posts here: http://matthiassonvineyard.blogspot.com
Winery, Oak Knoll

Old Winery Photos, Tannery District.
We keep these photos here for nostalgia purposes!