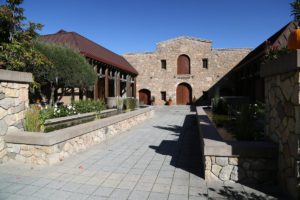 Markham Vineyards was founded in 1874 as Laurent Winery, which makes this the 4th oldest existing winery in Napa Valley. They did however, "take a break" during the days of prohibition like many wineries, but unlike many wineries who were put out of business during these trying times, Markham was able to bounce back. The winery underwent a major renovation in the late 1980's and the main building really shows off nicely now.
This winery is considered one of the larger "tourist" wineries that dot parts of Highway 29 however it is not on the busy "wine strip" south of St. Helena – rather it is in the less crowded northern area of Highway 29/128.
Guests enter through an impressive stone walled courtyard and the visitor center/ tasting room is just inside the large wooden door on the left. The courtyard often plays host to tourists taking photographs. Rotating exhibits line part of one end of the gift shop – when we were there it was pottery. A wine art exhibit is located in the hallway gallery upstairs. Outdoor seating is available by appointment.
Choose from three tasting options ranging in price from $20 to $30. Markham is most known for their Merlot and this in fact comprises about 65% of their entire production. The primary outlet for this is restaurants especially at steakhouses nationwide. All grapes used for their wines are 100% Napa fruit from vineyards entirely owned by Markham (some 350 acres). Their prices for all their wines are quite affordable by Napa standards. Besides Merlot their Sauvignon Blanc is a big seller.
We enjoyed two vintages of their Petite Sirah. These are their "biggest" wines, even bigger than their Cabernet Sauvignon. The Petite Sirah is a rich fruit forward "meaty" wine finishing with robust tannins.
Their winemaker, Kimberlee Nicholls, has been with Markham since 1992 and is very well respected in the industry. She has trained with several of Napa's most well-known winemakers during her long career. What is very nice is they often have older vintages available for tasting up to 7 and 8 years old, as well as even older wines than that for purchase (library and large format wines). Note that the reserve tasting is in their wine library located in the historic stone cellar. This tasting is only open on the weekends. Tours are also offered, by appointment. Visit: www.markhamvineyards.com
Note: this review has been identified as needing a *major* update.