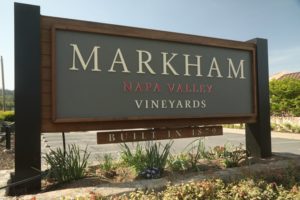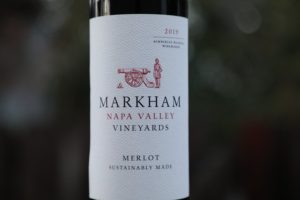 Markham Vineyards was founded in 1874 as Laurent Winery, named after founder Jean Laurent (died 1890) who immigrated to California from Bordeaux in 1852, seeking his fortunes in the gold mines of the Sierra Nevada foothills. However, he was several years too late to the height of the mining action and rather ended up going into agriculture and settling in Napa Valley. He is among the earliest of the French winemakers to settle in Napa and we were told the first to use French oak barrels at a winery in Napa Valley (the use of large redwood tanks was very common for decades). Laurent released his first vintage in 1874, initially built a wooden winery and then replaced that several years later with a stone winery (which is still within the primary footprint of the existing winery and barrel rooms).
The winery building is one of the oldest winery buildings in all of Napa Valley although wine was not made every year since the first vintage as the winery was shuttered during Prohibition. Wineries that are still producing wine in Napa Valley founded in 1874 or before (with still standing winery buildings) are the following: Charles Krug, Schramsberg, Edge Hill and El Molino – although none of these wineries mentioned here have produced every year since their inaugural vintage. And of course, there are several other Napa Valley wineries founded prior to 1874 who are no longer around or who have been incorporated into modern wineries under different names (La Perla being one, located on the Spring Mountain Vineyards property). Incidentally the St. Helena Star was also founded in 1874 – therefore there are some pretty tidy records about Laurent Winery dating back some 140+ years.
Laurent died in 1890 and the winery then had a succession of various owners. At one point in the late 1930s the winery was site of the St. Helena Cooperative Winery (referred to as the little co-op" at the time). Decades later Bruce Markham for who the winery is named after came to Napa Valley pursuing both winery and vineyard ownership. Bruce worked in his family's advertising business helping expand their outdoor billboards to a number of states.
Bruce sold his company in 1976 to the United States Government (as part of the Highway Beautification Act established during President Lyndon Johnson's term – with the intent to clean up billboard clutter along highways). Bruce then moved to Napa Valley where he soon purchased several hundred acres of grapes and sold the fruit to select wineries at the time including Robert Mondavi and Beaulieu Vineyard. Next, he purchased the old Laurent Winery in 1977 which was under ownership of United Vintners (Heublein) at the time. He renamed the winery to Markham and released his first wine in 1978, a Cabernet Sauvignon. Interestingly enough, noted winemaker Robert Foley was his first winemaker. And Bryan del Bondio enjoyed a long career at the winery (son of former Inglenook winemaker).
After 10 years, Bruce was ready for his second retirement, his 'real' retirement if you will, and by the late 1980s decided to sell the business. The buyer, Mercian Corporation, a prominent Japanese wine and spirits company with deep vineyard roots in Japan traces their history back to 1877 when two individuals were sent to France to learn as much as possible about viticulture and wine making. They spent two years in France, returned to the Katsunuma Valley and founded the Dainihon Yamanashi Winery in 1877 in the Yamanashi Prefecture (about 90 minutes on a good traffic day west of Tokyo). In 1949 the Mercian label was launched and was the first Japanese wine made entirely from Japanese grapes. The winery today is known as Château Mercian.
Château Mercian owns three wineries in Japan; Château Mercian Katsunuma Winery (just down the street from their visitor center), Château Mercian Kikyogahara Winery (Nagano prefecture, opened in 2018) and Château Mercian Mariko Winery (Nagano prefecture, opened in 2019). In addition, Château Mercian also owns Chateau Reysson in Bordeaux. See our notes below from our visit.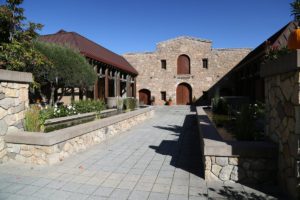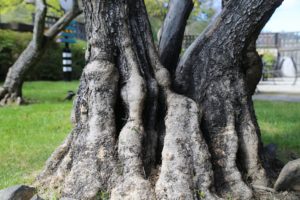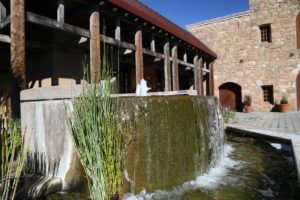 Today Mercian is owned by the Kirin Company (known for their beer). Mercian purchased Markham from Bruce in 1987, in 2017 celebrated 30 years of ownership, and two years later in 2019 internally sold the winery to Distinguished Vineyards whose parent company is Kirin Company. In addition to Markham Vineyards, Distinguished Vineyards also owns TEXTBOOK Vineyards (founded in 2004 in Marin County and with winery operations currently based in the city of Napa). Confused yet?!
Upon first glance, visitors to the winery may not be aware of the size of their production facility. In 1988 Mercian invested heavily in renovating and expanding the winery footprint. Today their production runs between 100,000 and 120,000 cases depending on the year. All production takes place on site with several impressive barrel rooms, a separate room for production of Chardonnay, a crush pad and their own bottling line. Markham uses both French, American and Hungarian oak barrels.
While a fairly sizable winery for Napa standards, its location is north of the busy "wine strip" between Yountville and St. Helena, and therefore this part of the valley often doesn't see as many visitors as further to the south. Guests enter through an impressive stone walled courtyard, past the koi ponds. The courtyard is a great place for taking photographs. The visitor center and tasting room is located just inside the large wooden door on the left.
Along with the tasting, a highlight of a visit used to be their art gallery. They would always feature the works of one resident artist; during one of our visits it was art created by the husband-wife team of Harold and Peggy Francis (including some interesting pieces that take years to create where tree branches are directed to grow through metal implements (such as pickaxes) and then chopped off and placed in an artistic arrangement. Popup art exhibits were also shown in the gallery, typically rotating 4x a year.
However, in 2022 Markham unveiled an entirely renovated tasting room interior which included removing part of the upstairs which significantly opened up the space giving it an 'airier' feel. There is no longer an art gallery and the remaining second level is now used for offices. This remodel project was overseen by Santa Rosa based Wright Contracting and its design was done by Matt Hollis Architects.
We keep these photos for historical reference of the original space.
Guests can choose from several tastings including the Heritage Tasting (featuring wines that are nationally distributed) or the Estate Tasting focusing on wines that are only available at the winery or are produced from single vineyards. Guests do not need an appointment for these tastings. If you would like a more intimate experience – make a reservation for a private tasting in either their "Map Room" or "Heritage Room".
Currently Markham owns 350 acres of vineyards ranging from Calistoga, St. Helena and Yountville to Oak Knoll in the south. The soil types are often remarkably different between their vineyards and are easily seen in the jars of soil located in their Heritage Room upstairs. All grapes used for their wines are 100% Napa fruit with nearly all from their own vineyards – with some sourced fruit. And it helps they have owned their vineyards for decades; across the board their wines reflect an extremely impressive quality to price ratio.
Select Wines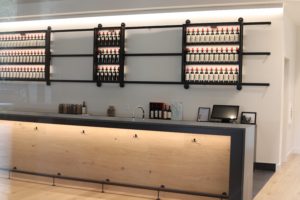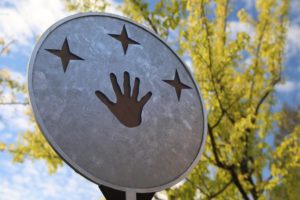 The 2016 Markham Vineyards Pinot Noir is from one of their Oak Knoll vineyards, a part of Napa Valley known for its diversity of varieties, but especially for Merlot and is not always associated with Pinot Noir. This wine is dark ruby color in the glass with aromas that show raspberry, white pepper, toasted oak and dried rose petal. On the palate it is a fairly robust Pinot Noir with good weight. This bottling offers darker fruit with long lasting earthy tannins (that carry some grip). A lingering tartness (red cherry flavor) lasts for some time on the finish, tinged with a kiss of mocha.
Despite not making Merlot for the first few vintages, Markham is most known for this variety (first vintage 1980). Today Merlot is about 50% of their production. The primary outlet for these wines are restaurants, especially at steakhouses nationwide. The 2019 Markham Napa Valley Vineyards Merlot is medium to deep ruby in color; the bouquet offers darker scents including of smoked meats, beef jerky, woodsy spices, crushed peppercorn, bramble and dark plum. Its aromatic profile could easily be called savory. This wine is dark across the palate with flavors of spicy plum and blackberry; it lingers with notes of wood spices. The tannins (showcasing both grape and barrel) are fairly light and well-integrated into the finish showing a rounded texture. Some of the savory notes on the nose are echoed in the palate, especially on the finish.
The 2014 Markham Vineyards Napa Valley Merlot is sourced in the southern part of the valley from their Yountville and Oak Knoll properties. The bouquet immediately shows sweet ripe aromatics; our first thought when writing notes for this wine was "think cherry pie coming out of the oven". It offers aromas of red cherry and raspberry tinged with cocoa powder. It is very balanced, with mostly red fruit flavors on the palate with dry tannins that linger for some time along with a red berry tartness. This is a versatile food wine but is easy drinking just by itself.
The 2014 Markham Vineyards Syrah is from one of their Oak Knoll vineyards; the bouquet immediately shows a gamy or meaty quality with layered dark fruit aromas that open nicely given enough time to breathe. Some of the savory characteristics for the bouquet continue onto the palate. Shows flavors of spicy plum skin and black cherry along with hints of pepper and Asian spices. The tannin profile is pleasing and soft but noticeable along with being slightly chewy.
And Markham produces wines from several varieties which are extremely uncommon in Napa Valley. These are winery visit only accessible wines including Charbono, Muscat Blanc and Tannat (we are aware of only 1 other Napa based producer making a Napa grown Tannat (Caldwell Vineyards). Tannat is a variety originally from parts of Southwest France but has become associated as the prominent variety in Uruguay. The 2014 Markham Vineyards Tannat shows a sweet slightly closed bouquet with aromas of raspberry; where it shines is on the mouth feel. Soft on the palate and somewhat rounded this wine shows some slight weight without being heavy or tannic. It is very balanced, with flavors of red cherry lingering through to a soft finish.
—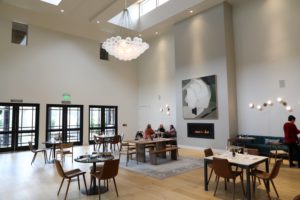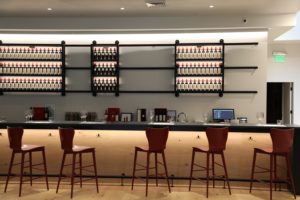 Winemaker, Kimberlee Nicholls, has been with Markham since 1992 and is very well respected in the industry. She has trained with several of Napa's most well-known winemakers during her long career. However, her time at Markham is still much less than long time vintner Bryan Del Bondio. He was hired in 1978 as Markham's first employee and has remained with the company since – celebrating his 40th anniversary with Markham in 2018 (extremely rare someone stays with a winery in the Napa Valley for this amount of time). You know you have left your mark on a winery when a giant black and white photograph hangs near the tasting room of your ancestors. And as one of the winery employees told us with sincere respect in his voice, Bryan is referred to around here as the "winery mascot."
What is very nice is they often have older vintages available for tasting up to 7 and 8 years old listed as Last of Vintage on their tasting sheets, as well as even older wines than that for purchase (library wines), although note that these older vintages are not advertised in their tasting room and availability will vary from vintage to vintage. Large format bottles are also available of select wines.
Markham produces several wines with some of the proceeds of sales going to various charities including for medical research and the Special Olympics. Two such wines are their limited production Cabernet Sauvignon focused, The Altruist and The Philanthropist.
Markham has the space to host private winery events – including corporate events (sometimes large groups up to 200 people).
Markham seems like a very good winery to work for; during our visits the employees seem to enjoy their jobs and are always down to earth, personable, friendly and interested in sharing wine related information with visitors.
For more information about this historic producer, to schedule a visit and or to join the Markham Vineyards 1879 Society (granting access to limited production wines and exclusive winery hosted events), visit: www.markhamvineyards.com
Markham Vineyards

Château Mercian, Japan

Château Mercian is located about 2 hours from the Shinjuku metro station in Tokyo. The Shinjuku Expressway Bus Terminal is a short walk from the Shinjuku metro station – buses leave regularly from here passing through Katsunuma-town in the Yamanashi-prefecture. Passengers using bus service to reach Chateau Mercian should exit the bus at the Katsunuma bus stop – from this stop it is about a 15–20-minute walk to the winery, mostly on narrow pathways bisecting rows of table grapes and perhaps surprisingly, some fig and loquat trees.
The Yamanashi-prefecture is often referred to as the origin of Japan's wine industry and today is Japan's primary wine region – home to around 80 wineries in the prefecture with some 30+ in Katsunuma alone. The prominent native grape in this part of Japan is the red-violet colored variety, Koshu which produces a white wine and the common red grape in the region is Muscat bailey A. A number of common Bordeaux varieties are also grown here.
The Château Mercian 'complex' includes a wine museum – with displays and exhibit signs almost entirely in Japanese. This museum is located next to the visitor center and is open for free to the public. The museum is housed in the oldest wooden winery building in all of Japan – built in 1904. Displays feature numerous winemaking equipment, including large casks (which were being used as recently as 2010) and several bottles still filled of what are thought to be the oldest existing wine bottles in all of Japan (dating from sometime in the late 1870s/early 1880s).
Also worth visiting is the Miyakoen (Miyazaki Winery) Wine Museum (a small admission price is charged) located across from the visitor center but not affiliated with Château Mercian. The exhibits (all in Japanese) feature information about Japan's early winemaking heritage.
A tasting salon + cafe + wine shop is open to the public. Several small bites can be ordered and then paired with various wines. Both indoor and outdoor seating is available, including outside under a table grape arbor (if your visit is in August, this vine will be full of large grapes) or out in the Wine Gallery Garden with beautiful views overlooking vineyards and the mountains of Katsunuma. Worth checking out is the historical Bordeaux shrine located in the garden – dedicated to mixtures developed in France and imported into Japan to stop the spread of grapevine disease that were appearing on local vines in the 1870s and 1880s.
Château Mercian Katsunuma Winery is located within a very short walk from the Château Mercian hospitality center and wine museum. A tiny 2-story parking garage is located directly across from the winery accessed via a tunnel that runs below the roadway. The winery is located almost next to the Hi River. A small visitor center is located on site – for guests to wait before tours begin (with photographs of all their tour guides prominently displayed). All winery tours are by reservation only and groups are limited to no more than 8 or 10 people depending on the type of tour. Two tours are offered, a Standard (60 minutes) and the Premium (90 minutes). Both tours include a stop in their underground cellar and a visit to the nearby Iwaimura vineyard.
MERCIAN WINERIES, JAPAN
Château Mercian Katsunuma Winery

Château Mercian Hospitality Center

Château Mercian Wine Museum (free)

Miyakoen Wine Museum (admission charged)
Not affiliated with Château Mercian but located directly across the street.

Château Mercian Kikyogahara Winery, Nagano prefecture
Photos coming at some point
Château Mercian Mariko Winery, Nagano prefecture
Photos coming at some point
MERCIAN WINERIES, FRANCE
Chateau Reysson, Bordeaux