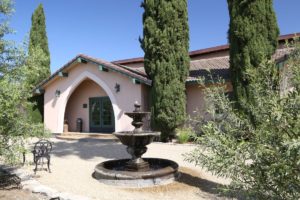 Madonna Estate is located in the Carneros region right next to the busy Highway 12. It is run by the long time Napa Valley winemaking family, the Bartolucci's. This family has been making wine in Napa Valley since 1922 which makes them among the oldest of the winemaking families in Napa. How many Napa wineries started *during* prohibition and are still in business today.
The original winery was used for making Sacramental Wine during Prohibition and selling the "juice" to home winemakers; the winery used to be up in Oakville (the current site of Napa Wine Company) across from Mont St. John (as of the time of our latest update, this name still appears on some of their wine labels). The winery name is a decent one when you consider who they were originally selling to. The present day winery building dates from the 1970s.
Madonna makes a wide variety of wines ranging from Chardonnay to Pinot Noir to Cabernet Sauvignon. Their 2005 Reserve Pinot Noir named "Due Ragazze" or in English, "two girls" is named after the winemakers' daughters. This is an elegant and restrained Pinot – in other words it is well balanced and not overly fruit or alcohol driven.
Dolcetto is a varietal not often found in Napa – it hails from Northern Italy and Madonna's 2004 Estate version shows lots of blueberry and blackberry flavors with a very exotic spicy finish. Need something slightly sweet? Try their Riesling and Gewurztraminer. Need dessert?! They have a very light not overly sweet Muscat Canelli.
This winery is often visited by tour groups coming in vans or buses so the tasting room can fill up quickly and then empty just as fast. It all depends on your timing with the buses as to how crowded it will be. A good alternative to tasting when there are crowds is to taste in their special reserve room, which is available only for their premium mostly estate grown wines.
Many winemaking families have trouble passing on the business to younger generations – fortunately Madonna has been able to avoid some of the pitfalls and is a good case study for families who successfully hand down a winery business to succeeding generations. There are 4 alcoves in the Reserve Room, each of which contains photos from the 4 generations who have run Madonna since its inception.
A small gift shop is contained within the main tasting room containing a selection of wine related gifts and souvenirs including "seed postcards". Send Napa flower seeds as a postcard! The Bartolucci's have been farming all their vineyards organically since they started this winery. Their official CCOF organic certification dates from 1991 making them among the oldest CCOF certified vineyards in the Napa area.
Their primary vineyard is located near what is now Liana Estates Winery just up from the cool often fog blanketed
San Pablo Bay. On a clear day you can see into San Francisco from this location. Up valley they sometimes tell you there is only Chardonnay and Pinot Noir grown in Carneros and yes, these varietals are the dominant ones in this region, however Madonna also grows Cabernet Sauvignon.
Their 2002 Estate Cabernet Sauvignon tops out at 13.1% alcohol well below the fruit bombs you will find "up valley". This is a very earthy wine from the aromas to the flavors – with some spices on the finish.
Picnic tables are available for winery customers. Visit: www.madonnaestate.com
Note: this review has been identified as needing a major update.
Wine with Tony