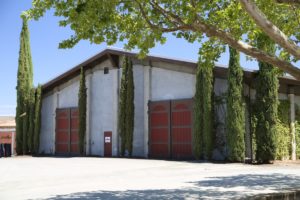 Louis Martini Winery was established when Louis M Martini purchased this property on June 14, 1933. Louis was first introduced to the Napa Valley in 1918 when he came to purchase grapes from John Wheeler (part of the Wheeler family which is now Wheeler Farms on Zinfandel Lane). Louis looked at a number of areas to build a winery including Santa Clara and Sonoma County – fearing Santa Clara would eventually be built up and noticing that Napa had more wineries then Sonoma at the time – he chose Napa. Louis actually made wine in Oakville one year before starting Martini Winery and had even tried to purchase Charles Krug Winery in 1932.
Martini Winery was in fact the first winery built in the Napa Valley after prohibition. Their first release was in 1940 making this one of Napa's oldest continuously operating wineries. In 2002 the Martini family sold the winery and it became a part of the Gallo Winery holdings – the second largest wine company in the world (behind Constellation). The Gallo's and the Martini's both being Italian and in the wine business in Northern California knew each other for a long time before the sale. Since Gallo purchased this winery they have retained key Martini family individuals including the grandchildren of Louis M Martini – winemaker Michael and his sister Carolyn who is involved in the business side of the operations.
There is a lot of history here – evident as soon as you walk into the hospitality center, based a number of old photographs that line the walls. One photo should catch your eye – it is a black and white photograph taken in 1949 all of men, presenting some of Napa's most prominent and early vintners. People in the photograph include brothers Robert and Peter Mondavi (note that Peter passed away in early 2016). Louis Martini is also in this picture along with Brother Timothy of the old Christian Brothers Winery.
Louis M Martini came to the United States at the young age of 13 from Genoa, Italy – sent over by his mother to be with his father who was making a living selling fresh fish in San Francisco. Six years later he and his father made home wine. Intrigued by the art of wine making, Louis returned to Italy at age 19 to further study wine. Eventually he moved back to California and in 1922 during the early years of Prohibition started a winery focusing on medicinal and Sacramental wine uses as well as "grape bricks" that could legally be used in home wine making (200 gallons of wine per year per household were legal for private use during prohibition).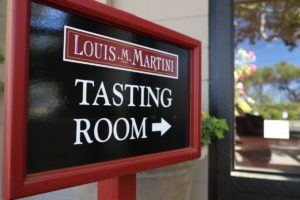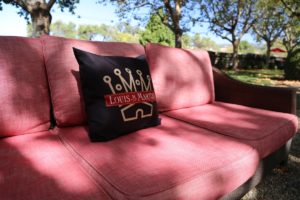 In 1943 Louis M Martini was part of a small group that began to discuss forming an organization that would collectively promote area wineries. This would ultimately lead to the formation of the Napa Valley Vintner's Association. Along with John Daniel Jr. (of Inglenook) and two other vintners Charles Forni and Louis Stralla, they discussed forming an association to collectively work together and help promote the valley as a whole. By 1944 the Napa Valley Vintner's Association was formed. Today the organization has well over 500 Napa based member wineries. Louis M Martin's grandson Mike was president of the association many years later.
For frost protection, many parts of the Napa Valley use tall fans to displace colder air at night next to the actual vines with the warmer air that sits slightly higher above the vines. These are the industry standard in Napa for protecting against near and freezing temperatures – usually during the end of March and into April when the vines are just budding out. Louis's son Louis P Martini was among the first vintners in the valley to start using these machines. Louis P Martini was also among the first in the state of California to produce a single-varietal Merlot.
The winery is located almost across from Sutter Home on Highway 29 just south of the town of St. Helena; building a winery here at the time was a good move strategically because of the train tracks that were located in front of the winery (still here, only used by the Napa Valley Wine Train these days). Wine could easily be shipped from the winery down to the San Francisco Bay area via these train tracks.
NOTE: In early 2016 the winery temporarily moved their tasting room to a large barrel room (before the tasting room was in non-descript looking building). This contemporary temporary tasting cellar is extremely spacious and nicely decorated and has to be the most spacious fancy temporary tasting room in the Napa Valley. Construction continues on the old winery/tasting room/redwood barrel room – the new hospitality center is tentatively scheduled to open sometime between March and May 2019. We drive by every day and see the construction progressing. We will revisit as soon as this gorgeous space opens.
The architect on this major project was Howard Backen of Backen, Gillam & Kroeger Architects. Features of the new space include 30-foot high glass walls looking into an atrium at the entrance. Visitors will see the barrel cellar, a dining room and the underground cellar. And in homage to the Martini's, an outdoor area called Martini Park will offer guests a number of tasting options including under the private cabanas. Additional experiences will be offered – more details coming here in mid 2019!
A sizable bar is located in the current tasting room on one side with several tables if you would rather sit down for your tasting – and plenty of lounge style more private seating among their barrels on the other side. Weather permitting, outside seating is available at tables next to several rows of empty wine barrels.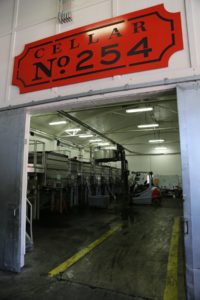 The vineyard on site is called the Thomann Station Vineyard, named after the actual train station stop which used to be located here. Interestingly enough this seven acre vineyard is planted entirely to Petite Sirah.
One tour is offered daily, hosted at 2:00PM called "Experience Cabernet" which is reservation only. On this tour, you will learn a little bit about the Martini family's history, their emphasis on red wines from Napa and Sonoma County premium vineyards, special wine making techniques used, fruit sources, and unique characteristics of their wines. The tour is a good introduction to wine making and general winery operations with lots of time for specific questions. You will finish the tour with a tasting of several of their Cabernet Sauvignons.
On the start of the tour you will see that one end of the original winery building is completely covered with ivy. It is a huge wall – walk to the end of this wall and you will see the massive vines of this single plant which have completely grown over the side of the building…this gets our vote for the largest Napa Winery Ivy plant! During the main tour you will stop in their barrel aging facility – note the huge redwood tanks that date from the 1940's and 1950's. You don't see these in many Napa wineries today – although they are no longer in use. In 2003 a 'micro winery' was built on site called Cellar no 254. This building houses small lot tanks and focuses on small production hand crafted wines. After visiting this winery you will see one of three large barrel storage rooms and then head to the original cellar located just downstairs from the actual tasting room. Here sizable tanks line the walls and is where you will finish your tasting with some freshly sliced prosciutto.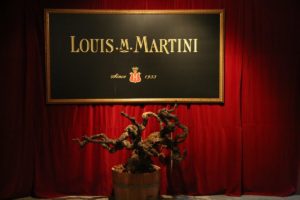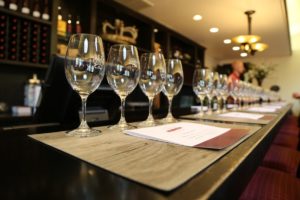 It is always interesting to compare terroir differences between same vintage wines and typically you will try a Sonoma and a Napa Cabernet side by side; both are completely different in flavor and style from each other. If you enjoy full bodied, fruit forward Cabernets, try the Monte Rosso Cabernet Sauvignon. This wine is made in limited production and is typically only sold at the winery. The fruit for this wine is from vineyards Louis M Martini originally purchased in 1938 located in the Mayacamas mountains above Sonoma Valley in Sonoma County. This vineyard and wine's name in Italian means "red mountain" which is quite representative of the rich red soils found there. We tried the 2004 vintage; it has lots of fruit up front with some nice spice characteristics and just a touch of oak on the finish. It pairs very well with the provided prosciutto. Over forty different prosciutto's were sampled by staff before they decided on this particular one.
A rare and intriguing wine is the Knarly Vine Zinfandel. The wine is from old Zinfandel vines growing in the Monte Rosso Vineyard, some of which date back to 1890. An old vine Zinfandel 'bush' from this vineyard is on display in the cellar room. With one look at this vine, one can clearly understand why the name "knarly vine" was chosen for this wine. The 2012 Knarly Vine Zinfandel shows fruit forward aromatics that this varietal is often known for – especially in a year such as 2012 which was the first of three excellent vintages in a row in the Napa area. The bouquet shows a cherry liqueur component, black cherry with some holiday spices (clove). There is a beautiful textural softness on the palate with layers of flavor showing through to the finish.
During one of our visits, we were treated to a Martini Cabernet Sauvignon from 1979 – the nose on this was like a tawny port, but the mouth feel was as smooth as you will ever find from an older Cabernet.
There are several places on site for dinner parties, groups, or educational wine seminars. As a side note, William Hill Winery in the southern part of the Napa Valley is also under Gallo ownership as is their winery, Gallo Family Vineyards in Dry Creek Valle (neighboring Sonoma County). In 2016 Gallo purchased the Orin Swift inventory and tasting room in St. Helena.
For more details about this historic producer, to schedule and appointment or to join their wine club, visit www.louismartini.com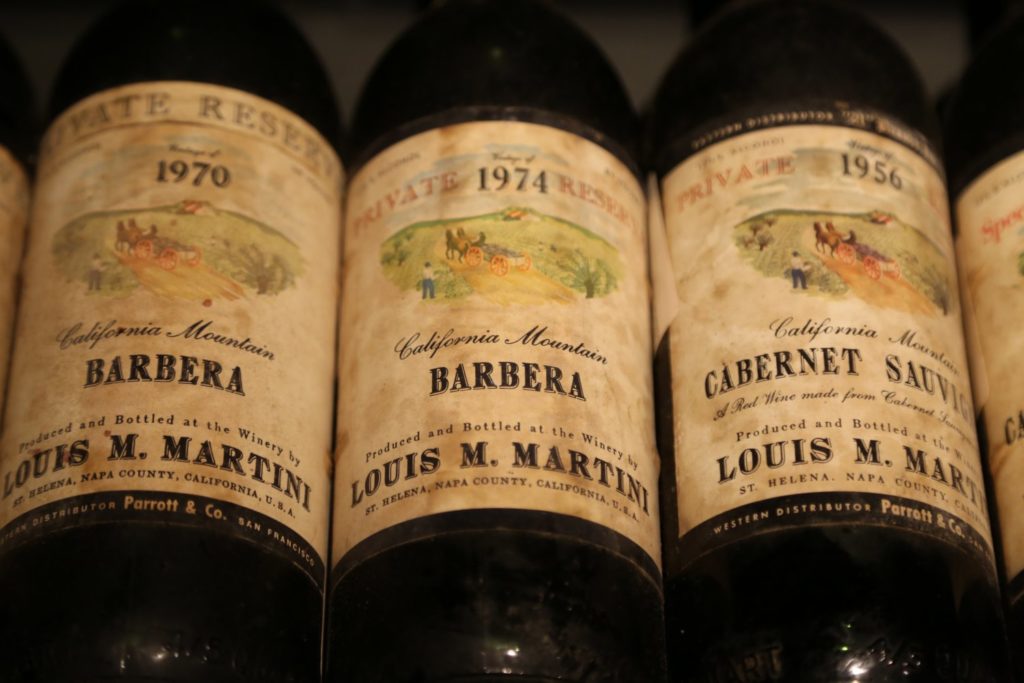 Tasting Room, Cellar

Other Winery Photos