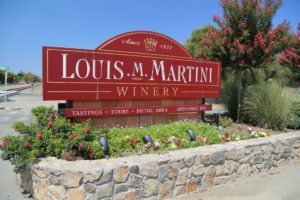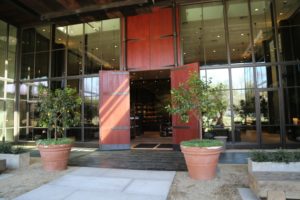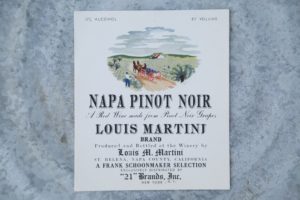 Louis M. Martini Winery was established when Louis M. Martini purchased property south of St. Helena on June 14, 1933. Louis M. Martini was born in 1887 in the Italian Riviera (Pietra Ligure) – not far from several other Napa Valley vintners whose roots reach back to this part of Italy. He first came to the United States at the young age of 12 in 1899; he was sent over by his mother to be with his father Agostino, a shoemaker and shoe merchant who was making a living harvesting and then selling fresh fish, clams and mussels in San Francisco. Apparently, the business was very successful, as at one point Agostino had 35 people working for him.
Louis and his father made home wine together in 1906. Intrigued by the process, Louis returned to Italy at age 19 to further study wine. Eventually he moved back to California; the roots of Louis M. Martini Winery began at he and his father's home in the Bayview District neighborhood of San Francisco where they built a small winery behind their home (a part of the city then known as Butchertown) and sold wine by the gallon to some of the same clients who were purchasing their seafood.
Later he and his father rented a space in Pleasanton, California (near Livermore) from 1911 to 1918 where they produced wine commercially, but it never was a very successful operation and they stopped operations when their lease ended; incidentally that same year, Louis came down with a very bad case of the flu, presumably the Spanish Flu (which took him nearly several months to recover from).
In 1922 in Kingsburg California during the early years of Prohibition, Louis M started a business with several partners including Silas Sinton (long time San Luis Obispo farming and ranching family) centered around grapes (L. M. Martini Grape Products Company) focusing on medicinal and Sacramental wine uses as well as producing "grape bricks" and "grape concentrate", products that could legally be used in home wine making. One of his products was a grape concentrate called Forbidden Fruit, popular among home winemakers at the time. 200 gallons of wine per year per head of household was legal for private use during Prohibition. This was one of the largest winery operations of its time in California. We have not yet been able to locate the address of their home in San Francisco, the location of their Pleasanton winery or the Kingsburg winery location, although we are working on locating this information for all three sites.
Louis M was first introduced to Napa Valley because of his grape business in Kingsburg; in 1918 he arrived in Napa Valley to purchase grapes from John Wheeler (part of the Wheeler family who owned property on what is now the site of Wheeler Farms on Zinfandel Lane). Louis looked at a number of areas to build a winery including Santa Clara and Sonoma County, but fearing Santa Clara would eventually be built up and noticing that Napa Valley had more wineries than Sonoma at the time – he chose Napa Valley. Louis M made wine in Oakville one year prior to starting Martini Winery and had even considered purchasing Charles Krug Winery and Greystone Cellars in St. Helena (now the Culinary Institute of America).
In 1943 Louis M was part of a small group that entertained the idea of forming an organization that would collectively promote area wineries. Their early conversations would ultimately lead to the creation of the Napa Valley Vintners Association. According to Louis M's granddaughter, Carolyn Martini, one of the early meetings for what would become the Napa Valley Vintners occurred at Monte Rosso Vineyard – and in a nod to the family history, at that early meeting, Carolyn suggested they enjoyed lobsters or perhaps crab that Louis M would have bought from Fisherman's Wharf in San Francisco.
Along with John Daniel Jr. (of Inglenook) and two other vintners Charles Forni and Louis Stralla, they discussed creating an association to collectively work together and help promote the valley as a whole. By 1944 the Napa Valley Vintners Association was formed with early meetings held at St. Gothard's Inn (which is now the luxury ALiLA Napa Valley resort, directly next door to Beringer Vineyards). Today the organization has well over 500 Napa Valley based member wineries. Louis M Martin's grandson Mike (died in January 2023) was president of the association many years later.
And Louis was also one of the founding members of the Napa Valley Wine Library Association in 1963, an organization that preserves information relating to viticulture and wineries as it relates to Napa Valley. Incidentally they host one of the best tastings (open to members) in all of Napa Valley each year in August at the Silverado Country Club. Louis's daughter Carolyn was president of the organization for several years.
Louis M. Martini Winery was the first winery built in Napa Valley after Prohibition and as a result, is one of Napa's oldest continuously operating wineries. Its original use was as a 'satellite' winery for their Kingsburg operations and for several years the bulk dry wines made at Louis Martini Winery were shipped down to their Kingsburg location for bottling and packaging. Wines commonly produced by Louis Martini in those early decades were bottled under generic names such as Chablis and Burgundy. In 1940 the Martini's sold their Kingsburg operation to focus on their winery in Napa Valley.
And in the early years, Martini used the old Rennie Winery (now Flora Springs Winery) to age some of his wines.
In 2002 the Martini family sold the winery, and it became a part of the E & J Gallo Winery – the largest wine company in the world (ahead of Constellation). The Gallo's and the Martini's both being Italian and in the wine business in Northern California were already family friends for many years before the sale. After Gallo purchased the winery, they retained key Martini family individuals including several grandchildren of Louis M Martini – winemaker Michael Martini (who was winemaker at Martini from 1977 until he retired in 2015) and his sister Carolyn who was involved in the business side of the operations.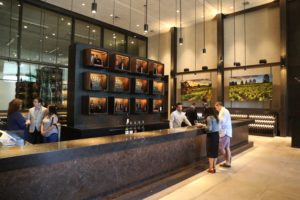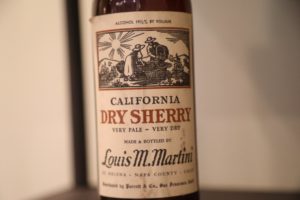 One photo that has been displayed in the hospitality center for years always caught our eye; it was a black and white photograph taken in 1949 all of men, presenting some of Napa's most prominent and early vintners. People in the photograph included brothers Robert and Peter Mondavi (of the men in the photograph, Peter was the last one living – he passed away in early 2016). Louis M. Martini was also in this picture along with Brother Timothy of the old Christian Brothers Winery.
Louis's son, Louis P. Martini's contributions to the industry were also noteworthy. While serving in the United States Air Force in World War II he noticed propeller fans being used in certain applications to displace cold air with warmer air. During times of frost at night, many vineyards in Napa Valley use fans to displace the colder lower air located next to the actual vines with the warmer air that sits slightly above the vines. These are the industry standard in Napa Valley for protecting vines against near and freezing temperatures – usually during the end of March and into April when the vines are just budding out.
Louis P applied the same principal that he saw being used by fans in World War II to vineyards in Napa Valley and he was among the first vintners in the valley to start using these machines in the early 1950s. Incidentally the oldest wind machine still in use that we know of in Napa Valley dates from 1957 and is located at Titus Vineyards in St. Helena.
Louis P was also among the first in the state of California to produce a single-varietal Merlot.
Over the years, the Martini family have also owned several other prominent properties in Napa Valley including the historic Edge Hill Winery which Louis P and Elizabeth Martini acquired in 1952. The Martini's lived in the old Edge Hill winery building and used the distillery on site for their garage. After Louis P died in 1998 Elizabeth wanted to live somewhere that required less upkeep so she sold the property to Leslie Rudd in 2000. Edge Hill was most recently sold to Joel Gott (Gott Wines).
Their son, Mike Martini (died in early 2023) used to own hillside land in Diamond Mountain just south of Calistoga; this is now part of Checkerboard Vineyards. And Mike's sister Carolyn and her family own property in Chiles Valley, site of what will eventually be Castlevale Winery.
And in 1942 Louis Martini purchased 200 acres of the historic Stanly Ranch in Carneros. This ranch was founded in 1856 by Edward Stanly, a lawyer from San Francisco. The original size of the ranch was over 2,200 acres. The land was passed on to successive generations. A winery operated on the property until prohibition in 1919 – the family continued running the ranch until it started being parceled and sold to outside individuals in the 1930s and 1940s.
In addition to being home for some of Napa's early grapevines, Stanly Ranch was also the site for both Pinot Noir and Chardonnay clonal trials conducted by Louis Martini, the Wente Family and UC Davis in the 1950s. In 1957 for the first time, Louis Martini produced a Pinot Noir exclusively from Carneros grown grapes.
Louis M. Martini Winery no longer owns any portion of the Stanley Ranch having sold it in the late 1980s.
The Gallo Family, E & J Gallo Winery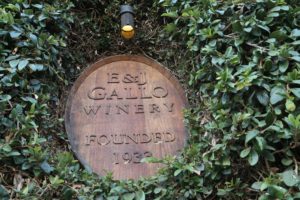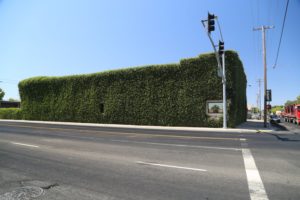 The original winery under Gallo family ownership was founded in 1933 in Modesto, California immediately following the repeal of Prohibition by two brothers, Ernest and Julio Gallo. The initial seed money of $5000 to start the company came from Ernest's mother-in-law, Teresa Franzia who had founded her family's winery, Franzia Wine Company in 1906. They made their first wine in 1933 at a rented warehouse built in 1928 at 401 11th Street (on the northwestern corner of the often very busy 11th and D Streets in Modesto (less then a mile from both downtown Modesto and Gallo Glass and E & J Gallo Winery). Remarkably this warehouse building is still standing; the exterior almost completely covered in some sort of aggressive vine growth. The site is owned by E & J Gallo Winery.
Interestingly this is the same year that Louis M Martini purchased his property in Napa Valley, and perhaps opening within weeks apart as both wineries began operations later in the year during the 1933 harvest. Ernest and Julio's parents immigrated to the USA from northern Italy and both brothers were born near Modesto. Tragically Julio was killed in a jeep accident in 1983 involving his wife and his two granddaughters including now winemaker Gina Gallo (the three women survived the accident).
A milestone in the company's rich history was the founding of Gallo Glass Company in 1958 which now the largest glass manufacturing plant in North America. A visit to the exterior of this site shows an impressive campus with trucks pulling in and out of several entrances (less than a mile from downtown Modesto) and next to the enormous bottling and shipping facility of E & J Gallo Winery. Along with two other production wineries located in the central valley, Fresno and Livingston (small community along the 99 freeway south of Modesto), these three winery facilities are the largest in the world. E & J Gallo Winery is among the top 100 highest grossing private companies in the United States.
Other milestones include the launching of the Carlo Rossi brand in 1975 and Bartles & Jaymes wine coolers in 1984. The purchase of Louis Martini Winery in 2002 was just the beginning of Gallo's acquisition of numerous brands, wineries and vineyard properties, accelerating around 2011 and continuing today. Their total annual production is somwhere around 3 billion cases a year.
And in 2007 the Gallo Arts Center opened in downtown Modesto, a state-of-the-art performing arts center hosting both local, national and internationally recognized talent in one of two theatres. Owned by Stanislaus County with its namesake chosen after the Gallo family donated $10 million to the original endowment fund.
Within Napa Valley, E & J Gallo Winery owns William Hill Estate Winery in the southern part of Napa Valley (purchased in 2007), The Ranch Winery (purchased 2015), Orin Swift Cellars (purchased in 2016), Franciscan Winery (purchased 2019), Pahlmeyer (purchased 2019), Rombauer Vineyards (purchased 2023), Massican (purchased 2023), the iconic Stagecoach Vineyards on Atlas Peak (purchased in 2017) and the California Brandy House in downtown Napa (opened in late 2020).
Vineyards
Louis M Martini and a partner purchased what is now the iconic Monte Rosso Vineyard in 1938 which was at that time called Goldstein Ranch. According to the Historic Vineyard Society, the first vines were planted in 1886, and the site was named in honor of the very iron reddish rocky soils. Monte Rosso encompasses some 575 acres, 250 of which are planted to vine of which the vineyard is categorized into 64 blocks with numerous sub blocks. The vineyard is planted to 10 different varieties, although there are a number of historically interesting varieties inter-planted throughout some of the older blocks on the property which have been identified and labeled through Ampelography.
While Louis M. Martini uses grapes from vineyards in both Napa and Sonoma County, Monte Rosso Vineyard in Sonoma County is their flagship property (perhaps one of only a few Napa based wineries with a flagship property outside of Napa Valley). Located on the west side of Mt. Veeder in Sonoma County spanning an elevation of between 690 to 1,300 feet, the vineyard is planted on the slopes of the Mayacamas mountains and looks down on Sonoma Valley and from certain higher vantage points on clear days one can see the San Francisco skyline far in the distance.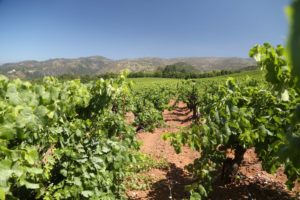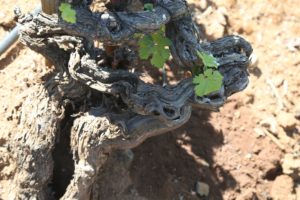 Overseeing the vineyard operations is Brenae Royal who began her career at E. & J. Gallo Winery in 2013 as a viticulture intern and has been the property's Vineyard Manager since 2015. Her attention to detail in the vineyard is impressive, and needs to be with so many different blocks, varieties, exposures, vine ages, 9 different trellising systems and 16 different row spacings.
Key characteristics in the wines produced from this vineyard are tied into a number of factors including the iron rich soils and the large diurnal shift in temperature between day and night – often spanning 30 to 40 degrees Fahrenheit. The wines produced from the Monte Rosso Vineyard have excellent acidity, balance and what Brenae refers to as the "Monte Rosso spice" (a long-known attribute from the property).
An old stone winery building (originally called Mount Peak Winery) is located on the property dating from 1886. Grapes planted that same year may outlive the structure – unfortunately this old structure was severely damaged in the 2014 earthquake with the epicenter near the city of Napa and is slated to be taken down. Nearly 5 years later the Nuns Canyon Fire raged around their property; a plaque on Moon Mountain Road is dedicated to all the firefighters who created a fire line using Moon Mountain Road to save every home and building along the road. Immediately following this fire, their viticulture team accessed damage in and near their vineyard; remarkably Monte Rosso Vineyard lost only a single vine due to these devastating fires.
After Louis M. Martini purchased the site, he planted Cabernet Sauvignon, and the oldest vines are still producing from the first planting in 1940. These are older than any commercially producing Cabernet Sauvignon vines we know of growing in Napa Valley (IE Scarecrow, MACDONALD, Varozza, Grgich Hills and Grace Family). The particular cutting source and clone has not yet been identified, rather this Cabernet Sauvignon is simply referred to as the "Monte Rosso heritage clone".
Arguably the highlights of Monte Rosso (besides its fantastic views) are its old vines. Incredibly some of the vines that were planted in 1886 are still growing including Zinfandel and Sémillon. It is extremely rare to find any plantings of grapes still producing commercially dating from the 1880s in California, much less a white variety. The Sémillon may be the oldest vines of this variety growing in California; one producer in the Barossa Valley, Australia, Château Tanunda has Sémillon dating back to 1869. The block of Sémillon at Monte Rosso Vineyard is 3.82 acres of which Brenae estimates about 60% is still planted to the original vines.
And in Sonoma County, Gallo maintains a 50/50 Giveback Program – for every planted acre of vines that Gallo owns, the company maintains an equivalent acre of land in its natural state.
—–
Thomann Station Vineyard surrounds the winery; it is 28 acres of which 9 acres are planted and was named after the actual train station stop which used to be located here. And while there is no longer a physical train station stop, trains that operate for the Napa Valley Wine Train still do stop here. Interestingly enough this vineyard is planted entirely to Petite Sirah (considering a number of the neighboring vineyards are generally Cabernet Sauvignon focused).
Several other source vineyards are located in Pope Valley including Cypress Ranch Vineyard and the Sun Lake Vineyard. Grapes are also used from the acclaimed Stagecoach Vineyards high on Atlas Peak.
Hospitality Center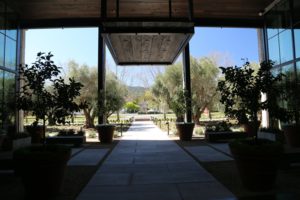 Louis M. Martini Winery is located almost across from Sutter Home Winery on Highway 29 just south of the town of St. Helena; building a winery here at the time was a good move strategically because of the train tracks that were located in front of the winery. Wine could easily be shipped from the winery down to the San Francisco Bay area via rail cars.
A world-class hospitality center opened on March 29, 2019, and was a culmination of 10 years of renovation and construction on the property. Prior to the opening for several years, the tasting room was located in one of their large barrel rooms and was the most spacious luxurious temporary tasting room in all of Napa Valley!
The winery and hospitality center were renovated by one of wine country's premier architects, Howard Backen of the firm Backen, Gillam & Kroeger Architects – (the Hamden McIntyre of his generation). His firm has designed a number of premium wineries in the valley including Harlan Estate, Continuum, Futo Estate and Dana Estate among many others. His work carries a certain feel and are designs which combine elegance with power, often using darker wood tones. With the Martini property, his firm preserved the original structure, removed remnants of later additions and created a contemporary feel to the space. And in a nod to the family's early winemaking beginning, the original tile from Louis M. Martini's winery in Kingsburg, L. M. Martini Grape Products Company covers parts of the exterior of the hospitality center as well as several locations inside.
While the hospitality building is large, it is set back from Highway 29 and with a number of olive trees transplanted in front, dating from 1933, it is hard to gauge the scope of its size when one drives by on the highway. Glass is a prominent feature of the space including 30-foot-high glass walls looking into an atrium at the entrance. Another prominent feature is the extremely high ceiling. The centerpiece of the hospitality center is the Crown Bar with a backdrop of one of their barrel rooms, seen behind glass walls. An interactive bottle experience/station is located near the bar; one simply picks up a bottle and in conjunction with a large touch screen, information about the vineyard source, photography, technical data and tasting notes are then displayed on the screen.
Several other prominent rooms on site include the Heritage Lounge – a posh room featuring seated tasting, the Culinary Room, home to their onsite executive chef and commercial kitchen, the Wine Study featuring a small room with amphitheater style seating (used for seminars and other wine and food related classes) and a gorgeous underground cellar and a large outdoor garden/patio area called Martini Park used for seated tastings including intimate tastings held under a private outdoor cabana.
And visitors should also take a few minutes to browse the historical items collection, housed under glass, located behind the main tasting bar. It contains a number of winery and Martini family related documents.
Experiences
The Crown Bar tasting is held at the Crown Bar in the main room of the hospitality center and features current release wines from both Napa and Sonoma; visitors can taste here without needing an appointment. Visitors looking for a more intimate and seated tasting can opt for the Heritage Lounge tasting which features wines from the Monte Rosso Vineyard; this tasting is held inside the Heritage Lounge or if the weather permits, outside in Martini Park. This tasting can also be paired with small bites provided from their executive chef.
And for those looking for some vintage perspective on the Martini wines, a Library Tasting is held in the private Founder's Room with the tasting led by one of their sommeliers. Features older library wines and select barrel samples.
An historic tour and tasting is offered daily, one in the morning and one in the afternoon (available by reservation only). Visitors will learn about the Martini family history, their emphasis on red wines from Napa and Sonoma County premium vineyards, special wine making techniques used, fruit sources, and unique characteristics of their wines. The tour is an excellent introduction to wine making and general winery operations allowing plenty of time to ask questions. Wines are poured throughout the tour.
During the tour guests will visit the original underground cellar (located directly below the hospitality center); note the huge redwood tanks which date from the 1940s and 1950s. These used to be the normal tanks for aging wine and are no longer being used – the ones here are for show purposes only. A small room located next to the cellar contains a number of historical winery photos including of the Martini family. This cellar is used for special events including dinners.
Also worth noting is the impressive 'wine vault' formerly a bank vault the Martini's purchased when a bank in San Francisco was going out of business. Today it contains a number of old Martini wine bottles (still full) including wines that were unearthed some years back from a buried wine/time capsule.
Select Wines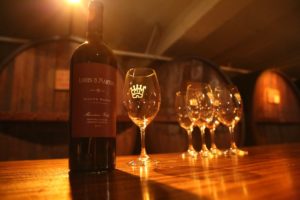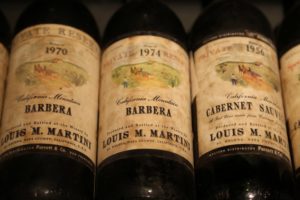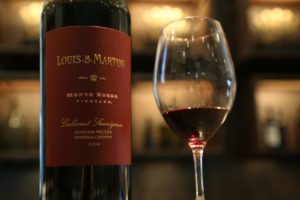 Several large barrel rooms are located on the property and the primary production facilities are also located on site. In 2003 a 'micro winery' was built called Cellar no 254. This building houses small lot tanks and focuses on small production hand crafted wines.
It is always interesting to compare terroir differences between same vintage wines; sometimes a Cabernet Sauvignon from both Sonoma and Napa will be presented side by side. And those who enjoy full bodied, fruit forward Cabernet Sauvignon wines should try the Monte Rosso Cabernet Sauvignon. This wine is made in limited production and is typically only sold at the winery.
The Louis M. Martini Monte Rosso Vineyard Cabernet Sauvignon typically sees 2+ years in barrel and a full year in bottle before being released. As a result, the current vintage of this wine is generally a year or two older than the current releases of most area wineries. The Louis M. Martini 2014 Cabernet Sauvignon Monte Rosso Vineyard is fairly dark in the glass; it reveals opulent ripe fruit aromatics including black cherry – with additional layers of cedar and chocolate. Flavorful and concentrated across the palate the tannins initially show more in the front of the palate rather than on the finish. Offers flavors of red cherry, cranberry and a hint of red licorice on the mouthwatering finish. Anchored by dusty tannins with an almost dry rock-like quality. Good acidity.
A rare and intriguing wine is the Gnarly Vine Zinfandel (not to be confused with another non-Martini owned label called Gnarly Head). The Gnarly Vine Zinfandel is from old head-trained Zinfandel vines in the Monte Rosso Vineyard. A section of these old Zinfandel vines is named Rattlesnake Hill – a nod to the rattlesnakes that live in this part of the vineyard including sometimes found in the hollowed-out trunks of the old vines. The workers pick nearly all of Monte Rossa Vineyard at night including the old vine Zinfandel. When they harvest, they pick in silence without headphones to remain alert for any movement within the vines.
A photograph of an old vine Zinfandel 'bush' from this vineyard is on display near the stairs leading down to the cellar room. With one look at this vine, one can clearly understand why the name "gnarly vine" was chosen as an appropriate name.
The Louis M. Martini 2012 Gnarly Vine Zinfandel shows fruit forward aromatics that this varietal is often known for – especially in a year such as 2012 which was the first of three excellent vintages in a row in Napa and Sonoma valleys. The bouquet shows a cherry liqueur component, black cherry with some holiday spices (clove). A beautiful textural softness shows on the palate with layers of flavor showing through to the finish. We have also tried later vintages of Gnarly Vine, while high alcohol (16+%) the wines did not show as being 'hot'.
Older Vintages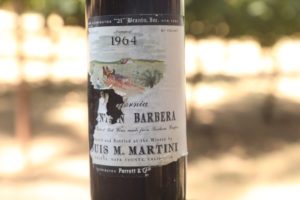 These Louis M. Martini wines were tasted in mid 2021 and ranged from vintage 1957 to 1990. This case of wines was kindly donated to us by John Hoffnagle and were tasted in St. Helena with winemaker Tom Rinaldi and his wife Beverly.
The Louis M. Martini 1965 Barbera is brick red in color; shows aromas of dried herbs, old cedar box and hints of mocha, brown chocolate, cloves and other dessert spices deep into the aromatics as the bouquet evolves. Remarkably still shows fruit on the palate including a berry sweetness, red cherry and currant. Very balanced. The finish is especially long with a noticeable red cherry and currant tartness that lingers. The tannins are still present – light gravelly and rounded in their textural feel. This was the highlight bottle from the 12 bottles we tasted. Unfortunately, all the older Cabernet Sauvignon wines from the 1960s and 1970s had TCA or had otherwise gone bad.
The Mountain Red Wine, Light Burgundy (presumably primarily Pinot Noir, we were told it was vintage 1957); very brick red in color – Tom mentioned the wine being a bit aldehydic initially upon opening. Offers notes of tar, black olive and dried herbs. Also dried rose petal. As the bouquet opens and evolves reveals a hint of sweet dessert spices including chocolate and cloves. The acid has kept this wine in reasonable shape; offers a currant brightness on the finish. Very fine and almost no noticeable tannins.
During one of our earliest visits, we were treated to a Louis Martini Cabernet Sauvignon from 1979 – the nose on this was like a tawny port, but the mouth feel was as smooth as you will ever find from an older Cabernet Sauvignon.
For more details about this historic producer, to schedule an appointment or for membership options, visit www.louismartini.com
Crown Bar, Grand Tasting Room

Heritage Lounge

Founder's Room

History Exhibit

Martini Park

Underground Cellar

Culinary Room

Wine Study

Barrel Rooms

Winemaking

California Brandy House, downtown Napa

Prior to Renovation

Monte Rosso Vineyard

Stagecoach Vineyard