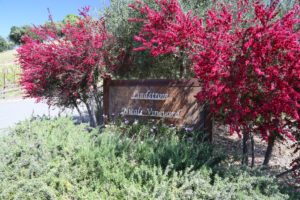 Lindstrom Wines focuses on two wines each year, an estate Cabernet Sauvignon and a Pinot Noir from the Russian River appellation in neighboring Sonoma County. Both wines are produced in extremely small quantities.
Greg Lindstrom had been to Napa several times – and had long been a passionate wine consumer before he won a week trip to the Napa Valley courtesy of a winning bid at the Sun Valley Wine Auction in 1995. During this trip he combined another one of his interests – real estate and started looking for property in the valley. He soon found an undeveloped piece of land and had the vision to see its vineyard potential; the property is located in the heart of the Stag's Leap Appellation.
Their total property comprises twenty acres of which four are planted to Cabernet Sauvignon. This had to have been one of the more challenging and interesting vineyard sites to develop in all of Napa Valley. A small (several acre) hillside vineyard in either the Mayacamus or Vaca mountain ranges would often involve one or two directional facing slopes. Not so here.
The vineyard is located on a prominent very narrow ridge-line that rises near the valley floor and the vines are planted on both the steep sides and on top of this ridge. Flat land does not exist in this vineyard. Despite being only four acres there are a surprising number of exposures and microclimates. This little gem of a property has allowed the Lindstroms to plant grapes that have exposure in all directions. With all this variety in terroir – a number of site specific clone and rootstock were carefully chosen.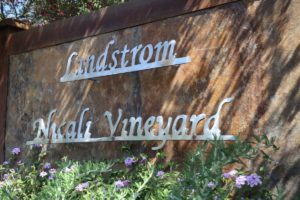 The diversity of micro climates on the property ensures that they never pick the entire vineyard at once. It is separated into 11 different blocks and each block is picked as it ripens. The vineyard acquired its name, Nicali from combining the names of Greg's two daughters, Nicole and Ali. After realizing the potential of his vineyard (above and beyond merely selling the fruit) Greg decided to make wine commercially and hired well-respected winemaker, Celia Welch. She has made every vintage since the initial release dating from 2005.
In part because of the steepness, the vineyard is all farmed by hand and managed for low yields. This is certainly a desirable part of Stag's Leap – the Nicali Vineyard looks down on the well-known Fay vineyard (one of the most historic vineyards in the Stag's Leap District) and relatively close neighbors include vineyards owned by Shafer and Joseph Phelps.
Greg has been a lawyer for many years and as he says – "he became a lawyer to become a vintner" – that is not an uncommon story in the valley; we've talked to a number of vintners who also practice law and or built up careers in law before making wine commercially.
The 2008 Cabernet Sauvignon is a complex, yet well-balanced wine. The bouquet initially shows notes of earth, smoke and cedar but as it opens refined aromas of fruit come forward including blackberry, red and black cherry and even red licorice. Hints of chocolate also show – this wine evolves very well with some air. Tannins appear after the mid palate but then smooth out and are quickly integrated in the mostly red fruit of the very long finish. This wine drinks wonderfully by itself but has decent acidity and character to also pair with food.
Much of their wine is distributed directly through a mailing list although you can find it in select restaurants in the valley and wine shops including St. Helena Wine Center in downtown St. Helena. Lindstrom is a member of the Stag's Leap Wine Growers Association and each year participates in the Vineyard to Vintner event; tickets are sold and allows one to visit a number of wineries in Stag's Leap for tastings including producers like Lindstrom who are not open to the public.
For more information and to join their mailing list visit: www.lindstromwines.com