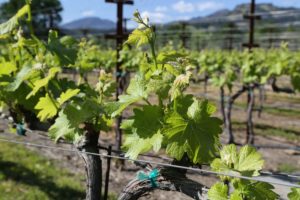 Levendi Winery is owned by the Gianulias', a Greek family with a long tradition of making wine in Greece as well as in the Napa area. Their family has been making private wine for centuries in Greece and also for a number of years in the USA. James, the father, has a long background in property development and his son David and family friend Todd currently oversee the day to day operations of the winery.
The name "Levendi" in Greek is a toast – a toast to "celebrate life" and wine's memorable moments.
Winemaker Alison Doran has a degree in winemaking from UC Davis and spent time among the numerous wineries in Alsace, France. She was fortunate to have studied for many years under the famed viticulturist Andre Tchelistcheff. She has been a winemaker for more then 30 years, is Levendi's founding winemaker and has made every vintage of their wines since day one.
Levendi works with a number of premium vineyards throughout the valley including the very well-regarded Stagecoach Vineyard high on the slopes of Atlas Peak.
Levendi concentrates on 100% varietal wines with the focus being Chardonnay and Cabernet Sauvignon; in addition they typically will not blend multiple varietals into the same wine. They make two Chardonnays – the Red Hen Vineyard from the Wente clone which is known for its very small concentrated fruit and the other from Cold Creek on the Sonoma side of Carneros.
The Red Hen Vineyard Chardonnay is our favorite of the two; it is a rich wine with very nice tropical fruit flavors and hints of butterscotch and vanilla.
Our two favorite wines from Levendi are the Symphonia and Stagecoach Vineyard Cabernet Sauvignons. Both are elegant wines which come from grapes that are grown in entirely different areas. Symphonia is wine made from valley fruit contrasted with the Stagecoach fruit which is grown at an elevation of about 1500 feet.
While they do not own their own winery – their wines are available for tasting at Tasting Room at Napa Wine Company in Oakville (located just south of the famous Oakville Grocery). All their current releases are available for tasting.
The Levendi wines also are featured in Antonello Ristorante and Enoteca Lounge located in the immense South Coast Plaza in Orange County. Antonello Ristorante features the Levendi Room – a private room upstairs which can comfortably seat up to 14 people. A number of Levendi wines and vintages are contained on site in a temperature controlled space. In a world of an always changing culinary scene (especially so in Los Angeles and Orange County) it is rare when one finds a restaurant this old – founded in 1979, they are still going strong and are arguably Orange County's most decorated and well-regarded Italian restaurant. During a recent visit, many of the patrons seemed to be good friends with the wait staff and employees and many had obviously eaten here numerous times.
Focuses on home-made Italian food including excellent salads, pasta and meat dishes (the Ossobuco is delicious complete with a small fork stuck in the bone to retrieve the delicious marrow). The restaurant also features an extensive wine list from not only domestic producers but plenty of Italian producers as well. The Levendi Room is one of several private rooms that can be reserved for private parties. A very well stocked and happening bar is located on the first floor. We found the wait staff to be highly attentive and personable.
NOTE: it has been years since we met with Levendi. This review has been identified as needing a *major* update.
For more information and or to join their wine club, visit: www.levendiwinery.com
Winemaking at Laird

Napa Wine Co/Levendi

Levendi Room, Antonello Ristorante and Enoteca Lounge, Southcoast Plaza