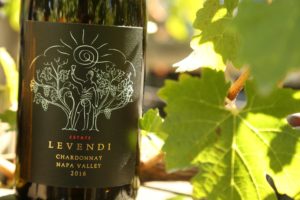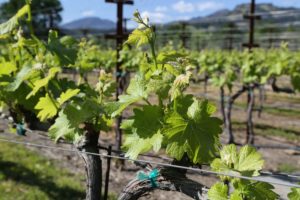 Levendi Winery is owned by the Gianulias family, originally from Greece, they have a long tradition of making wine in Greece as well as in the Napa Valley. Their family has been making home wine for centuries in Greece and also for a number of years in the USA. We first reached out to them many years ago and met at Laird Family Winery where they were making their wine at that time. James Gianulias has built a lengthy and very successful career in property development. G Companies, still family run, with roots from 1949 was originally known as Hester Development and then later known as Cameo Homes. Today G Companies is based in Newport Beach, California and develops single and multi-family real estate (under the Silver Oaks Communities division of the company) while also serving as a property management company (Mesa Management). Their contributions to Southern California and parts of the Southwestern United States are significant; over the years they have built over 60,000 homes and 7,000 apartments in these locations. The company has also developed commercial/retail/office buildings, ranch properties, golf courses and wineries. The company is overseen by James and his son David.
The company is also invested in a variety of other assets including owning the 18-hole semi-private golf Chardonnay Golf Club & Vineyards located at Jameson Canyon – along Highway 12 about a 20 minute drive southeast of the city of Napa. And on the big island of Hawaii, they own the 221-acre Kona Coffee Farm located directly above the town of Kailua-Kona at an elevation ranging from about 1,500 to 2,000 feet.
James, David and family friend Todd Rustman are founders of Levendi Winery and currently oversee the company.
The name "Levendi" in Greek is a toast – a toast to "celebrate life" and wine's memorable moments or in Greek, yasou, a word people say when wishing one good health.
Winemaker Alison Doran was born and raised in the Los Angeles area and began her career in winemaking in 1973 as a harvest intern working at Simi Winery in Sonoma County which her father had purchased in 1969. André Tchelistcheff was hired as a consultant for Simi Winery; Alison spent time working with and learning from him. She has a degree in winemaking from UC Davis and later worked in Alsace, France and at several wineries in California's Central Coast. She has been a winemaker for more then 35 years, is Levendi's founding winemaker and has crafted every one of their wines since their inaugural vintage in 2000.
Levendi works with a number of premium vineyards throughout the valley including the very well-regarded Stagecoach Vineyard high on the slopes of Atlas Peak.
Select Wines/Winemaking
Levendi focuses on producing 100% varietal wines, primarily Chardonnay and Cabernet Sauvignon. They have produced a number of Chardonnays over the years including from the Red Hen Vineyard in the Oak Knoll sub-appellation, using the Wente clone which is known for its very small concentrated fruit, and from the Cold Creek Vineyard on the Sonoma side of Carneros sub-appellation.
The 2016 Levendi Napa Valley Estate Chardonnay. Lemon peel yellow color in the glass – offers an elegant bouquet with aromas of butterscotch, mango, banana, a baking spice sweetness including brown sugar, nutmeg and butter. An olfactory dessert in the glass! Rounded, supple and creamy, but not viscous across the palate, shows some textural density without being heavy. Flavorful, showing notes of pineapple and ripe golden delicious apple. Lingers with notes of baking spices, butter and a kiss of vanilla. This wine drinks very nicely by itself.
Our two favorite red wines from Levendi are the Symphonia and Stagecoach Vineyard Cabernet Sauvignon. Both are elegant wines which come from grapes that are grown entirely in different areas of the valley. Symphonia is wine made from valley fruit contrasted with the Stagecoach fruit which is grown at an elevation of about 1500 feet, high on the slopes of Atlas Peak (a vineyard that was founded by Jan Krupp but is now owned by E & J Gallo Winery).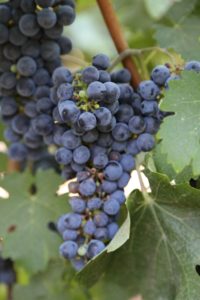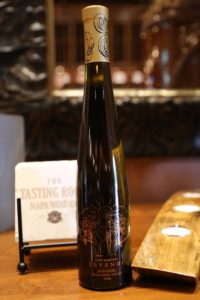 For some years, the wines were available for tasting at the Tasting Room at Napa Wine Company in Oakville (where Levendi currently produces their wines). However in early 2019, this tasting room was converted over to showcase wines from Ghost Block and all other clients including Levendi no longer taste their wines here.
Tasting Room, Downtown Napa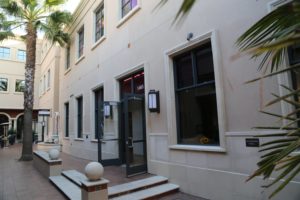 Levendi Winery maintains a tasting room in downtown Napa at 1465 1st Street in the space that formerly was used as a bank, then for Gordon Heuther's downtown Napa art gallery, followed by Studio M (a high end wine salon) and most recently, Cornerstone Cellars. The space is about 2,000 square feet and encompasses the corner building between 1st street and the tiny alley across the street from the Andaz Hotel and near Oenotri Restaurant.
The tasting space is slated to open in early Fall, 2021. We will visit this space, yet again and will update our notes here accordingly.
Antonello Ristorante and Enoteca Lounge
The Levendi wines are featured in Antonello Ristorante and Enoteca Lounge located in the immense South Coast Plaza in Orange County. Antonello Ristorante showcases the Levendi Room – a private room upstairs which can comfortably seat up to 14 people. A number of Levendi wines and vintages are contained on site in a temperature controlled space. In a world of an always changing culinary scene (especially so in Los Angeles and Orange County) it is rare when one finds a restaurant this old – founded in 1979, they are still going strong and are arguably Orange County's most decorated and well-regarded Italian culinary space. During a recent visit, many of the patrons seemed to be good friends with the wait staff and employees and many had obviously eaten here numerous times.
Focuses on home-made Italian food including excellent salads, pasta and meat dishes (the Ossobuco is delicious, complete with a small fork stuck in the bone to retrieve the delicious marrow). The restaurant also features an extensive wine list from not only domestic producers but plenty of Italian producers as well. The Levendi Room is one of several private rooms that can be reserved for private parties. A very well stocked and happening bar is located on the first floor. We found the wait staff to be highly attentive and personable.
Chardonnay Golf Club & Vineyards
is located off of Jameson Canyon Road – the main entrance almost directly across the highway from Roots Run Deep Winery. This 18-hole semi-private golf course is located among 150 acres of wine grapes including Chardonnay, Pinot Noir and Merlot (Levendi Winery uses some grapes from these vineyards). Somewhat unusual is the fact that the course is not lined with homes – but has a feel of being wide open with plenty of open space.
Because there are grapes growing near the course and parts of the property are designated as wildlife preserves, they only use organic fertilizers on the greens and water use is restricted to re-claimed water from the Napa Sanitation department.
A small golf shop is on site as is The View Bar And Grill (offering both breakfast and lunch 7-days a week) with a full bar service and both indoor and outdoor seating with views overlooking the greens. Very friendly and helpful staff. And naturally several of the Levendi wines are served here.
The wines are fairly well distributed in select markets throughout the United States. For more information, to purchase wine and or to join their wine club, visit: www.levendiwinery.com
Winemaking at Laird

Napa Wine Co/Levendi

Kona Coffee Farm
Photos coming soon!