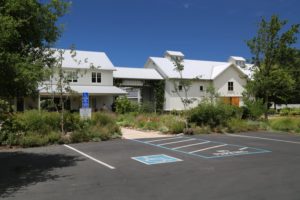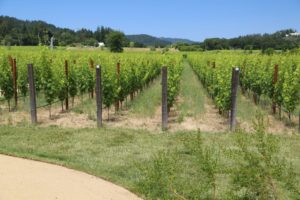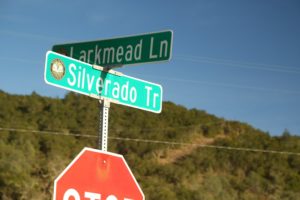 Larkmead Vineyards is a winery one doesn't often hear about even though the wines are excellent and they have a long history of producing wine in Napa Valley. In fact before Prohibition they were considered one of the four great wineries in Napa Valley along with Beaulieu Vineyard (BV), Inglenook and Beringer. To understand Larkmead one must begin with its rich history.
The original winery was built in 1884 by S.P. Connor which he called Larkmead (now home to Frank Family Vineyards and previously home to Kornell Champagne Cellars) – whose driveway is merely several hundred feet east of Larkmead's driveway. Lillie Hitchcock Coit purchased the property in 1892. The famous Coit Tower in San Francisco has the honor of being named after her as she left the city of San Francisco a considerable amount of money when she died in 1929 – Coit Tower was the city's tribute to her. The tower is in the shape of a fire hose nozzle.
Lillie's life was touched by several fires including at a hotel and a house in which she was rescued just before the roof caved in. As a result she bonded with firefighters and became the country's first female volunteer fire fighter; in addition with her socialite connections she helped raise funds and awareness for firefighters. She kept unusual habits at that time which were frowned upon simply because she was a woman – gambling, smoking cigars helping fight fires. Supposedly she even dressed up as a man and was able to sneak into the men's only Bohemian Club (an organization that is still active, reserved for men only other then select women's nights down at the clubhouse in San Francisco).
The site of the original Larkmead Estate (not winery) where Lillie used to live is now home to the Three Palms Vineyard, a fairly well known northern Napa Valley vineyard owned by Duckhorn Winery. Lillie oversaw the planting of these original three palms. At one point, Lillie's family owned some 1,000 acres in the northern part of the Napa Valley.
Visitors who walk around the back of the tasting room will see three small palms that Larkmead has planted in tribute to the original "three palms" vineyard.
The Salmina family (from Switzerland) leased the Larkmead Winery and property in 1895 and purchased the winery and vineyards in 1903 building the large stone winery in 1906 (which still exists at Frank Family). Felix Salmina, representing Larkmead Winery was one of the 7 founding members of the Napa Valley Vintners in 1944 – the other wineries represented were Beauliu Vineyard, the Napa Valley Co-op, CK Mondavi and Sons, Inglenook, Louis Martini Winery and The Napa Wine Company. The Salmina's abandoned the winery building around the start of Prohibition and 'got by' by selling grapes.
Immediately following Prohibition, winemaking resumed and during the mid 1930s to the early 1940s Larkmead was producing some of the best wines in the Napa Valley (as evidenced by numerous awards earned for their wines). After Felix Salmina died in 1940 the winery changed hands several times until 1948 when Larry and Polly Solari purchased the winery.
Larry was well connected in the world of wine – he later became CEO of United Vintners, a cooperative that owned several iconic area wineries including Italian Swiss Colony, Inglenook and Beaulieu Vineyard. He was also Executive Director of Heublein (a large producer and alcoholic beverage distributor) and eventually was Chairman of the Wine Institute.
Current Three Palms Vineyard (owned by TSG Consumer Partners, Duckhorn)

Coit Tower, San Francisco

In what changed the course of history for the original winery property, a doctor's falsely diagnosed Larry with cancer at age 39. What was a grim prognosis spurred him to sell the Larkmead Winery property in 1952 (although he kept the vineyards for his family) and continued to sell grapes to other wineries. Two years later he received another diagnosis for a bill of clean health – learning that he never had cancer. After receiving this news he began building a new winery in the 1950's on site of the existing Larkmead Winery estate.
Still under Solari ownership, Larry and Polly's daughter, Kate Solari Baker and her husband Cameron (Cam) currently oversee the operations with the third and fourth generations also now involved. Their continuous family ownership since 1948 makes this property among some of the longer owned pieces of land in the Napa Valley by one family. Despite having made some wine in the mid 1980s, 1997 was their first modern-day vintage, a Cabernet Sauvignon overseen by consulting winemaker at that time, Paul Hobbs.
Besides jointly running Larkmead Vineyards with Cam, Kate also is an accomplished artist who works with pastel landscapes and oil paintings. She used to maintain a studio in Sausalito next to the Clipper Yacht Harbor and surrounding marina (home to numerous sailboats). Primarily self taught – Kate has also taken classes at the College of Arts and Crafts in Oakland and attended a Masters Class in Santa Fe with former UC Davis professor and well-known landscape artist Wayne Thiebaud. Kate also created the posters for Auction Napa Valley in 1995 and 2010.
And in 2019 Larkmead Vineyards donated $200,000 to the University of Davis Library to help preserve and digitize the work of Professor Emeritus Harold Olmo – noted for his work in viticulture and numerous travels around the globe doing research. Dr. Olmo used part of the Larkmead property to conduct a clonal selection trial of Cabernet Sauvignon in 1939.
—
The winery has other intriguing historical connections. Robert Louis Stevenson and his wife came to the Napa Valley in 1880 to celebrate their honeymoon – they ended up staying some two month and would often visit Larkmead Vineyards. Their time in the Napa Valley is chronicled in his book, The Silverado Squatters. And in 1915 the Panama-Pacific International Exposition was held in San Francisco on the grounds of where the current Palace of Fine Arts is located. Held to celebrate the completion of the Panama Canal but also to showcase San Francisco's recovery after the great 1906 earthquake, one of the exhibits was on wine – Larkmead took home 5 medals for their wines including three golds.
When the train tracks used to run up to Calistoga, the northernmost depot was located on what is now the site of Calmart – a stop south of Calistoga was called Larkmead Station (long since gone) and was located near the winery. The northern part of the train tracks were shortsightedly removed in the 1970's; the tracks currently end on the Charles Krug Winery property with the old metal rails running almost to Deer Park Road through the vineyards and are currently only used by the Wine Train offering food & wine experiences from the city of Napa to St. Helena.
Hospitality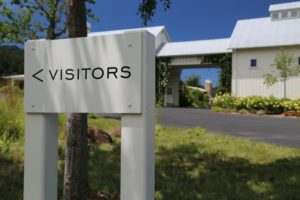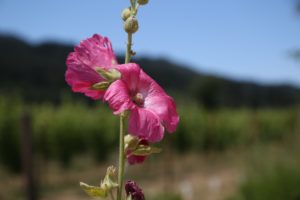 The chic tasting salon and winery, including an expanded barrel room were completed between 2006 and 2014 – these were designed by noted wine country architect Howard Backen. The tasting salon space does not feature a gift shop, blasting music, or food. Rather, an experience is about enjoying the wine and learning about the properties' history and related stories. Visitors can either taste at the counter or weather permitting on their back porch overlooking the vineyards. Ask to see some of their older vintage bottles – one on display dates from 1915 and still contains the original label.
A visit here is strictly by appointment often attracting collectors and those who intentionally seek out wineries "off the beaten path".
Select Wines
Larkmead Vineyards produces high quality award-winning wines – which during the early 2000s were quite reasonably priced as compared to similar caliber wines on the market (although in recent years the prices have gone up significantly). Less common then one might think, Larkmead only produces wines from grapes growing in their own vineyards (they own 110 acres of vines). Their wines are made in limited supply and their wine making efforts focus on the wine varieties that grow in their vineyards.
How many Napa wineries make a Tocai Friulano from Napa vineyards…we have tried only a handful from the 1000+ Napa based wineries and producers visited with to date. This variety is originally from northern Italy – only about 1 acre of their estate is planted to very old vines of this variety. One might almost confuse Tocai Friulano with Sauvignon Blanc as each varietal has some similar characteristics. The 2007 Larkmead Vineyards Tocai Friulano was only their second release; it presents pretty floral notes followed by flavors of pear and citrus on the palate. This wine offers a pleasing balance between fruit and viscosity. Fortunately they produce this wine every year but in such limited production so it is highly allocated.
Larkmead also produces a Sauvignon Blanc; the 2006 Larkmead Vineyards Sauvignon was already highly rated at the time of our tasting. Our favorite red is the "Firebelle" Merlot/Cabernet Sauvignon blend. The 2005 Larkmead Vineyards Firebelle has a very elegant nose with delicious flavors of cherry and mocha. Its texture feels good on the palate; it is very supple with an elegant softness – and a slight smokiness on the finish.
The 2003 Larkmead Vineyards 60/40 Blend was very approachable in its youth. This wine was made in the style of Pinot Noir – no pump overs, just punch downs during the fermentation process, as a result, undergoes less maceration and finishes its barrel aging in neutral oak like their other reds. It is a light to medium bodied wine with excellent fruit characteristics including cherry along with nuances of cinnamon.
Often their wines are highly allocated and each wine is typically produced in very limited quantities.
—
Also of note: in 2008 a time capsule was buried next to the vineyards in front of the winery commemorating Larkmead's 125th anniversary. This capsule will be dug up and opened in 2028, perhaps it should be unearthed on the day the summer Olympics begin in Los Angeles for the third time. Photos, maps some "future" predictions and of course wine bottles were included in the capsule.
For more information, to join their mailing list, or wine club called the Larkmead Firebelle Society, paying homage to Lillie Hitchcock Coit, visit: www.larkmead.com
Exterior

Vineyards

Hospitality Space