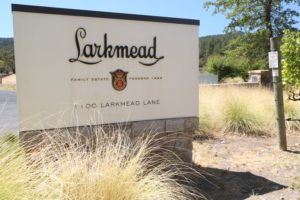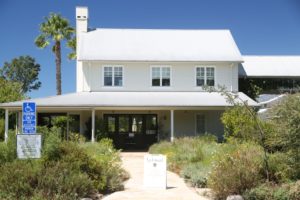 Larkmead Vineyards is a winery one doesn't often hear about even though the wines are excellent and they have a long history of producing wine in Napa Valley. In fact, before Prohibition, they were considered one of the four great wineries in Napa Valley along with Beaulieu Vineyard (BV), Inglenook and Beringer. To understand Larkmead one must begin with its rich and often very confusing history due to the fact the winery has had many owners over the decades and has been located on two different properties (both on Larkmead Lane).
The original roots of Larkmead Winery date to 1884 when Simon P. Connors purchased a small amount of land from the previous owner George Tucker (son of Reason Tucker who was well known for leading a rescue expedition of the Donner Party in the Sierra Nevada mountains) and built a stone cellar that was initially used for storing wine – which he called the Connor Winery. This tiny section of the valley was already known as Larkmead (as there was an existing stop on the Southern Pacific Railroad called Larkmead Station). The area was known for its abundance of meadow larks (birds).
In 1887 S.P. Connors sold his property and winery (but no wine) to French born Mrs. Adele C. Furniss and a business partner – although Adele became sole proprietor after about one year. The transaction was 3 acres for $10 at the time according to a clipping in the Napa Daily Journal from June 23 of that year. This had to have been one of the earliest woman winery/cellar owned properties in Napa Valley and perhaps the first woman who purchased a Napa winery outright. Beginning in 1883 Furniss also owned 25 acres of land with a vineyard off of Diamond Mountain Road in what is now the Diamond Mountain appellation near Wallis Estate Winery. She called her winery and estate, Esperanza Villa (roughly meaning the town of hope) – her winery was built in the early 1890s. Reference Hannah Weinberger, JC Weinberger Winery 1883 and Josephine Tychson, Freemark Abbey, 1886 – both early Napa Valley women winery owners who inherited their winery properties after their husbands died.
The original Larkmead property was much later home to Kornell Champagne Cellars and currently is home to Frank Family Vineyards – whose driveway is merely several hundred feet east of the current Larkmead Winery driveway. According to historian Charles Sullivan in his book Napa Wine, A History – in 1888 the Connor Winery became known as the Larkmead Cooperative (presumably the name change came as a result of the sale the prior year to Mrs. Furniss who elected to rent out the space rather than produce her own wine). Wine was made here with grapes purchased from a number of growers in the valley including a man named Dr. Charles Hitchcock and his wife Martha who owned 1,000 acres of property in this part of the Napa Valley – first purchased in 1873. Their holdings included both valley floor and hillside land including what was called Bothe's Paradise Park (since 1961 known as Bothe State Park) the site of the family home called Lonely. The family-maintained vineyards, orchards and kept horses. And Charles made wine or had wine made for him – a reference to 200 gallons of wine produced under his ownership was in an article dated November 16, 1877, in the St. Helena Star. The first vintage the family bottled was from 1876, a white wine bottled under the "Lillie" brand.
According to an article in the September 27, 1889, issue of the Napa Register, grape pickers on Lillian Coit's ranch (mentioned in the article as also being referred to as the Hiscock ranch) were cooking food in the open air when winds carried sparks to nearby grass and the fire soon rapidly spread. The article describes this as one of the most disastrous field fires in years indicating that, "it looked as if at one time it would sweep the whole valley". The article estimates that hundreds of people were fighting the flames which ultimately burned 1,500 acres between Calistoga and St. Helena.
Hitchcock's daughter was the famous Lillie Hitchcock Coit. The iconic Coit Tower in San Francisco has the honor of being named after her as she left the city of San Francisco a considerable amount of money when she died in 1929 – Coit Tower was the city's tribute to her (opened and was dedicated in 1933, incidentally the same year as Prohibition ended). However, we are of the mind that Coit Tower should be renamed to Hitchcock Tower in honor of Lillie's maiden name (her husband was Howard Coit, a prominent member of the San Francisco Stock and Bond Exchange – they separated in 1880). The tower is in the shape of a fire hose nozzle. It did play a visual role in another Hitchcock creative contribution (no immediate family relation) – Alfred Hitchcock's iconic film, Vertigo – but he wanted Coit Tower to be in the film representing a phallic symbol.
A statue is also located in nearby Washington Square honoring San Francisco firefighters at Lillie's bequest. Those interested in learning a bit more about Lillie's contributions to the SFFD can visit the San Francisco Fire Department Museum (limited hours) located at 655 Presidio Ave. They also have the original firefighting Knickerbocker Engine Co. No. 5 (which played such a prominent role in her life).
Lillie's life was touched by several fires including at a hotel and a house in which she was rescued just before the roof caved in. As a result, she bonded with firefighters and became the country's first female volunteer fire fighter; in addition, with her socialite connections (and they were with the who's who of San Francisco along with some prominent overseas individuals) she helped raise funds and awareness for firefighters.
She kept unusual habits at that time which were frowned upon simply because she was a woman – gambling, smoking cigars and helping fight fires. Supposedly she even dressed up as a man and was able to sneak into the men's only Bohemian Club – an organization that is still active, reserved for men only other then select women's nights down at the clubhouse in San Francisco and at The Grove in Monte Rio.
While fires certainly were a big part of her life an incident in 1903 involving a shooting left equally an important imprint in her life. A distant cousin-in-law who was noted for bouts of insanity after an injury sustained in a mugging broke into her apartment room of the original Palace Hotel in San Francisco (founded 1875, was rebuilt in 1909 after the earthquake and is still in business). Lillie was visiting with a family friend when this cousin (who was supposedly drunk) shot the family friend intending to kill Lillie – and was about to shoot at Lillie again but he apparently realized the seriousness of his actions and fled the room. Such was Lillie's fear of this cousin (despite the fact he was later locked up in an insane asylum – she moved to Europe in 1904 for some 20 years and only returned to San Francisco once he had died. Soon after she returned, she suffered a debilitating cerebral hemorrhage (left her paralyzed and unable to speak) – she lived out the remaining 4+ years of her life this way.
Current Three Palms Vineyard (owned by TSG Consumer Partners, Duckhorn)

Coit Tower, San Francisco

Over the years Lillie has been the subject of a number of books (she even wrote her own cookbook). And a May 11, 1947, article in the Lansing Journal references director and screenwriter Robert Riskin plans to that year produce a film about Lillie's life. But through additional research, we have not been able to find any other sources indicating the film was actually made. Hello Hollywood: maybe it's time to revive this idea?
The site of the Hitchcock family home (off of the Silverado Trail roughly across the highway from Dutch Henry Winery and only about a mile airline or less from the current Larkmead Winery) where Lillie used to live and where her father died in 1885 is now home to the Three Palms Vineyard, a fairly well-known northern Napa Valley vineyard owned by TSG Consumers/Duckhorn Winery. And although Lillie had already passed on and her Napa Valley property no longer under Hitchcock family ownership – fire still touched her heritage; this home burned down in the 1930s and was never rebuilt. Lillie oversaw the planting of these original three palms at the home site – two of the original palm trees remain and a third one was later planted to replace one of the dead ones. In an homage to these three palm trees, the current Larkmead Vineyard is planted to three small palms just north of the tasting room.
One can further their reading about Lillie by picking up a copy of Firebelle Lillie, The Life and Times of Lillie Coit of San Francisco by author Helen Holdredge or the book Recollections of Lillie Hitcock Coit published in 1935 by family and personal friend Floride Green and A Salon at Larkmead by Drew Sparks and Sally Kellman, an excellent compilation of some of Martha Hitchock's journal entries from the period of 1875 through 1895.
Lillie Hitchock Mausoleum, Cypress Lawn Cemetery Colma

—
Larkmead has other intriguing historical connections. Robert Louis Stevenson and his wife came to the Napa Valley in 1880 to celebrate their honeymoon – they ended up staying some two months and would often visit Larkmead Vineyards. Their time in the Napa Valley is chronicled in his book, The Silverado Squatters. And in 1915 the Panama-Pacific International Exposition was held in San Francisco on the grounds of where the current Palace of Fine Arts is located. Held to celebrate the completion of the Panama Canal but also to showcase San Francisco's recovery after the great 1906 earthquake, one of the exhibits was on wine – Larkmead took home 5 medals for their wines including three golds.
When the train tracks used to run up to Calistoga, the northernmost depot was located on what is now the site of Calmart – a stop south of Calistoga was called Larkmead Station (long since gone) and was located near the winery. The northern part of the train tracks was shortsightedly removed in the 1970s; the tracks currently end on the Charles Krug Winery property with the old metal rails running almost to Deer Park Road through the vineyards and are currently only used by the Wine Train offering food & wine experiences from the city of Napa to St. Helena.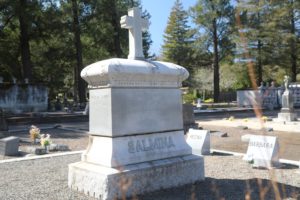 The Italian speaking Salmina family (from Locarno, Switzerland) leased the Larkmead Winery and property in 1895 (considered Larkmead's founding date although we have found old newspaper references to the Salmina family starting Larkmead in 1892) and purchased the winery and vineyards in 1902 building the large stone winery in 1906 (which still exists at Frank Family). Three years later a fire most likely caused by a problem with a chimney, burned down the handsome two-story residence on the property including destroying some 22,000 gallons of wine and various oak barrels. The Salmina's also operated a distillery on the property and at one point owned some 30 acres of vineyards in Conn Valley. And besides his own winery, Felix Salmina was very involved in other causes including as the president of the apparently short-lived Swiss and Italian McKinley and Hobart Club of Napa County in the mid 1890s, part of a committee to help restore the Bale Grist Mill in the 1920s and President of the Napa Valley Wine Industry in the 1930s.
Elmer Salmina (son of the family patriarch Felix), representing Larkmead Winery was one of the 7 founding members of the Napa Valley Vintners in 1944 – the other wineries represented were Beaulieu Vineyard, the Napa Valley Co-op, CK Mondavi and Sons, Inglenook, Louis Martini Winery and The Napa Wine Company.
The Salmina's abandoned the winery building around the start of Prohibition and 'got by' through selling grapes. And through marriage, the Salminas were connected to the long-time farming family in the valley, the Morosolis (not to be confused with the Morisoli family in Rutherford). Along with his brother-in-law Battista, Felix Salmina also helped build and operate the old wooden William Tell Hotel in St. Helena in 1878. Remarkably this building is still standing – located at 1228 Spring Street.
Immediately following Prohibition, winemaking resumed and during the mid 1930s to the early 1940s Larkmead was producing some of the best wines in the Napa Valley (as evidenced by numerous awards earned for their wines). After Felix Salmina died in 1940 the winery changed hands several times until 1948 when Larry and Polly Solari purchased the winery.
Larry was well connected in the world of wine – in the 1940s was very active in the Lodi Wine Guild and later was CEO of United Vintners, a cooperative that owned several iconic area wineries including Italian Swiss Colony, Inglenook and Beaulieu Vineyard. He was also Executive Director of Heublein (a large producer and alcoholic beverage distributor) and eventually was Chairman of the Wine Institute.
In what changed the course of history for the original winery property, a doctor falsely diagnosed Larry with cancer at age 39. What was a grim prognosis spurred him to sell the Larkmead Winery property in 1952 (although he kept the vineyards for his family) and continued to sell grapes to other wineries. Two years later he received another diagnosis for a bill of clean health – learning that he never had cancer. After receiving this news, he began building a new winery in the 1950's on site of the existing Larkmead Winery property.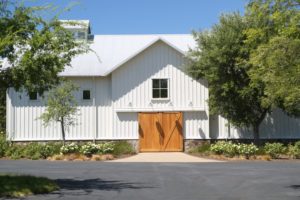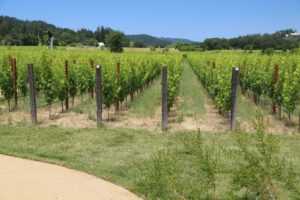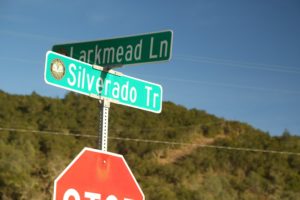 Still under Solari ownership, Larry and Polly's daughter, Kate Solari Baker currently oversee the operations with the third and fourth generations also now involved. Kate's husband David Cameron, a Stanford University graduate and former mayor of Belvedere in Marin County, died in 2023. Their continuous family ownership since 1948 makes this property among some of the longer owned pieces of land in the Napa Valley by one family. Despite having made some wine in the mid 1980s, 1997 was their first modern-day vintage, a Cabernet Sauvignon overseen by consulting winemaker at that time, Paul Hobbs.
Besides running Larkmead Vineyards, Kate is also an accomplished artist who works with pastel landscapes and oil paintings. She used to maintain a studio in Sausalito next to the Clipper Yacht Harbor and surrounding marina (home to numerous sailboats, and a marina we have sailed to and from many times). Primarily self-taught, Kate has also taken classes at the College of Arts and Crafts in Oakland and attended a master's class in Santa Fe with former UC Davis professor and well-known landscape artist Wayne Thiebaud. Kate also created the posters for Auction Napa Valley in 1995 and 2010 and some of her pieces are hanging in the tasting salon.
In 2019 Larkmead Vineyards donated $200,000 to the University of Davis Library to help preserve and digitize the work of Professor Emeritus Harold Olmo – noted for his work in viticulture and numerous travels around the globe doing research. Dr. Olmo used part of the Larkmead property to conduct a clonal selection trial of Cabernet Sauvignon in 1939.
Warm Weather Variety Vineyard
And in 2020, Larkmead finished planting a 3-acre plot (on the west side of the winery), featuring a number of 'warm weather' varieties – as part of a 21-year vineyard plan to ascertain which varieties perform well in this part of the valley. The impetus for this vineyard block was the fact that temperatures keep increasing every year – and they have noted their harvest dates have tended to be earlier than in years past. And in the last 20 years, people have been pushing the extremes with vineyard sites – merely based on the fact that they can do so.
During a visit to fairly northern vineyards in Skåne, Sweden (winemakers there told us that compared to 50 years ago they now have 3 to 4 more weeks growing time both due to warming temperatures and hybrid varieties). And during a Napa Valley focused visit to South America, including to Salta in northern Argentina we saw some of the highest vineyards in the world – the envelope keeps getting pushed, now there are vineyards even higher than in Argentina, growing in China.
The Larkmead 'experimental' vineyard is planted to a number of varieties including Aglianico, Charbono, Chenin Blanc, Petite Sirah, Syrah, Tempranillo, Touriga Nacional and Zinfandel. Over the years, Larkmead may further propagate and eventually make wine commercially from varieties that do particularly well here. And of course, test the market with these new wines through their existing customers.
—
Hospitality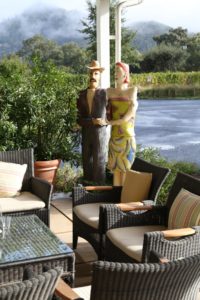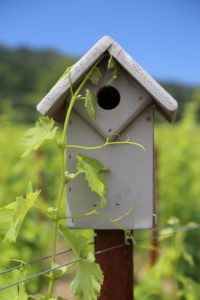 The chic tasting salon and winery, including an expanded barrel room were completed between 2006 and 2014 – these were designed by noted wine country architect Howard Backen. The tasting salon space does not feature a gift shop, blasting music, or food. Rather, an experience is about enjoying the wine and learning about the properties' history and related stories.
Visitors can either taste at the counter or weather permitting on their back porch, or in the garden area overlooking surrounding vineyards. And guest can walk over to the nearby vineyards if time permits.
A visit here is by appointment often attracting collectors, serious wine enthusiasts and those who intentionally seek out wineries "off the beaten path". Ask to see some of their older vintage bottles – one on display dates from 1915 and still contains the original label.
Select Wines
Larkmead Vineyards produces high quality award-winning wines – which during the early 2000s were quite reasonably priced as compared to similar caliber wines on the market (although in recent years the prices have gone up significantly, and arguably, so has the quality). Less common than one might think, Larkmead only produces wines from grapes growing in their own vineyards (they own 110 acres of vines). They use approximately 1/3 of their grapes for the Larkmead wines and sell the remainder for various producers. Total production generally ranges between 6,000 and 7,000 cases annually.
Tocai Friulano is an obscure variety in the Napa Valley – we have only tried this wine several times out of the 1,100+ Napa Valley based wineries and producers visited with to date. This variety is originally from northern Italy; only about 1 acre of their estate is still planted to some of these vines which date from around 1930. This head-pruned vineyard block is located on their property on the other side of Larkmead Lane but unfortunately wine has not been made from these vines since 2016 (since these vines are no longer able to produce balanced wines and the required amounts of acid). One might almost confuse Tocai Friulano with Sauvignon Blanc as each variety has some shared characteristics.
The 2019 Larkmead Vineyards Tocai Friulano is a blend of 84% Tocai Friulano and 16% Sauvignon Blanc. This wine was made from younger vines behind the winery that were planted in 2013. Shows citrus blossom aromas on the bouquet along with lemongrass, gooseberry, kiwi, lemon/lime zest and as the wine opens further, reveals a sweet floral note including of honeysuckle and jasmine. Very balanced across the palate with a memorable texture that is rounded and creamy starting mid palate through to the finish. As the wine warms up this texture becomes almost saline/briny in its feel. They produce this wine every year but in such limited production that it remains highly allocated to club members – along with being available for tastings at the winery. Only 145 cases were produced in 2019.
Firebelle is one of their most popular red wines – paying homage to Lillie Hitchcock Coit. The 2017 Larkmead Vineyards Firebelle is a blend of 70% Merlot and 30% Cabernet Sauvignon; offers slightly savory aromatics including notes of dried herbs along with ripe plum. As the wine opens further shows some dessert spices including clove. Balanced with great acidity – mouthwatering. More black fruit then red fruit shows on the palate. Lingers with darker spices including cracked pepper and finer but still very firm and tightly woven tannins in its youth. Noteworthy is the fact that this is the first ever vintage of Firebelle that is a blend of only Merlot and Cabernet Sauvignon.
The 2005 Larkmead Vineyards Firebelle is a blend of 48% Merlot, 40% Cabernet Sauvignon, 9% Cabernet Franc and 3% Petit Verdot. We tasted this wine 17 years post vintage. Its color has become more brickish brown; the bouquet offers aromas of damp soil, tar, a meatiness, sweaty leather, dark plums, white pepper, black licorice and darker baking spices. One would not be wrong by calling its aromatics savory although as the wine evolves in the glass it becomes less savory and more of the fruit and the baking spices that were initially hiding, opens up. This wine is smooth and supple across the palate with the tannins very well resolved by this age. Offers flavors of cooked blackberry, plums and black cherry and lingers with a note of dried tobacco leaf.
The 2003 Larkmead Vineyards 60/40 Blend is very approachable in its youth (we tasted this during one of our earliest visits to Larkmead Vineyards). This wine was made in the style of Pinot Noir – no pump overs, just punch downs during the fermentation process, as a result, experienced less maceration and finishes its barrel aging in neutral oak like their other reds. It is a light to medium bodied wine with excellent fruit characteristics including red cherry along with nuances of cinnamon on the palate.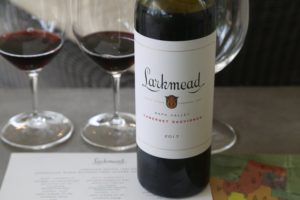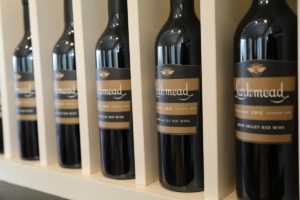 The Larkmead Wines are often referred to as the 'black labels', showcasing wines that are 100% varietal, are generally harvested from older vines and are from specific soil influenced vineyard blocks. While the Vineyard Wines are blends, harvested from multiple sections throughout their vineyard.
Larkmead produces a 100% varietal Cabernet Sauvignon each year in tribute to Dr. Olmo. The 2016 Larkmead Vineyards Dr. Olmo is dark ruby in color – sports extremely attractive aromatics of both fruit and some desert spices. Aromas of both plum and blackberry are complemented nicely by darker dessert spices and hints of dried tobacco leaf. We generally use the word, 'balance' to describe a wine's characteristics on the palate – but this bouquet also has balance – with no sharp aromatic edges. The wine's density is immediately noticeable – plush on the entry but complex and layered mid palate through to the finish. Lingers with chewy tannins that have a noticeable grip. Very well structured. Great acidity. And very age worthy.
The 2016 Larkmead Vineyards Solari is another 100% varietal Cabernet Sauvignon. Shows aromas of espresso and mocha with nuances of milk chocolate – framed with an underlying core of plum. Also toasted cedar. A full-bodied wine with layers of flavor and structure. Big and age worthy. No patience to age this beauty? Drink it young and consume with a steak. Offers the most broadly distributed and long-lasting tannins of any of the wines we tried during our latest visit. The power of this wine is in both its balance and its complexity.
—
Also of note: in 2008 a time capsule was buried next to the vineyards in front of the winery commemorating Larkmead's 125th anniversary. One of our visits was soon after this capsule was buried (time capsules tend to be forgotten quickly but for some reason we always think of this whenever we visit the winery).
This capsule will be dug up and opened in 2028, perhaps it should be unearthed on the day the summer Olympics begin in Los Angeles for the third time. Photos, maps some "future" predictions and of course wine bottles were included in the capsule. We hope Larkmead Vineyards will invite us to the unearthing of this capsule.
For more information, to schedule an appointment, to join their mailing list or wine club called the Larkmead Firebelle Society, visit: www.larkmead.com
Exterior

Vineyards

Hospitality Space

Books