Kuleto Estate Winery. One word sums up this unique and gorgeous winery location – best defined simply by the word wow. The property is among some of Napa Valley's most picturesque winery locations. The views are excellent overlooking the surrounding hillsides as well as part of Napa Valley proper in the distance. Visually, it also doesn't hurt to be able to look down upon the picturesque Lake Hennessey.
Kuleto Estate was founded by restaurateur Pat Kuleto, a well-known interior designer of more then 200 restaurants including what might be his most iconic restaurant in San Francisco, the Fog City Diner. For a number of years, Pat was living in the Sierra Nevada foothills and commuting into San Francisco. This was a significant commute and after his home in Calaveras County was destroyed by a fire he decided to move closer to the San Francisco Bay Area.
In 1991 on a helicopter flight over the Napa Valley he spotted this 'remote' piece of property. He purchased this site the next year, nearly 800 hillside acres – subdivided into more than 100 unique vineyard micro-blocks. The winery is located at nearly 1600 feet surrounded by steep slopes planted to a diversity of varieties ranging from Pinot Noir (planted at the lower elevations) to Cabernet Sauvignon and Syrah. All wines made here are from the estate. Total production is usually around 7,000 cases each year. Some of their larger production wines are distributed but the wines offered at the estate are not.
The winery opened in 2001 – a short walk away is the beautiful Villa Cucina, a 6,000 square foot house that Pat designed and lived in for many years. Pat owned the entire property until he sold his majority interest in Kuleto Estate to Foley Wine Estates in 2009 (keeping the house and 600+ acres of land). In 2015 Pat sold 600+ acres to vintner, Judy Jordan, (founder of J Vineyards & Winery in neighboring Sonoma County). And in 2019 Pat sold the final piece of his original property – Villa Cucina and several acres of vineyards.
Kuleto Estate is one of three wineries in the Napa Valley owned under the Foley Estates wine group (the other being Merus Winery and Foley Johnson). Proprietor William Foley II and his wife Carol Johnson Foley also own wineries in neighboring Sonoma County and on California's Central Coast. Bill graduated from West Point in 1967 and later earned his law degree from the University of Washington in 1974. Long since invested in a diversity of businesses – wine is only one of his passions. Today he is Executive Chairman of the Board of Directors for Fidelity National Financial Inc.
He is also owner and founder of the Las Vegas Golden Knights National Hockey team. And in 2018 the team shocked the world of hockey fans by making it all the way to the Stanley Cup Finals in their first year.
Along with putting his stamp on the interior design of hundreds of restaurants, over the years Pat Kuleto has co-founded or owned a number several prominent restaurants. He still co-owns several active restaurants in San Francisco – which we have dined at and highlight directly below (note, these restaurants are not owned by Foley Wine Estates):
BOULEVARD

This popular restaurant opened in 1993 and is located on the corner of The Embarcadero and Mission Street (1 Mission Street) just down from the Ferry Building. This is a coveted location with plenty of vehicle and foot traffic. During a recent visit we spent over 30 minutes simply trying to find a parking spot within a 1/5 mile radius of the restaurant – the 'nearby' parking garages were all full. Recommended is the valet parking in front of the building on the Embarcadero side.
This brick building is very historic – built in 1889 it survived both the San Francisco earthquake of 1906 and the immediate aftermath of the fires that raged in the city for three days. Has housed a number of notable businesses over the years and individuals including poet Lawrence Ferlinghetti. Incidentally former mayor of San Francisco, Willie Brown Jr. maintains an office in this building. Walking down to the bathrooms on the lower floor, one passes numerous awards, certificates and recognition that the BOULEVARD has earned over its 2+ decades in business. And one can note the vintage 'porn' images on the walls in the men's bathroom.
An open or exhibition kitchen (one of Kuleto's signature touches) is located in the center of the restaurant where patrons can watch their meals being prepared. The interior feels like walking back in time to some extent – with a culinary selection that is contemporary. Open for lunch and dinner – known for their creative seasonal starter plates along with both seafood and meat based main courses.
EPIC STEAK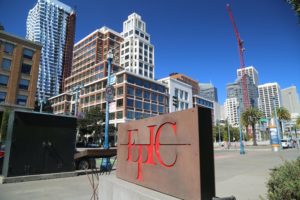 Located along the Embarcadero (San Francisco's waterfront built around the Pier terminals which number from 1 to 70 (with not all numbers represented at physical piers). Both indoor and semi-outdoor dining available on their patio. On a clear late summer or fall **warm** San Francisco day it doesn't get much better then this – eating on the edge of the Embarcadero walkway overlooking the waterfront and the lengthy span of the San Francisco Bay Bridge watching beautiful people stroll by in the sunlight.
Pat Kuleto is a partner and designer of the interior of the restaurant (founded 2008). Their focus is on steak but all the menus including the brunch menu have numerous non steak items to choose from. The wild caught Dungeness Crab Louie is delicious (found on their brunch menu). Plenty of items to choose from for non stead eaters including seafood. Open for lunch and dinner.
The wine list is impressive both with international and domestic wines (including plenty of representation from the world famous Napa Valley). A brand EPIC that Celia Welch produced along with input from the restaurant's wine director is also served (today EPIC is the flagship wine of Napa Valley's Yount Ridge Vineyards). And there are wines on the list meant to impress – some of Napa's most coveted and exclusive wines including Abreu, Colgin and Scarecrow among others are listed.
Quiver Bar is located upstairs with even better views of the Embarcadero. Private dining options are also available.
FARALLON
A visit and notes coming soon.
WATERBAR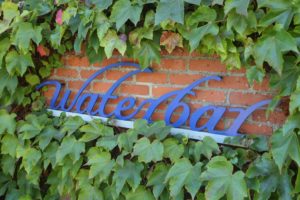 Seafood lovers take note. Located overlooking part of the San Francisco Bay, the Embarcadero Waterfront and the picturesque profile of the San Francisco Bay Bridge – this is a restaurant meant to satisfy one's culinary cravings and simultaneously impress with the beautiful views on clear days.
Opened in 2008, Waterbar is located directly next door to Epic Steak (separated by a walkway), the focus of the cuisine is on seafood. Features creative interior design by Pat Kuleto (also a partner in this restaurant). Includes a cascading oyster bar and several intriguing floor to ceiling aquariums. Speaking of oysters, their list is impressive with oysters from both California and other domestic locations as well as from several international regions. A daily featured oyster special is always offered. They have served millions of oysters over the years. Brunch, lunch and dinner menus available.
Like their neighboring restaurant, the wine list here is equally as impressive both with international and domestic wines (including plenty of representation from the world famous Napa Valley). And there are wines on the list meant to impress – some of Napa's most coveted and exclusive wines including Diamond Creek, Opus One and Staglin among others are listed. And if you come here for the alcohol – be sure to take a seat at their impressive bar.
—
While the winery is "off the beaten path" it is only about a 15-20 minute drive from the Napa Valley floor – timed from the Silverado Trail and the junction of Highway 128. However visitors often underestimate the time to reach the winery (and late arrivals are quite common) – from the valley floor the roads are narrow and windy, compounded by the fact that at times trucks hauling boats use this road because it provides access to Lake Berryessa further to the east.
Once vehicles enter the main gate using the gate code (provided at the time the appointment is made) or use the little CB Radio to call to the actual winery, visitor's will drive about 1.5 miles to the winery perched on the edge of a high ridge. Speeds are much reduced on this private road due to the fact it is extremely narrow and windy. Several mirrors are strategically located to help one see oncoming traffic around blind curves. Sometimes if a vehicle is heading down, the staff will inform anyone arriving at the gate to either wait or proceed with extra caution (especially if it is a stretch limousine or a large SUV).
At the end of the road several small parking areas are available – however note due to the restricted size of these lots – parking is at a premium here.
Tours (as of our latest update to this review are only offered on the weekends) used to linger poolside in front of the estate – this is one of the premiere 'moneyshots' on the property. Unfortunately tours no longer stop here, rather they visit a nearby vineyard overlook of Lake Hennessy. This is a working ranch and one will often see rabbits, sheep, chickens and other farm animals on the property. An organically grown garden is also located on site supplying all the produced for their cooking classes.
During our first visit we were fortunate to be able to spend some time lounging around Pat's pool. The pool literally seems to end at a cliff and where the water ends, the sky begins – when the fog rolls in here, it is truly a walk in the clouds. When its clear as it often is – it seems as if one is perched on the edge of the world watching nature's scene unfold below. When we were sitting here dreamily sipping excellent wine a wine dog walks over and someone in the group noted, "oh the dog has brought us some wood" – the host then stated, "nope its just another dried frog".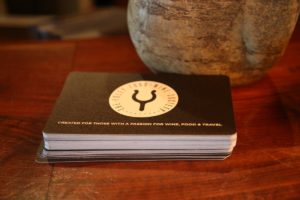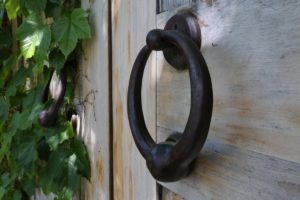 Visiting the pool aside, today arguably the highlight of the tour is the scenic overlook next to one of the vineyards. Visitor's will pause under stately oaks and drink wine looking out over the Napa Valley far below. After the tour guests will return back to the winery and enjoy a number of wines – weather permitting outside on one of their long tables paired with several cheeses, fruits and nuts. A gourmet chef's kitchen is located upstairs as well as beautifully furnished rooms.
Select Wines
Kuleto makes a noteworthy Sangiovese. Also worth reaching out for is their Cabernet Sauvignon and Zinfandel. Their "lightest" wine is the Rosato which is a blend of several types of grapes. Kuleto Estate also produces a Moscato and port-style wine in extremely low quantities which which often means that these particular wines sell out quickly.
Updated tasting notes coming soon.
—
When folks invariably ask us for special proposal spots in the Napa Valley (at wineries one can actually get into with or without an appointment), we often mention Kuleto Estate. In fact, now they even offer a "proposal package".
Over the years, the Kuleto Estate annual release parties earned an epic reputation – during one of our visits we were told one party was hosted for 500 people. Access to their wine club provides numerous benefits including complimentary tastings at any of the other 16 wineries within the Foley Wine Estates portfolio. And parts of the property can also be rented out for private events. For more information or to schedule a tasting, visit: www.kuletoestate.com
The Road Signs of Kuleto

Estate Property

Vineyards

Older Photos, Poolside