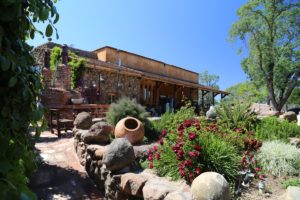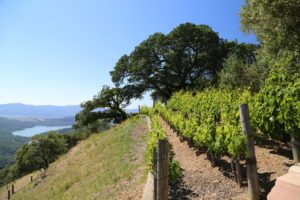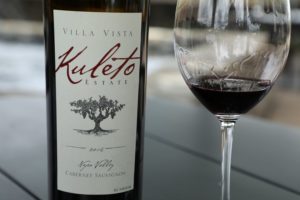 Kuleto Estate Winery. One word sums up this unique and gorgeous winery location – best defined simply by the word wow. The property is among some of Napa Valley's most picturesque winery locations. The views are excellent overlooking the surrounding hillsides as well as part of Napa Valley proper in the distance. The picturesque Lake Hennessey far below the property only adds to the visual ambiance.
NOTE: since the fires of 2020, Kuleto Estate has been closed for tastings. A moveable plastic sign informs visitors of this at the bottom of their driveway. Tastings for Kuleto wines are currently hosted at Foley Johnson Winery until further notice.
Kuleto Estate was founded by restaurateur Pat Kuleto, a well-known interior designer of more than 200 restaurants including what might be his most iconic restaurant in San Francisco, the Fog City Diner. For a number of years, Pat was living in the Sierra Nevada foothills and commuting into San Francisco. This was a significant commute and after his home in Calaveras County was destroyed by a fire, he decided to move closer to the San Francisco Bay Area.
In 1991 on a helicopter flight over the Napa Valley he spotted this 'remote' piece of property. He purchased this site the next year, nearly 800 hillside acres – subdivided into more than 100 unique vineyard micro-blocks. The winery is located at nearly 1500 feet (the gate at the bottom of their driveway is around 350 feet in elevation) surrounded by steep slopes planted to a diversity of varieties ranging from Chardonnay and Pinot Noir (planted in cooler sites at the lower elevations) to Cabernet Sauvignon and Syrah. Total production is usually around 7,000 cases each year.
The winery opened in 2001 – a short walk away is the beautiful Villa Cucina, a 6,000 square foot house that Pat designed and lived in for many years. Pat owned the entire property until he sold his majority interest in Kuleto Estate to Foley Wine Estates in 2009 (keeping the house and 600+ acres of land). In 2015 Pat sold 600+ acres to vintner, Judy Jordan, (founder of J Vineyards & Winery in neighboring Sonoma County). And in 2020 Pat sold the final piece of his original property – Villa Cucina and accompanying land including vineyards.
Kuleto Estate is one of four wineries in Napa Valley owned under the Foley Estates wine group: the others are Foley Johnson, Merus Winery and Silverado Vineyards. Proprietor William Foley II and his wife Carol Johnson Foley also own wineries primarily in neighboring Sonoma County and on California's Central Coast – over 20 wineries or brands are under the Foley Estates wine group ownership. Bill graduated from West Point in 1967 and later earned his law degree from the University of Washington in 1974. Long since invested in a diversity of businesses – wine is only one of his passions. Today he is Executive Chairman of the Board of Directors for Fidelity National Financial Inc.
He is also owner and founder of the Las Vegas Golden Knights National Hockey team. And in 2018 the team shocked the world of hockey fans by making it all the way to the Stanley Cup Finals in their first year.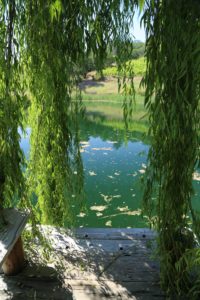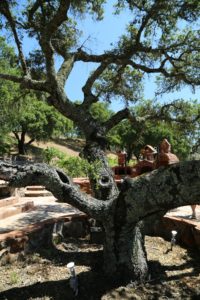 While the winery is "off the beaten path" it is only about a 15-20 minute drive from the Napa Valley floor – timed from the Silverado Trail and the junction of Highway 128. However, visitors often underestimate the time to reach the winery (and late arrivals are quite common) – from the valley floor the roads are narrow and windy, compounded by the fact that at times trucks hauling boats use this road because it provides access to Lake Berryessa further to the east.
Once vehicles enter the main gate using the gate code (provided at the time the appointment is made) or use the little CB Radio to call to the actual winery, visitors will drive about 1.5 miles to the winery perched on the edge of a high ridge. Speeds are much reduced on this private road due to the fact it is extremely narrow and windy. Several mirrors are strategically located to help one see oncoming traffic around blind curves. Sometimes if a vehicle is heading down, the staff will inform anyone arriving at the gate to either wait or proceed with extra caution (especially if it is a stretch limousine or a large SUV).
With very limited space surrounding the winery, parking is at a premium (only several small parking spaces are located here).
As of our latest update to this review, tours may only be offered on the weekends – check with the winery for current availability. Tours used to linger poolside in front of the estate – this is one of the premium 'money shots' on the property. Unfortunately tours no longer stop here, rather they may visit a nearby vineyard overlook of Lake Hennessy. This is a working ranch, and one may see rabbits, sheep, chickens and other farm animals on the property. An organically grown garden is also located on site supplying all the produced for their cooking classes.
During our first visit we were fortunate to be able to spend some time lounging around Pat's pool. The pool literally seems to end at a cliff and where the water ends, the sky begins – when the fog rolls in here, it is truly a walk in the clouds. When it's clear as it often is – it seems as if one is perched on the edge of the world watching nature's scene unfold below. When we were sitting here dreamily sipping excellent wine a wine dog walks over and someone in the group noted, "oh the dog has brought us some wood" – the host then stated, "nope it's just another dried frog."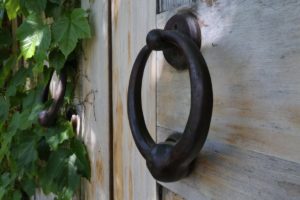 While visitors no longer have access to the house or the pool – there are still impressive views from the fountain outside the winery overlooking their vineyards and nearby hillsides. Also, plenty of oak trees grow around the winery; Pat only removed one oak tree to build the winery (some of its wood was used in the interior). Visitors will taste the wines inside a small hospitality room next to the winery or outside on one of the wooden tables located under a trellis. Be sure to try their triple-filtered well water.
Note the stone columns next to the trellis – Pat discovered these at a church in Mexico (near one of his homes) and brought them to the property. A gourmet chef's kitchen is located upstairs as well as several beautifully furnished rooms. And as of our latest update to this review, eight pizza ovens are located around select parts of the property.
Several ponds are located several hundred feet below the winery – these are connected to each other by a series of locks that Pat had installed. A wooden boat (built without the use of nails) can move between each of the ponds through the series of locks.
Select Wines
All wines bottled under Kuleto Estate are grown on the property – some of their wines are held back an extra year or two before being released. Kuleto Estate typically only distributes two wines, their Chardonnay and Cabernet Sauvignon while the remainder of wines are sold direct through visits to the property or through wine club memberships. The focus of their winemaking is to showcase the fruit while simultaneously showing a restraint on the amount of new oak used during aging. Total production is usually around 7,000 cases each year.
The 2019 Kuleto Estate Homestead Block Chardonnay is medium to darker golden in the glass; the bouquet offers a diversity of scents including of yellow peach, apricot, nectarine, ripe pineapple and a honeyed note. One would not be incorrect in calling its aromas, sweetly fruited. The palate offers a rounded and velvety texture with flavors of melon, honeycomb and various stone fruits. The ripeness on the bouquet is also echoed on the palate. This wine lingers with a richness of both flavor and accompanying acidity. One of the hosts who poured this wine for us recommended it pairs very well with a variety of Indian and Southeast Asian foods.
The 2015 Kuleto Estate Homestead Block Chardonnay is a very thoughtfully made wine; this wine was originally made for club members. It was entirely barrel fermented, 20% in new French oak and the remainder in once used barrels. About 30% of this vintage was remarkably fermented for a short while on the skins and the stems. Only 20% of this wine went through malolactic fermentation. One immediately notices its prominent dark yellow amber color in the glass – the color might lead one to think this is a very oaky and buttery Chardonnay, but that is not the case. Offers bright aromatics including honeysuckle, honeycomb and notes of lemon meringue. The texture is soft but complemented nicely with bright acidity including flavors of citrus. Lingers with a slight tartness; this is a very unique Chardonnay, well worth seeking out and one that can be aged for a few years.
The "lightest" Kuleto Estate wine is the Rosato which is a blend of several grape varieties (always differing percentages and or varieties depending on the year) but always fermented and aged in stainless steel tanks. The 2018 Kuleto Estate Rosato is 51% Merlot and 49% Zinfandel. Noticeably dark pink the wine shows aromas of watermelon jolly rancher, raspberry, hints of vanilla and a very subtle dried rose petal nuance. It is rounded and soft across the palate with an intensity of flavor along with decent acidity.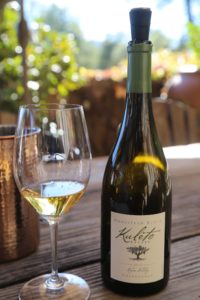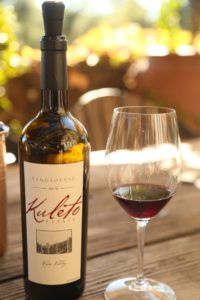 The 2016 Kuleto Estate Sangiovese shows bright red-fruit aromatics on the bouquet including cherry and strawberry. Also complemented with baking spices and aromas of rhubarb pie. Immediately noticeable on the palate is the mouthwatering acidity – savory from start to finish with very finely integrated tannins. A great food wine.
The 2016 Kuleto Estate Pinot Noir. Immediately evident is this is not a style of Pinot Noir from much cooler coastal environments such as Fort Ross-Seaview in neighboring Sonoma County or some of the Pinot Noirs from the Willamette Valley in Oregon. This is hillside grown Pinot Noir and both the bouquet and palate strongly reflect its growing site. Fruit forward aromatics with some sweet notes, slightly earthy with notes of fig and old cedar box. Also, blackberry. And as the wine breathes hints of mocha and chocolate show. Not a lighter style offering of this varietal – rather offers plenty of layers of flavor on the palate including plum and dried cranberry – with a noticeable grip of tannins that linger on the finish along with white pepper and other darker spices. This is perhaps a Pinot Noir for Cabernet Sauvignon enthusiasts.
The El Coyote is predominantly Cabernet Sauvignon but often has small percentages of Syrah and Malbec as part of the blend. The 2014 Kuleto Estate El Coyote shows hints of cigar smoke, ripe plum and blackberry and an aromatic fruit driven sweetness. Slightly savory. Also, a diversity of baking spices, brown sugar, toffee and chocolate. Features very pretty aromatics. Holds the palate on the finish in a firm grip of tannins – long lasting with darker spices including black pepper.
Kuleto Estate also produces a dry Moscato and port-style wine in extremely low quantities which often means that these particular wines sell out quickly.
—
When folks invariably ask us for special proposal spots in the Napa Valley (at wineries one can actually get into with or without an appointment), we often mention Kuleto Estate. In fact, at one point they offered a "proposal package".
Over the years, the Kuleto Estate annual release parties earned an epic reputation – during one of our visits we were told one party was hosted for 500 people. Access to their wine club provides numerous benefits including complimentary tastings at any of the other 16 wineries within the Foley Wine Estates portfolio. And parts of the property can also be rented out for private events. For more information or to schedule a tasting, visit: www.kuletoestate.com
The Road Signs of Kuleto

Estate Property

Vineyards

Older Photos, Poolside

Along with putting his stamp on the interior design of hundreds of restaurants, over the years Pat Kuleto has co-founded or owned a number several prominent restaurants. He still co-owns several active restaurants in San Francisco – which we have dined at and highlight directly below.
Note that these restaurants are not owned by Foley Wine Estates.
BOULEVARD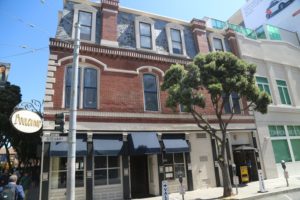 This popular restaurant opened in 1993 and is located on the corner of The Embarcadero and Mission Street (1 Mission Street) just down from the Ferry Building. This is a coveted location with plenty of vehicle and foot traffic. During a recent visit we spent over 30 minutes simply trying to find a parking spot within a 1/5-mile radius of the restaurant – the 'nearby' parking garages were all full. Recommended is the valet parking in front of the building on the Embarcadero side.
This brick building is very historic – built in 1889 it survived both the San Francisco earthquake of 1906 and the immediate aftermath of the fires that raged in the city for three days. Has housed a number of notable businesses over the years and individuals including poet Lawrence Ferlinghetti. Incidentally former mayor of San Francisco, Willie Brown Jr. maintains an office in this building. Walking down to the bathrooms on the lower floor, one passes numerous awards, certificates and recognition that the BOULEVARD has earned over its 2+ decades in business. And one can note the vintage 'porn' images on the walls in the men's bathroom.
An open or exhibition kitchen (one of Kuleto's signature touches) is located in the center of the restaurant where patrons can watch their meals being prepared. The interior feels like walking back in time to some extent – with a culinary selection that is contemporary. Open for lunch and dinner – known for their creative seasonal starter plates along with both seafood and meat based main courses.
EPIC STEAK

Located along the Embarcadero (San Francisco's waterfront built around the Pier terminals which number from 1 to 70 (with not all numbers represented at physical piers). Both indoor and semi-outdoor dining available on their patio. On a clear late summer or fall **warm** San Francisco day it doesn't get much better than this – eating on the edge of the Embarcadero walkway overlooking the waterfront and the lengthy span of the San Francisco Bay Bridge watching beautiful people stroll by in the sunlight.
Pat Kuleto is a partner and designer of the interior of the restaurant (founded 2008). Their focus is on steak but all the menus including the brunch menu have numerous non steak items to choose from. The wild caught Dungeness Crab Louie is delicious (found on their brunch menu). Plenty of items to choose from for non steak eaters including seafood. Open for lunch and dinner.
The wine list is impressive both with international and domestic wines (including plenty of representation from the world-famous Napa Valley). A brand EPIC that Celia Welch produced along with input from the restaurant's wine director is also served (today EPIC is the flagship wine of Napa Valley's Yount Ridge Vineyards). And there are wines on the list meant to impress – some of Napa's most coveted and exclusive wines including Abreu, Colgin and Scarecrow among others are listed.
Quiver Bar is located upstairs with even better views of the Embarcadero. Private dining options are also available.
FARALLON

Located on Post Street only 1/2 block from the heart of San Francisco's famed shopping district, Union Square. Parking is metered along Post Street for blocks or in one of several nearby parking garages. Closed on Sundays and Mondays. Opens at 430pm the rest of the week. Opened in 1997 and named after the nearly uninhabited Farallon Islands (only a few researchers live here) located about 25 miles west of San Francisco in the Pacific Ocean. The interior of the restaurant is sizable and spans multiple rooms and dining spaces. Like at the other Kuleto owned restaurants in San Francisco, there is an open kitchen.
The restaurant is organized into three unique sections – the Jellyfish Lounge located towards the front of the restaurant featuring an oyster and a raw bar, private dining – located upstairs features three uniquely decorated rooms (all with an underwater theme) and several smaller private-dining spaces and The Pool Room – the primary dining room, impressive looking due to its unique vaulted ceilings.
The focus of the food here is seafood, mimicked by the creative interior decor including glass jellyfish that hang from the ceiling and octopus looking tentacles that line some of their ceiling lights. Two floors of dining. Especially popular during their happy hour, during several visits we have been among those lined up on the sidewalks prior to the doors opening. First in line, has seating privileges including the coveted one and only window seat in a small room in the front of the restaurant.
The Jellyfish Happy Hour (from 430 until 6pm) includes a variety of cocktail options – especially popular are their oysters, ceviche and salads. The dinner menu is seafood centric.
The restaurant features an excellent wine list organized by new and old-world selections with a sommelier on staff. Farallon also is the site of the annual PinotFest, featuring Pinot Noir from approximately 50 excellent producers in both California and Oregon – winemakers or winery owners are typically present for this event.
WATERBAR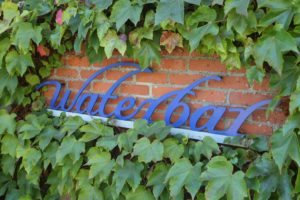 Seafood lovers take note. Located overlooking part of the San Francisco Bay, the Embarcadero Waterfront and the picturesque profile of the San Francisco Bay Bridge – this is a restaurant meant to satisfy one's culinary cravings and simultaneously impress with the beautiful views on clear days.
Opened in 2008, Waterbar is located directly next door to Epic Steak (separated by a walkway), the focus of the cuisine is on seafood. Features creative interior design by Pat Kuleto (also a partner in this restaurant). Includes a cascading oyster bar and several intriguing floor to ceiling aquariums. Speaking of oysters, their list is impressive with oysters from both California and other domestic locations as well as from several international regions. A daily featured oyster special is always offered. They have served millions of oysters over the years. Brunch, lunch and dinner menus available.
Like their neighboring restaurant, the wine list here is equally as impressive both with international and domestic wines (including plenty of representation from the world-famous Napa Valley). And there are wines on the list meant to impress – some of Napa's most coveted and exclusive wines including Diamond Creek, Opus One and Staglin among others are listed. And if you come here for the alcohol – be sure to take a seat at their impressive bar.