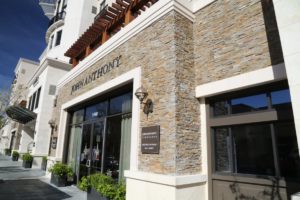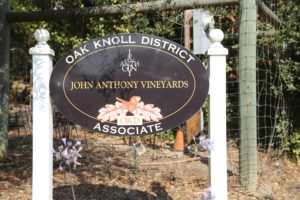 John Anthony Vineyards opened their first ever tasting room in downtown Napa in early July 2010. They are in a prime location, near many restaurants and directly next door to the luxurious Andaz hotel. The simple but luxurious appointed tasting room is a rarity in the Napa Valley in that they are open until 2am every day of the week! With both a tasting bar and sit down options this already has been the go to place for both visitors and locals alike. Despite the late closing time, this is not a bar, it is a pleasant and chic place to hang out in the evenings and drink good wine.
If you are lucky you will be able to meet with the owner, John but he also manages a major Chardonnay + other wine brand called JAM Cellars and is in charge of two decently sized vineyard management companies and spends much of his time in the vineyards. He and his wife Michele have been producing wine commercially since their 2003 vintage. John is the son of Tony and JoAnn Truchard; they are pioneer's in the Carneros district and first planted grapes in the area in 1974 (when John was two years of age).
John originally went to UC Davis as often is the case with sons and daughters of Napa winemaking families. His intent was to major in Enology but he soon changed to Economics – as he says, "you have to know how to sell wine". True, that part can be the most difficult part of the wine equation for small producers.
In any case his passion is with the vineyards – while in college he started "knocking on doors" as he puts it and soon started managing small pieces of vineyard acreage. He then began leasing land and planting various grape varieties. He recalls doing this very cheaply with minimum costs. Today his wine is made from vineyards he manages. Most of the vineyards that are sourced for their wine are located in the southern part of the Valley including Carneros and the Oak Knoll AVA's. John likes long hang times in this cooler climate – the fruit ripens slowly and retains its acidity letting the "greenness" drop out (although with the wonderful 2010 growing season, all bets are off).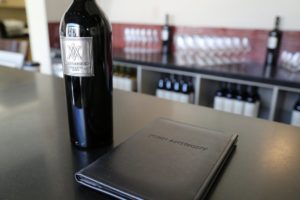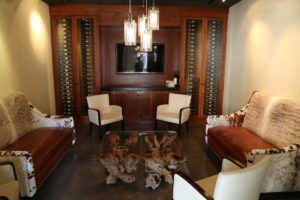 The first non commercial release was nicknamed "Blues Booz" and featured their dog on the label. Making a smart business decision he gave away a number of cases to spread the word however upon realizing that he could only give so much away to friends and family he was still left with most of his production. The next vintage turned out even better and at this point he decided to sell commercially.
The first commercial vintage was 2003. John hired well-known winemaker Alison Doran who crafted their wine for several years. She was hired in part because of her expertise with creating both old and new world wines. She trained under one of "the masters" who later became her mentor – Andre Tchelistcheff. She started working with him as a harvest intern at Simi Winery in the late 1960's. Later, Rob Lloyd was John Anthony's winemaker for several years (who was also a partner with John in his vineyard management company).
John Anthony's Sauvignon Blanc has already received excellent press and scores from notable publications and has a flavor profile that will appeal to those who can appreciate drinking this variety by itself, say as a summer sipping wine or pre dinner wine. The palate is balanced, clean and rounded and packs a bunch of fruit flavor from the start to the finish. The 2009 shows lots of tropical notes including white pineapple and honeysuckle on the bouquet. There is no bitterness or citrusy notes that you sometimes find on the finish – like the palate, the finish is very clean.
While working with the vintage variances each year, John Anthony strives for consistency, a wine that their customers will come back to again and again because they know the quality and flavor profile. Their Cabernet Sauvignon has already been well-recognized, one year it was ranked in a top 25 Cabernet Sauvignon list released by the Wine Spectator.
Their 2006 Cabernet Sauvignon (primarily Coombsville fruit) is a winner. The bouquet is quick to reveal aromas of black fruit including fig with a palate that shows cherry and black licorice. Their 2007 Syrah features 3 clones and is a soft velvety wine with a rounded mouth feel. Notes of dusty chocolate are found on the supple finish. Ripe fruit, ripe tannins. John Anthony even offers a late harvest Sauvignon Blanc dessert wine.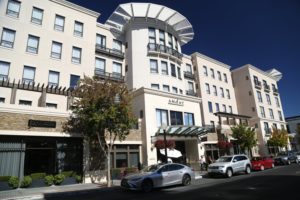 Art from local well known artist Gordon Heuther is on display. Gordon has his own gallery just north of town and his artwork is also displayed at Artesa winery.
Look for another label available to taste on site called JAM Cellars. This is a cleverly assigned name for two reasons, first it is the initials of John Anthony combined with the initial of his wife's first name, Michele and second these wines are a bit like desert and or slightly jammy. They typically have some residual sugar left, are all from Napa sources and are very reasonably priced. We have a much more extensive review of JAM Cellars, listed on this website.
For those looking for a more educational John Anthony experience, check out their vineyard tours. Visits begin in the tasting room and then proceed to two of their vineyards (both in the southern part of the valley – each a short drive from the tasting room (Carneros and the Oak Knoll District). Once at the vineyards, the host will provide information about vineyard management practices and other important information relating to growing grapevines. Also see www.jamcellars.com for more details.
For every bottle of wine purchased in the tasting room John Anthony donates $1 to the V Foundation for Cancer research.
NOTE: John Anthony opened the JAM Cellars tasting room on the same block as this tasting room (on the other size of Andaz Hotel) in mid May 2016.
For more information or to join their wine club, visit: www.johnanthonyvineyards.com