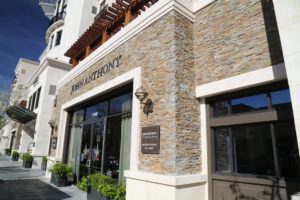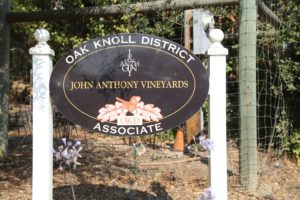 John Anthony Vineyards opened their first tasting room in downtown Napa in early July 2010. The space is in a prime location, located near many restaurants and directly next door to the luxurious Andaz Hotel. The simple but well-appointed appointed tasting room is a rarity in Napa Valley in that they are open later than most tasting rooms – until 10pm or 12am on select days. With both a tasting bar and sit-down options, and a great location, this space has become one of the go-to downtown tasting rooms for both visitors and locals alike. Despite the later closing time, this is not a bar, it is a pleasant and chic place to hang out, especially in the evenings and drink good wine.
Art from local and well-known artist Gordon Heuther is sometime on display in the tasting room. Gordon maintains his own gallery a few minutes' drive northeast of downtown and his artwork is also displayed at Artesa winery.
Guests sometimes will meet the owner, John Anthony Truchard in the tasting room but this is more of a rarity as John is involved in numerous vineyard and winemaking projects including JAM Cellars, Butter Wines and Serial Wines among other brands. He and his wife Michele have been producing wine commercially for John Anthony Vineyards since their inaugural 2003 vintage. John is the son of Tony and Jo Ann Truchard; his parents are pioneers in the Carneros district and first planted grapes in the region in 1974 (when John was two years of age) for Truchard Vineyards.
John originally went to the University of California Davis, as often is the case with sons and daughters of Napa Valley winemaking families. His intent was to major in Enology but he soon changed to Economics. As he told us, "You have to know how to sell wine." True, that part can be the most difficult part of the wine equation for small producers and is a primary reason why so many small brands fail in the first few years of their business.
John's passion is in the vineyards – while in college he started "knocking on doors" as he puts it, and soon started managing small vineyard sites. He then began leasing land and planting various grape varieties. He recalls doing this very cheaply with minimum costs. Most of the vineyards that are sourced for the John Anthony Vineyards bottlings are located in the southern part of Napa Valley including Carneros, Coombsville and Oak Knoll District. Fruit for the John Anthony Vineyard wines are from a combination of both vineyards under their ownership as well as vineyards he manages or has close relationships with the owners. John prefers long hang times in these cooler climate parts of the valley, letting the fruit ripen slowly and retaining its acidity by allowing the "greenness" to drop out.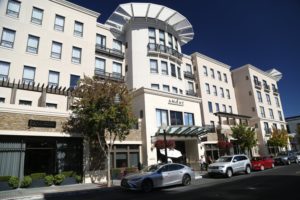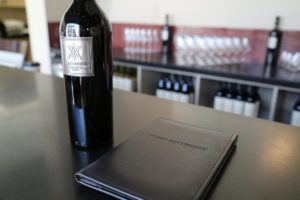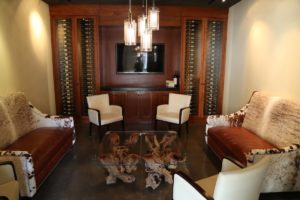 The first noncommercial release of John Anthony Vineyards was nicknamed "Blues Booz" and featured their dog on the label. Making a smart business decision he gave away a number of cases to spread the word about their new wine, however upon realizing that he could only give so much away to friends and family he was still left with most of his production. The next vintage turned out even better and at this point he decided to sell commercially.
John initially hired well-known winemaker Alison Doran who crafted their wine for several years. Alison was born and raised in the Los Angeles area and began her career in winemaking in 1973 as a harvest intern working at Simi Winery in Sonoma County which her father had purchased in 1969. André Tchelistcheff was hired as a consultant for Simi Winery; Alison spent time working with and learning from him. She has a degree in winemaking from UC Davis and later worked in Alsace, France and at several wineries in California's Central Coast. Later, Rob Lloyd was John Anthony's winemaker for several years but is no longer involved in their winemaking (Rob was also a partner with John in his vineyard management company).
While working with the vintage variances each year, John Anthony strives for consistency, a wine that their customers will come back to again and again because they know the quality and flavor profile will always over deliver. Their Cabernet Sauvignon has already been well-recognized, one year it was ranked in a top 25 Cabernet Sauvignon list released by the Wine Spectator. A diversity of wines are bottled under several designations AVA Series (wines from vineyards in a single sub appellation), Single Vineyard, Reserve (a barrel selection of the best lots of wines each year), and The One, a single barrel of the best Cabernet Sauvignon, only bottled in exceptional years.
Select John Anthony Vineyards Wines
The 2019 John Anthony Church Vineyard, Carneros Napa Valley Sauvignon Blanc (primarily made with the Musqué clone) is medium yellow in color; offers attractive aromatics that are partly floral and partly tropical in nature. Shows aromas of mango, honeysuckle, hibiscus, yellow pineapple and baked apple. The texture is creamy, almost saline in its feel. Not green, not grassy; it is not the noted leaner style often associated with New Zealand wines from this variety. Rather the flavors embrace California's sunshine and its resulting attributes. Clocks in with higher alcohol at nearly 15% with resulting flavors more tropical including of pineapple, passion fruit and ripe pineapple guava. Lingers with a rich finish showcasing the intensity of the fruit but complemented nicely with a zing of acidity. This wine went through 40% malolactic fermentation and was barrel aged for three months.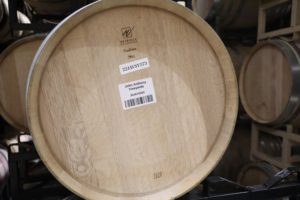 Over the years John Anthony's Sauvignon Blanc has received excellent press and scores from notable publications and has a flavor profile that will appeal to those who can appreciate drinking this variety by itself, often as a summer sipping wine or pre-dinner. The 2009 John Anthony Vineyards Sauvignon Blanc shows plenty of tropical notes including white pineapple and honeysuckle on the bouquet. The palate is balanced, clean and rounded and packs an intensity of fruit flavor from the start to the finish. There is no tartness or citrus-driven notes that one sometimes finds on the finish of this variety – the finish is very clean.
The 2019 John Anthony Napa Valley Chardonnay is deep golden in color; offers a nice diversity of aromas including margarine, crème Brule, pineapple, almond, vanilla, some dessert spice nuances deeper into the aromatics and ripe Crane Melon (reference the Crane Melon Farm in neighboring Sonoma County). Creamy and velvety, the palate is complemented with lively acidity which balances out the slightly viscous texture. Offers flavors of mandarin, butter, dried orange peel, vanilla and some toasted oak notes. This is a very rich showing with persistent flavors on the finish. This wine was aged 8 months in 100% American oak: 80% was new and 20% neutral.
The 2019 John Anthony Reserve Chardonnay is a special limited production barrel selection wine. It is a representation of the best barrels of Chardonnay produced each year. It was fermented with indigenous yeast and barrel fermented. This wine stands out and so does its packaging; every bottle comes with a pewter label. The wine is golden in color with the bouquet showing honeysuckle, pineapple and jasmine – all aromatics that play well together along with a complement of vanilla and a hint of margarine. One immediately notices the richness and intensity of fruit across the palate with flavors of apple, citrus, melon and a note of coconut. Its texture is rounded, but not creamy. This is a balanced but big showing of Chardonnay. Lingers with a noticeable brightness. This is a Chardonnay for serious white wine collectors.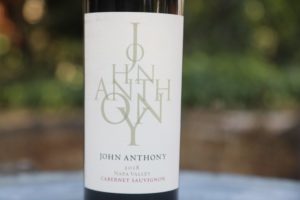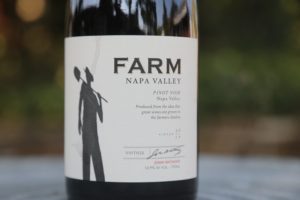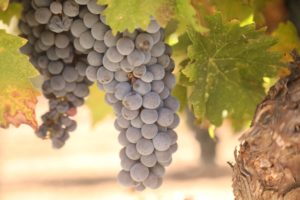 The 2018 John Anthony Vineyards Napa Valley 100% varietal Cabernet Sauvignon is deep ruby in color; shows ripe fruit including blackberry and plum, both of these aromas are complemented nicely with notes of sweaty leather, violets, dark chocolate, Graham cracker and an Asian five-star spice component. Also offers a hint of tobacco smoke. The wine is juicy and mouthwatering across the palate, with flavors of plum, blackberry and black licorice. The finish shows darker spices including notes of cracked peppercorn. The tannins are earthy and drying with a gravelly texture and a medium to heavier grip which persists for quite some time on the finish.
The 2017 John Anthony Vineyards Twisted Oak Vineyard Cabernet Sauvignon is from a hillside vineyard along Dry Creek Road in the far western reaches of the Oak Knoll District; this vintage was the first ever vineyard designate wine from this site bottled by John Anthony. The wine is dark ruby with aromas of darker fruits including plum and an Indian spice note. As it continues to evolve in the glass, offers aromas of mocha and espresso. The wine is mouthwatering and juicy across the well-layered palate with flavors of red cherry and currant. The tannins are robust and linger along with a red fruit brightness for some time. This wine clearly has plenty of life ahead of it. It was fermented in 100% new French oak and then barrel aged for 28 months.
Their Cabernet Sauvignon wines have a proven track record of aging. The 2006 John Anthony Vineyards Napa Valley Cabernet Sauvignon is a good example of this; we tried this wine 15 years after its vintage date. This wine is 100% varietal with fruit coming from 6 vineyards. The wine is dark ruby in color; offers ripe blackberry and boysenberry aromatics framed by notes of dark chocolate, clove, hints of cinnamon and various other baking spices. The intensity of fruit still shows, despite its age with flavors of dark cherry and plum. Offers a medium grip of rounded chalk-like tannins. The finish is bright, lingering with both red and darker fruits and dried tobacco leaf. This wine still has more life ahead of it. And it should be noted that we tasted from a magnum rather than a 750ml bottling.
The 2016 John Anthony Reserve Syrah (don't see many reserve Syrah bottlings in Napa Valley) offers dark fruit including black cherry, blackberry, black licorice and plenty of baking spices including clove and cardamom. Also notes of warm bread. A sweetness of licorice, ripe blackberry, fig and raspberry show across the palate. This wine offers some jam-like characteristics and is certainly on the riper side. The tannins are dense but not course in texture, rather are more supple and chalk-like. Remarkably only a single barrel of this wine was produced – sourced from the Crane Vineyard in Oak Knoll District. This is a beautiful bottling that was already sold out at the time of our tasting.
John Anthony sometimes produces a late harvest Sauvignon Blanc dessert wine, the most recent vintage at the time of our update to these notes was from 2011.
OTHER JOHN ANTHONY FAMILY-OWNED WINE BRANDS
FARM Napa Valley focuses on wines produced from small Napa Valley based vineyards that John Anthony and his team personally farm and manage. This vineyard sites range from American Canyon in the south to Calistoga in the north. Wines produced under this label include Chardonnay, Pinot Noir and Cabernet Sauvignon. The logo on each bottle is an outline of the shadow of a farmer carrying a shovel. These wines can also be tasted or purchased directly from the tasting room.
The 2017 FARM Napa Valley Pinot Noir is pale to medium ruby in color; shows an intense bouquet with aromas of black raspberry, white pepper, and rose stems and a hint of vanilla. Also, some old cedar box notes. Its aromatic presentation is initially somewhat savory, although give this wine some time and the aromatics show more fruit and desert spice sweetness as it evolves in the glass. On the palate the wine offers flavors of licorice, strawberry and cherry cola. The tannins are noticeable with an earthy note and a light grip. Lingers with a subtle hint of dried tobacco flavor and some darker spices along with primarily red fruits including cranberry.
JAM Cellars is a cleverly assigned name for two reasons; first it is the initials of John Anthony combined with the initial of his wife's first name, Michele and second these wines can be slightly jammy. They typically have some residual sugar left, are sourced from select sites through California including Napa Valley and are extremely reasonably priced. The JAM Cellars tasting room is located on the other side of the Andaz Hotel, a less than a minute walk from the John Anthony tasting room. See our much more extensive review of JAM Cellars, also reviewed on this website.
JaM Cellars has also been a prominent supporter of BottleRock Napa Valley (the annual music festival in May) and they initially were associated with the JaM Cellars ballroom on the second floor of the Napa Valley Opera House.
Weather Wines focuses on California Pinot Noir crafted in a Burgundian style sourced from select vineyards in southern Napa Valley, Sonoma County, from the Russian River Valley and the Sonoma Coast appellations. What was the fruit source for the Farm Napa Valley Pinot Noir eventually transitioned into being bottled under the Weather label. This fruit source for this wine is from a vineyard near Eagle Vines Golf Course along Highway 12.
The 2019 Weather Wines Pinot Noir is medium ruby in color; the bouquet offers bright red fruit including cranberry and other red berries and rhubarb. A sweetness of fruit is also evident including red licorice. This is a balanced offering with flavors of raspberry, wild strawberry and sweet and ripe red cherry. The tannins are integrated, earthy and linger with a noticeable brightness of acidity.
Wishlist Wines are a collection of wines that John wants to make or are from vineyards he wants to source from. The inaugural vintage was a 2020 Rosé from Paso Robles.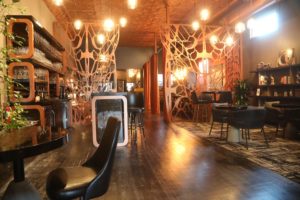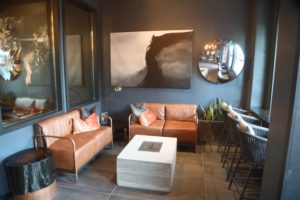 Serial Wines focuses on wines from Paso Robles with some of their initial production also coming from non-Paso Robles vineyard sources. An on-premises tasting salon was built out in 2021 in the former brick Odd Fellows (IOOF) building at 1226 Park Street (this building dates from 1922). The tasting room is located less than a block from the Downtown City Park in downtown Paso Robles with parking curbside on both sides of the street.
Serial Wines opened for tastings in March 2022 which was an appropriate opening date considering the building was built exactly 100 years prior. The space used to house a branch of Pacific Premier Bank (note the beautiful ceilings) and more recently it was a clothing and suit shop. One of the employees we met with remembers when he was in high school, he came here to get fitted for his prom suit. Original works of art hang on the walls and are images that show on the labels of some of their bottlings.
The tasting room features several spaces for guests to enjoy the Serial wines: an entry way seating located just inside the main doors, a large space with both lounge style and table seating and a couple of private rooms towards the rear of the space. F. McClintock's an iconic Central Coast restaurant used to be located next door until they closed in late 2020; the original McClintock's is located along the 101 in Shell Beach.
In 2022 the Serial tasting lounge was named one of USA Today's 10 Best New Wineries in 2022.
The first vintage of Serial Wines was from 2015. While they source the majority of grapes from other growers for their wines, as of our latest update to this review, they own two properties including in York Mountain AVA and the 108 Deseo Vineyard in the Estrella District. This vineyard was purchased in 2018 and then replanted. The first wine from this site bottled under Serial Wines was a 2022 Tempranillo and Syrah rosé blend. There are currently eleven sub appellations in Paso Robles; Serial Wines eventually wants to produce a wine from all of them and as of our latest update to this review currently makes wine from 6 of them.
Two tasting options are available at the tasting room: 1. Paso Robles AVA Tasting or 2. Paso Robles District Sub Avas and Paso Robles Vineyard Designates. Several wine club options are available as part of the Serial Collective membership.
Select Wines
The 2020 Serial Adelaida District Grenache Blanc, Paso Robles is dark golden in the glass. The aromatics show haystack and pear, and as it warms up it shows more tropical and floral including honeysuckle. This wine is very balanced with an oily like texture. It lingers with a noticeable brightness on the finish including flavors of citrus.
The 2017 Serial Red Blend Paso Robles is 50% Syrah 30% Zinfandel, 7% Grenache, 7% Petite Sirah and 6% Mourvèdre. This bottling is dark ruby in color with aromas of stewed tomatoes, black licorice and boiled rhubarb. The bouquet is also a tiny bit savory with aromas of smoked meats. It is soft across palate; one can feel the tannins, but their integration is a hallmark of this wine. One of their employees says this wine finishes like a Kashmir sweater. It shows a hint of savory meat on the finish. Offers medium acidity.
The 2018 Serial Highlands District Red Blend, Paso Robles is a blend of 66% Syrah, 20% Petite Syrah and 14% Mourvèdre. This wine is dark ruby in color and offers aromatics of nutmeg, clove and dried rose petals along with red plum and a darker spice. The finish is dark and mouthwatering, offering flavors of red cherry and currant. This wine is generous with its bright acidity; it also shows as savory with crushed pepper and old cedar box on the finish. The tannins are gravelly. This wine features loads of fruit but without being weighty.
The 2019 Serial Willow Creek District Syrah, Paso Robles is dark ruby in the glass. This wine is savory on the nose, showing grilled meats. The palate features a density of dark berry flavors including blackberry and boysenberry anchored by notes of pepper on the finish and accompanying dark gravelly tannins.
NON-WINERY NAPA VALLEY OWNED PROPERTIES
From 2017 through 2022 John and Michelle purchased several important buildings in downtown Napa and slightly outside of the city.
Beazley House
In mid 2018 John and Michelle purchased the Beazley House (built in 1905), a premium Bed and Breakfast on 1st Street (several blocks to the west of the JaM Cellars tasting room). Guests who stay here are introduced to several of their wines and receive complimentary tastings at the JaM Cellars tasting room. The previous owners operated the B&B for 35+ years – this was the city of Napa's first official B&B. It has 11 guestrooms including additional rooms in the separate from the main building and the Carriage House in the back.
Plans call for turning the Beazley House into a boutique hotel; its name is still to be determined. This renovation and upgrade project is slated to be complete by 2023. We will update our notes here once we have more details.
The Mansion Napa Valley (York House)
In early 2017 John and Michelle acquired the historic York House on Jefferson Street, in the city of Napa. Built in 1892 this Queen Anne style home is named after Napa County Judge, John P York who owned the house in the 1920s. Not open to the public, the building houses various offices and is one of the rare historic mansions downtown zoned for commercial uses. And historically this part of downtown was home to a vineyard planted in the 1850s by Napa's first 'vintner', Englishman John Patchett who operated Patchett's Grove Winery somewhere nearby on the banks of the Napa Creek (its exact location apparently has been lost over time).
Napa Valley Opera House
As of late 2021 John and Michelle fully own the 140-year-old Napa Valley Opera House on Main Street in downtown Napa. This historic opera house opened in 1880 and over the years has featured performers such as John Philips Souza and author Jack London. While opera is part of the name this genre actually composes a small percentage of performances. It has hosted performances by Steve Martin, Willie Nelson and Robin Williams among many others. A major renovation was done in the 1990s.
Today the Napa Valley Opera House is home to the Blue Note Jazz Club and the JaM Cellars Ballroom, the 650-seat theatre housed inside.
Uptown Theatre, Napa
In mid 2022 the Uptown Theatre in downtown Napa was sold by Frank Altamura to John and Michelle. This iconic art deco theater opened in 1937 and for many years was the "name in town" for movies. Slowly it declined and by 2000 the grand theater had been divided into four sections. That year a group headed by local real estate magnate George Altamura took ownership and started restoration.
The theater re-opened in 2010; we toured the inside soon after it reopened. The interior has been superbly resurrected. The Uptown is now setup for live performances; a number of seats were removed during the renovation leaving more space for current seating. Already name acts such as Rosanne Cash and Cyndi Lauper have performed here.
Church Vineyard
This church has a fairly unusual story. The vineyard site was named for a real church located among the vines in Carneros. This building was originally constructed in 1886 in Pleasant Valley, Pennsylvania and in the early 1990s when a Napa family got wind of its possible demolition, arranged for the entire church to be dismantled and then reconstructed in its current location on Thompson Road on the outskirts of the city of Napa. The inside was setup as a home and this family lived here for many years before the property was eventually sold.
The building underwent a major interior renovation and décor change in 2018, overseen by noted wine country architect Howard Backen. The inside is still visually setup as a church with pews, original stained-glass windows and a bell tower but church services are not held here.
John Anthony Wine & Spirits main office is not open to the public but is within a very short walk of both of their tasting rooms.
Total production of all wines bottled under the John Anthony Family of Wines is around 1 million cases annually with the Butter brand comprising the majority of that production. For more information or to join their wine club, visit: www.johnanthonyvineyards.com