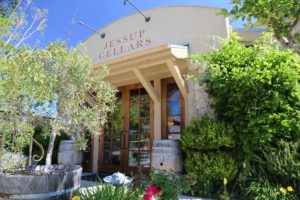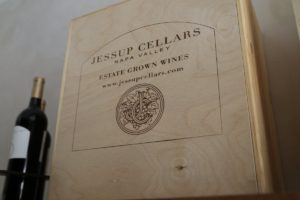 Jessup Cellars maintains a retail outlet and tasting room in the heart of Yountville on Washington Street. It is located just down the street from the famed French Laundry Restaurant – and as Yountville is a small town you can easily walk here from most of the central Yountville area. Look for the 2 wine barrels out in front. Their vineyards are on Mt. Veeder which is certainly not as easy to reach as Yountville. They recently completed their own winery and have moved all the production facilities from their old business park location to the new facility (different site from the tasting room). Jessup owns the land and vineyards for the grapes that go into all their wines with the exception of their Chardonnay.
This winery was founded in 1996 by Napa native, Mark Jessup and specializes in premium high quality wines. Mark started his Napa career at the mere age of 17 at the old Inglenook winery and in later years worked at Opus One.
Their wines are *only* sold at the tasting room, online and through their wine club. They do not distribute to wholesalers, wine shops and restaurants. Jessup has excellent Zinfandels, Cabernets and Merlots and often several vintages are available for tasting (depending on the varietal and year).
They do not filter their wines allowing them to move the wine from tank to barrel to bottle directly. This helps retain as much flavor as possible. Their only white is a Chardonnay and its not a buttery creamy style wine; Malolactic fermentation wine is not allowed to complete its course and as a result, it is a crisp clean Chardonnay.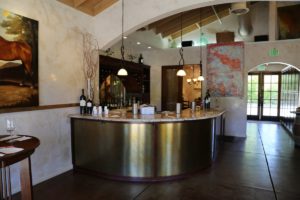 Their Cabernet Sauvignons are excellent, typically quite smooth with structured tannins on the back end. Their "Table for Four" is a very popular wine and is their only blended wine (Cabernet Sauvignon, Merlot and Petit Verdot). It is not made every year, as Jessup will only release this wine if they feel the blend is of the highest quality. The 2005 version we tried definitely has some butterscotch flavors.
Lastly be sure to try their Zinfandel Port. Zinfandel is probably the most common varietal in the Napa area used for making ports and most wineries fortify their ports with a generic spirits. Remy Martin used to have a distillery in the Napa area and when they moved Jessup purchased the rest of their high quality alcohol which they use for fortifying their Zinfandel Port – its delicious! Their earlier ports really come together and are drinking quite nice as they age very gracefully. Besides their main walk-in room, they also have a VIP room for private up to 6 people tastings as well as the Premier room for up to 14 people.
Visit: www.jessupcellars.com
NOTE: this review has been identified as needing a major update.