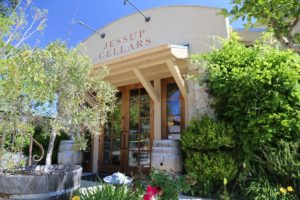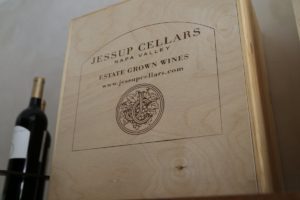 Jessup Cellars was founded in 1996 by Napa native, Mark Jessup and his wife at the time Pamela. Mark began his career in wine at the age of 17 working at the grand Inglenook Estate in Rutherford and later helped craft some of the first wines at Opus One. Their first winery was on the slopes of Mt. Veeder – looking for a space that would better allow them to see visitor's they opened a tasting room in Yountville in 2004 (incidentally this was the first tasting room in Yountville). The Jessup's are no longer involved (Mark dissolved his share of the partnership in 2008) and Pamela left in 2006. Today, Jessup Cellars is part of the Good Life Collective – a parent company that also owns Handwritten Wines and Humanitas Wines.
Jessup Cellars is one of the few multi-couples owned wineries in the Napa Valley – in this case, four couples all connected by a love of wine, friendships and various involvements in the medical and healthcare fields. Roy (a Napa Valley based perfusionist) and Cheri Eisiminger live in Napa and were one of the early investors in Jessup Cellars); after several early drop in tastings at their tasting room, we later met with their son AJ Eisiminger.
The Eisiminger's met couples Dr. Dan (a general family medicine doctor at Sanford USD Medical Center) and Becky Blue and Dr. Vance (an ophthalmologist) and Jana Thompson at a BBQ in Napa – (both couples are from Sioux Falls, South Dakota. Vance and Dan have known each other since medical school. Another couple Kelly & Jim Mazzo (an executive involved in the ophthalmic industry for many years – from Orange County, CA) became partners in 2016.
Dr. Thompson is a highly successful eye doctor having performed more then 75,000 eye corrective operations, is involved in research, is an author and continues to teach. His headquarters and original vision center are based in the southern part of Sioux Falls but as of our latest update to this review, also maintains centers in select cities in Montana, North Dakota, Nebraska and Minnesota.
Vance and Jan's son Blake is co-founder and head brewer of the popular Fernson Brewery (the name was created by combining part of his last name with the last name of his business partner, Derek Fernholz). Their beers are served at select locations throughout the state including their primary tasting room in downtown Sioux Falls and at the actual brewery. And their products are distributed throughout parts of the north Midwest.
A couple of the Jessup Cellars partners were/are minority investors in South Dakota's first commercial winery, Valiant Vineyards Winery & Distillery based in the tiny town of Vermillion (about a 60-minute drive south of Sioux Falls). This winery began operations in 1996, founded by South Dakota state wine pioneer, Eldon Nygaard and his wife Sherry.
In part, known for their 'native wine', they hand pick grapes growing in the wild from vitus riparia in locations within 2 to 6 hours from the actual winery including on an Indian Reservation. This variety often grows high into the canopy of trees – and between reaching these high grape clusters, birds and others who collect these grapes for various uses – finding enough fruit can sometimes be challenging. They produce a still wine from this and also a delicious, fortified wine, both bottled under the trademarked name, Wild Grape. They were the first winery to ever produce a wine from this variety commercially. Incidentally, the grapevine growing on the arbor over the entrance to the tasting room is vitus riparia.
Their tasting room offers a diversity of their wines and also some of their distilled products for sale including whiskey, vodka and brandy. They also offer select Fernson beers on tap. And during a virus outbreak in 2020, they pivoted somewhat using their distillery to produce a strong hand sanitizer.
—
The physical Jessup Cellars winery space is located in a business park just south of the city of Napa. Despite being in an urban setting they have creatively installed a Winery Wastewater Treatment System at the edge of their parking lot bordering Enterprise Drive. This system connects to the drains within the winery building and uses microbes to treat and break down the wastewater.
The tasting room and hospitality space (which hosts visitors by either walk-in or by appointment) is located in what locals sometimes refer to as 'NoYo" or North Yountville. It is located only a block down the street from the famed French Laundry Restaurant. Yountville is a small town, and you can easily walk here from the hotels in the center or south of town. The tasting room hosts are very well trained in the world of wine – with a number having passed the various levels of courses offered by the Wine & Spirit Education Trust (WSET). The tasting room has also room has earned top recognition from customers of Cellar Pass (a winery reservation website) for their outstanding level of customer service and wine knowledge.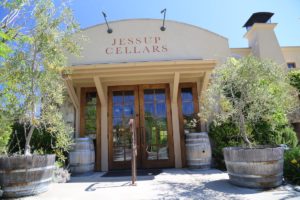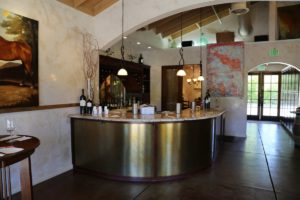 And people stop by the tasting room for wines that are reasonably priced and also to have fun, often referred by friends and family remembering the good time they had when they were in the Napa Valley. Jessup often holds events including their popular Art House Short Film days in select winter months when their wines are paired with award winning short films. And in certain summer months they hold the Art House Sessions – wines are served while guests enjoy live music.
The tasting room is still in the original location from when they opened in 2004 but they since expanded their footprint taking over the ownership of an art gallery that used to operate next door. A number of tasting spaces are available for guests including a small courtyard, a VIP private room for up to 6 people as well as the Premier Room which can seat up to 14 people.
Their wines are only sold at the tasting room, online and through their wine club. They do not distribute to wholesalers, wine shops and restaurants. Jessup Cellars produces excellent Zinfandel, Cabernet Sauvignon and Merlot and often several vintages are available for tasting (depending on the variety and year).
After years of working with a vineyard in Wooden Valley (roughly 25 minutes northeast of the city of Napa) for many years, the longtime growers and owners decided they wanted to sell part of their property. Through this relationship with the growers cultivated by long time winemaker, Rob Lloyd, the Good Life Wine Collective was able to purchase 30 acres of which 8 are planted to Sauvignon Blanc and 22 acres to various red varieties. Appropriately, they now call this the Good Life Vineyard and the grapes go into both some of the Jessup and Handwritten wines.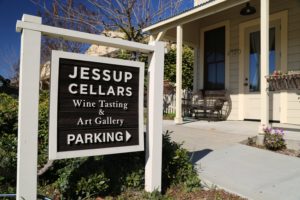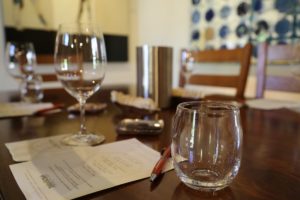 Jessup also sources grapes from various locations in the Napa Valley – including working with long time growers, the Truchard family mainly for their Chardonnay and Pinot Noir and then other up-valley locations for the heavier reds.
Select Wines
The 2016 Jessup Cellars Chardonnay is sourced from the Truchard Vineyard in Carneros. Shows pale straw color in the glass perhaps not as dark as one would think it should be based on its rich aromatic and flavor profile. It was barrel fermented in both French and American oak and went through full malolactic fermentation. Both fruit and a diversity of dessert spices show on the bouquet including notes of creme Brulé and vanilla. Rounded, almost oily in its presentation on the palate this wine shows flavors of buttered popcorn along with lingering citrus flavors on the finish. A rich texture – this is a layered Chardonnay with excellent depth of flavor.
The Table for Four wine is what AJ calls his, "wine I open to solve the world's problems with friends". This is one of their more popular wines and even incorporates a clever play on words. Four referring to the four couples and the four varieties that make up the blend of this wine. The 2013 Jessup Cellars Table for Four is fairly dark in the glass revealing aromas of ripe blackberry, red cherry and hints of mocha. Fairly supple on the entry, soon gains in complexity across the palate finishing strong with robust somewhat chewy tannins and mouthwatering acidity. We thought of pairing this with some sort of steak as soon as we tried this wine.
The 2013 Jessup Cellars Juel is named after Becky Blue's father Juel (although the name of the wine is pronounced Jewel). The name reflects his Scandinavian heritage. This Merlot dominated wine is noticeably dark in the glass (12% Petite Sirah and 8% Petite Verdot probably have something to do with its color). It offers rich aromatics – mostly dark fruit including ripe blackberry and a kiss of mocha leading to a palate with blackberry and licorice flavors. Nice feel of tannins in the mouth – a little chewy on the finish.
Jessup has made a Port-style wine since 1996. Traditionally they have called it a Port wine and were grandfathered in on being able to continue to use the name Port on the label but as respect to Porto, Portugal, starting with the 2015 vintage they changed this to a Solera-style of wine and the name of the wine to Infinite Recursion. Each new release will have at least a portion of the original vintage – which was in 2008. The brandy they use to fortify this wine is aged in neutral barrels for a full year before being added to the wine – the idea being to soften the brandy and best allow the fruit to shine. Infinite Recursion is made from Cabernet Sauvignon.
—
Chocolate lovers take note – Jessup Cellars has partnered with Napa's most well-known chocolatier, Anette of Anette's Chocolate & Ice Cream shop in downtown Napa to produce a Chocolate Tawny Sauce. Presumably this product would be good for evenings by the fire in the middle of winter up at Lake Tahoe in California's Sierra Nevada mountains. The small sip we tried was certainly quite enjoyable.
For more information and to join one of their wine clubs, visit: www.jessupcellars.com
Yountville Tasting Room

Good Life Collective Winery