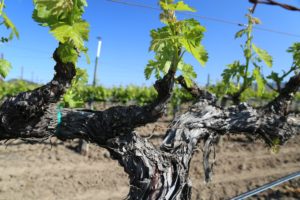 Jana Winery has been producing wines since 2003. For such a new winery they have come a long way in just a few years. The owner Scott Harvey has been making wines since the mid 1970's and he brings a lot of knowledge and wine experience to Jana wines. He owns and operates two other labels; Scott Harvey which is Amador County based and has a tasting room in the small town of Sutter Creek – and InZINerator which are Zinfandel wines geared towards a younger generation. Scott was instrumental in building Foliex a Deux Winery before they were sold to the Trinchero Family. Jana wines are named after Scott's wife.
There are only three vineyards in Napa county at press time that we know of producing Riesling and Jana Wines has access to one of those. Today only a handful of wineries make Rieslings in the Napa area. The Jana version is made in the European style as Scott was influenced by this style at a winemaking school he attended in Germany. It is a very dry wine – the unique label even shows a scale ranging from dry to sweet so you know right away what type of wine this will be. The grapes are picked at a low brix (18.5), there is great acidity and low alcohol in this wine. Their 2006 vintage has a pleasing honeysuckle nose which fills the glass and a flavors of pears and other tropical fruits coat the palate.
The 2005 Zinfandel also has a scale on the label between "judging wine" and "European" more food friendly styled wine – with the bar on this wine being close to the "judging wine" side. The grapes are from a 100+ year old vineyard. This is a rich full bodied Zinfandel with a very aromatic nose and hints of mint and black cherries. Their Cathedral wine was named for Cathedral Rock in Sedona Arizona and is primarily Cabernet Sauvignon with Petit Verdot and Cabernet Franc, although the overall blend changes every year. Their 2004 version is a very elegant European style Bordeaux blend; the fruit is not picked so ripe that the final wine is overly fruit driven. This wine has a slight hint of pyrazines which is one of the components in bell peppers and other vegetables (some people enjoy this aspect – some people may not), but in any case, it does not overpower as this wine is very well balanced.
Jana also produces the "One Last Kiss" Label, which are two wines, a Red & White. This label is a tribute to a group of wild women from Arizona who during a visit to the Napa Valley were convinced to leave their kiss marks all over a poster board. Their kiss marks were memorialized on the labels of this wine! If you find yourself in the foothills of the Sierras in the town of Sutter Creek stop by the Scott Harvey Tasting room or if you are in the Napa area look for their wines at Silenus Vintners, south of Yountville. www.janawinery.com
View video from Cellar Angels: