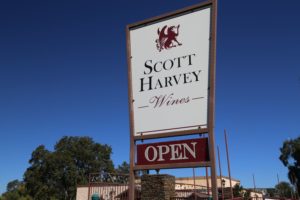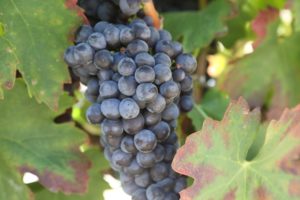 Jana Wines has been producing since 2003, crafting a mix of both Napa grown wines and wines from outside of the county. Founder Scott Harvey has been making wines since the mid 1970's; he brings decades of wine making experiences to Jana wines. Scott became intrigued with wines while in Germany as a high school exchange student. Later he worked at several wineries in Amador County – gaining valuable experience in his early 20's. His early days in Amador County included being the first hire by winemaker Cary Gott for Monteviña Wines.
Some several decades later in 1996 Scott became Partner, Winemaker & President of Folie à Deux Winery working with renowned winemaker Dr. Richard Peterson (today Folie à Deux focuses on Sonoma County wines). Scott was also instrumental in creating the "Menage a Trois" wines – which became well-known and well distributed across the country. Eventually Folie à Deux Winery was sold to the Trinchero family (the current owners).
In addition to the Jana Wines (named after his wife), Scott owns and operates Scott Harvey Wines located in the historic Shenandoah Valley in Amador County. The Jana Wines (as of our latest update) are still being produced in the Napa Valley and include both Napa grown fruit and fruit from various vineyard sources outside of Napa. Scott Harvey wines are produced at the winery (located next to the tasting room). Interestingly enough, Scott's Amador County vintner neighbor has a strong Napa Valley connection as well – Larry Turley owns and operates a tasting room for Turley Wines, directly next door (a minute walk between their two parking lots).
We originally caught up with Scott and Jana at their home in St. Helena. However, they no longer live in the Napa Valley – and much later we stopped by the Scott Harvey tasting room in Amador County.
Scott sources from oldest documented Zinfandel vineyard in the entire country (Grandpere Vineyard owned and farmed by Terri Harvey), also located in Amador County – about a 10 minute drive from his tasting room. The original vines were planted in 1869 – we have heard that today the oldest of the vines date back sometime to the 1880s; appropriately Scott makes a wine simply called 1869 from these ancient head-pruned limited yielding old vines. This vineyard land was originally part of several gold mining claims.
There are only several vineyards in Napa county at the time of our latest update that we know of producing Riesling; for some time, Jana Wines had access to one of those. This is in dramatic contrast to earlier times in the Napa Valley when Riesling was a much more common variety. The Jana Riesling was made in a European style; Scott was influenced by this style of wine while studying at Weinbau Schule in Neustadt Germany. It is a very dry wine – the unique label even depicts a scale ranging from dry to sweet; this type of information is immediately valuable to the consumer – as the perception of a Riesling is one of always being a sweet wine (certainly not always the case). The grapes are picked at a low brix (18.5); the wine shows excellent acidity and a lower alcohol then some American counterpart Rieslings. The 2006 Jana Riesling shows appealing honeysuckle aromas on the bouquet leading to a palate with flavors of pear and other tropical fruit notes.
The 2005 Jana Zinfandel also has a scale on the label listing a range between "judging wine" and "European" more food friendly styled wine – with the bar on this wine being close to the "judging wine" side. The grapes are from a 100+ year old vineyard. This is a rich full bodied Zinfandel with a very aromatic nose and hints of mint and black cherries.
The Cathedral wine is named for Cathedral Rock in Sedona Arizona (where Scott proposed to Jana); this is primarily Cabernet Sauvignon along with lesser amounts of Petit Verdot and Cabernet Franc, although the overall blend changes every year. Their 2004 Jana Cathedral Rock is a very elegant European style Bordeaux blend; the fruit is not picked so ripe that the final wine shows overripe characteristics. This wine has a slight hint of pyrazines which is one of the components in bell peppers and other vegetables (some people enjoy this aspect – some people may not), but in any case, it does not overpower as this wine is very well balanced.
For a number of years, Jana has produced the catchy "Just One Last Kiss" Label; these are two wines, a red & a white. This label is a tribute to a group of 'wild' women from Arizona who during a visit to the Napa Valley were convinced to leave their kiss marks all over a poster board. Their kiss marks were memorialized on the labels of this wine. And Scott still produces the InZINerator – a good value Zinfandel.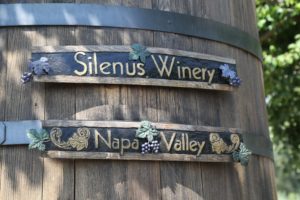 Jana Wines can be tasted at Silenus Vintners – located just south of Yountville on Highway 29. Silenus is a "collection of artisan winemakers" – this custom crush facility is used by a number of small wineries (the number varies depending on the year). What separates Silenus from other area collectives is not only do these wineries taste their wine here but they also make it on site as well. These are wineries that do not own a physical winery.
Besides having the small winery to work in as well as other winemakers to bounce ideas off of, these small wineries have a public face (the tasting room), which is very rare at other area custom crush facilities. In addition, it is refreshing to find varieties poured here not often found at Napa wineries. The reason for this is several of the clients source fruit from outside of Napa for varieties not often grown in the Napa area.
Tastings are either at the bar – or if weather permitting, seated outside on their tiny terrace. Several private rooms are also available for larger groups (strictly by appointment).
Two small parking lots are available – the first lot on your right has shade while the other one is mostly in the sun. Look for a winery dog or two sprawled out, possibly in the tasting room. The inside of the tasting room is elegant, modern and chic with a spacious curved tasting bar. The staff is friendly and very knowledgeable.
For more information or to join their wine club, visit: www.scottharveywines.com/Wines/Jana-Wines
Scott Harvey Winery (Amador County)

Scott Harvey Tasting Room (Sutter Creek)

Grandpere Vineyard, Amador County