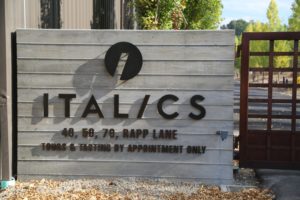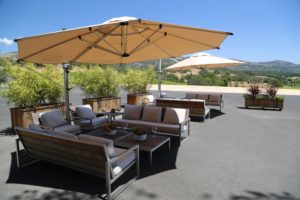 Italics Winegrowers was founded by the Martin Family from Texas; their family produce business began with a small 20-acre grapefruit orchard in the south part of the state. Over time they became one of the largest distributors of produce in the state of Texas (including citrus, onions and melons). By the time they sold their company, Rio Queen Citrus, Inc. in 2012, they owned over 7,000 acres. At the time of the sale, Ken Martin was the chairman of the company and Mike Martin was the president.
The Martin's would visit the Napa Valley from time to time; during their trips they would meet various vintners. They became acquainted with vintner Steve Reynolds. Steve and several area friends/vintners started a label in the early 2000's called 13 Appellations. The Martin's entered the Napa wine scene with the purchase of this label (today it is called Appellations) from Steve and his partners. This wine was being made at Reynolds Family Winery – and wanting to both find a winery home for this wine and to own a piece of vineyard property in Napa – they acquired 71 acres in Coombsville (just east of downtown Napa) including an existing cave in late 2014. Of the 70+ acres, nearly 40 are planted to vine.
This cave winery was originally founded in 1995 by commercial pilot turned vintner Bill Frazier. Bill sold this winery in 2011 to the Zhang Winery, a Chinese based company who then in turn sold it to the Martins. The Zhang's expanded the smaller cave system into 16,000 square feet – and made a number of practical and visual improvements to the winery.
In a fairly short amount of time, the Martin's have overseen additional improvements to the property including to the cave (adding a beautiful tasting room) and completely renovating the sizable guest house on site. Introducing some of their own Texas heritage, they placed a thick wooden table in the tasting room made from a giant Texas pecan tree.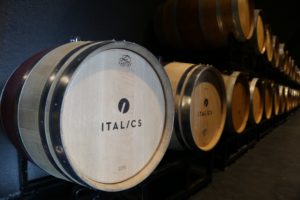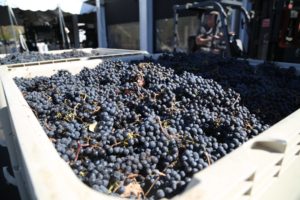 Taylor Martin, Ken's grandson who serves as the General Manager remembers his father Mike visiting the Napa Valley to celebrate his 40th birthday and going to a tasting at what was then the Frazier Winery in Coombsville. Managing a thriving produce business at the time, it was probably hard to visualize someday owning a winery in the Napa Valley much less this particular winery.
The vineyards are planted in very rocky soils. Micro climates can vary dramatically even on their property – Taylor mentioned during an early Fall day measuring dramatically different temperatures between the high and low parts of their vineyard (not a significant elevation difference). During the same time period the temperatures varied by as much as 10 degrees. Through a series of piping projects completed in 2015 and 2016, the County of Napa can provide more recycled water for use in both Carneros and Coombsville. With water usage always a concern, their vineyards use reclaimed (non potable) water purchased from the County of Napa.
Long time Napa vintner Steve Reynolds is their winemaker – Steve embraces technology when it comes to wine making. An Italian based company approached him in his own tasting room several years ago about trying out their product – this was after trying to convince about 20 other Napa wineries of its benefits. This product is an Ozone machine produced by purovino. Steve has used this on a number of wines already – it is used during fermentation and can be used as a substitute to using sulphites in the wine. It effectively kills microbial growth and Steve has noticed cleaner fermentations as a result.
It has been especially useful during challenging vintages or with fruit that comes in to the winery in less then pristine condition. Steve has also noticed both flavor and aroma enhancements and a softening of the tannins when using this process. It is more commonly used on white wines but is also used on red wines. A result of this process are increased anti-oxidants in the wine. Steve bottled two wines – one fermented normally and one fermented with the introduction of ozone both using the same grapes but noticed both showed quite different characteristics from each other.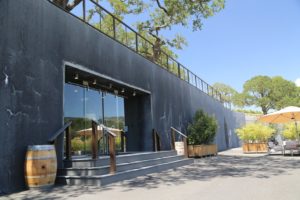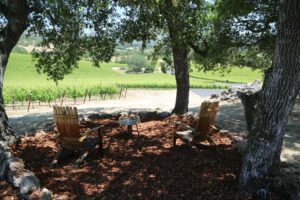 The first wine bottled using this process under the Italics label was their 2015 Estate Rose – made from 75% Merlot and 25% Cabernet Sauvignon. This wine was fermented in stainless steel. This wine is pinkish salmon in color; it shows inviting aromas including sweet watermelon (jolly rancher characteristics), strawberry, raspberry and a slightly dusty rock characteristic. It is rounded on the entry, a softness on the palate is clearly felt with some viscosity. Shows a richness of flavor across the palate. Lively fruit with a long finish.
The 2013 Italics White Blend is an unique (for Napa) 60% Sauvignon Blanc 40% Chardonnay blend. The bright golden color in the glass perhaps visually divulges the richness of fruit both aromatically and on the palate. Shows a nice depth of aroma including pineapple (which also carries onto the palate), browned sugar, and a nutty nuance. The palate is layered and rich with a creamy mouth feel. The finish is intense, long lasting and satisfying. Certainly not a linear or light styled white wine. Delicious by itself.
Thirteen Appellation wines was made with the idea to create a wine with fruit from all of Napa's sub appellation. The thinking was that each wine taken separately has its own unique colors, aromas and flavors and when you combine them all you get an arguably richer, perhaps more complex wine. Their motto was "The parts are great, but the sum is even better". When this label was launched, there were 13 sub appellations in the Napa area; as a result their first few vintages were appropriately titled "Thirteen". As additional sub appellations were approved vintages were then called Fourteen and Fifteen appellations.
With Coombsville being the last appellation added to date, this wine is currently called Sixteen Appellations and is now a part of the Italic wines. A number of the vineyard sources for this wine are well established and they are able to source from these same vineyards each year. The wines from each sub appellation are fermented and aged separately – all coming together when the final blend is made.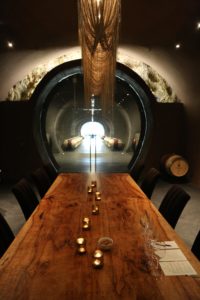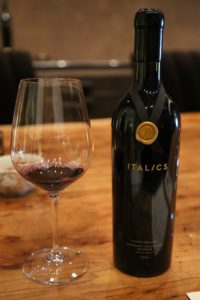 Sometimes they determine that individual components of this wine are superior by themselves and bottle these as stand alone varietals/wines (listing the sub appellation on the bottle as in 2013 when they bottled a Spring Mountain Merlot and a Atlas Peak Malbec).
The 2012 Italics Sixteen Appellations shows a sweetness of fruit on the bouquet with aromas of red cherry and currant, a cedar box and a somewhat floral component (rose petal). Very good acidity – an inherent mouth watering juiciness to the wine. Well-balanced with lingering notes of mocha and tannins that are defined but not to course. Slightly dusty note to the finish. Drinks well young.
While still quite rare, more and more we have noticed Napa produced single varietal wines made from Cabernet Franc. The 2013 Italics Estate Cabernet Franc is 100% varietal. This wine shows a darkness is the glass – the bouquet is pretty and inviting – with aromas of violets, dried rose petals and a dusty component that shows more in the background. Notes of blackberry, plum and a dustiness linger. Very good acidity; this is a well balanced wine.
Visits are about the experience and memories created in this 'hidden' part of Napa. Often Taylor conducts the tastings himself (in this regard it helps that he lives on property). Tastings can include their latest releases along with a tour of their working cave winery or a taste of their appellation series wines. Visitors can also enjoy a box lunch on site (provided from a restaurant in Yountville) with the wines.
They already have a commercial kitchen on site – but plans call for adding another one along with a small hospitality center outside the cave (featuring gorgeous views of their own vineyards and the surrounding Coombsville varied terroir). With such proximity to the golf course (they are members) visitors who enjoy golf can perhaps combine a round of golf followed by a wine tasting or lunch at the winery. Italics is one of the few Napa wineries to use a Pinzgauer which can be helpful when showing guests various parts of the property or vineyard blocks (one knows when they've ridden in one of these vehicles before – they are big, somewhat noisy and can go pretty much anywhere!).
Of note: the film Decanted premiered at the 2016 Napa Valley Film Festival in November. This film depicts the effort and process it takes to open a winery in the Napa Valley – following Italics Winery from their inception. Napaphiles take note as some of the areas brightest wine making stars star in this film including Italics own Steve Reynolds and Julien Fayard, Anthony Bell, Heidi Barrett, Mike Martin, Aaron Pott and Philippe Melka.
The name Italics was carefully chosen as words in italics are used to emphasize something – to make something stand out. Steve likes to say "the difference between good wine and great wine is in the details". Italics is all about the details both in the vineyard, the wine making and their hospitality offerings.
Italics currently produces about 5,000 cases annually – with select distribution in Texas and North Carolina. Several levels of wine club membership are offered – each can be customized to your preference in wine. For more information visit, www.italicswine.com
Exterior

Vineyards

Cave