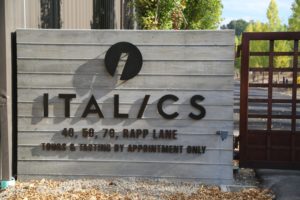 Italics Winegrowers was founded by Mike Martin from Texas; his family produce business began with a small 20-acre grapefruit orchard in the south part of the state. Over time they became one of the largest distributors of produce in the state of Texas (including citrus, onions and melons). By the time they sold their company, Rio Queen Citrus, Inc. in 2012, they owned over 7,000 acres. At the time of the sale, patriarch of the family, Ken Martin was the chairman of the company (Ken passed away August 7th, 2019) and Mike Martin was their president.
Mike's first meeting with founding Italics winemaker Steve Reynolds was by chance at a wine dinner in McAllen, Texas; Mike was already a collector and was familiar with one of Steve's other brand partnerships, Thirteen Appellations wines (which Steve and friends/vintners had begun in the early 2000s). It was through this meeting with Steve that he first thought about owning his own wine brand. Ultimately Mike acquired Thirteen Appellations including library vintages dating back to 2002. Today the brand is simply called Appellations.
The Martin's began to look for property in Napa Valley and viewed several sites. Ultimately, they acquired 71 acres in Coombsville (just east of downtown Napa) including an existing winery permitted cave in late 2014. The property resonated with Mike – its appealing off-the-beaten path location and landscape which reminded him of the Rio Grande Valley in Texas. The property is close to several other neighboring wineries including Shadybrook Estate Winery and Covert Estate. And the picturesque private Napa Valley Country Club (one of the oldest in the northern California) is also one of their neighbors.
NOTE: in 2022 the Martin family sold the Italics Winegrowers property to the owners of nearby Shadybrook Estate; the Italics brand and existing inventory was not included in the sale. We will update this review once we have more details on the ownership change and if the Italics brand will continue. This review has been identified as needing a *major* update.
This winery was originally founded in 1995 by commercial pilot turned vintner Bill Frazier (who we first met with years ago and was our initial introduction to the property). Bill sold the winery in 2011; it became Zhang Winery, a Chinese based company who then in turn sold it to the Martins. The Zhangs expanded what was a smaller cave system into now 16,000 square feet – and made a number of practical and visual improvements to the winery.
In a fairly short amount of time, numerous improvements were made to the property including to the cave (adding a beautiful tasting room) and completely renovating the sizable estate house on site. Introducing some of their own Texas heritage, the family placed a thick wooden table in the tasting room made from a giant Texas pecan tree.
Taylor Martin, Ken's grandson (is no longer involved with the winery), who we initially met with, remembers his father Mike visiting Napa Valley to celebrate his 40th birthday and going to a tasting at what was then the Frazier Winery in Coombsville. Managing a thriving produce business at the time, it was probably hard to visualize someday owning a winery in the Napa Valley much less this particular winery.
The vineyards are planted in very rocky soils. Microclimates can vary dramatically even on their property – Taylor mentioned during an early fall day measuring dramatically different temperatures between the high and low parts of their vineyard (without a significant elevation difference). During the same time period the temperatures varied by as much as 10 degrees. Through a series of piping projects completed in 2015 and 2016, the County of Napa can provide more recycled water for use in both Carneros and Coombsville. With water usage always a concern, their vineyards use reclaimed (non-potable) water purchased from the County of Napa.
Detail in vineyards is an extremely important aspect of wine making. Italics manages their estate vineyards at a high level focusing on details – with the resulting farming clearly evident in the bottle. They work very closely with premiere viticulturists and vineyard managers – with the idea to create balanced grapes, if you will, in the vineyards – rather than having to manipulate things later in the winery.
Today their winemaker is Marbue Marke; he is a talented winemaker born in Sierra Leone, West Africa. During one of our visits with Marbue, he told us the abbreviated story of how he became a winemaker; while studying to get into medical school he soon realized that he tends to faint at the sight of blood. He then pivoted his studies and graduated from the University of California Davis with a degree in Viticulture and Enology.
Marbue's winemaking skills have been noticed; in 2018 he was named Bonfort's U.S. Winemaker of the Year. Prior to working at Italics he was winemaker at Caldwell Vineyards – also in Coombsville. As a result, he has an extensive knowledge of Coombsville's unique terroir and has worked with vineyards from this sub appellation for many years.
Select Wines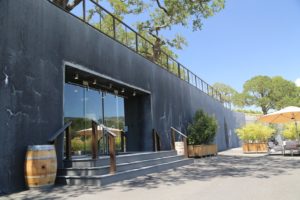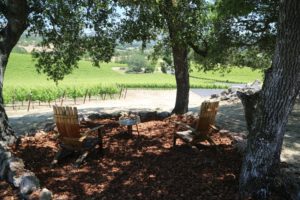 The 2015 Italics Estate Rosé was made from 75% Merlot and 25% Cabernet Sauvignon. This wine was fermented in stainless steel. This wine is pinkish salmon in color; it shows inviting aromas including sweet watermelon (jolly rancher characteristics), strawberry, raspberry and a slightly dusty rock characteristic. It is rounded on the entry, a softness on the palate is clearly felt with some viscosity. Shows a richness of flavor across the palate. Lively fruit with a long finish. To date this wine has only been produced twice.
The 2013 Italics White Blend is a unique (for Napa) 60% Sauvignon Blanc 40% Chardonnay blend. The bright golden color in the glass perhaps visually divulges the richness of fruit both aromatically and on the palate. Shows a nice depth of aroma including pineapple (which also carries onto the palate), browned sugar, and a nutty nuance. The palate is layered and rich with a creamy mouth feel. The finish is intense, long lasting and satisfying. Certainly not a linear or light styled white wine. Delicious by itself. And to date, this wine has also only been produced two times.
Thirteen Appellation wines was made with the idea to create a wine with fruit from all of Napa's sub appellation. The thinking was that each wine taken separately has its own unique colors, aromas and flavors and blending them results in an arguably richer, perhaps more complex wine. Their motto was "The parts are great, but the sum is even better". When this label was launched, there were 13 sub appellations in Napa Valley, as a result their first few vintages were appropriately titled "Thirteen". As additional sub appellations were approved vintages were then called Fourteen and Fifteen appellations.
With Coombsville being the last appellation added to date, this wine is labeled Appellations and is now a part of the Italic portfolio of wines. A number of the vineyard sources for this wine are well established and they are able to source from these same vineyards each year. The wines from each sub appellation are fermented and aged separately – all coming together when the final blend is made.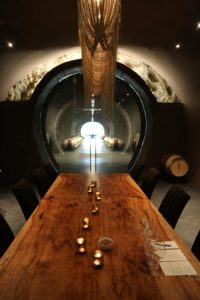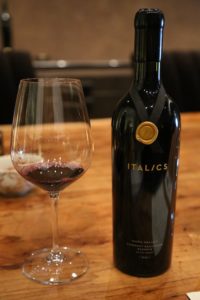 Sometimes their winemaking team determines that individual components of this wine are superior by themselves and bottle these as standalone varietals/wines (listing the sub appellation on the bottle as in 2013 when they bottled a Spring Mountain Merlot and an Atlas Peak Malbec).
The 2012 Italics Sixteen Appellations shows a sweetness of fruit on the bouquet with aromas of red cherry and currant, a cedar box and a somewhat floral component (rose petal). Very good acidity – an inherent mouthwatering juiciness to the wine. Well-balanced with lingering notes of mocha and tannins that are defined but not to course. Slightly dusty note to the finish. Drinks well young.
While still quite rare, more and more we have noticed Napa produced single varietal wines made from Cabernet Franc. The 2013 Italics Estate Cabernet Franc is 100% varietal. This wine shows a darkness is the glass – the bouquet is pretty and inviting – with aromas of violets, dried rose petals and a dusty component that shows more in the background. Notes of blackberry, plum and a dustiness linger. Very good acidity: this is a well-balanced wine.
—
Visits are about the experience and memories created in this 'hidden' part of Napa. Tastings can include their latest releases along with a tour of their working cave winery or a taste of their appellation series wines. Visitors can also enjoy a box lunch on site with the wines.
A large hospitality space is located outside the cave (featuring gorgeous views of their own vineyards and the surrounding Coombsville vineyard covered rolling hills). Italics is one of the few Napa wineries to use a Pinzgauer which can be helpful when showing guests various parts of the property or vineyard blocks (one knows when they've ridden in one of these vehicles before – they are big, somewhat noisy and can go pretty much anywhere).
Of note: the film Decanted premiered at the 2016 Napa Valley Film Festival. This film depicts the effort and process it takes to open a winery in the Napa Valley – following Italics Winery from their inception. Napaphiles take note as some of the areas brightest wine making stars star in this film including at the time, Italics own Steve Reynolds – along with Julien Fayard, Anthony Bell, Heidi Barrett, Mike Martin, Aaron Pott and Philippe Melka.
The name Italics was carefully chosen as words in italics are used to emphasize something – to make something stand out. Steve likes to say, "the difference between good wine and great wine is in the details." Italics is all about the details both in the vineyard, the wine making and their hospitality offerings.
Italics currently produces about 5,000 cases annually – with select distribution in Texas and North Carolina. Several levels of wine club membership are offered – each can be customized to your preference in wine. For more information visit, www.italicswine.com
Exterior

Vineyards

Cave