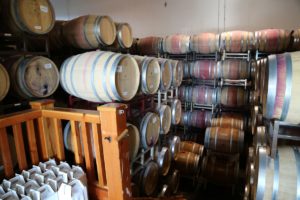 Ideology Cellars is owned by Bob Williamson; he also runs the popular artisan winemakers facility and tasting room, Silenus Vinters which is located just south of the town of Yountville. As of the time of this review Ideology Cellars produces 7 wines with several more on the way including two wines from the Russian River area in neighboring Sonoma County. Several of their wines can be tasted at Silenus Vintners during the normal tasting hours. Bob comes from a construction background and has been a fine wine enthusiast for a number of years.
While living in foggy Half Moon Bay he and his wife decided to try to find property inland in a warmer location. Enter Napa; Bob's original purchase was a nearby 15 acre vineyard but when the old Koves Newlan property came on the market with an existing winery he took the jump not yet knowing how involved he would become with additional ventures including vineyards, a winery, a custom crush facility and a tasting room all wrapped up into one property. Bob is not a hands off owner, due to the number of wineries Silenus services this is one of our most visited locations; he is always on site, either working in the winery or in the tasting room. We recently caught up with him for a sit down tasting of several of Ideology's wines.
Ideology Cellars produces two very different styled Chardonnays while using the same fruit for both wines. This fruit comes from the Red Hen Vineyard which is located just south of the winery. We already know this vineyard produces top notch Chardonnay having tried its fruit in wines from two other wineries who both source from this same vineyard. The vineyard consistently produces high quality fruit year in and year out. However when the winemaking program is structured differently while using the same fruit you have two very distinct tasting wines.
The 2007 "blondie" saw no new oak and is a refreshing example of what you can do with this varietal when when its not overly manipulated in the winery. It is fermented entirely in stainless steel, undergoes no malolactic fermentation and is aged in neutral oak. The color could certainly be construed as blond, almost pale straw like. Tropical aromas spring from the glass including pineapple and hints of banana. The mouth feel is clean and crisp with good acidity and minerality notes. Pear flavors and a lingering finish that hints of lime complete this wine. The "Blondie Gone Wild" is their other style of Chardonnay. This wine is fermented with wild yeast, hence the name and see's about 65% new French Oak during its aging.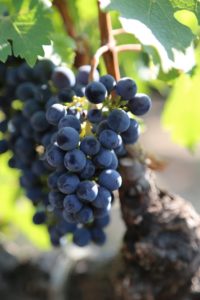 The 2006 vintage has notes of toasted oak and almond on the nose followed by a palate that shows well the lovely flavors this varietal and vineyard produces. The mouth feel has good weight and flavors of citrus, melon and spices round out the finish.
The winery is situated in the Oak Knoll District and is surrounded by 10 planted vineyard acres including Cabernet Sauvignon, with small amounts of Petit Verdot and Cabernet Franc. Despite appearing to be on the valley floor this is not technically valley floor property. Rather it is benchland, containing soils that have eroded down over the years from the Mayacamas mountains which form the western border of their property. In addition, there are deep rich alluvial soils on site in part deposited from the nearby Dry Creek (which is not always dry).
Bob had tasted several wines made by the previous owners of the vineyard and liked what he tasted. As a result he uses his own estate vineyard to provide the fruit for several of his Cabernet Sauvignon wines. Having made a few vintages from this vineyard, the fruit is already in high demand especially by some of the artisan winemakers on site who have tasted it! We tried the 2006 vintages; both Cabernet's are big wines and would do well with decanting before serving. The 2006 Cabernet Sauvignon has a nice earthiness, white pepper and notes of cedar on the bouquet. Both this wine and the Reserve are very dark and well extracted wines. The Reserve vintage is made by hand selecting only the highest quality fruit for the final blends. This is a big wine with excellent color, good acidity and juicy mouth filling flavors. The backbone is broad with big tannin structure.
The 2005 Merlot was their first ever wine released. The fruit for this wine is from Bob's original vineyard which he has since sold. With a high end Napa winery such as Shafer purchasing the fruit from this vineyard you know its high quality terroir. The production is extremely small but the wine is not. This is a huge Cabernet lovers Merlot! It is rich in color, aroma and flavor. Interesting baking spices, blackberry and dark chocolate are found on the bouquet followed by a rich, layers of dark fruit flavor anchored by bold tannins. We think this will have great ageability and will continue to evolve both in complexity and types of flavors.
For more information and or to join the mailing list, visit: www.ideologycellars.com