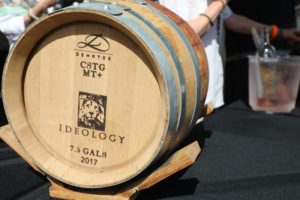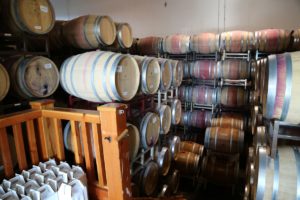 Ideology Cellars is owned by Bob Williamson; he also founded the popular artisan winemakers' facility and tasting room, Silenus Vinters which is located just south of the town of Yountville. Bob sold Silenus Vintners (the winery & tasting room) in 2010 to a Chinese American company, Silenus International Group and the Ideology wines are no longer produced there.
Ideology Cellars crafts limited production wines including two wines from the Russian River area in neighboring Sonoma County. For many years several of their wines were available for tastings at Silenus Vintners during their normal tasting hours – but as of mid 2022, Ideology wines are no longer represented here. And the most current release red on their website as of our latest update to this review is from 2017. We need to verify if they are still producing.
Prior to wine, Bob enjoyed a career in construction although he has been a fine wine enthusiast for many years. While living in foggy Half Moon Bay he and his wife decided to try to locate property inland in a warmer location. Enter the Napa Valley; Bob's original purchase was a nearby 15-acre vineyard but when the old Koves-Newlan winery and property came on the market he bought the site – not yet knowing that it would lead to additional ventures including vineyards, a winery, a custom crush facility and a tasting room all wrapped up into one property.
Bob was not a hands-off owner when he ran Silenus, due to the number of wineries Silenus services this was one of our most visited locations. Many years ago we caught up with him for a sit down tasting of several of Ideology's wines.
Ideology Cellars produces two very different styled Chardonnays while using the same fruit for both wines. This fruit comes from the Red Hen Vineyard which is located just south of the winery. We already know this vineyard produces top notch Chardonnay having tried its fruit in wines from two other wineries who source from this same vineyard. The vineyard consistently produces high quality fruit year in and year out. However, when the winemaking program is structured differently while using the same fruit you have two very distinct tasting wines.
Select Wines
The 2007 Ideology Cellars "Blondie" saw no new oak and is a refreshing example of what you can do with this variety when it's not overly manipulated in the winery. It is fermented entirely in stainless steel, undergoes no malolactic fermentation and is aged in neutral oak. The color could certainly be construed as blond, almost pale straw like. Tropical aromas spring from the glass including pineapple and hints of banana. The mouth feel is clean and crisp with good acidity and minerality notes. Pear flavors and a lingering finish that hints of lime complete this wine.
Blondie Gone Wild is the name of their other Chardonnay. This wine is fermented with wild yeast, hence the name and sees about 65% new French oak during its aging. The 2006 Ideology Cellars Blondie Gone Wild has notes of toasted oak and almond on the nose followed by a palate that shows well the lovely flavors this variety and vineyard produces. The mouth feel has good weight with flavors of citrus and melon; spices round out the finish along with plenty of fruit.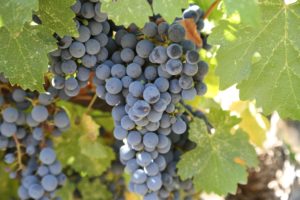 The 2014 Ideology Blondie Chardonnay was produced from grapes grown south of the city of Napa. The wine was fermented and aged mostly in stainless steel (only about 5% of the wine saw neutral oak). And only about 5% of the wine went through secondary fermentation. Is a bright straw color in the glass. Shows notes of pineapple and other tropical nuances on the bouquet along with a citrus component and hints of dessert spices. Offers a mineral nuance on the palate – a noticeable intensity of flavor from start to finish. Rounded but not overly creamy. Long finish with nuances of honey. Over delivers for the price point.
Silenus Vintners is situated in the Oak Knoll District and is surrounded by 10 planted vineyard acres including Cabernet Sauvignon, with small amounts of Petit Verdot and Cabernet Franc. Despite appearing to be on the valley floor this is not technically valley floor property. Rather it is bench land, containing soils that have eroded down over the years from the Mayacamas mountains which form the western border of their property. In addition, there are deep rich alluvial soils on site in part deposited from the nearby Dry Creek (which is not always dry).
Bob had tasted several wines made by the previous owners of the vineyard and liked what he tasted. As a result, he uses his estate vineyard to provide the fruit for several of his Cabernet Sauvignon wines. Having made a few vintages from this vineyard, the fruit is already in high demand especially by some of the artisan winemakers on site who have tasted it.
We tried the two bottlings of Cabernet Sauvignon from the 2006 vintage; both are big wines and would do well with decanting before serving. The 2006 Ideology Cabernet Sauvignon has a pleasing earthiness with white pepper and notes of cedar on the bouquet. Both this wine and the Reserve are very dark and well extracted wines. The Reserve bottling is made by hand selecting only the highest quality fruit for the final blends. This is a big wine with excellent color, good acidity and juicy mouth filling flavors. The backbone is broad with big tannin structure.
The 2005 Ideology Merlot was their first ever wine released. The fruit for this wine was from Bob's original vineyard (which was sold many years ago). Well-regarded Shafer Vineyards used to purchase fruit from this vineyard. The production is extremely small, but the wine is not. This is a Cabernet Sauvignon lovers Merlot. It is rich in color, aroma and flavor. Intriguing baking spices, blackberry and dark chocolate are found on the bouquet followed by rich layers of dark fruit anchored by bold tannins. We think this wine will age very well and will continue to evolve both in complexity and types of flavors for years to come.
—
Silenus used to be located on site of the old Koves Newlan Winery – the valley's 35th bonded winery. One who visited that winery and who visits Silenus today, will not even recognize the current look of the property. After Bob and his family purchased the site, they did an excellent job of remodeling, updating the landscaping, adding state of the art wine making equipment and opening the tasting room.
Silenus has a coveted permit to allow guests to bring food on site and picnic (provided you do a tasting either before or after your lunch). Guests who picnic but do not do a tasting must order at least a bottle of wine. The lower grounds are quiet and a very relaxing space to enjoy part of your day (weather permitting). Several picnic tables are located in this shady grotto next to a bocce ball court.
—
The Half Moon Bay Wine and Jazz Festival was founded in 2022 and is hosted on several blocks of Main Street in Half Moon Bay. This event requires tickets which are used to taste wine at 40+ wineries from around the state. Wineries from specific regions are grouped together. And there are a number of food vendors and local beer and cider producers represented. The main stage hosts several jazz performances through the afternoon while other performers are located on the sidewalks up and down Main Street.
While Half Moon Bay Wine and Jazz Festival requires tickets to enjoy food and wine, Main Street remains open to the public during the event. During one of our visits to the festival, we spotted Ideology Cellars pouring their wines here.
For more information and or to join the mailing list, visit: www.ideologycellars.com