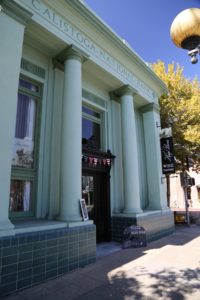 Huge Bear Wines opened a tasting room in downtown Calistoga on Valentine's Day 2015. They complete what was probably a Napa Valley record at the time – three tasting rooms lined up in a row. This corner location is historic – and is housed in the old Calistoga National Bank building (the bank itself was organized in 1909) – more recently it was a shoe store.
The co-founders (Jim Bailey, Tom Costin and Essel Bailey) purchased 100 acres in Knights Valley (located in Sonoma County) to the north of Calistoga. This is a scenic little touristed part of Sonoma County. Their property is on the West side of Knights Valley with stellar views of Mt. St. Helena and the slopes leading up to this mountain – including Peter Michael Winery to the east. Seventy five acres are planted to vine and provides the majority of the grapes for their overall production.
The same owners also run Knights Bridge Winery (tasting of the Knights Bridge wines are conducted upstairs in the historic vault room – by reservation only). Huge Bear was founded in 2006 – and to date has focused on wines from Sonoma County. However they released a Napa Cabernet Franc at the end of 2015 and also have made a Napa Carneros Pinot Noir. All wines are made in Napa at a custom crush facility just north of the city of Napa.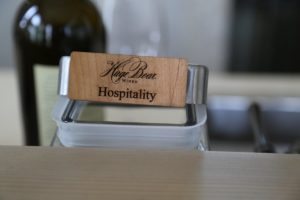 This is their first open to the public venture – the historical building itself ties in well with the historical approach this winery has taken in their brand, marketing and wine packaging.
The owners discovered an article from the mid 1800's that chronicled the adventures of a Grizzly Bear that would come down from the nearby mountains searching for food – often raiding several homes of inhabitants who lived in the area. This bear was never caught. A 'huge' bear greets visitors to the entrance of the tasting room.
Huge Bear was named in tribute to this particular Grizzly Bear as well as an honor to California's Bear Flag. Incidentally Thomas Knight (namesake for Knight's Valley) was helping raise the Bear Flag in support of an Independent California during these times.
The label/logo on their bottles of wine also has historical ties – it is an adapted illustration from the children's book, The Biggest Bear by Lynd Ward – one of the earlier winners of the prestigious Caldecott Medal (in 1953). The basket in the illustration was added and contains bunches of grapes.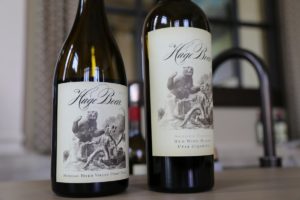 They currently have several wines available for tasting – all from Sonoma County. A Sauvignon blanc, a tasty Chardonnay (2012) underwent partial malolactic fermentation – this a very balanced wine – notes of gooseberry on the bouquet – mineralities on the palate especially towards the finish – good acidity, a Russian River Pinot Noir (2012, 15.2% alcohol) ripe red fruit on the bouquet – very aromatic – a nice tartness lingering on the finish and a 2010 Cabernet Sauvignon from their Knights Valley property. This wine still shows very young on the palate – with a very inviting nose – this is a wine that should have some good ageability.
With the same theme as all their other branding their wine clubs offer four levels of membership ranging from cub, brown, black to the top level, the grizzly (all differ in the number of bottles in each shipment). Wine club membership comes with a variety of perks, member events, complimentary tastings and various bottle discounts.
Note: this review has been identified as needing a *major* update – in 2019/2020 once their Napa wines come into production and are released to the public.
For more information and to join one of their wine clubs, visit: www.hugebearwines.com