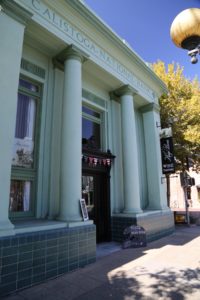 Huge Bear Wines opened a tasting room in downtown Calistoga on Valentine's Day 2015. With the addition of this tasting room at the time, they completed what was probably a Napa Valley record at the time – three tasting rooms lined up in a row (although one of their neighboring tasting rooms has since closed). This corner location is historic – the tasting room is housed in the old Calistoga National Bank building (the bank itself was organized in 1909), housed a pharmacy for some time and more recently it was home for 17 years to Bella Tootsie, a boutique shoe store run by Celeste Navone (Navone Family Wines).
Downtown Calistoga is not large; Huge Bear is within easy walking distance of other tasting rooms, boutique shops and plenty of restaurants. Street-side parking on Lincoln Ave (the main street) is the closest although there is some limited parking curbside on neighboring streets.
Co-founders of Huge Bear (Jim Bailey, Tom Costin and Essel Bailey) purchased 100 acres in Knights Valley (located in Sonoma County) to the north of Calistoga. Jim is from the Midwest – grew upon a family farm, later graduated from Harvard with a degree in American Colonial History. His career has been remarkably diverse from being an investment adviser, entrepreneur to helping fund the first major domestic geothermal energy company, California Energy.
Tom grew up in rural New Hampshire – also a graduate from Harvard (a degree in Public Administration) he spent a career working in in the shoe business – most notably as the CEO of Soletech and as the managing director of Michelin Footwear.
Essel (Jim's brother) became a lawyer for 20 years, graduating from the University of Michigan. His career has been equally as diverse as his brothers helping manage a variety of companies ranging from auto parts to care for the elderly.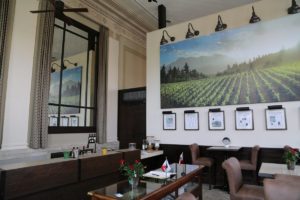 The home of Huge Bear is a scenic little touristed part of Sonoma County. The estate is on the West side of Knights Valley with stellar views of Mt. St. Helena and the slopes leading up to this mountain – including Peter Michael Winery to the east. Seventy five acres are planted to vine which provides the majority of the grapes for their overall production – planted at an elevation of between 300 and 1000 feet. Some of their wines are sourced form this vineyard, while others are sourced from select vineyards in other parts of Sonoma County as well as the Napa Valley.
Knights Valley became a Sonoma County appellation in 1983 and is one of the smallest in all of California (only approximately 2,000 acres are planted to vine). A number of premium Napa wineries have or currently source fruit from here including Chateau Montelena, Beaulieu Vineyards and Beringer. Besides grapes, land to the north of St. Helena (not far from Knights Valley) used to be home to the Great Western Mine – a mine rich in cinnabar (rock ore from which mercury was extracted) and then used for processing and extracting gold from the mines in the Sierra Nevada foothills. And a locals favorite since 1936, Smith's Mt. St. Helena Trout Farm & Hatchery is not far from Huge Bear's property.
And historical well-known figures have also visited Knights Valley over the years including Robert Lewis Stevenson, who wrote his book, Silverado Squatters from a cabin at the quicksilver mines, high on the slopes of Mt. St. Helena overlooking Knights Valley. Famous painter, whose paintings now sell for millions, Thomas Hill also painted Knights Valley.
Jim, Tom and Essel also run Knights Bridge Winery (a tasting of the Knights Bridge wines are conducted upstairs in the historic vault room – by reservation only – see our separate review of Knights Bridge Winery also on this website). Huge Bear was founded in 2006 – and to date has focused on wines from Sonoma County. However they released their first Napa Valley produced wine, a Cabernet Franc at the end of 2015 and have also made a Napa Valley Carneros Pinot Noir. All wines are made in Napa at a custom crush facility just north of the city of Napa.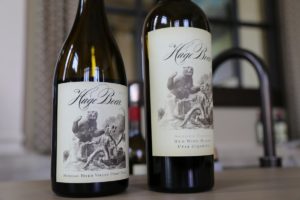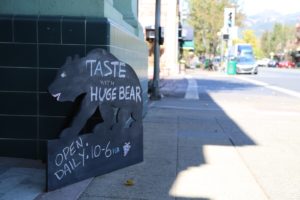 This is their first open to the public venture – the historical building itself ties in well with the historical approach this winery has taken in their brand, marketing and wine packaging.
The owners discovered an article from the mid 1800's in The Weekly Calistogan (local newspaper) that chronicled the adventures of a Grizzly Bear that would come down from the nearby mountains searching for food – often raiding several homes of inhabitants who lived in the area. This bear was never caught. A 'huge' bear greets visitors to the entrance of the tasting room.
Huge Bear was named in tribute to this particular Grizzly Bear as well as an honor to California's Bear Flag. Incidentally Thomas Knight (namesake for Knight's Valley) was helping raise the Bear Flag in support of an Independent California during these times.
The label/logo on their bottles of wine also has historical ties – it is an adapted illustration from the children's book, The Biggest Bear by Lynd Ward – one of the earlier winners of the prestigious Caldecott Medal (in 1953). Ward was a prolific illustrator (over 200 books). Huge Bear added their own twist to the illustration – including the addition of the basket and the bunches of grapes. And one of the better known quote from this book, "better a bear in the orchard than an orchard in the bear"!
At any time, the tasting room always has several wines available for tasting – generally, they are all from Sonoma County. A Sauvignon Blanc, a tasty Chardonnay (2012) underwent partial malolactic fermentation – this a very balanced wine – notes of gooseberry on the bouquet – mineralities on the palate especially towards the finish – good acidity, a Russian River Pinot Noir (2012, 15.2% alcohol) ripe red fruit on the bouquet – very aromatic – a nice tartness lingering on the finish and a 2010 Cabernet Sauvignon from their Knights Valley property. This wine still shows very young on the palate – with a very inviting nose – this is a wine that should have some good ageability.
With the same theme as all their other branding their wine clubs offer four levels of membership ranging from cub, brown, black to the top level, the grizzly (all differ in the number of bottles in each shipment). Wine club membership comes with a variety of perks, member events, complimentary tastings and various bottle discounts.
Their wines are selectively distributed around the country including representation at times at Fenway Park and the Boston Garden. For more information and to join one of their wine clubs, visit: www.hugebearwines.com
Note: this review has been identified as needing a *major* update – perhaps in 2021/2022 if they release a Napa Valley grown and bottled wine – to date, all their wines are all from neighboring Sonoma County.